Bhutan vs Nepal
When considering a trip to the Himalaya, Bhutan and Nepal are the two obvious countries to consider. Both have fascinating cultures and people famed for their friendly outlook, so how do you choose?

Bhutan is much more remote and less frequently visited than Nepal. This could be due to the stricter entry requirements imposed on visitors and the complications surrounding visas and travel once in country. However, the empty valleys and sense of remoteness experienced more than makes up for these inconveniences. In contrast, as Nepal receives more visitors, it is generally cheaper, easier to get to and has more relaxed requirements for entry, the only downside being you will be sharing the route with others and the sense of seclusion can be lost in this.

If you have the budget and are interested in experiencing the gentle ways of the Buddhist culture surrounding the Himalayas, whilst trekking through mind blowing scenery, we would recommend visiting both countries. However, if you only have the budget to visit one, let us take you through some of the main differences between Nepal and Bhutan, to help you make your decision.

Similarities between the countries
Nepal and Bhutan both follow the line of the Tibetan Plateau in central Asia. Both are landlocked; enclosed by Tibet to the North and India to the South.

Both countries are rich in history and culture, with breath taking scenery in their mountain regions. They offer ethnic, flavourful cuisine and welcome visitors with warm hospitality. Nepal is largely Hindu in the valleys, however as you enter the mountainous regions Buddhism becomes the main religion. Whereas, Bhutan is mainly Buddhist with only around 20% of the population following Hinduism. Whilst these countries differ in their religious beliefs, you'll find monasteries and temples scattered prolifically throughout both their landscapes, with shrines and monuments taking precedence in the cultural architecture. Expect to be involved in religious ceremonies undertaken prior to trekking over what are considered to be sacred lands.

Both countries have incredible trekking opportunities as they are blanketed by the Himalayan mountains, however in Bhutan summitting the peaks is considered disrespectful as each is believed to be the sacred home of gods or spirits, and climbing any peak over 6000m is forbidden. In Nepal there are no such restrictions, climbers are free to summit any peak except Machapuchare (the 'fishtail' peak) in the Annapurna region. Sherpas refrain from standing on the very summit of Everest as this is where Miyolangsangma, the Tibetan Goddess of Mountains, lives. However, there are no laws to state that other climbers can't do this.

Despite this trekking in Bhutan and Nepal are one of the main activities of visitors to these countries.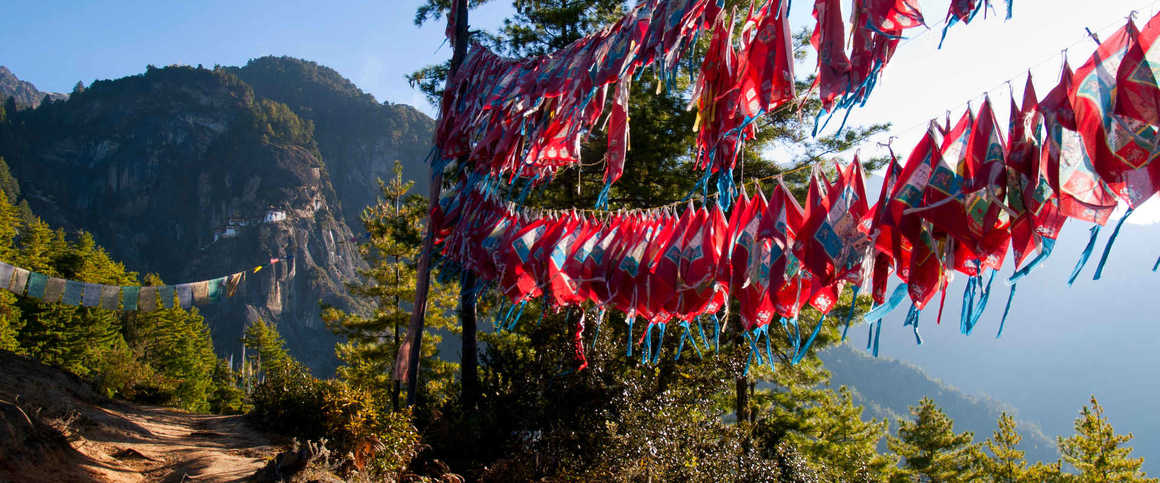 Getting There
Neither Nepal nor Bhutan can be reached directly via flights from Europe or the USA. Whichever destination you choose, it is going to involve a number of flights and connections.

On this score, Nepal is easier to get to than Bhutan as several major airlines connect Kathmandu to hubs such as Dubai, Doha or Delhi and airlines such as Emirates or Qatar provide flight paths for the entire journey including connections.

For Bhutan, the only choices for the final leg of the flight are Drukair and Bhutan Airlines, and these only fly to short haul destinations in the surrounding countries. Good transit points include Kathmandu, Delhi or Kolkata but don't be surprised if you need to build an overnight stop or even a long layover into your flight plans. This could be considered an opportunity to explore somewhere else on your journey.

Visas and Permits
When it comes to visas and permits, the two countries differ hugely.

Bhutan used to be incredibly difficult to get visas for, but now it has relaxed somewhat. You can only get a tourist visa if you have booked a guide with a licensed tour operator for the full duration of your stay and you must have contracted to pay a minimum of £200 or $250 per day that you are in Bhutan. You cannot get a Tourist Visa as an independent traveller without a guide, so backpackers are pretty much excluded from the country. Whether you book direct with a Bhutanese operator or an international operator the same rules apply.

This means that once you have paid the basic tour price, including the visa fee, there is then little else to pay for, as most trips are fully inclusive of all meals. There are also no charges for museums, permit fees for trekking or other charges to visit major cultural attractions. You can go up and down to the Tiger's Nest every day on a 14-day trip and not pay a penny more.

By contrast, Nepal's systems for visas and permits are much cheaper but a little more complicated. A tourist visa valid for 15/30/90 days can be obtained by most travellers on arrival for just costs £25 or $30/, £38 or $50 and £76 or $100 respectively. You can travel to Nepal and trek anywhere without a guide, however you must be with another person or in a group as per the new solo traveller restrictions for 2023. This makes Nepal a backpacker heaven.

Depending on which area you choose for trekking, there will be slightly different permit fees. Once you decide to hire a guide or porter in Nepal there are other fees to consider beyond what they get paid as wages. All crew have to be insured for evacuation and in addition there are small fees to be paid for Garbage Management, Tips and for what is called TIMS (Trekkers Information Management System). This is meant to keep a track of who is where in the mountains so that if someone goes missing they can be tracked down.

Totalling this up, generally comes to less than one day of the Bhutan visa fee. Costs only begin to be significant in Nepal when factoring in any internal flights. Unless you plan on trekking for a month, the flight to the Everest region is unavoidable. Annapurna can be reached by bus but a strong spine capable of withstanding 8-10 hours of shaking on a bus is a pre-requisite.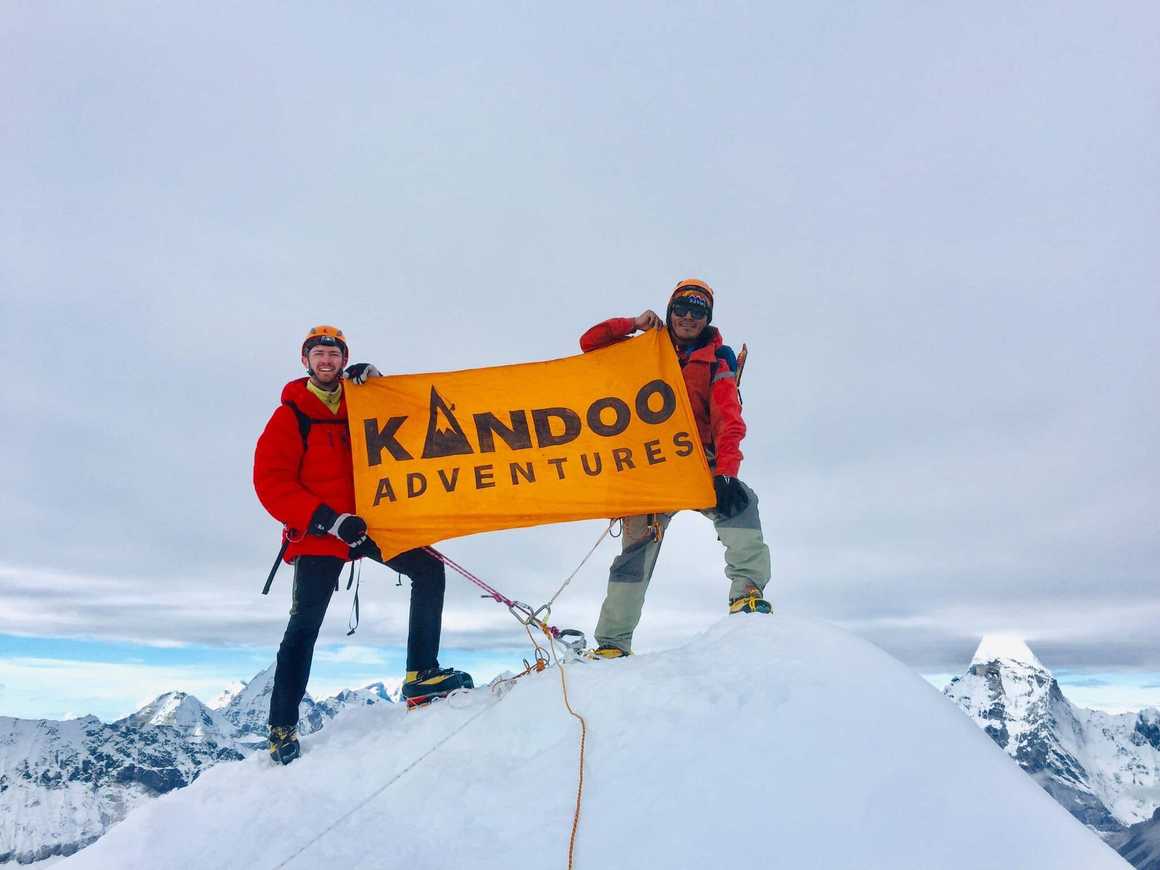 Trekking Experience
The experience on the trek could not be more different between the two countries.

In Nepal, the main trekking routes pass through populated communities and are predominantly the original routes used by local communities for trade. As a result, they are well made, often paved and well trodden. The routes up to the various base camps were added later solely for the benefit of the trekkers and adventure seekers.

In Bhutan, the only people you will encounter in the mountains are nomads raising herds of yak and moving from region to region with the seasons. The paths are often ill-defined, never paved and as they were not designed for trading traffic, they are much more inclined to disappear into the much more rugged terrain.

In Nepal, you will almost invariably sleep and eat in lodges or teahouses. These vary in standard between very basic and quite plush, but they all offer a roof over your head, good quality food and a bed for the night.

Trekking in Bhutan means camping. This is generally in good quality tents, with locally sourced, fresh food and little 'luxuries' like a mess tent.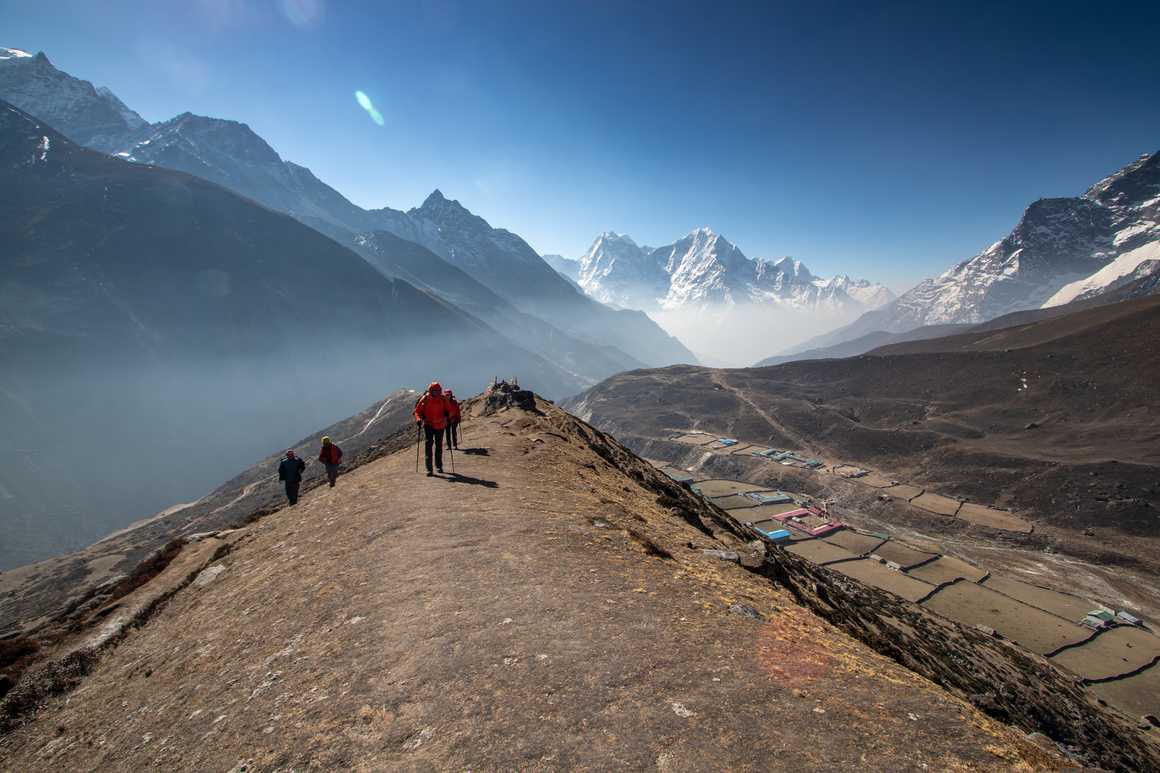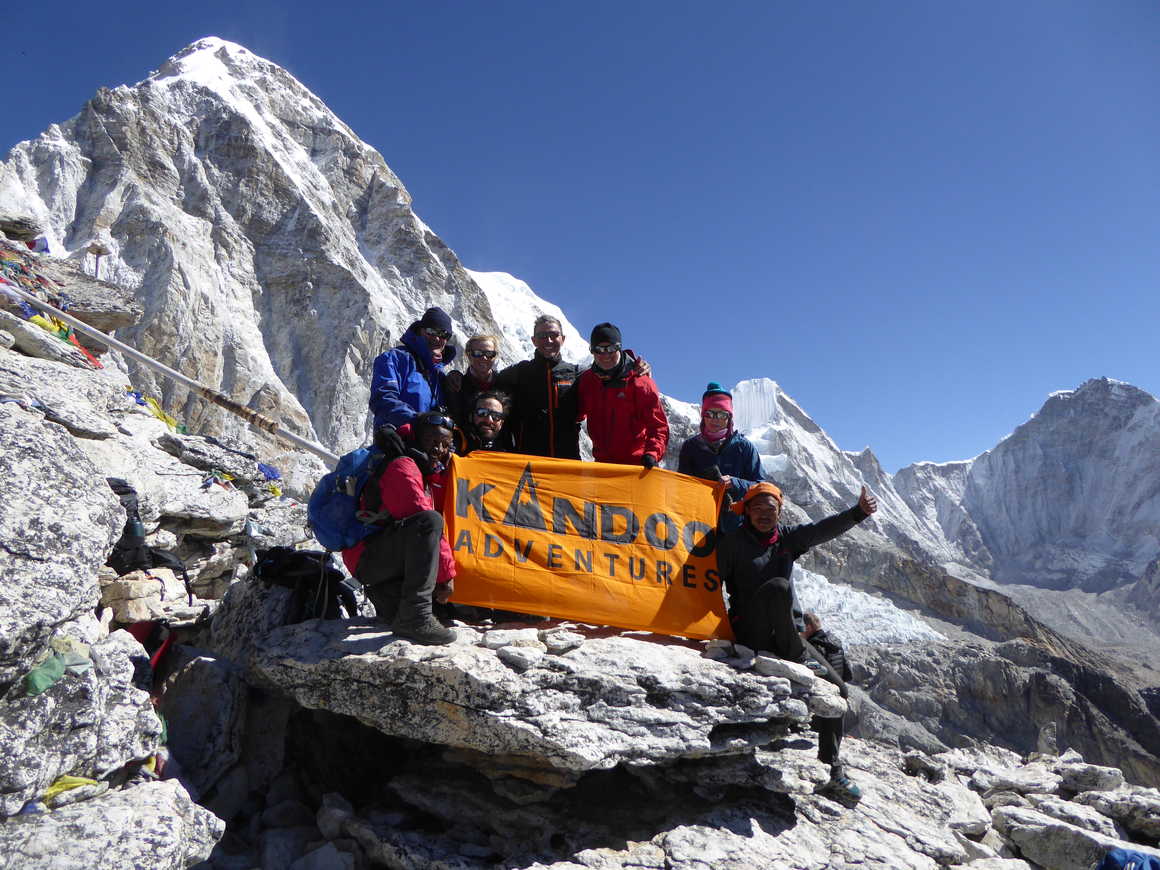 Cultural Attractions
Kathmandu, Nepal, is a vibrant, eclectic mix of colour and smells. The area around Thamel is fascinating, with prayer flags adorning the streets and locals hollaring you in to their brightly fronted bazaars. Besides Thamel, visit the beautiful stupa at Swayumbanath or the monkey temple at Pashpatinath for an immersion into Hindu culture.

When it comes to bucket list culture, in our opinion, Bhutan's Tiger's Nest trumps everything Nepal has to offer. It really is every bit as breath taking as is said. We would recommend going out of your way to visit Nepal for trekking but if you haven't seen the Tiger's Nest it's worth all the effort to get to Bhutan alone.

In terms of scenery, if you are visiting either country predominantly to trek, then this may be the single most important consideration and in that respect there is no obvious winner between Nepal and Bhutan. Both country's treks take you deep into the remotest parts of the Himalaya and both offer awe inspiring views of peaks, luscious green valleys, icy, glacial lakes and the formidable glaciers that stand tall over them. Anyone who loves mountains will struggle not to love both Bhutan and Nepal.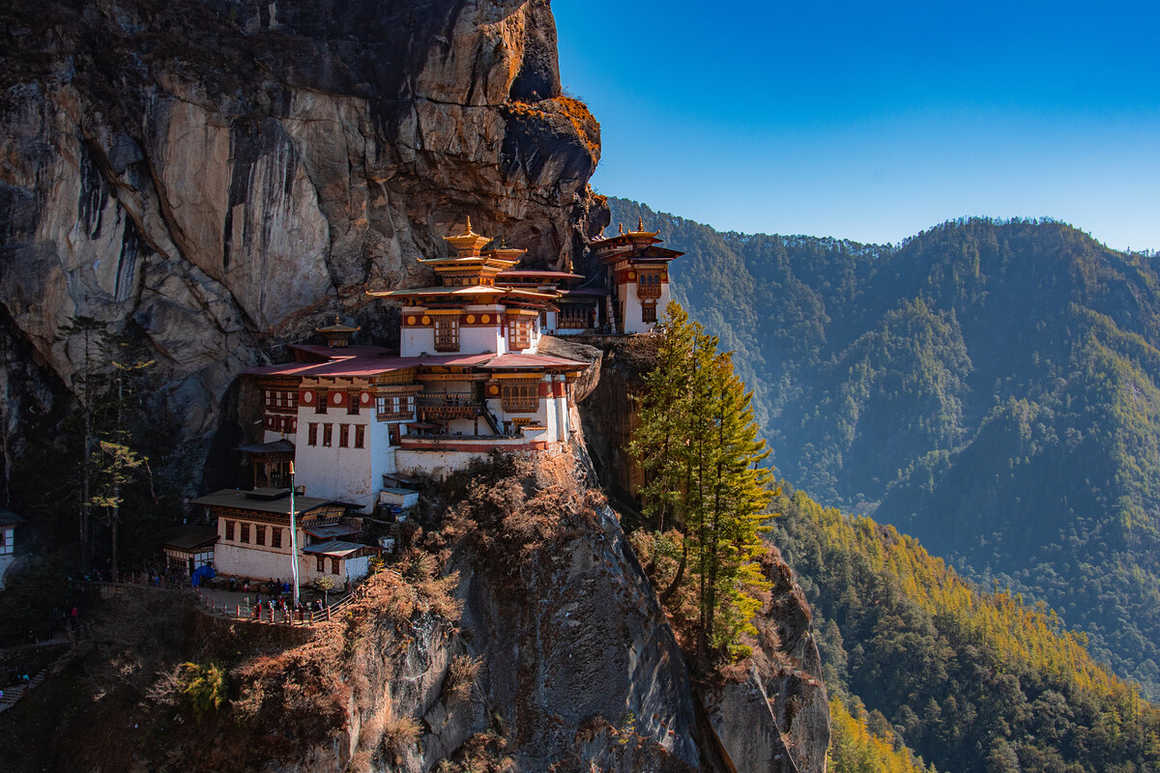 The Result?
If money is a limiting factor, Nepal is much less expensive than Bhutan and this isn't likely to change, with competitive prices on all the major Nepalese routes. Nepal is easier to get to, has higher mountains, will cost you less overall and is a truly magical place. The price you pay for this will be far more people trekking in Nepal, and the numbers increasing each year. However, for high peak treks and bagging summits, Nepal should be your go to.

For the purists looking to escape the crowds and get off the (well) beaten track, searching for the experience the feeling of being squeezed into insignificance amongst the Himalayan giants, Bhutan should be your destination of choice. It may not stay quiet for long though, so don't delay in booking your Bhutan adventure.

…. As you can probably tell, we're undecided. Both countries offer iconic scenery, rich cultural experiences and will leave you with life-long memories.

Maybe you should just visit both?!

or ...