CLIMBING PEAKS IN NEPAL
Nepal is revered as one of the best destinations on the planet for trekking and mountaineering. But think of Nepal and you're most likely thinking of the daunting Himalaya Mountains, home to the pinnacle of all climbing challenges: Mount Everest. With this in mind, you might wonder, surely Nepal is no place for a novice climber. Right?

Well, actually, it is. Just as the world's greatest ski resorts have nursery slopes as well as black runs, Nepal has gentler – but no less spectacular – climbs suited to physically fit but inexperienced climbers. Keep in mind, though, that although a Nepal climb might be labelled as 'easy' that doesn't necessarily mean that it won't be challenging. You may not need technical mountaineering skills but at the very least you'll need to take time to acclimatise to the altitude if sickness and exhaustion are to be avoided.

Trust us on this, once you arrive in Nepal the last thing you'll want to be is unwell before you try some of the most exhilarating trekking and climbing adventures you could wish for.

Here we've put together our top 5 climbing peaks in Nepal for beginners. Take on one or more of these and you'll be able to marvel at magnificent Himalayan scenery, while positively glowing with a sense of achievement and have countless tales of your Nepalese exploits to share/brag about when you get home.


Island Peak
Requiring nothing more technical than a few easily learnt ice climbing skills and the basic use of fixed ropes/ladders and crampons, the ascent of Island Peak provides the perfect introduction to high altitude climbing in Nepal. The trickiest part is scaling the 45° slope of Island Peak's 150 metre headwall that joins Island Peak's narrow summit ridge. Situated in the stunning Sagarmatha National Park, this 6,189 metre high mountain received its name in 1951 from the British mountaineer Eric Shipton, who thought it resembled an island in a sea of ice when viewed from the hill station village of Dingboche.

Today, Island Peak is regarded as among the most straightforward (if a little strenuous) of Nepal's sub-7000 metre climbing peaks to attain and is one of the most popular destinations for moderately experienced trekkers and climbers. It's also one of the most rewarding, since the route takes in a variety of landscapes and natural features including verdant forests, low-lying hills, snowy peaks and, at the end of the climb to Island Peak's summit, breathtaking views of a Himalayan mountain panorama.

Pokalde Peak
Beginner climbers will find lots to love about an ascent of Pokalde Peak which is located approximately 12 kilometres southwest of Mount Everest. Widely regarded as one of the shortest and easiest of Nepal's climbing peak treks, the ascent to Pokalde's summit at 5,806 metres largely combines walking and scrambling until you reach the last section. Here, fixed ropes are required to tackle potentially loose rocks and an exciting almost vertical scramble to the top, but for the averagely skilled climber the challenges posed by Pokalde shouldn't cause sleepless nights.

The good news is that, unlike some of its taller neighbours, Pokalde isn't totally clad in snow during the trekking season. Even so, it should be treated with respect and is best not attempted by amateur climbers if the weather is looking inclement. Depending upon your level of ability, you might consider Pokalde Peak as little more than a warm-up exercise for some of the larger mountains, but this is definitely not a trek to dismiss out of hand. Overcoming that tricky last 650 meters reveals a surprisingly wonderful vista that takes in some of the region's most impressive mountains, including Ama Dablam, Pumori and Makalu.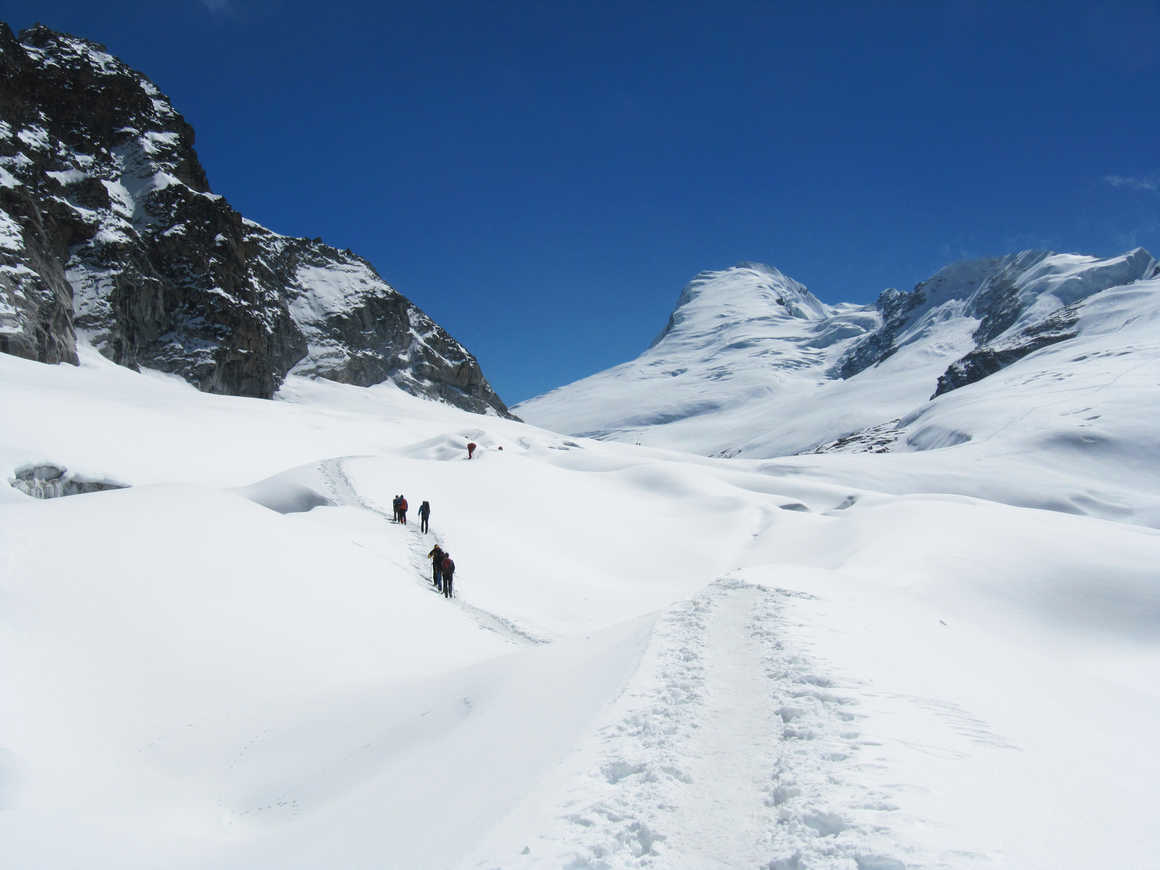 Mera Peak
With the emphasis slightly more on trekking than climbing, on the latter part of this adventure you'll be heading up the Mera Glacier. Keen climbers with a little experience shouldn't be deterred. Technically, the skills required to summit Mera Peak are less than those needed for Island Peak - basic rope and crampon use with maybe a little ice axe work thrown in for good measure. Mera Peak is the highest of Nepal's trekking peak at an elevation of 6,476 metres and its route once again features a diversity of naturally beautiful terrain. Expect to be picking your way through rhododendron, pine and bamboo forests, traversing open grassland and following ancient mountain trails before you reach the glacier. Climbing this icy beast might be on the physically demanding side but it's not technically difficult. And, trust us, the exertion is worth it. From Mera Peak's summit you're rewarded with jaw-dropping views of five of the world's six highest mountains, including the mighty Mount Everest.

Yala Peak
A virtually non-technical climb that's nonetheless challenging, Yala Peak is perfect for the moderately fit first-time climber with a thirst for adventure. Rising around 5,500 meters, this snow-dusted mountain lies within in Nepal's Langtang Valley region, not far from the border with Tibet. Distinctly Himalayan in its grandeur, Yala Peak also feels pleasingly remote and serene.

The area through which you'll trek is renowned for its natural beauty, and on the way you'll encounter dense forests of conifer and oak, terraced hillsides, alpine meadows and sparkling glaciers. These, however, are merely the appetisers. Steadily the snow and rock trail that climbs to the summit of Yala Peak bestows the trekker with dazzling views, weather permitting, of Tibet's highest mountain, Shishapangma and a host of other Himalayan mountain treasures. If you really want to experience that unique and authentic 'top of the world' feeling without over-exerting yourself to get there, we'd recommend Yala Peak as the way to go.

Tent Peak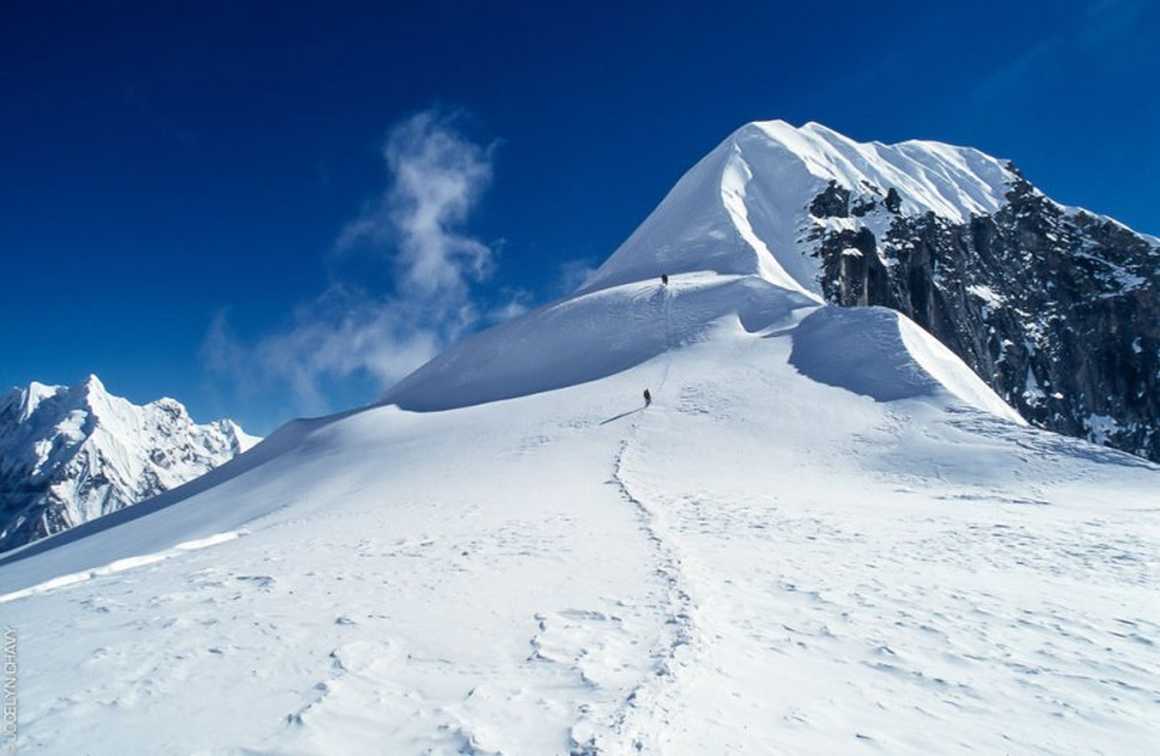 When you feel it's time to step up to the plate and make the transition from experienced trekker to novice mountaineer, there's no better place to start than with Tent Peak. It's the hardest climb from our top 5 list. The third most popular climbing peak in Nepal after Island Peak and Mera Peak, Tent Peak is part of the famous Annapurna range and is surrounded by a selection of the world's most impressive mountains. At just over 5,560 meters in height, Tent Peak, or Tharpu Charli as it's known locally, is no pushover and will give suitably fit aspiring mountaineers a taste of ice climbing. You'll also experience the thrill of walking along some pretty narrow high-altitude ridges.

Compensation for these adrenaline-pumping escapades arrives in the form of superb scenery. Expect terraced farmlands and cascading waterfalls, hanging glaciers and rural villages rich with local culture. The crowning glory, however, is the view from Tent Peak's summit. It might take greater stamina to reach than some of the other peaks in our top 5, but it is impossible to deny that the resulting vistas of the surrounding Annapurna Massif will provide memories of your adventure that will last a lifetime.

Hopefully we've whetted your appetite for an amazing Nepal trekking/climbing experience.

There's lots more we could tell you, so if you're up for it why not
get in touch
? Your great Himalayan adventure starts here.