Trekking Summits in Nepal
Nepal is famous for being the home of Mount Everest. It is a country synonymous with some of the highest peaks on earth, the endless Himalayas, indefatigable Sherpas, stunning scenery and rich culture. This awe-inspiring place has drawn thousands of travellers wanting to experience the magic of the mountains and push themselves to their physical and mental limits.

The Himalayas are home to eight of the worlds fourteen peaks over 8000m meters, as well as 3,410 other named peaks. It's no wonder this astonishing place attracts hikers, trekkers, mountaineers, climbers and explorers from all over the world, and has done for decades.

Not everyone coming to Nepal is looking to climb Mount Everest however. 6,068 people have summited the highest mountain on the planet, some have summited more than once, but the Himalaya are home to peaks, passes, and routes for all abilities, experience and fitness level.

The Nepal Mountaineering Association (NMA) classify 27 peaks in Nepal as 'trekking peaks'. These peaks are generally between 5800m – 6476m above sea level and are suited to those with trekking experience but not necessarily mountaineering experience.

Let's take a look at our top 10 trekking peaks in Nepal and why you should consider these alternatives to Everest as unique trekking experiences in their own right.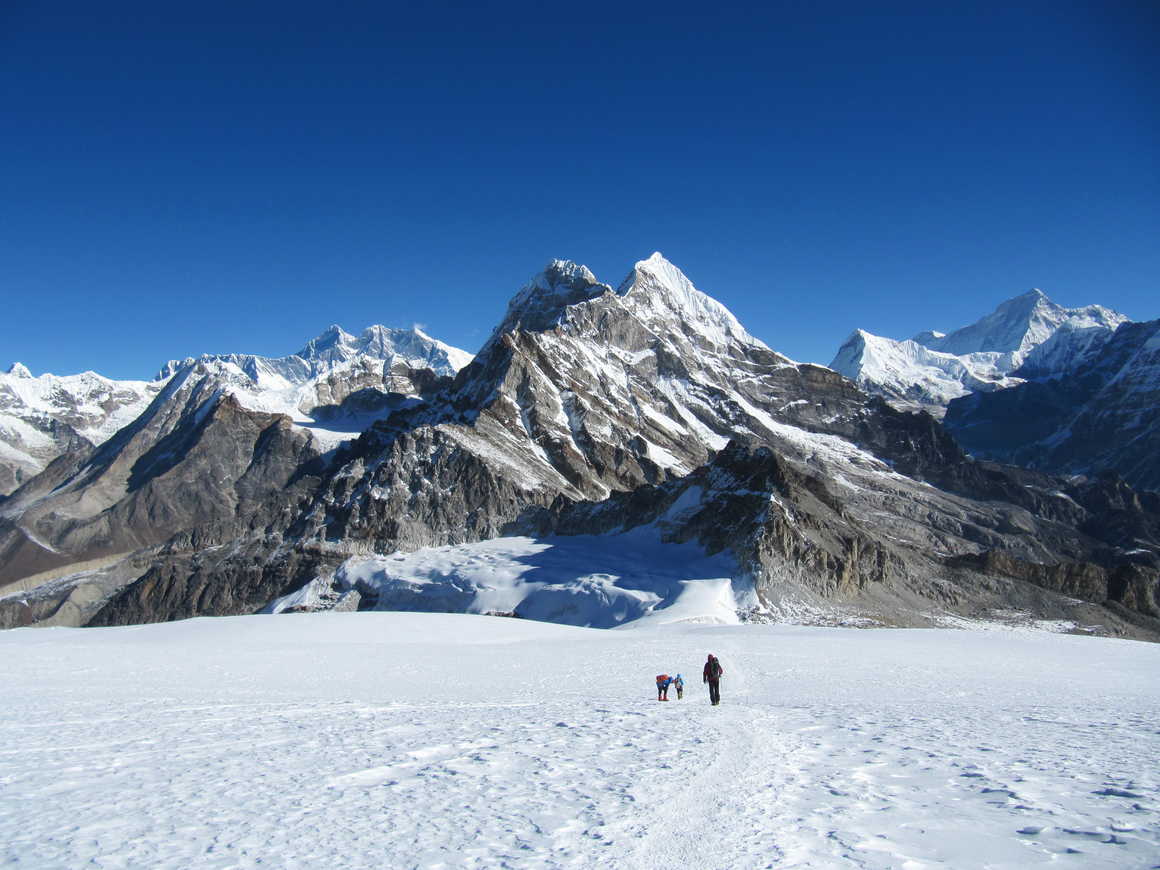 1. Mera Peak – 6,476m
Climbing Mera Peak gives you the opportunity to climb an enormous Himalayan mountain and at 6,674m high, Mera Peak is one of the highest trekking peaks in Nepal. The views of Everest from the top are unbeatable and the quiet approach to Mera through the Arun Valley is both beautiful and tranquil. Whilst no technical climbing skills are needed, trekking experience will be beneficial as well as previous exposure to altitude.

2. Pharchamo – 6,187m
Part of the lesser visited Rolwaling range which connects to the Everest range, Pharchamo peak is quieter than the busier Mera and Island treks. This snowy peak has an attractive ridgeline overlooking the Tashi Lapcha pass and whilst it is relatively straightforward to climb, the ice and snow covering mean that much of the trek will require climbing equipment such as crampons and ropes. The top rewards those who conquer her views across the mountain tops towards Cho Oyo, Khumbu and Everest.

3. Island Peak (Imjatse) – 6,173m
Island Peak is a popular Himalayan mountain in the Everest range that can be combined with the classic Everest Base Camp trek or climbed as a standalone mission. Although the climb is physically demanding, no technical skills are necessary, and this climb can be achieved by anyone with a good level of fitness and a can-do attitude. The view from the top is nothing short of breath-taking and you can see not only Everest, but the Lohtse, Ama Dablam and Mera peaks also.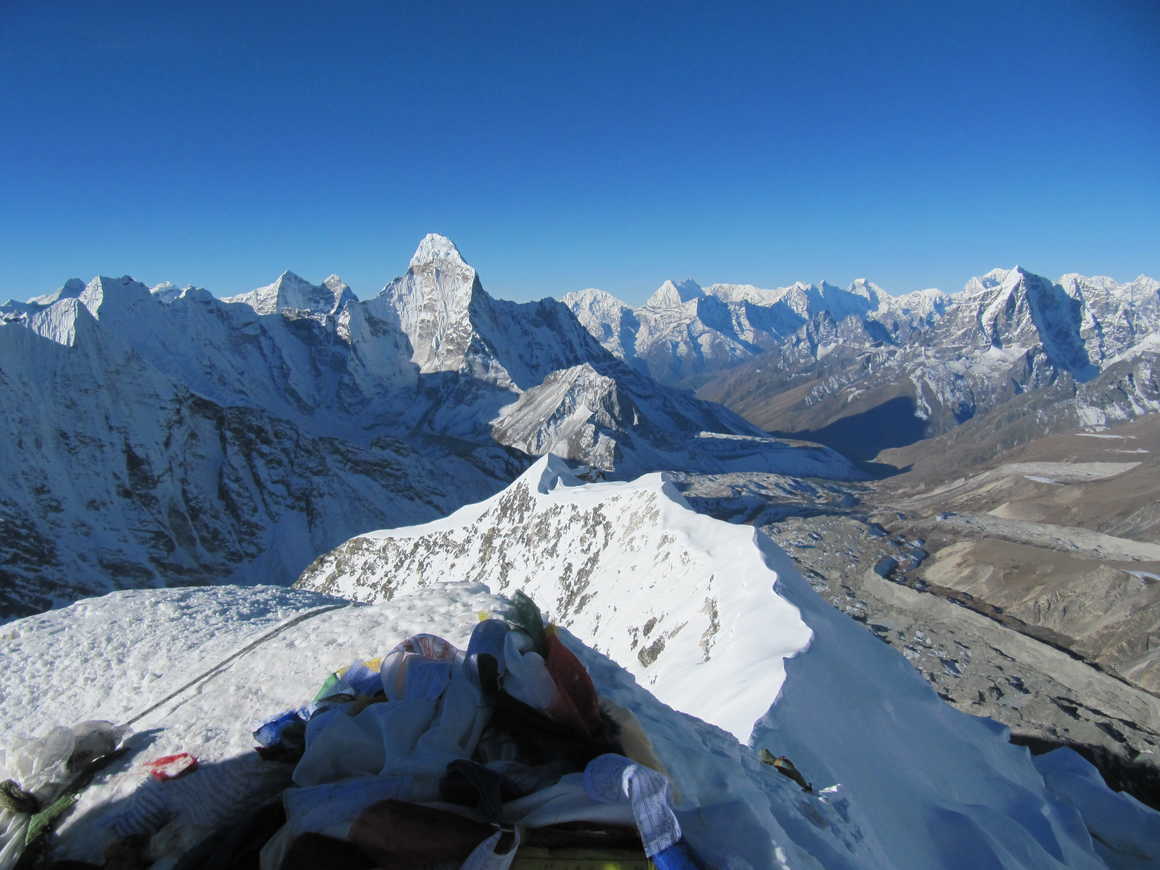 4. Pisang Peak – 6,091m
Pisang Peak is one of the more remote trekking peaks, located above the village of Pisang on the Annapurna Circuit in the Manang District. The trek follows secluded forest trails and offers views of the stunning surrounding mountains in the Annapurna range, before climbing through the Thorong La Pass, one of the highest passes in the Himalaya. There are some technical climbing sections towards the summit of Pisang but those with mountaineer guides and some climbing experience will enjoy the panoramic views from the top.

5. Chulu Far East – 6,060m
Chulu is also in the Annapurna range and not far from Pisang. Chulu Far East is a less technical climb that its neighbour Chulu West, making is more suited to those who don't have climbing experience. Views from the top take in Manaslu over the hidden Mustang Valley. This peak has been described as the perfect practice peak for those looking to further their mountaineering skills as it is mostly a 'walk up' peak, although crampons, ice axe and rope may be needed to traverse the snowy terrain.

6. Dhampus – 6,012m
Situated in the Dhaulagiri range, close to the Poon Hill Trek and Pokhara, and one of the closest peaks to Kathmandu, Dhampus is an increasingly popular trekking peak to climb. With incredible views from the top over both the Dhaulagiri and Annapurna ranges, this relatively easy peak offers a glimpse into local culture during the trek. This is another relatively quiet peak and a great one for less experienced trekkers who want to experience the beauty of the Himalaya.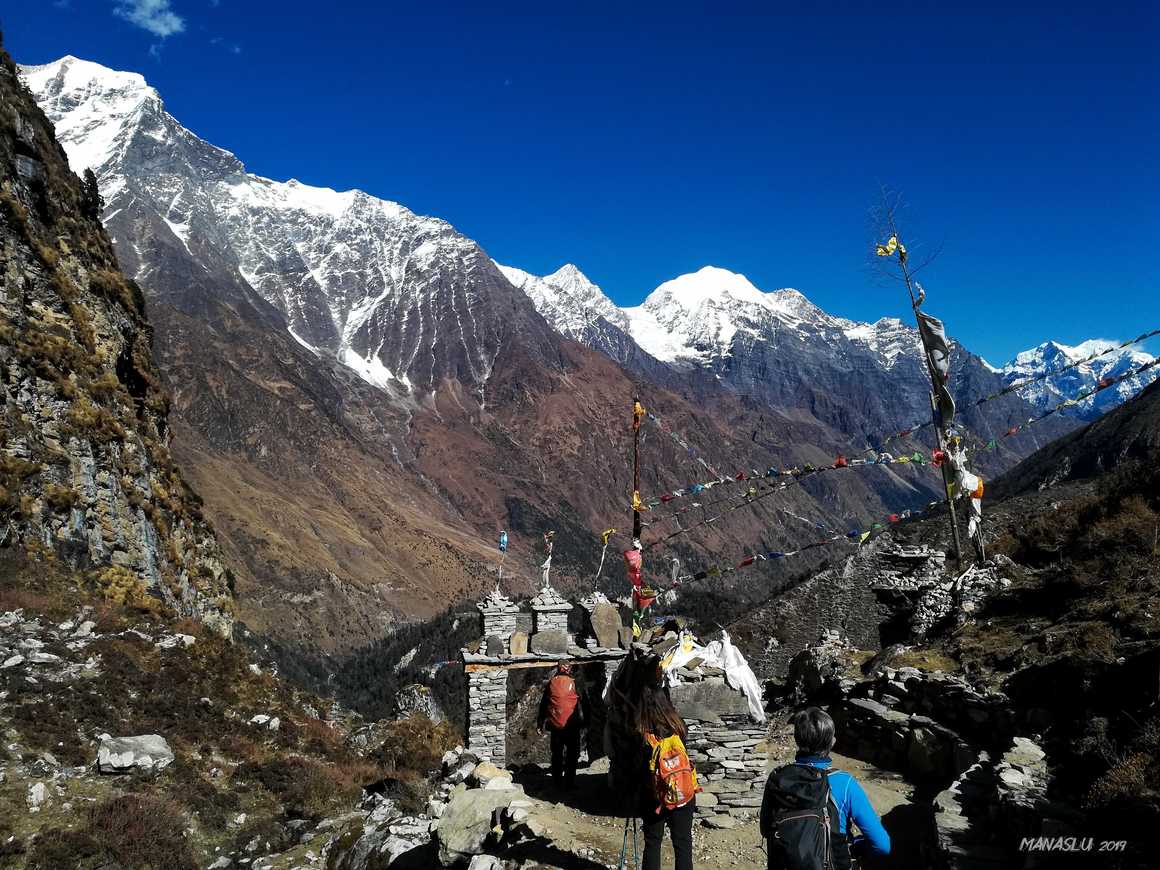 7. Paldor – 5,928m
Situated in the southeast of the Ganesh Himal range, Paldor might be smaller than some of its peers, but it is a slightly more technical mountain to summit. The Langtang Khola valley was badly affected by the 2015 earthquake here and remains quiet as the Tamang people rebuild their communities. This beautiful trek rewards those who summit with views across the valley to Manaslu and Shishapangma.

8. Pokalde (Dolma Ri) – 5,806m
This mountain lies in the Khumba Valley, which leads on up to Everest Base Camp. Out of the trekking peaks of Nepal this is one of the easiest and least technical, with only a few short scrambles from the base camp to the summit. For this reason, it is popular as a warm up peak, or for those with less trekking experience. The draw for many to climb Pokalde are the stunning views from the summit to opposite peak Lobuche, Makalu and Ama Dablam.

9. Yala Peak – 5,500m
Climbing the relatively easy peak of Yala takes you through the picturesque Langtang National Park, close to the border with Tibet. The valley is dotted with Yak and offers incredible vantage points of Shishapangma and Gangchempo. This is another straightforward trekking peak to climb. Depending on the season, technical gear such as crampons, ice axe, helmets and harnesses may be needed for snowy and icy conditions.

10. Tent Peak (Tharpu Chuli) – 5,663m
Tent Peak sits above Annapurna Base Camp in the Annapurna Sanctuary, and climbing her offers stunning views of Annapurna I. Tent Peak is named as such due to the shape of its peak, which looks like a flat sided tent. This mountain is not as technical as Mera or Island Peak and is an excellent introduction to mountaineering for amateur climbers. Due to the panoramic views offered at the summit, Tent Peak is one of the more popular trekking peaks in Nepal.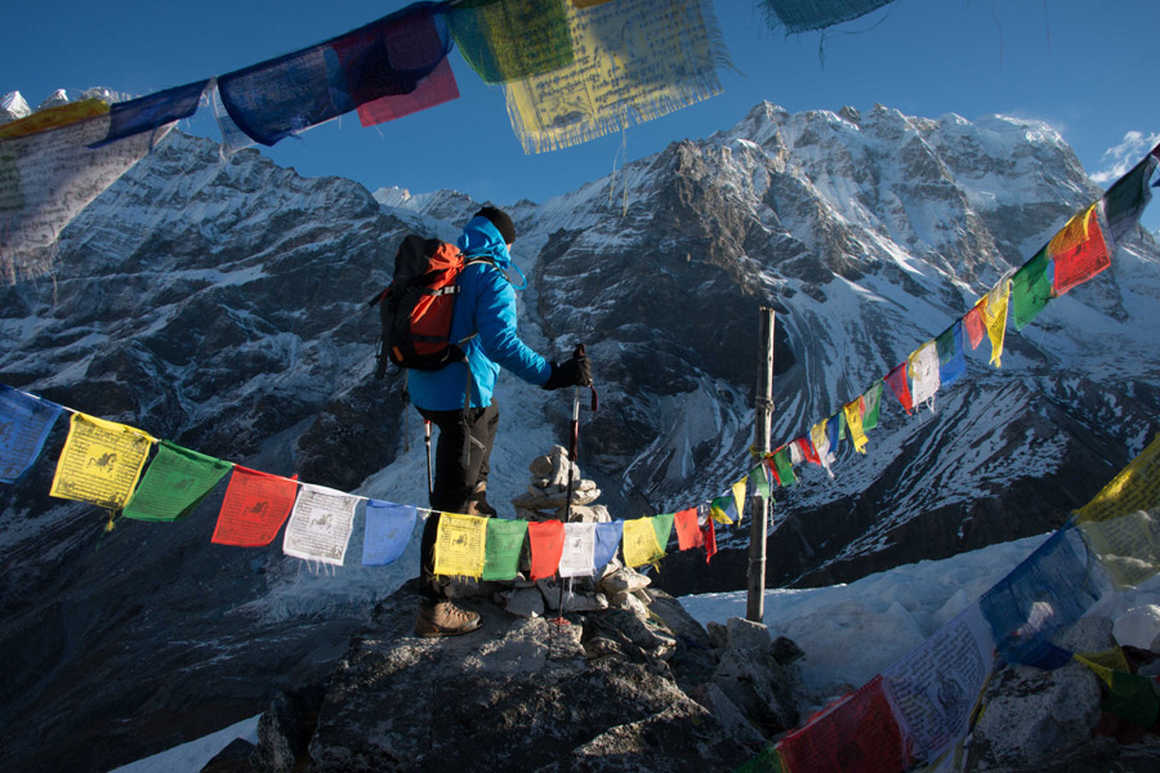 We would recommend trekkers research their destinations thoroughly before deciding on which mountains to climb. It is important that you have the right skillset, experience and support to climb trekking peaks, even if many are described as 'easy' or 'non-technical'. Choosing an adventure company that has experienced, knowledgeable and fairly paid guides will ensure you're in safe hands on your trek through Nepal.

Be aware that recent changes to solo travel in Nepal have been announced. Check out our blog for more information.