Two snowmen are standing in a garden. One says to the other, "Can you smell carrots"?

I've begun with this whimsical gag to make a point: what springs to mind when you think of the word 'snowman'? Maybe it's fond memories of wintry childhood days in the park; Raymond Briggs' lovable character 'walking in the air', or perhaps 'Frosty the Snowman; a yuletide singalong favourite covered by everyone from Bing Crosby to the Beach Boys.

Sorry guys, the sentimental snowman shizzle ends here. I want to tell you about a snowman that's not so much 'cutesy and heart-warming' as 'in-your-face and thrilling'. It's a high-altitude trek, of course, and one of the toughest in the world. How tough? Well, hang on to your bobble-hats because we're about to answer 'how hard is the Snowman Trek in Bhutan?'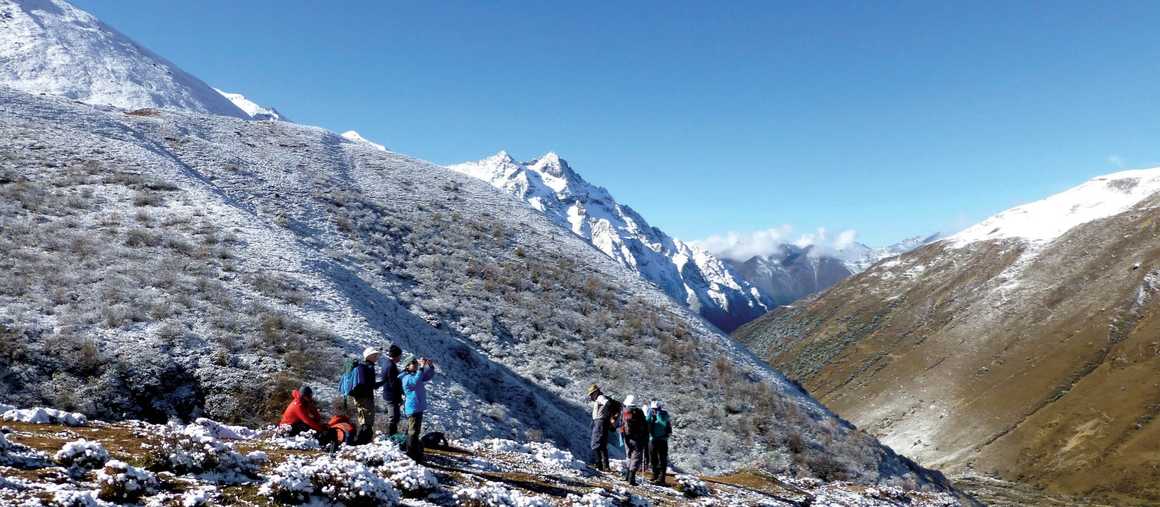 The Snowman Trek: what you'll be up against
Don't get me wrong; the Snowman Trek – a route which takes in the Himalayan peaks that line
Bhutan's
northern border - is one of the most exciting and fulfilling trekking adventures you'll ever experience. But it's not for the faint-of-heart or weak-of-knees. First time
high altitude
trekkers should really look away now. Don't panic though; we've a shedload of other utterly amazing treks that'll help build the experience you need in order to have a good crack at the Snowman.
Now, if you're still with me and interested in reading on, that hopefully means you've already got at least one or two decent treks under your belt. Good stuff. Because the Snowman is going to fling everything it's got at you. First and foremost then, you're going to need to be physically and mentally fit. Not just 'play a bit of sport on a Sunday morning then go to the pub' fit, but 'yomping a long way at high altitude in challenging conditions over eighteen days' fit.

Why the need to be in such peak (excuse the pun) condition? Well, it's because you'll be contending with a combination of all of the following:

Unpredictable weather - best time to hike the Snowman trek in Bhutan
The Snowman trek virtually guarantees you a frosty reception (ha ha) not least because, for much of the year, the route is impassable due to snow. At those
times
when you can complete it – namely the end of spring (March to May) or in the autumn (September to early November) – it's best to prepare for a climate that is nothing if not changeable. Higher up, snow and ice are a given, of course, but days can be sunny, rainy and cloudy too. Your best bet is to pack clothes that can be worn in layers to compensate for changing temperatures, decent waterproofs and good thermal gear for the overnighters – it's gonna get properly chilly come bedtime. A woolly hat, gloves and a pair of sunglasses (to combat snow glare, if nothing else) are likely to become your best mates so don't forget to bring those along too.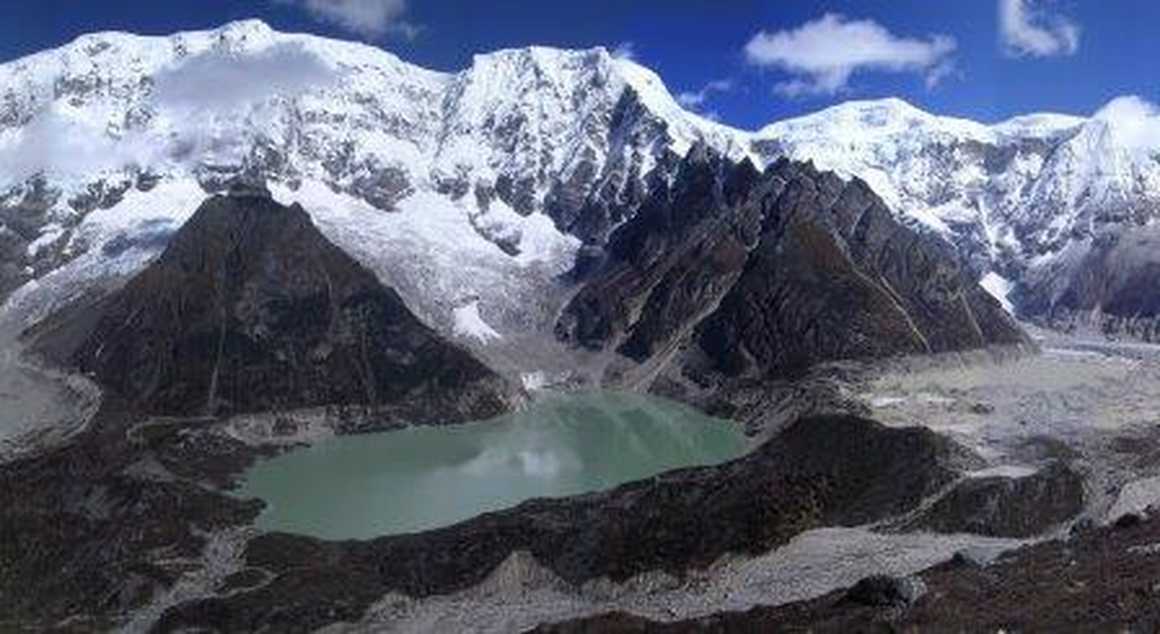 Altitude with attitude on the Snowman trek
OK, get this. The
Snowman Trek
features no fewer than nine mountain passes with elevations over 4,500 metres above sea level. Three of them are above 6,000 metres. You're gonna get high baby! At this kind of height, altitude sickness can become a real (and dangerous) issue and so needs to be managed properly. Cardiovascular and respiratory fitness is a big help and so is taking the right amount of time to properly acclimatise to the altitude before you begin trekking; if you don't you could end up gasping like a fish out of water when the going gets demanding. Minor headaches, shortness of breath and muscle fatigue are part and parcel of
altitude sickness
and these symptoms can be managed with the right medications, but if symptoms persist and get worse the higher you climb there'll be no alternative but to end your attempt on the Snowman Trek and head for lower ground. Actually, there is an alternative but potentially losing your life is best avoided where pôssible.
Daunting Distance - how long is the Snowman trek?
Did I mention that the Snowman Trek is around 300 km long? Better add blister plasters to your
packing list
(unless your trekking boots are bedded in to the point of ultra-comfiness). Now, that kind of distance not only takes its toll physically but also calls for determination and mental resilience too. Not that you're expected to walk all 300 km in one go (that would be silly). Even so, there are some long walking days with plenty of climbs and descents – you're in one of the remotest parts of the Himalaya Mountains, don't forget. Actually, there's not a chance you'll forget this once you clap eyes on the stark, dramatic beauty of your surroundings. You're a long way from Starbucks now.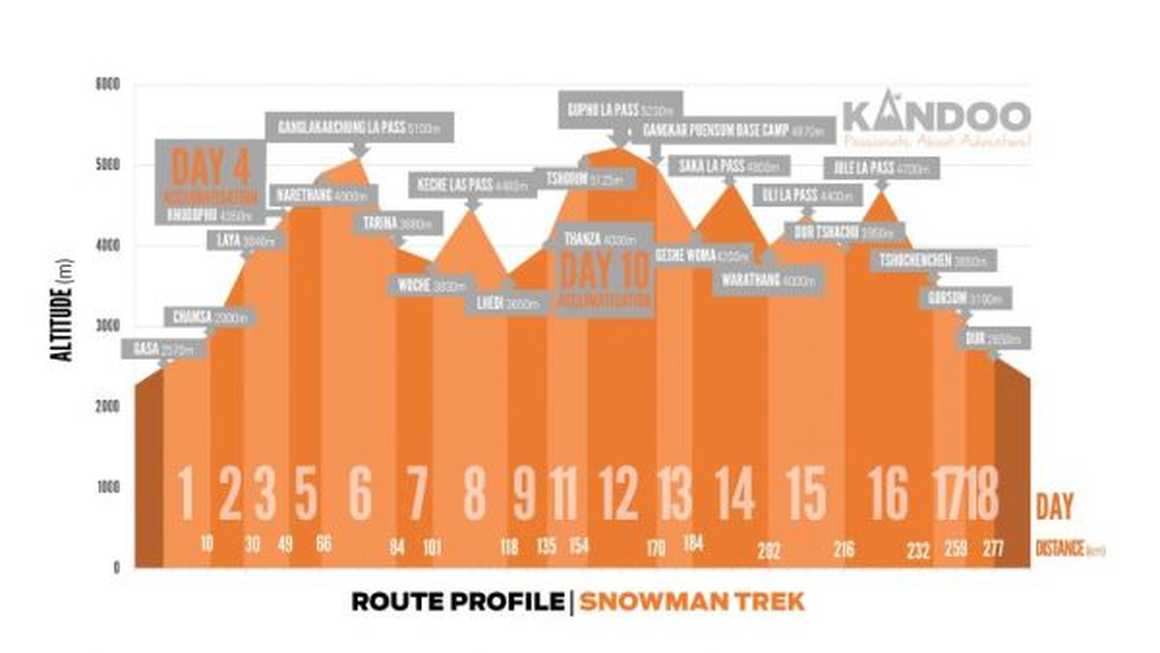 Tricky terrain!
When the going's good, and you're trekking on the level through sub-tropical forest or up a gently ascending trail, everything's lovely. But this is not the hardest trek in Bhutan without good reason. One minute you could be the narrowest of narrow paths, the next hauling your way up a steep climb on a mountainside. Expect snowy high mountain passes, close encounters with glaciers, rocky boulder-strewn sections, river crossings by suspension bridges and everything in-between. None of these things might sound bad in itself, but you're going to be trekking through this ever-changing (but massively beautiful) terrain for anything up to nine hours a day. Your legs are going to feel it. You might be knackered. But trust me: you're gonna love it.

Yikes! That sounds demanding! So why should I do the Snowman Trek?
Aaah… questions, questions. Yes, the Snowman Trek is rated as 'hard', is best avoided by trekking newbies and is certain to bung a fistful of challenges in your way. But that's why you're here isn't it? You love an adventure. And this is one high-altitude trek that gives you a whole heap of damned good reasons for taking it on. Let me give you a few.

The Snowman Trek is completed by only a handful of dedicated trekkers each year, so if you smash it, you'll be joining a pretty elite group. It's set in one of the remotest parts of northern Bhutan which means that you are guaranteed spectacular, pristine and unspoilt views of some of the greatest mountains on the planet. Because the Snowman Trek is no walk in the park, the feeling of personal fulfilment, achievement (and, perhaps, relief) you'll get when you complete it is second to none. You might – just might – get to spot an elusive snow leopard; if you're into your rare wildlife, that alone justifies making the trip. Then there's the opportunity to take in a visit to Bhutan's legendary 'Tiger's Nest' monastery; a remarkably gorgeous temple complex in an out-of-this-world location. Then there are the cultural interactions to be had in Bhutan's compelling cities and rural villages; the chance to become best buds with the super-experienced Sherpas who'll be guiding you and, of course, the limitless opportunities to take jaw-dropping photos of the scenery you'll be trekking through.