According to an old song (ask your granddad), 'it's a long way to Tipperary', but to be honest, getting to Tipperary – it's in Ireland - is a doddle. Bhutan, not so much. Surrounded by Tibet to the north and India in every other direction, this tiny Buddhist kingdom in the eastern Himalayas is a proper haven for high-altitude trekkers.

However, there's a price to pay for all of Bhutan's mountainy goodness; as destinations go, it's a bit remote to say the least. In fact, before the early 1960s you could only get into Bhutan on foot, either south from Tibet or north from West Bengal, India. We don't really recommend you try this; if you're planning on a couple of weeks in Bhutan to experience some frankly mind-blowing treks you a) don't want to waste half of your precious time actually getting there, and b) don't want to be utterly knackered before you actually start trekking in Bhutan.

So… what's the best way to get to Bhutan? Well, if you were thinking of taking a nice sea cruise there we can rule that out for starters; Bhutan is landlocked and surrounded by mountains, you ninny. That really leaves only two other options: making the journey overland or flying into Bhutan.

Getting to Bhutan overland
There's no getting away from the fact that, at some point on your journey to Bhutan you're going to be airborne unless you've invented an entirely safe teleportation system. If you have, stop reading this now and call us immediately. And don't worry, we won't tell anyone. Where was I? Oh, yes; travelling overland to Bhutan. If you're time-rich and feeling adventurous or can somehow wangle cheap flights to the appropriate bits of India, then this might be a good option for you. If, however, you were hoping to nose around Tibet for a while before heading south into Bhutan you can forget it. Even though they're neighbouring countries and Tibet is another bucket-list destination for the dedicated high-altitude trekker, travelling between the two is trickier than getting a selfie with a yeti because there are no flights between them and no overland borders that can be crossed by international visitors.

If you fancy travelling overland from India to Bhutan though, you have options. The most popular route would be to get a flight to Bagdogra Airport in West Bengal. Happy days if you're a tea drinker; Bagdora is in the Darjeeling district so you're unlikely to struggle for a decent cuppa while you're here. Better stock up; you've a long and exciting trip ahead. You need to make your way to Phunstsholing – Bhutan's second largest town – to make the crossing from India. Phunstsholing is roughly 170 kilometres to the east of Bagdora, and once you've done the paperworky bit at the border you're straight into the mountains; from here a spectacular but winding six-hour journey will get you to Thimphu: Bhutan's capital.

If you're a real sucker for challenge, there are two further overland border crossings from India into Bhutan. One is via Darranga in Assam (More tea! Tough luck if you're gagging for a coffee) which is a four-hour journey from the nearest airport at Guwahati. Crossing in Darranga takes you into the town of Samdrup Jongkhar, from which it's a bit of a magical mystery tour through a host of Bhutan's towns and villages if your ultimate destination is Thimpu.

Lastly, you can head toward Geluphu, a pretty border town located about 150 kilometres southeast of Thimpu and which lies more-or-less smack in the middle of Bhutan's southern edge above the Indian region of Assam.

Getting to Bhutan by air
The best way of
getting to Bhutan is by air.
There. We've said it. Going overland requires time, organisation and dedication. There are rewards, of course; you'll get to see parts of both India and Bhutan that you might not otherwise see, possibly forge lasting friendships with other overland travellers and have a unique travelling experience that funds lots of stories in the pub. But travelling overland to Bhutan can also be a bit of a faff, especially if you're keen to cut to the chase and get on with
trekking in Bhutan
.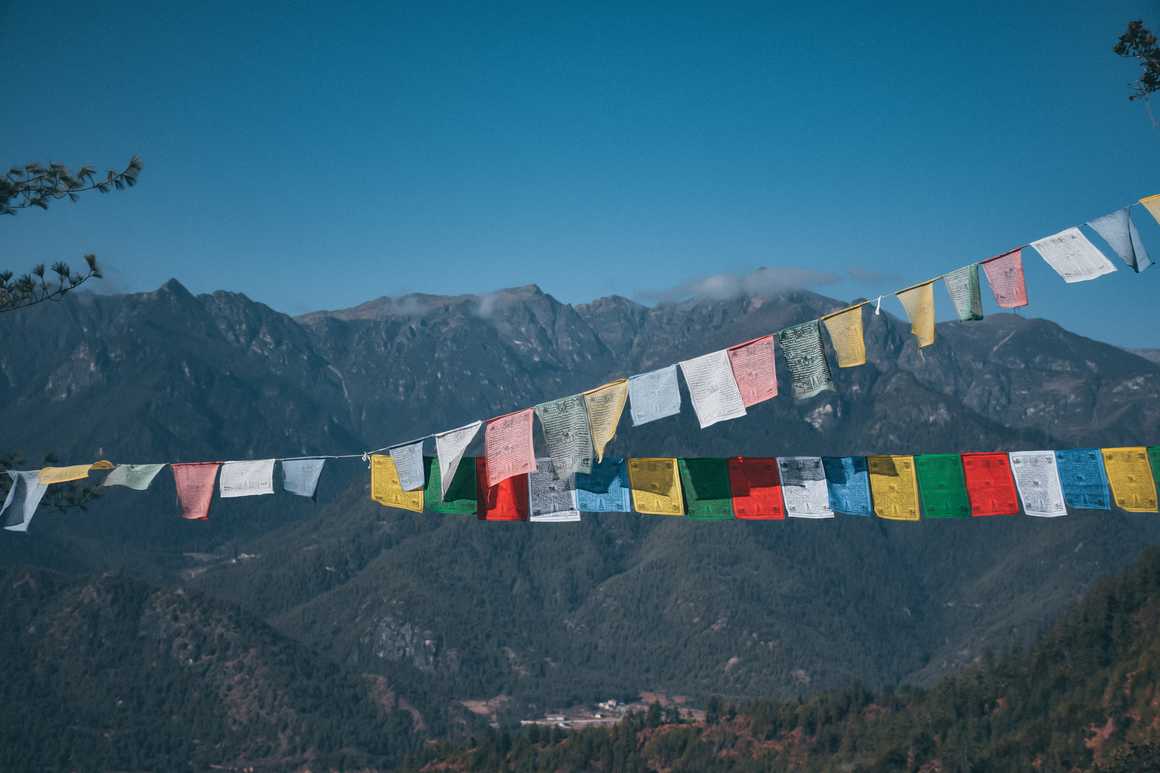 Having said all that, I should point out that there are no direct flights to Bhutan. That would be far too easy; where's your sense of adventure? No; first you'll have to get to Bangkok, Kolkata, New Delhi, Guhawati, Kuala Lumpur, Doha, Singapore, Bagdogra (see above), Dhaka or Kathmandu and then catch a connecting flight to Bhutan's sole international airport located near the town of Paro. In other words, flying to Bhutan takes time - just not as much time as going overland.

Your flight into Bhutan will be on a separate ticket to your international flights, and I'm afraid that means clearing immigration at your chosen transit airport. Sounds like a drag – and it is. Not only will you have to reclaim your luggage and check it back in again for the Bhutan flight, but you may very well have to pay for the privilege. Depending on which country you are in, you will have to apply for a transit visa before you can reach your bags, so a bit of forward planning is required if you're going to breeze through the airport

Two operators provide regular flights into and from Bhutan: the national airline, Druk Air, and a private company; Bhutan Airlines. Whichever you choose, though, you are guaranteed one of the most exhilarating/bum clenching (in a good way) flight experiences on the planet. Feel free to skip the next paragraph if you're a nervous flyer. And don't worry – everything will be fine.

Still with me? Good. Well, here's the thing. Bhutan's Paro Airport is probably the world's most challenging airport to land at. It's unsurprising really, given that the runway is situated more than 2,500 metres above sea level and is surrounded by mountains. Bhutan's airlines don't take chances with their valued customers, so you'll need to accept in advance that if the weather's looking a bit iffy over Paro your flight is likely to be delayed. Once onboard though, if you can bag a seat on the left hand side of the plane you're in for some in-flight entertainment unlike any other. Guided by some of the world's most capable pilots you'll fly so close to the mountain tops that it feels possible to reach out and scoop some ice for the nerve-steadying drink you'll need. For maximum amazingness (is that a word?) pick up your flight to Bhutan in Kathmandu, Nepal. That way, you'll fly over four of the five highest mountains on the planet and can wave at Mount Everest as you pass by.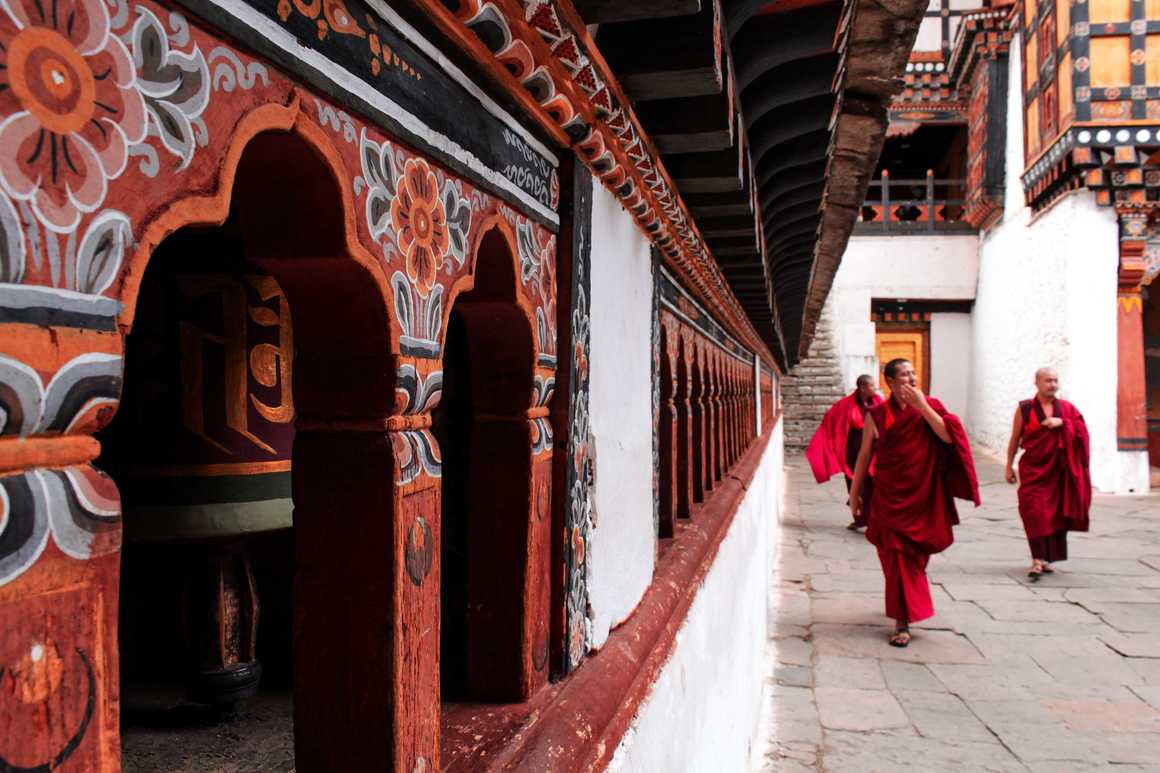 Other stuff you need to know about getting to Bhutan
Bhutan is both unspoilt and spectacularly beautiful. You can understand why they'd want to keep it just the way it is. So unless you hold an Indian, Bangladeshi or Maldivian passport you're gonna need a visa before you're allowed into Bhutan. Oh, and you can't just apply for a visa and expect to be let in on your own. No sirree. All visitors must be travelling with a Bhutanese licenced tour operator. Makes sense really doesn't it? And to be honest it's a small price to pay to reach a destination that packs in so much culture and tradition, so many natural wonders, jaw-dropping scenery and more than twenty officially recognised and frankly out-of-this-world
high altitude treks
; our favourites are the
Chomolhari
,
Druk Path
and the
Snowman
treks to name but a few! The great news for you is that
Kandoo Adventures
can take care of all the stuff you don't want to be wasting time on: sorting out
visas
, flights, transfers,
accommodation
and whatever else. This leaves you free to concentrate on living the Bhutanese dream. In fact, that that's prompted me to revise my answer to the original question. What's the best way to get to Bhutan? With us, of course!