One of the great things about working for an adventure travel business like Kandoo is that when vacations come around they encourage you to go and visit the destinations you are selling and experience first-hand what they are really like.
So when I was planning my vacation for 2017 I was delighted that I would be able to visit our newest destination, Bhutan.
Like nearly all tourists I flew into Paro Airport in Bhutan. This flight was an epic journey in itself: the only landing I have ever done where a full-sized jet banks through a chicane of mountain ridges at only 500m before finally levelling off for touchdown just metres above the ground.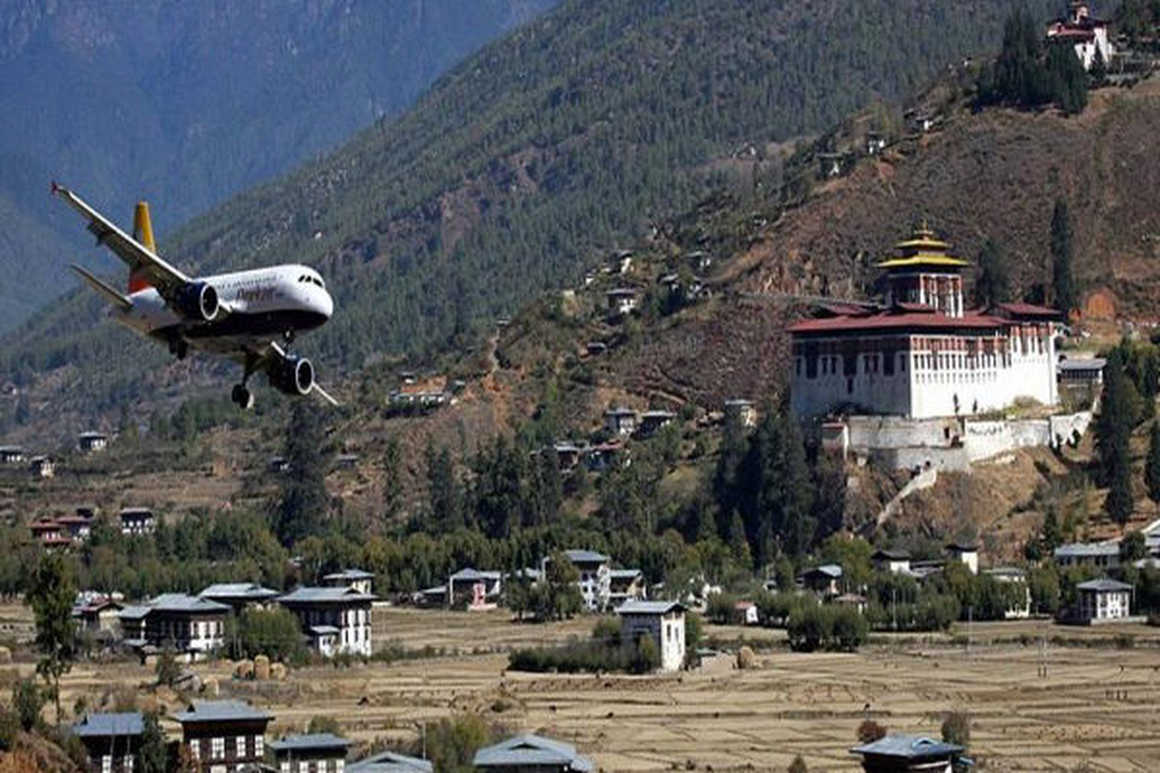 Once on the ground in Bhutan I was surprised to find that although Paro is an international airport, it is situated in a village. The whole of the Paro valley is home to only 70,000 people and they are spread over a valley more than 20 miles long. The valley is green, the hillsides forested and the air as fresh as a daisy.
Next surprise was the tidal wave of happy faces that met me as I came out of the terminal. I already knew Bhutan was the first country in the world to measure progress according to "Gross National Happiness" rather than Gross National Product, but I didn't expect that would translate so obviously into happy contented people.
Without being overly cynical, when you first meet this reaction it can feel spookily like being in a giant Disney Theme park. By the end of my first day though, I was a convert: the happiness culture is deeply embedded and not just a glossy marketing veneer. Buddhism here may have taken a distinctly theist direction but their values of caring, consideration and courtesy are pure Dalai Lama.
Before I started on the Druk Path trek I had the chance to hike to the Tiger's Nests monastery - if there was ever a bucket list destination that is even better than your highest expectation then the Tiger's Nest is it. I won't cover the Tiger's Nest in this blog as there is a great article one of my Kandoo colleagues wrote here.
The only thing to note though is that this day trek is a great way to acclimatise. Paro is at about 2100m and the Druk Path trek takes you over 4000m so day hiking Tiger's Nest to 3200m really helps your body adjust.
Start of my Druk Path trek
My trek proper started on day 2 of our trip and we set off at about 10am driving up past the Paro Dzong and Museum, finally following a dirt road quite a way up the mountain. There were a lot of small local tractors using this route and I was surprised to see some trekkers walking this section of the path. Apparently, this section of the road is new and trek itineraries have often not been changed to reflect this.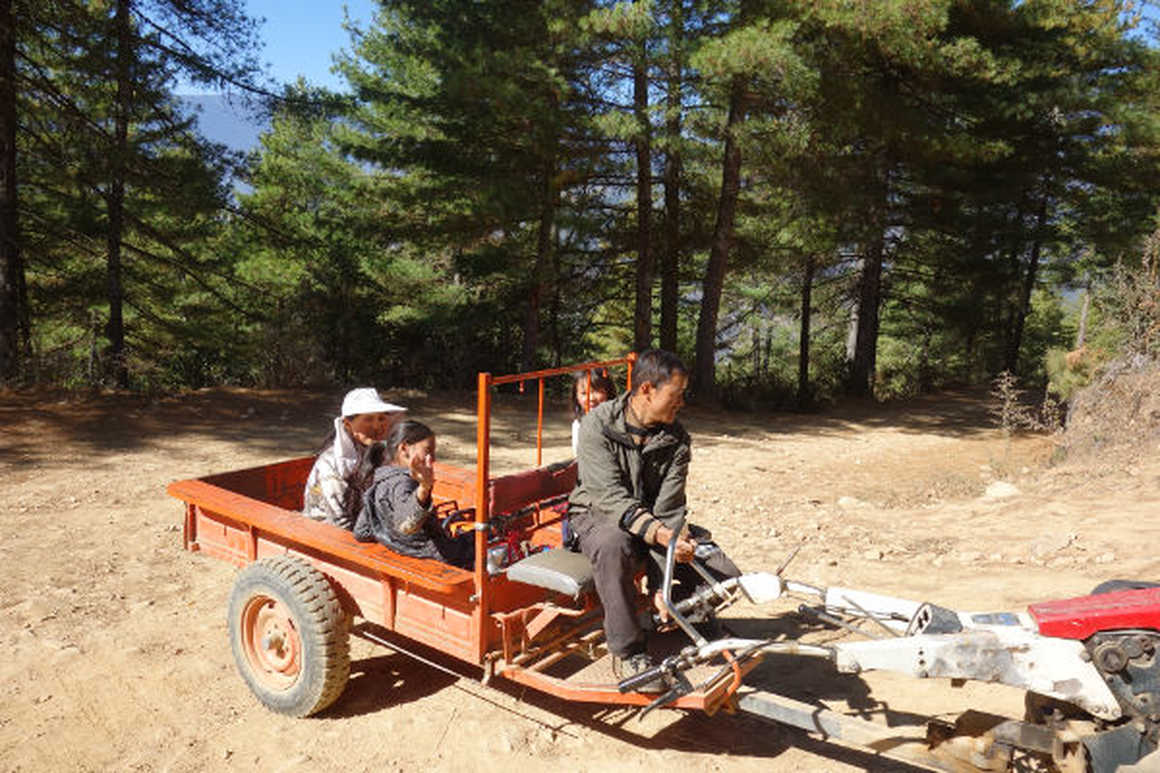 When we finally reached the end of the road we were met by our cook, lunch boy and donkey man. Bhutanese do no portering so all baggage goes on donkeys or at higher altitudes on yaks. This makes for a pretty small crew- effectively just a guide, a cook, a donkey owner and a "Lunch boy"- more on him later.
From where we started walking to our first main stop at Jele Dzong was about 3 hours and an altitude gain of about 800m. Jele Dzong has been allowed to become run-down but a major renovation project is underway so hopefully by the 2017 season it will be looking much better.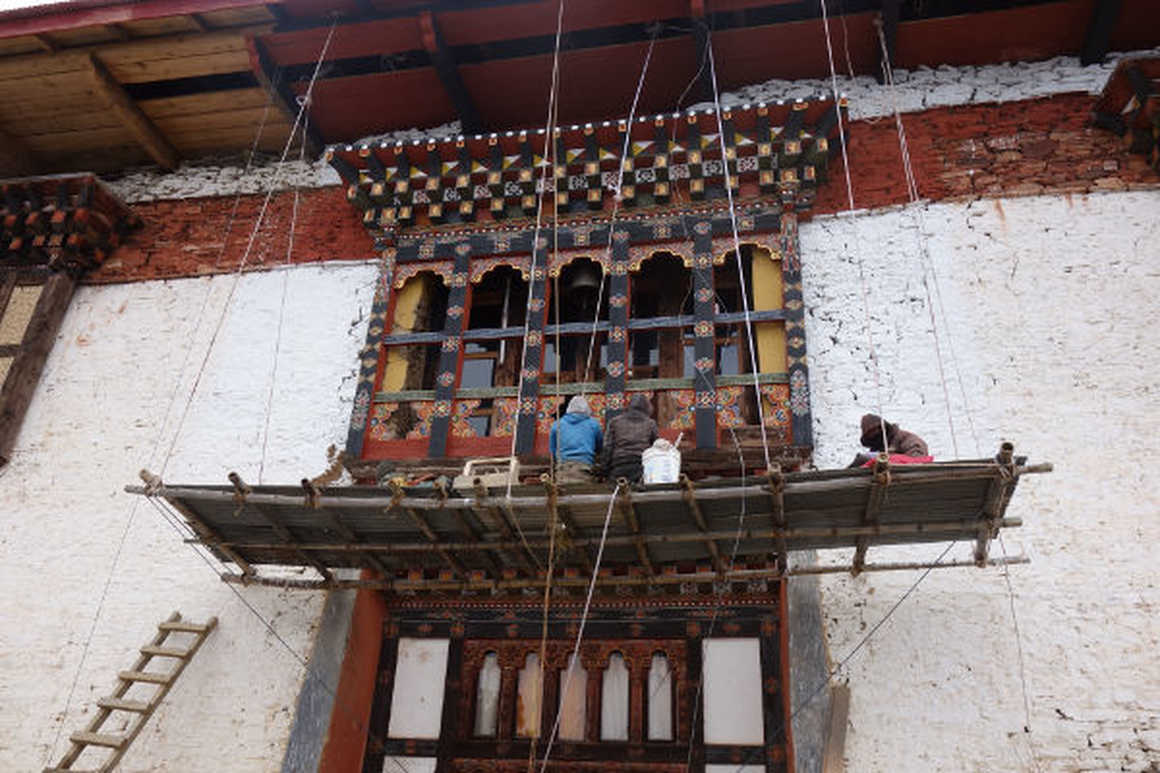 We had our first lunch just below the Dzong and I was fascinated to see how they do a hot lunch in Bhutan. In other countries where Kandoo does a hot lunch the cook sets up camp at the lunch spot and cooks there and then. In Bhutan, the cook prepares everything in the morning and the lunch boy carries it hot in what is effectively a giant thermos flask.
This worked really well and the food was amazing. This is how it looked served up.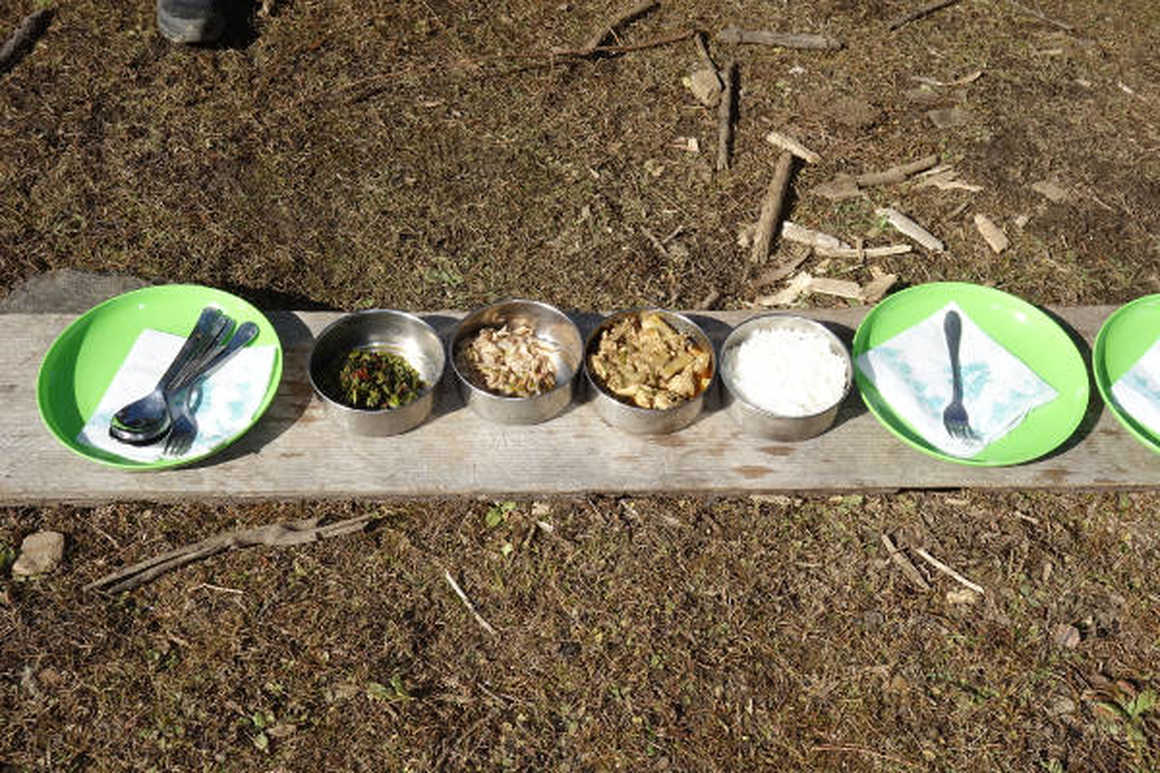 From Jele Dzong we hiked for another three hours along the ridge with great views down to Paro valley. The route here is largely through rhododendron forests and sadly we missed out on the flowers - in Spring the huge forests of rhododendron would be really spectacular.
Our camp site for the night was at Jangchulaka, a really lovely meadow area cleared of forest by the nomads who graze yaks through all these mountains.
Day 2 started with a steep uphill to a high pass at just over 4000m. Effectively the Druk Path runs from Paro to the capital at Thimpu following a large horseshoe ridge, saving most of the altitude and avoiding the very steep slopes but still with a lot of ups and downs. Everyone in our group found that going up to 4000m on day 2 of hiking was hard work breathing and this section really needs a slow pace. From the pass we had our first real views of Bhutan's big Himalayan peaks including Jomolari.

One of the highlights of day 2 was meeting several nomads moving their herds of yaks from high pastures lower down the valley for winter. Dodging off the path to avoid a herd of 50 or so yaks was quite an experience.
Our camp site for night two was Lake Janetsho, a beautiful crystal clear lake sitting in a high bowl. The lake area is another nomad grazing area and we were lucky to find a big herd of yaks drinking and cooling off in the lake.
Day 3 took us past two further lakes, Dungtscho Tscho and Dungtscho Sama after which there was a long climb up to the Labana Pass at 4235m, the highest we went on the Druk Path. The views back to the Bhutanese Himalaya from this pass were fabulous and had me wishing that I had time to go and have a look.

From the top of the pass we skirted round the hillside with great views down into the Thimpu valley before beginning a slow descent past the Phajoding Labsa chorten. Finally, we dropped down steeply to arrive at the Phajoding Monastery for our last camp.
Dinner on the last night was incredible. I was impressed by all the food the cook magicked up but on the last night he surpassed himself. Full roast chicken for the main course and an amazing cake for pud.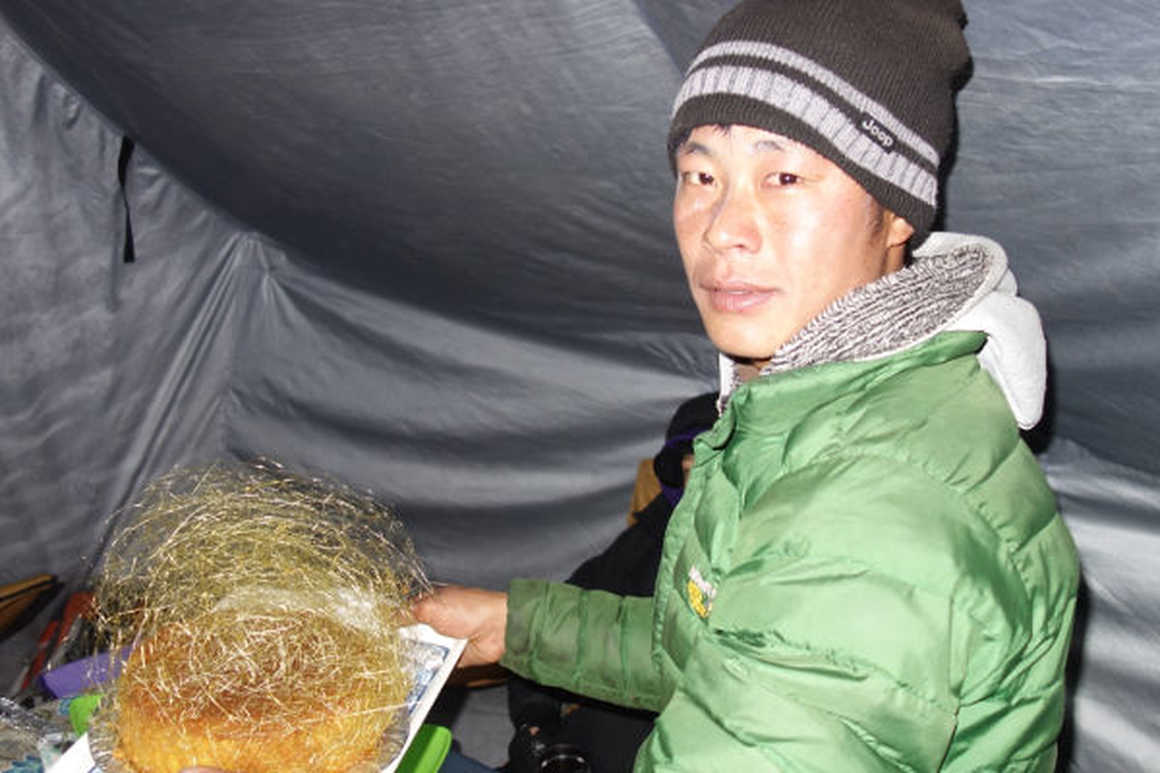 The next day was a very short walk down through heavily forested trails to the end of the trail. About three hours walking in all. From there it was about a 30-minute drive down to Thimpu and the end of the trek. My trip included tours of Thimpu and Punakha but as we have separate blogs on all the best things to do in Thimpu and Punakha I don't plan to cover this here. I would say though that if you can squeeze these into any trek you do in Bhutan taking a couple of days to visit these towns is time really well spent.
Summary of my Druk Path trek
So, what were my overall impressions of the Druk Path trek?
First, I should say this is not a particularly challenging trek, if you want something that is a real challenge, Jomolari or the Snowman are much better options. But as a way to get a feeling for Bhutanese trekking it's a really nice hike and incorporated with a whistle stop tour of the cultural highlights of Bhutan this is a great option if you are short on time.
One final point, most operators run the Druk Path trek over 5 days but when Kandoo were setting up in Bhutan our team walked all the routes and decided that 5 days was far too much time for experienced hikers. On my trip, we only had 18-20 hours of walking at average pace and if we had done it over 5 days this would have meant lots of sitting around in camp-sites. OK if the weather is warm but at 4000m you can't guarantee this particularly in the shoulder season.