Climbing Everest
Climbing Mount Everest is a feat of personal achievement that ambitious mountaineers aspire to. It is not an easy task and requires plenty of training, perseverance, stamina and determination. Oh, and a ton of cash.

Everest has been summitted by over 6,000 climbers, from thirteen-year-old teenagers to pensioners in their seventies. Amputees and cancer sufferers, pregnant women and those with mobility affecting diseases have all reached this elusive summit, demonstrating that physical strength will only get you so far and that a positive state of mind can conquer mountains.

Permits & Visas
A permit to climb Everest is approximately GBP £8,900 or USD $11,000.

In addition to this, you will need to pay a local Nepalese company to arrange your visa for you at a cost of approximately £2,000 or $2,500 per group. You will be required to pay a refundable waste deposit per group of £3,250 or $4,000 as well as a local liaison officer, which costs around £2,500 or $3,000 for the whole group.

Essentially, before you set foot out of Kathmandu, you will need to pay costs of approximately £16,650 or $19,500.

Following a number of potentially avoidable deaths on Mount Everest in 2019, the Nepal rules around who can be awarded a permit to climb Everest were changed for future seasons. The new rules stipulate that climbers must have climbed at least 1 other mountain in Nepal over 6,500m before being given a permit to climb Everest.

Once in Kathmandu, you will be required to prove you are medically fit, complete a basic mountaineering and survival course, show proof of COVID-19 vaccination or negative PCR, show your insurance documents and undergo a short interview.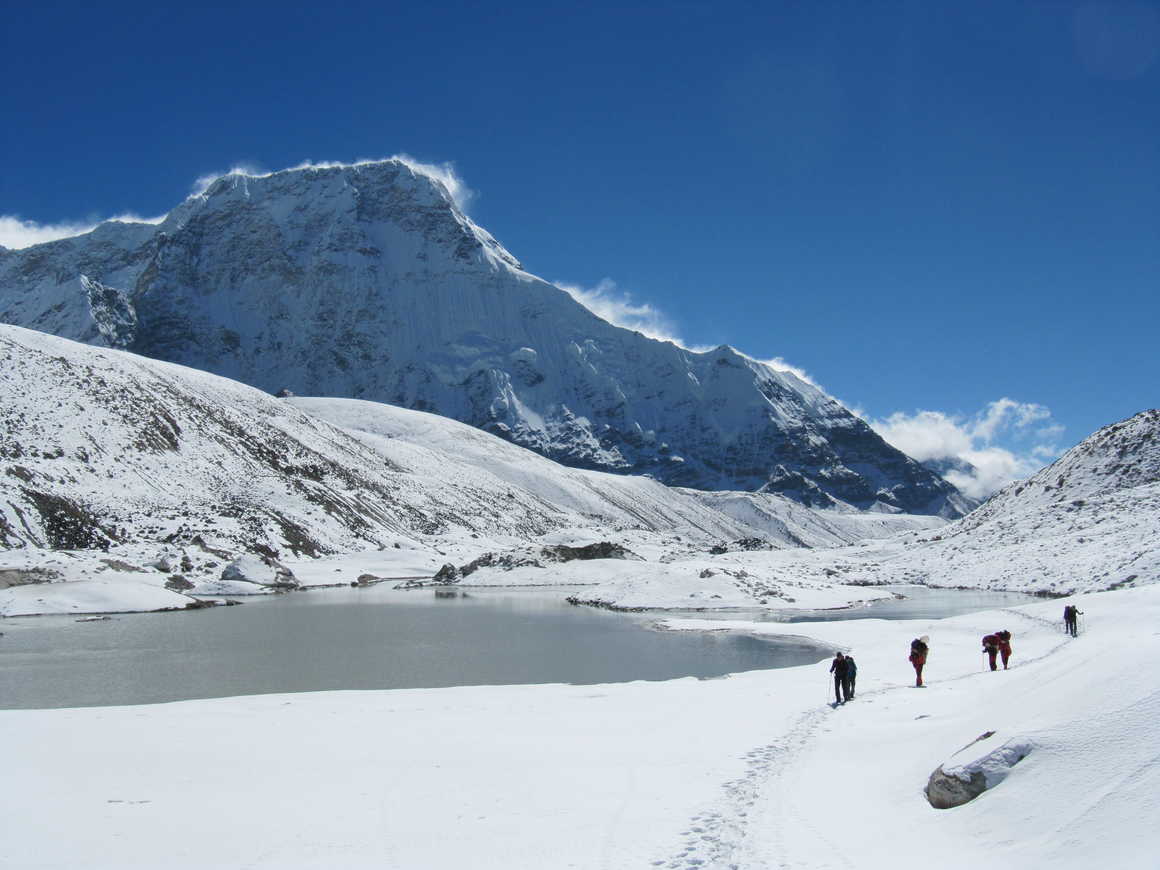 Insurance
All trekkers need to take a minimum level of insurance for climbing Mount Everest in order to cover evacuation from the mountain. There are many different levels of cover, including cover for the season cutting short due to natural disasters, rescue cover and equipment cover and illness and injury cover.

Expect to pay anything from £100/$125, for a basic policy up to £400 or $500 for more comprehensive cover. It is worth considering a higher level of cover if you can afford it, as disruptions to your trek may be compensated.

You will also need to make sure that your Sherpa, porters and guides are insured whilst they are hired by you.
Support
New restrictions announced at the beginning of March 2023 for solo travellers
stipulate that solo travellers must now have at least one guide or Sherpa with them when trekking in Nepal. This is no exception for Everest. Unsupported climbs will no longer be possible, and all trekkers will be required to take a guide of some sort. There are different types of support you can use for your climb.
1. You can take a Sherpa supported trip, where you will use a company who provides Sherpas and porters to help carry equipment, food, arrange transport and help with planning. This type of support will not include guiding and the Sherpa may or may not speak English. It is more suited to those who have high-altitude experience and mainly provided by Nepal based providers.

You can expect to pay approximately £36,500 or $45,000 for this type of package. This may not include tips or transport, which are usually extra.

2. A Sherpa guided trek will provide a lead Sherpa who guides your expedition who will be able to help make decisions about conditions and routes and will summit with you. This type of support would not typically include carrying gear, but may include a guide who maintains your camp at Base Camp. This is a good option for those who are experienced mountaineers who want local support but are more self-sufficient.

A guided trek can cost from £40,000 or $50,000 and expect 10% more if you want a personal 1-2-1 guide. Tips and transport will likely be on top of this.

3. A fully guided trek will include both of the above, typically, and is the best type of support package for first time Everest climbers. Here you won't have to worry about logistics, meals, routes or carrying your gear. You will just have to put one foot in front of the other.

This type of expedition will cost anything from £53,000/$65,000 up to hundreds of thousands depending on the level of comfort you want to experience during your climb.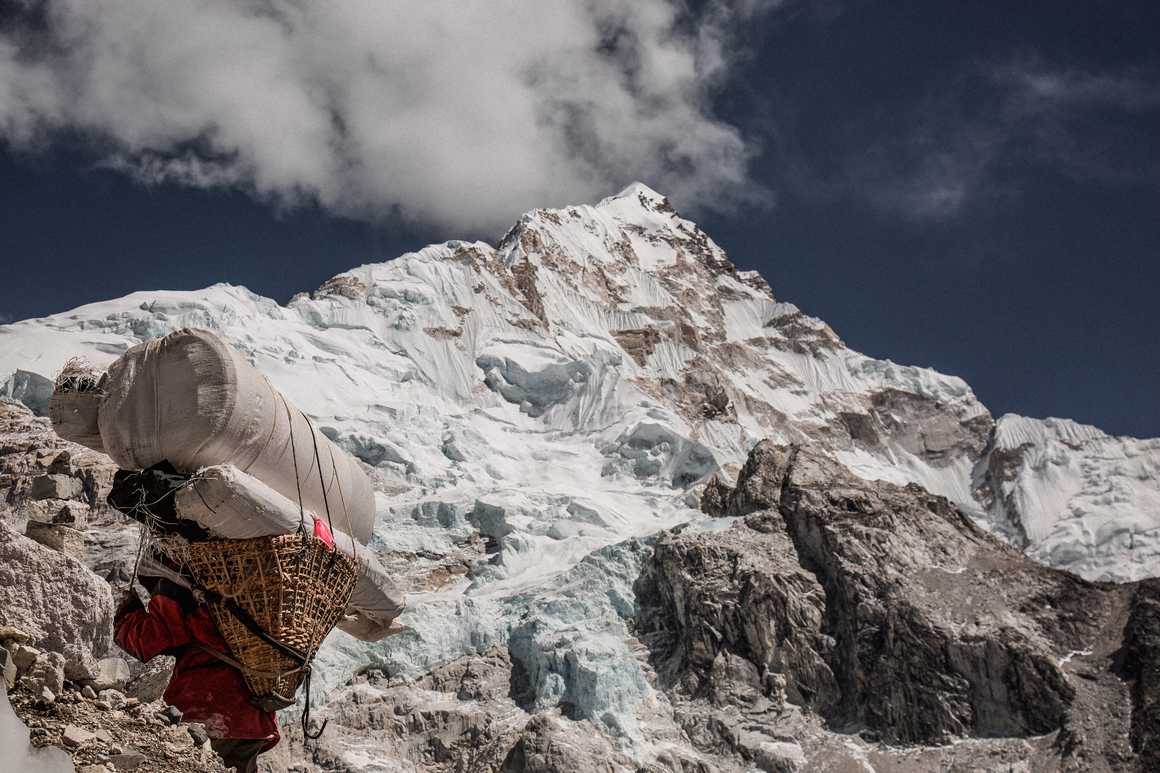 Tips
Tipping is not mandatory in Nepal, but it is customary if you have been happy with the service you have received. Tips range anything from £4/$5 a day for porters and drivers or £8/$10 for Sherpa to £16/$20 per day for the lead guide.

Tips are usually paid by the group so you can expect to pay this amount in total, divided by the members of your party. If you feel your support has gone above and beyond, by all means tip more.

You will have to carry this cash with you on your trek so make sure you have a secure, dry money wallet with you.

Accommodation
Depending on the level of support you need for your Everest climb, your accommodation may be in teahouses to start with followed by basic camps or more luxurious camps at
Everest Base Camp.
The difference between basic and luxury at EBC, is luxury camps will have heated private bell tents, private bathrooms with showers, Wi-Fi, flooring and furniture and 5* meals. Basic accommodation includes shared tents and shared facilities, separate communal spaces and hearty meals as opposed to fine dining.

You can choose to camp on the route up to Everest Base Camp but expect to pay a premium for meals at the teahouses as a non-resident. The type of accommodation included in your trip will be specified at the time of booking if you have paid for a fully guided trek, and there may be chance to upgrade your package depending on the amount of comfort you would prefer.

Above Everest Base Camp, you can expect accommodation to get more and more basic the higher you climb. Fully guided treks will include porters to help set up camps above Camp 2 and may include shared bell tents. Towards the summit, your camp will be set up ready for use and taken down after your departure by efficient local teams and their location will depend on conditions, progress and weather.

Food
Teahouses dot the valley on the climb up to Everest Base Camp. These range in quality but will offer a variety of local and western meals. You will receive better rates for food at the teahouses if you stay there and you can expect to pay between £3-£10 or $5-$15 for a meal.

Drinks, beer, snacks and basic provisions may be available to purchase at these teahouses but expect them to get progressively more expensive the closer you get to Base Camp.

Before your trek in Kathmandu, you will be able to find all sorts of different cuisine and prices will range from a couple of dollars for local options to more expensive western-style food.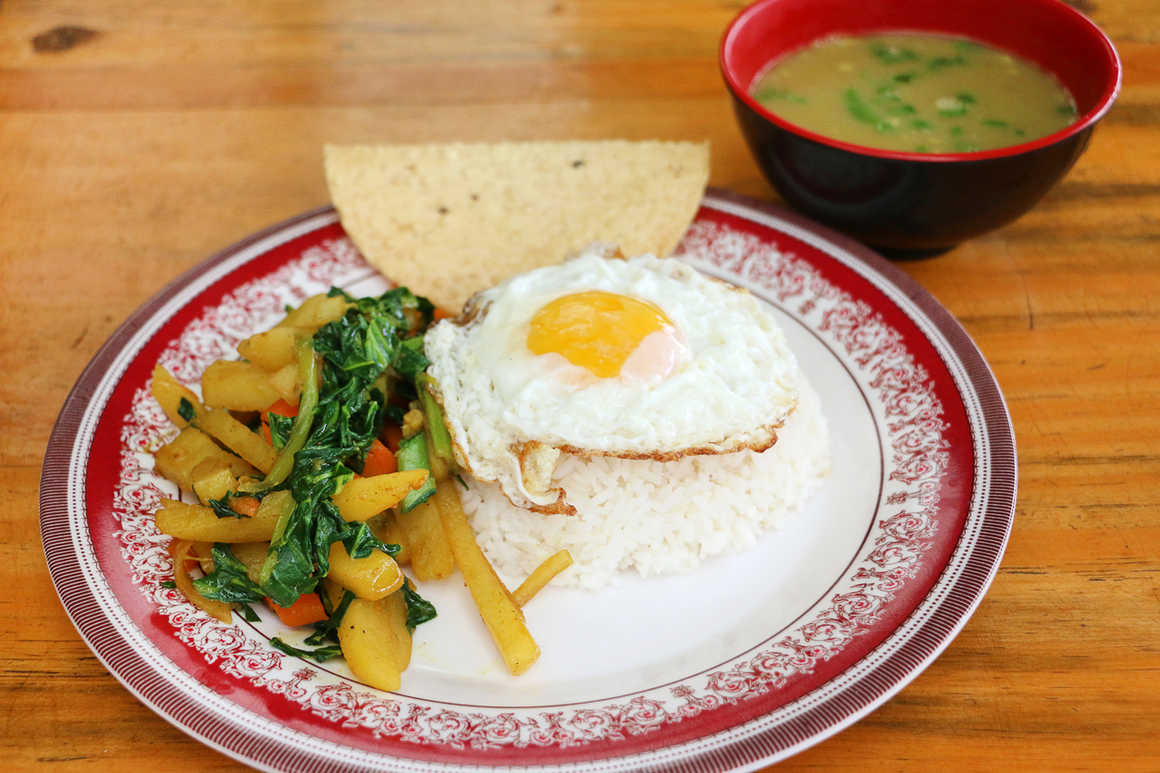 Transportation
You will need to fly to Kathmandu to pick up a local flight to Lukla. International flights from the UK, Europe and the US may fly through Dubai, Doha, Mumbai, Delhi or Istanbul depending on which airline you fly with. Flight costs will entirely depend on whether you fly economy, business or first class, when you book and which carrier you choose.

To get to the start of the trek to EBC you need to get to Lukla. Some companies will include a flight from Kathmandu to Lukla, while others won't.

You can trek to Lukla from Kathmandu, by getting a bus to Jhiri and walking from there. The journey will take around 5 days on foot. You will need porters and yaks to help carry your luggage which will cost from £16/$20 a day.

Alternatively, you can drive from Kathmandu to Lukla. Private transportation will cost around £300 or $350 and will take the best part of a day.

From Lukla it is a week long trek to Everest Base Camp. The same prices apply for porters and yaks here and your accommodation and food will either be paid for as part of your booked trek or you can pay as you go.

Teahouses will charge around £5/$7 a night plus food.

The other transport option to consider if you'd like to save yourself time, and effort, on the way down is to get a helicopter transfer from Everest Base Camp to Lukla after your summit.

This will set you back around £1,600 or $2000 but the cost can be shared if you are travelling in a group.

You can also get a helicopter to EBC but you will miss out on journeying through the valley and experiencing the beautiful landscapes and meeting fellow trekkers.

Oxygen
Whilst there have been a few mountaineers who have summitted Mount Everest, and other 8,000m peaks, without supplementary oxygen it is not recommended. At higher altitudes our
blood oxygen concentration levels can dip as low as 40%
, compared to 98-99% at sea level. This can lead to hypoxia, or insufficient blood oxygen levels, which affects the central nervous system debilitating our ability to function properly and inhibiting our cerebral function. Hypoxia can lead to poor judgement, bad decision making which can lead to, in worst cases, death.
Expeditions to Everest will invariably require an oxygen allowance which will be carried with you, by yourself or a Sherpa, at all times as you get higher. Even during sleep, you will be fed oxygen through a mask at a low flow rate to keep your blood oxygenated enough for your exertion and eventual summit. The amount you need will depend on your route, size, pace and climb duration. You will also need to account for oxygen for your Sherpa.

A fully guided trek up Everest will make sure that you have enough oxygen tanks to reach the summit and the following descent successfully and safely. You can arrange for Sherpa to carry tanks up for you and store them tactically to prepare for your ascent.

The cost of oxygen is around £400 or $500 per bottle and at least five bottles will be needed. You will also need a mask and regulator which are another £400 or $500 each. Sherpa will need oxygen but as they require less, this can cost around £1,600 or $2,000.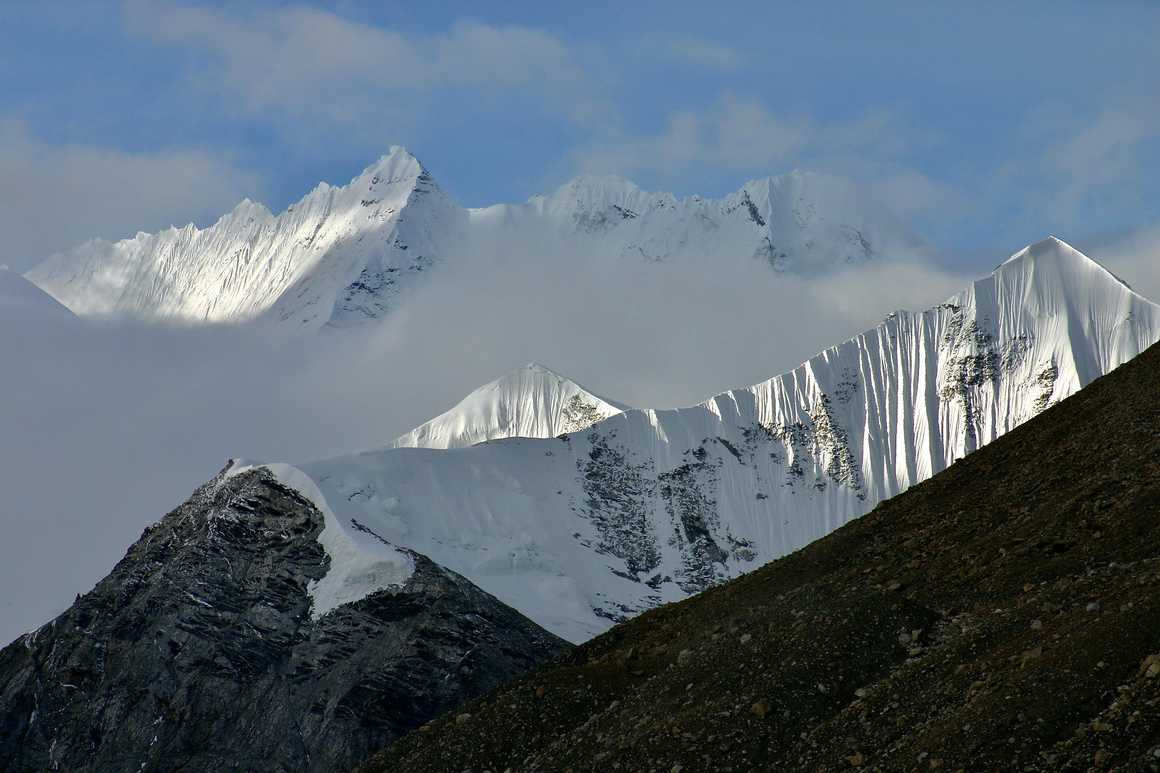 Other associated costs of climbing Everest
· Immunisations required for Nepal

· Technical gear such as high altitude boots, sleeping bag, down suit, gloves, thermal layers, crampons etc

· Food, accommodation and spending money in Kathmandu

· Medical kit

· Snacks and energy bars for whilst climbing

As you can probably tell by now, the total cost of your trip is based on a wide number of variables. Kandoo Adventures don't offer Everest Summit trips however there are many reputable companies that will plan your whole expedition for you. Make sure you research your preferred supplier thoroughly and ask questions if you're unsure.

For those of you not quite ready to attempt Everest, we have a variety of Nepal treks that offer spectacular scenery, awesome trekking experiences and a real taste of this stunning country without having to pay a small fortune. Try our Mera Peak trek and climb to the highest trekking peak at 6,476m supported by our experienced guides. Or if you have your sights set on conquering Everest, try our Island Peak and Everest Base Camp Trek and get a taste of trekking at altitude. Our highest trekking adventure is climbing Aconcagua, which is 6,960m high and a great way find out if high-altitude trekking is for you.

It is worth noting that all costs here are approximate and meant as a guide only. We also need to mention that at the time of writing it is unlikely that China will grant permission for trekkers to climb the north side of Everest from Tibet this season, following the pandemic. Based on this, all prices above are for climbing Everest from Nepal for 2023.