The group
It's not everyday that a Tanzanian summits a major Himalayan peak, but that is just what happened last week when our country manager from Tanzania, Emanuel Nguma, summited Island Peak (6,189m).

Emanuel was part of a 9-strong group of Kandoo staff and clients that included our awesome founders Jane and Paul Deakin, our managing director Andrew Lloyd-Jones, marketing director Mark Whitman, and four great clients from the UK!
Acclimatisation climb up Gokyo Ri
The team, led by our Nepal country manager Pimba Tenjing Lama ("Pims") and his team of incredible climbing guides and porters, started their journey by first visiting the awe-inspiring glacial lakes of Gokyo. An acclimatisation climb up Gokyo Ri (5,357m) provided awesome views of the 6th highest mountain in the world, Cho Oyu (8,201m) as well as a birds-eye vista of the Ngozumpa Glacier, which at 36km is the longest glacier in the Himalayas!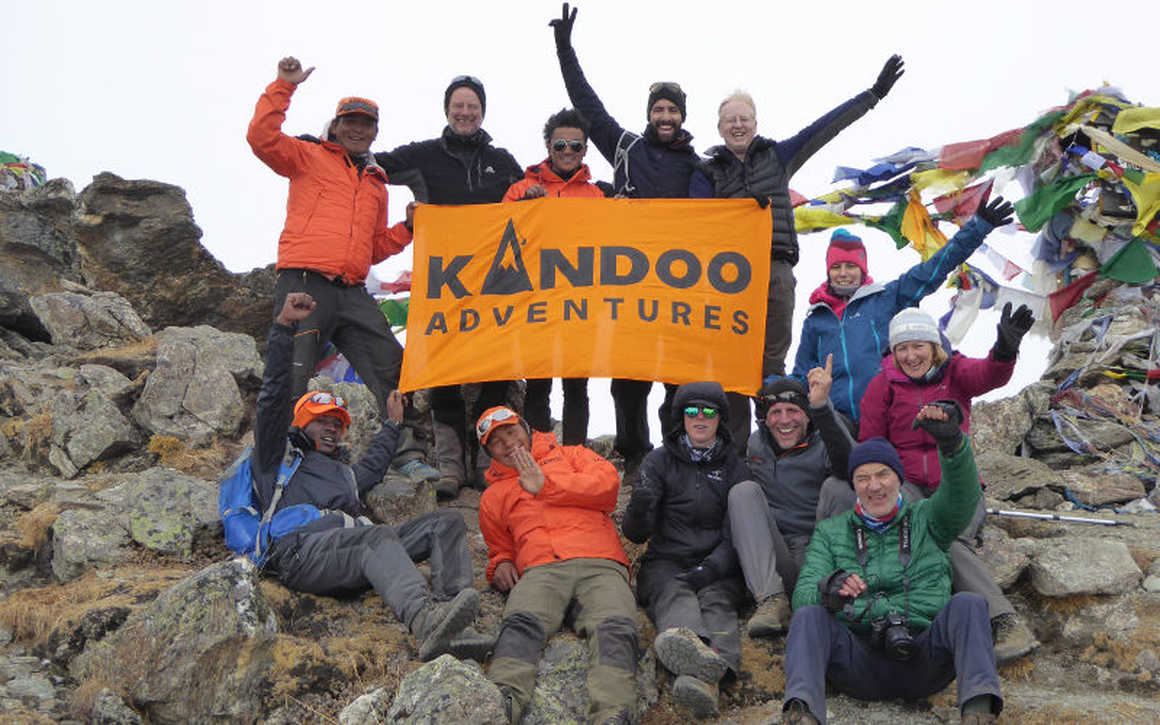 A night at Everest Base Camp
Crossing the Cho La Pass (5,420m) the team eventually joined up with the classic route to Everest Base Camp (5,380m). Here they were treated to a unique experience of joining an Everest expedition team and sleeping in camp for the night. This unique experience is something Kandoo offer to all private clients during the Everest season, which runs from March to May. Sleeping at EBC affords one the amazing opportunity to walk all the way into Everest Base camp, right up to the crampon point of the Khumbu Icefall!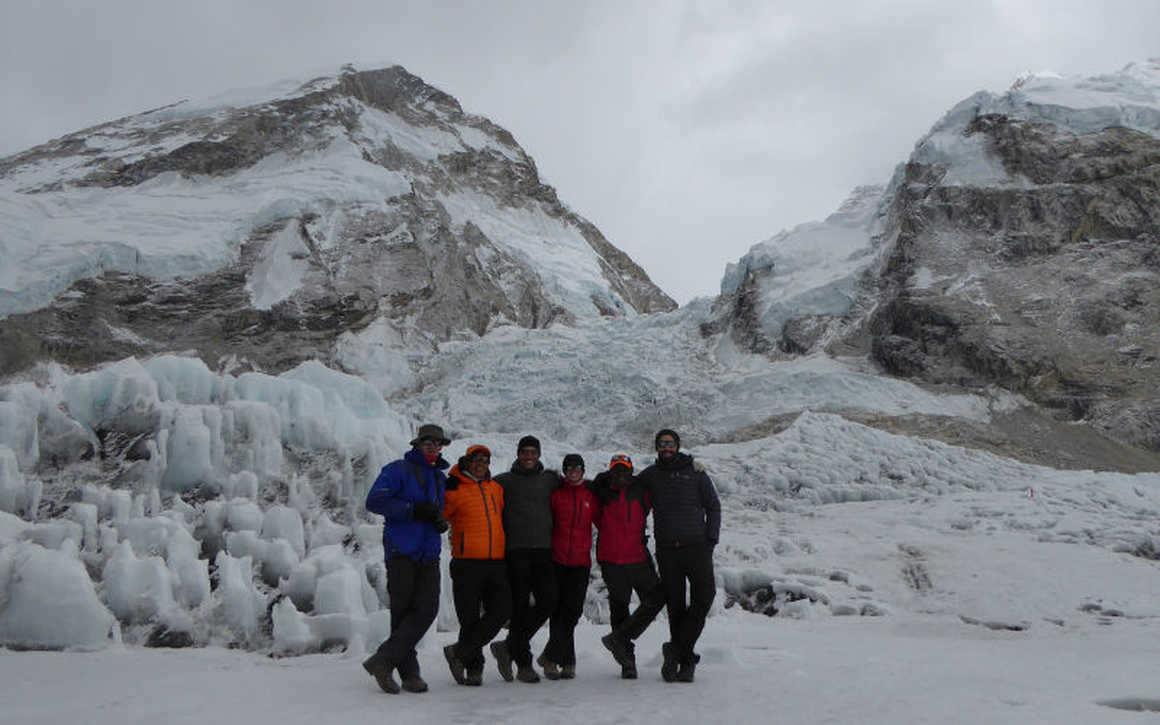 From here the team descended to Dingboche, but not before climbing Kala Patthar (5,463m) to get some of the most impressive views of the Himalaya.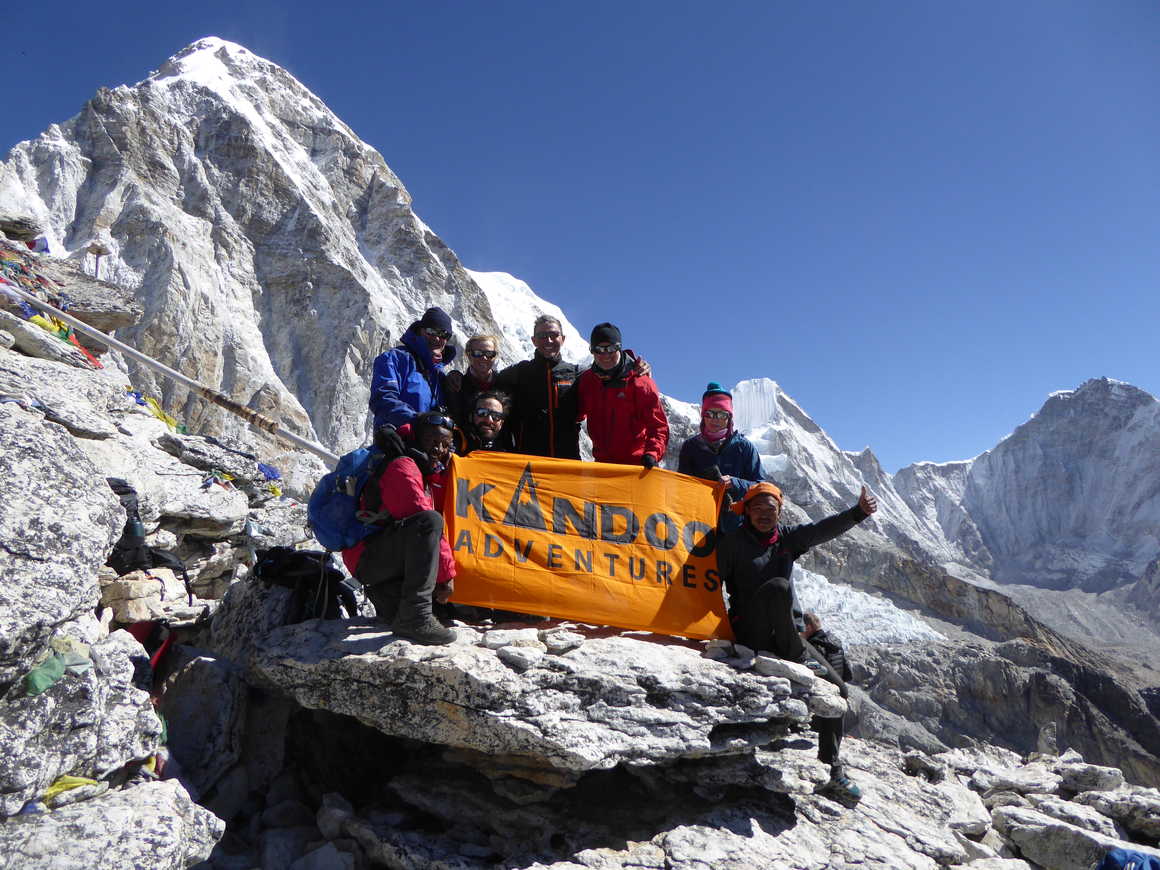 Island Peak Base Camp
After a day's rest the climbing group ascended up the Imja valley to Chukkhung, and then onto Island Peak base camp, where our Kandoo climbing guides put us to the test with a training session that included crossing ladders with crampons and rappelling down a rocky screed slope.

Six of the team decided to go for the summit the next day, and in true Kandoo style they were joined by the A-Team of climbing guides – Pims, a two-time Everest summiteer and mountaineer extraordinaire; Dorchi, our trekking peak expert with over 30 summits on peaks like Island, Mera Peak and Lobuche East; Dukchung, our youngest climbing Sherpa making a name for himself with two winter ascents of Ama Dablam and a roster this year that includes Everest, K2 and Cho Oyu (3 x 8,000ers!!!); and Pasang, a power-house in the mountains with summits of Everest and Cho Oyu under his belt.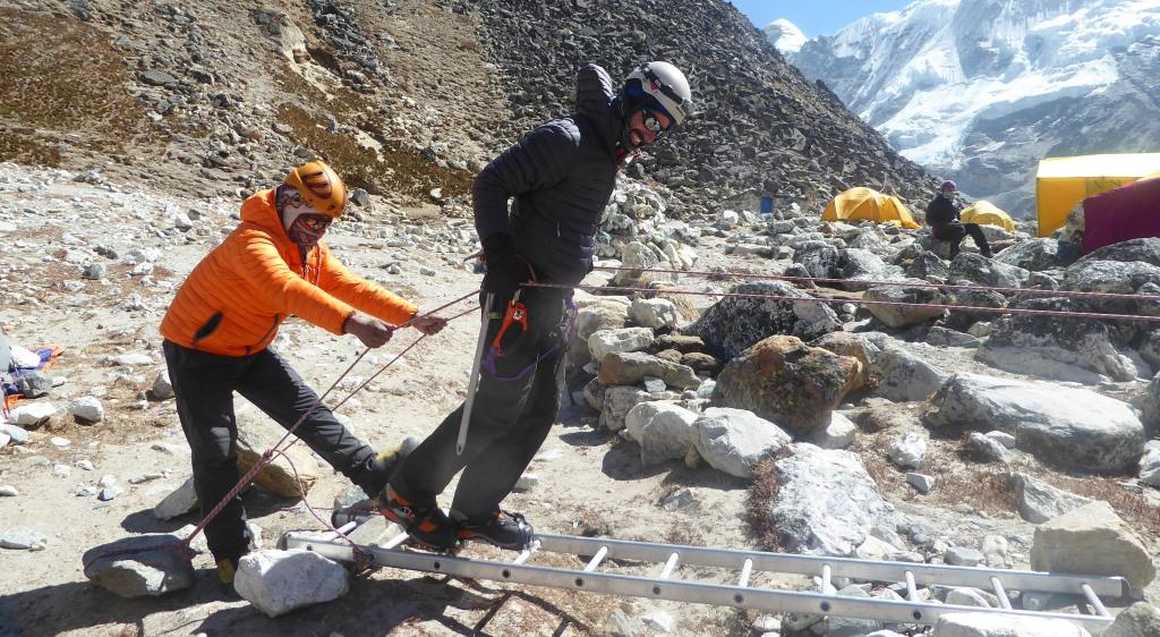 Summit night
That afternoon, after our training session and a hearty Kandoo lunch, the group ascended to High Camp to rest and prepare for the summit push. The climb began at 2am with a very cold scramble up an icy and rocky couloir to the crampon point. Two of the team, Andrew and Mark, had taken the wise decision to retreat at this point due to health concerns, and were glad to have Dukchung to guide them safely back off the mountain.

From the crampon point to the summit, things have changed quite dramatically on Island Peak. Last year's earthquake has opened up two crevasses on the glacier, which both necessitate ladder crossings. Thankfully the amazing Kandoo guides were on hand throughout the process to make this section of the climb as straightforward and safe as possible.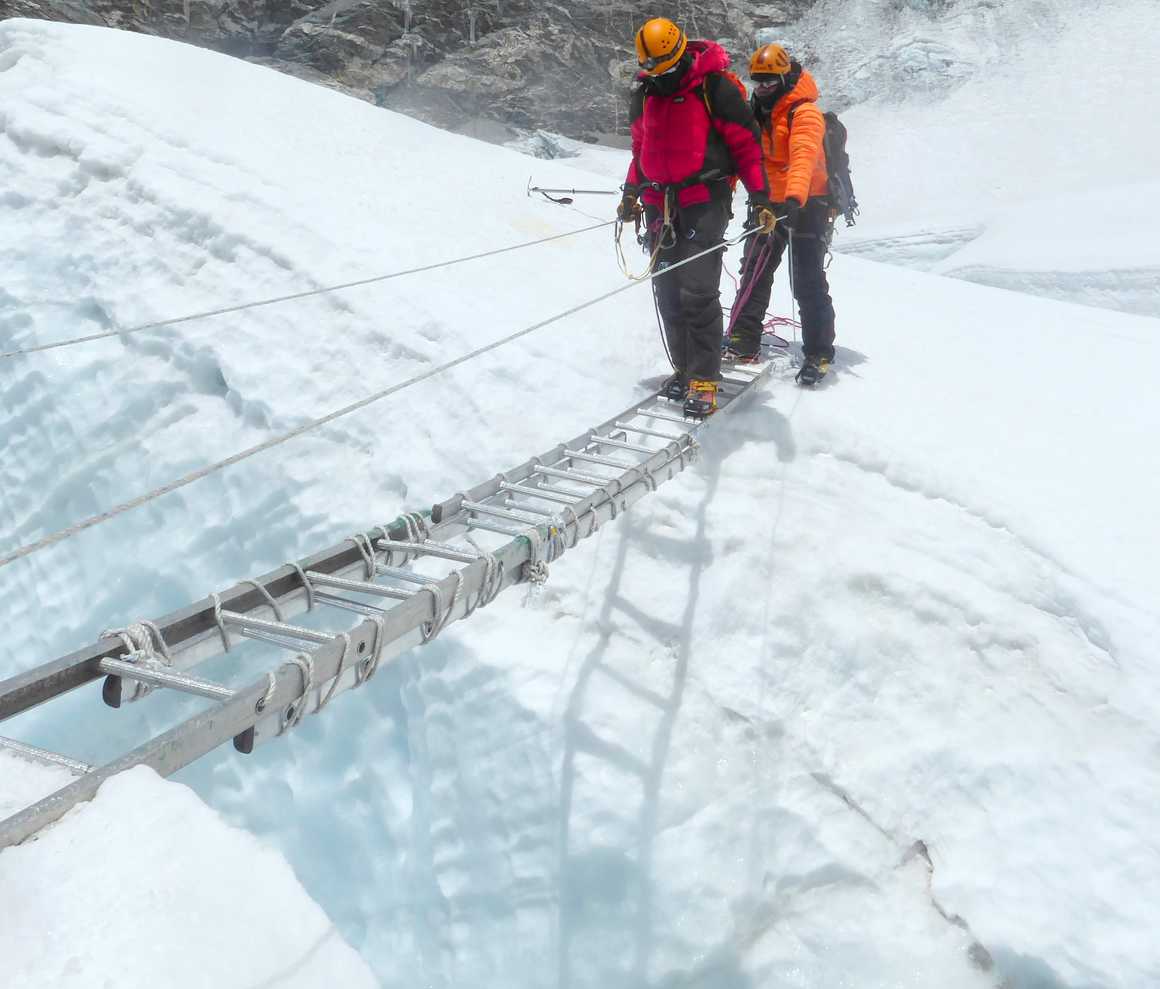 The iconic headwall and summit ridge of Island Peak has also changed from previous seasons. Due to warmer temperatures the ice surface has become scarred and jagged, making the ascent and descent rather challenging.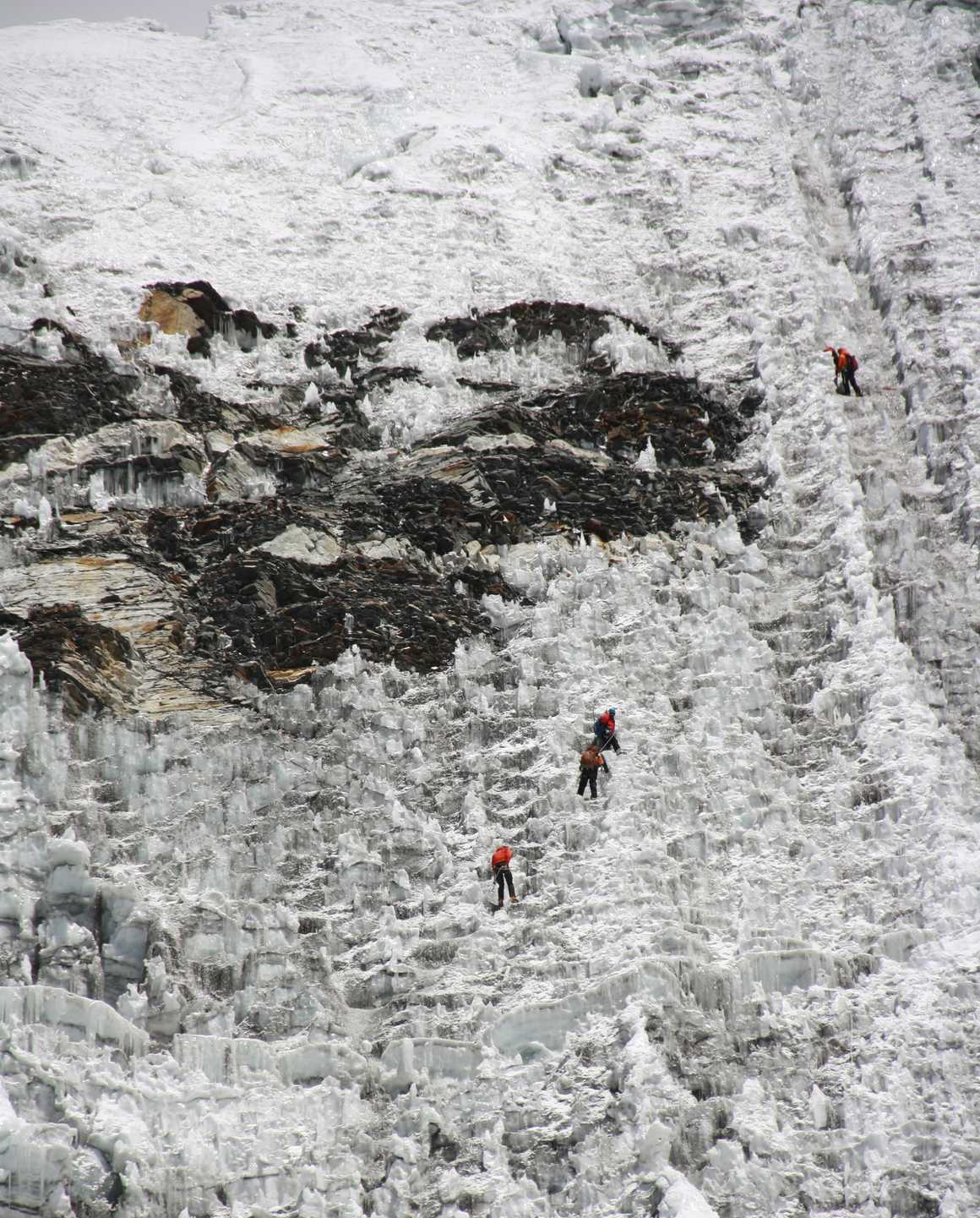 But despite all these challenges the team, which at this point included Jane and Paul Deakin, Emanuel and our client David, were able to overcome all obstacles and after 6 hours of climbing reached the summit of Island Peak. A huge achievement for all and in the words of the climbers, "by far the toughest but most rewarding challenge they had ever done!"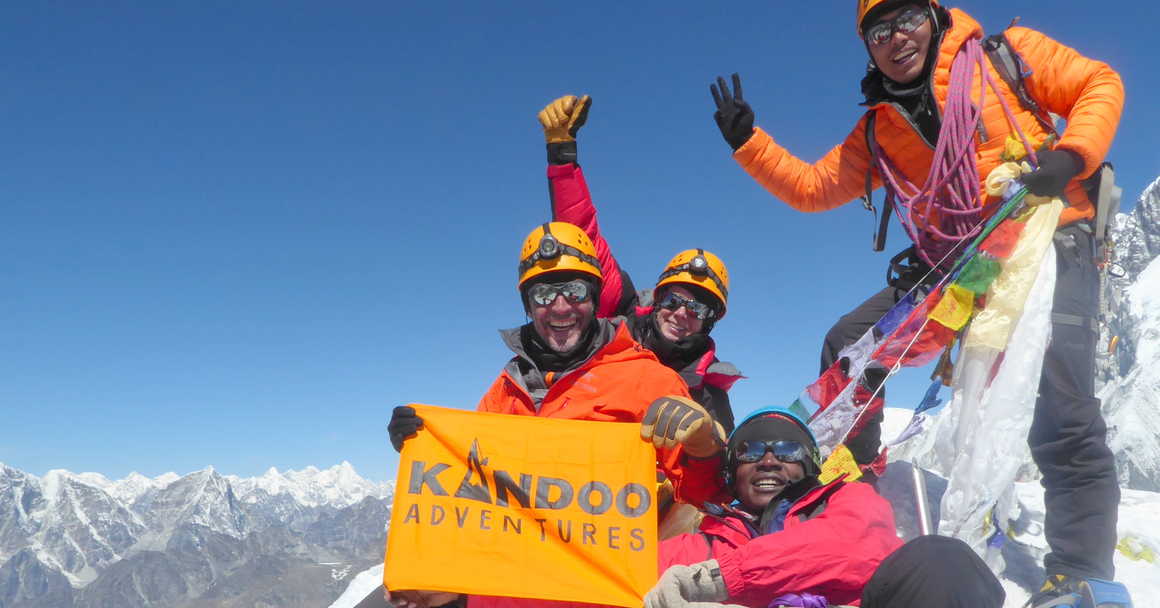 The ascent was especially amazing for Emanuel who, before this trip, had never left Tanzania (except for a short visit to Kenya). From the humblest beginnings as a porter and subsequently a guide on Kilimanjaro, Emanuel has developed into our Kandoo country manager for Tanzania and today manages a team of over 35 guides and 300 porters! We can't be certain, but we believe that he might be the first Tanzanian to summit Island Peak, and we couldn't be prouder of him.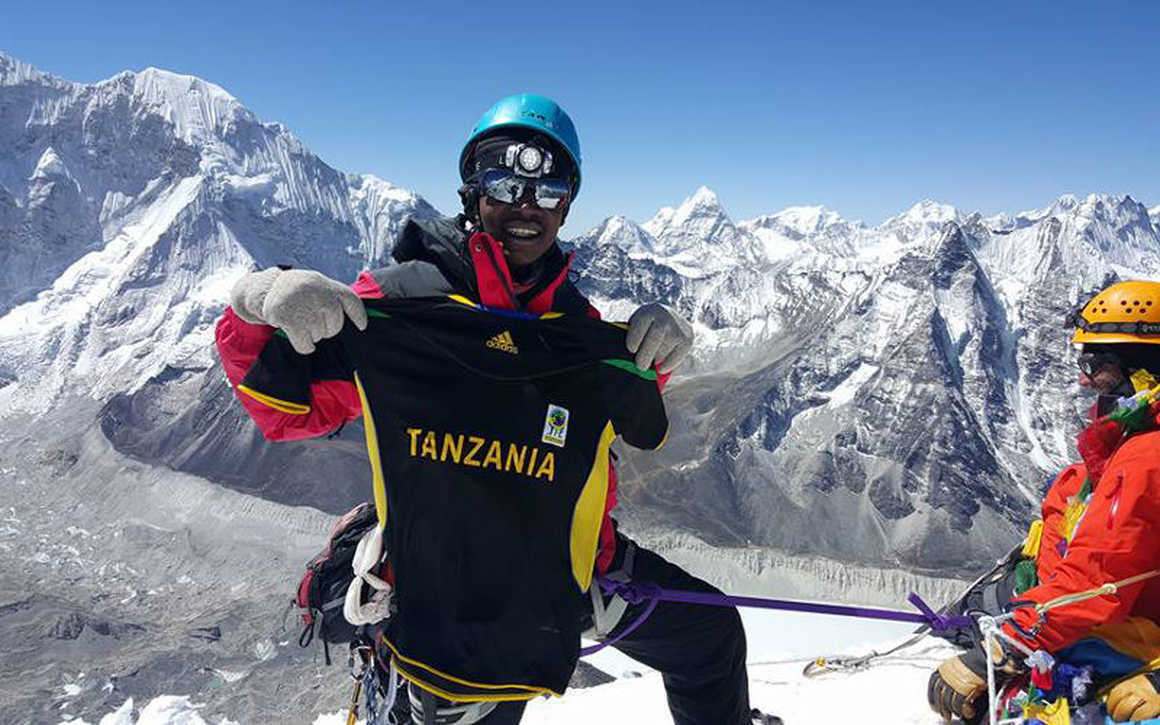 Emanuel's trip was made possible by the Kandoo partner programme, where we invest in the growth and development of our guides and porters in each of the countries we operate. Last year we sent Pimba to Tanzania to climb Kilimanjaro and in August we will be sending Dorchi, one of our leading lights in Nepal, on the same trip.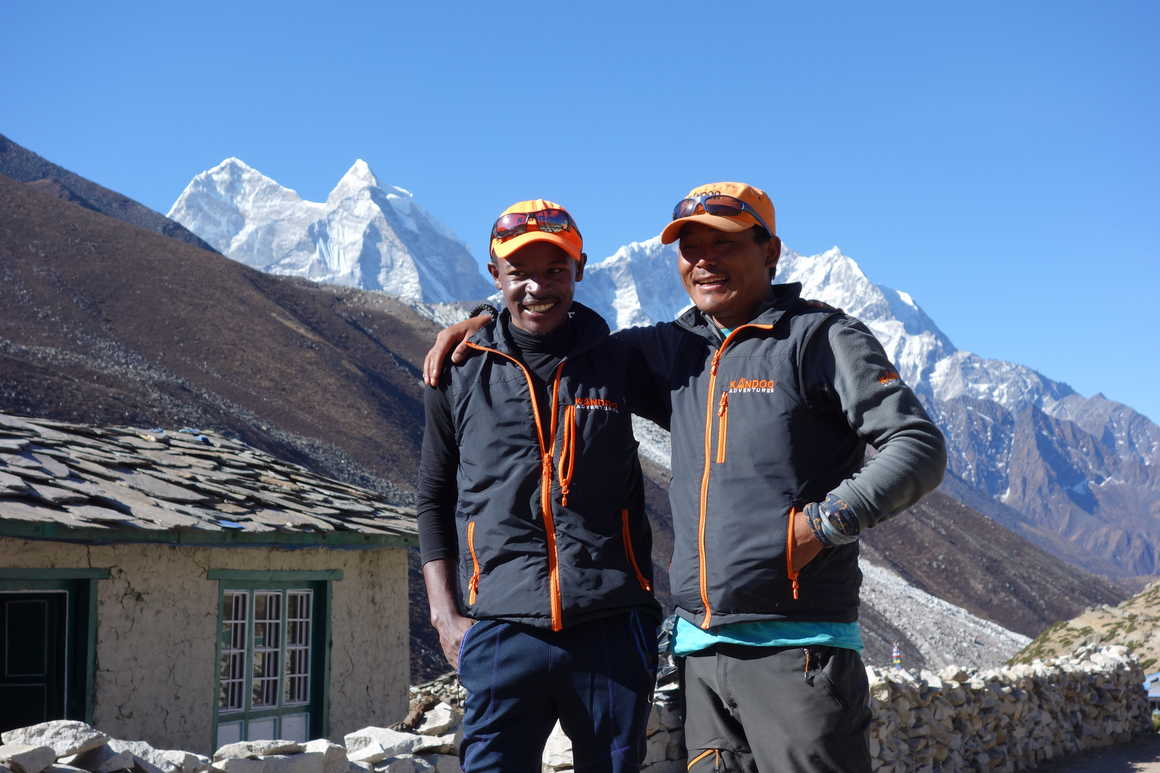 After the summit the team reunited in Dingboche, where much celebration was had. A final surprise for everyone was the helicopter return journey to Kathmandu that really topped off one of the best experiences Nepal can offer. We were super encouraged to see how Nepal has recovered so fast from last year's devastating Earthquake, and can only say to anyone thinking of visiting Nepal, BOOK NOW!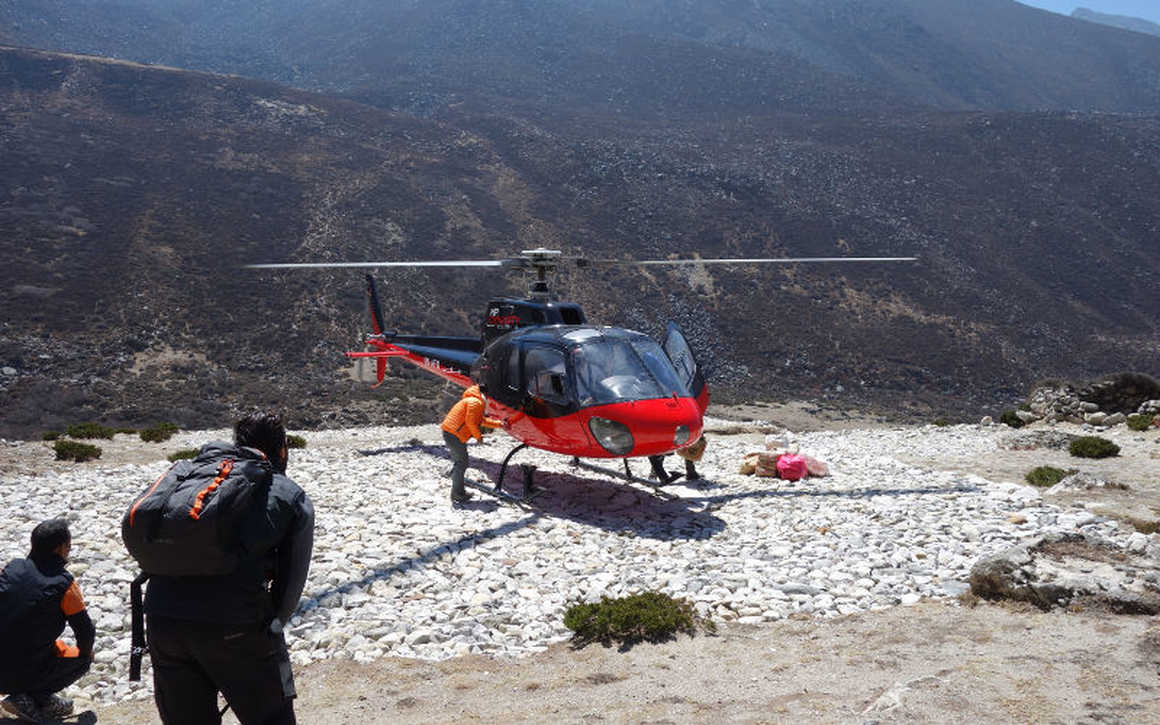 To find out about our treks in Nepal click here or contact us about our special upgrades like return Heli-treks and sleeping at Everest Base Camp!