Last week our country managers from Tanzania, Emanuel Nguma, and Nepal, Pimba Tenjing, visited the United Kingdom for the first time. The trip formed part of a cultural exchange programme that we have set up for our destination guide and porter teams at Kandoo Adventures.
For Emanuel and Pimba the trip was a once in a lifetime experience! Both are from remote rural towns in their respective countries and have not had the amazing opportunities to travel that we take for granted here in the UK and further afield.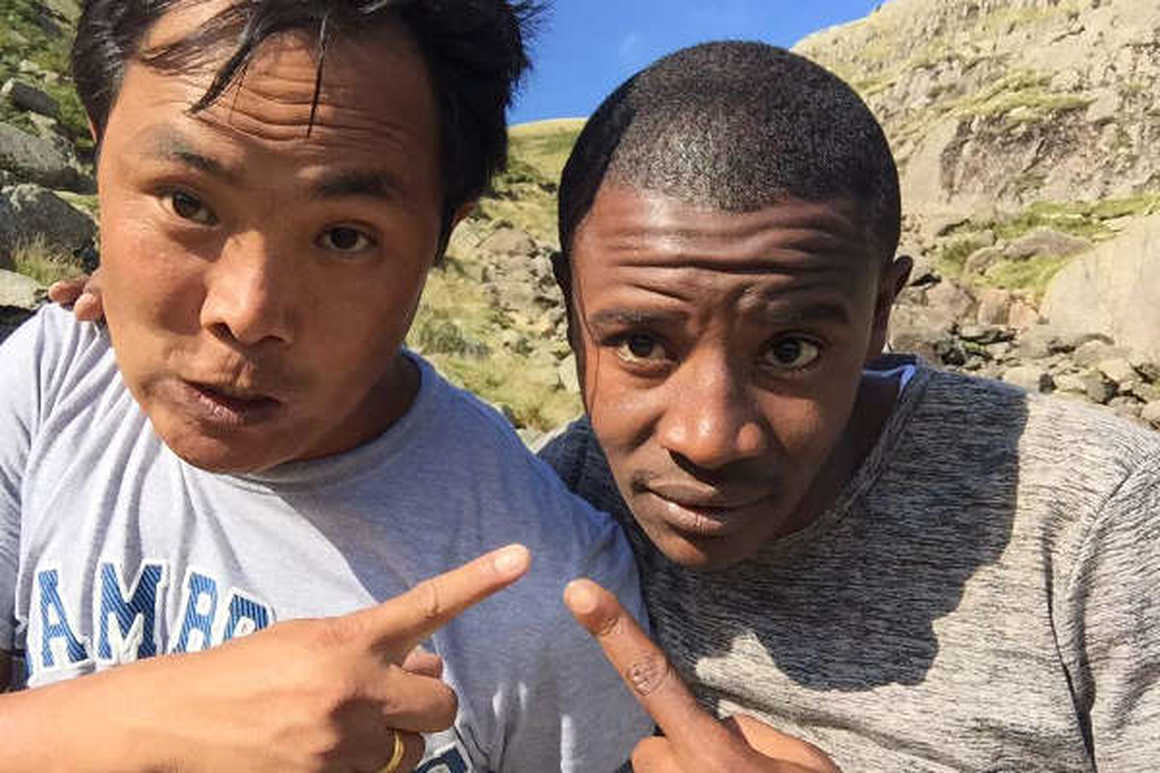 The Back Story
Emanuel's story begins in Chaggaland, Tanzania, where he was born in the foothills of Kilimanjaro. The son of a Kilimanjaro guide, Emanuel's relationship with Africa's highest mountain was forged at a very young age. By the age of 17 he had summited the Roof of Africa and like many young men in the region had started portering on the mountain. He rose in the ranks to assistant guide before meeting Kandoo's co-founders, Jane and Paul Deakin, who offered him the opportunity to open up his own operation. Today Emanuel's team of 40 guides and 400 porters helps over 1000 trekkers reach the summit of Kilimanjaro each year.
Pimba's story is not too dissimilar to Emanuel. He too was born to a mountaineering family in the remote Sankhuwasabha district of Nepal, due east of the Everest region. His father, a cook working on Everest expeditions, introduced him to the world of high altitude mountaineering. By 24 Pimba was climbing peaks throughout the Himalaya and in 2011 got his first shot at Mount Everest as a climbing Sherpa. He summited the highest mountain in World that year, and again in 2012, before meeting Jane and Paul on an expedition the couple were doing to Mera Peak. The trio hatched the idea for a Nepal operation led by Pimba! Today Pimba's team encompasses 10 full time guides taking Kandoo clients to Everest Base Camp, on the Annapurna Circuit and on expeditions to climb some of Nepal's incredible trekking peaks.
Visiting The United Kingdom
The idea to have Emanuel and Pimba visit the UK was originally conceived a few years back, but due to visa issues never came to fruition. Acquiring visas this time round, however, proved no issue. It seems being married and having children helps in making successful visa applications!
The pair arrived in Heathrow last week Friday, 12th August, where they were met by Jane and Paul and whisked off to a hotel in central London. The following day they were joined by fellow Kandoo director, Mark Whitman, to begin their whirlwind tour of the Big Smog, taking in the sites of the London Eye, Westminster, Buckingham Palace, Piccadilly and Trafalgar to name a few. That evening they were treated to a show in the West End, the Lion King, which was definitely a highlight.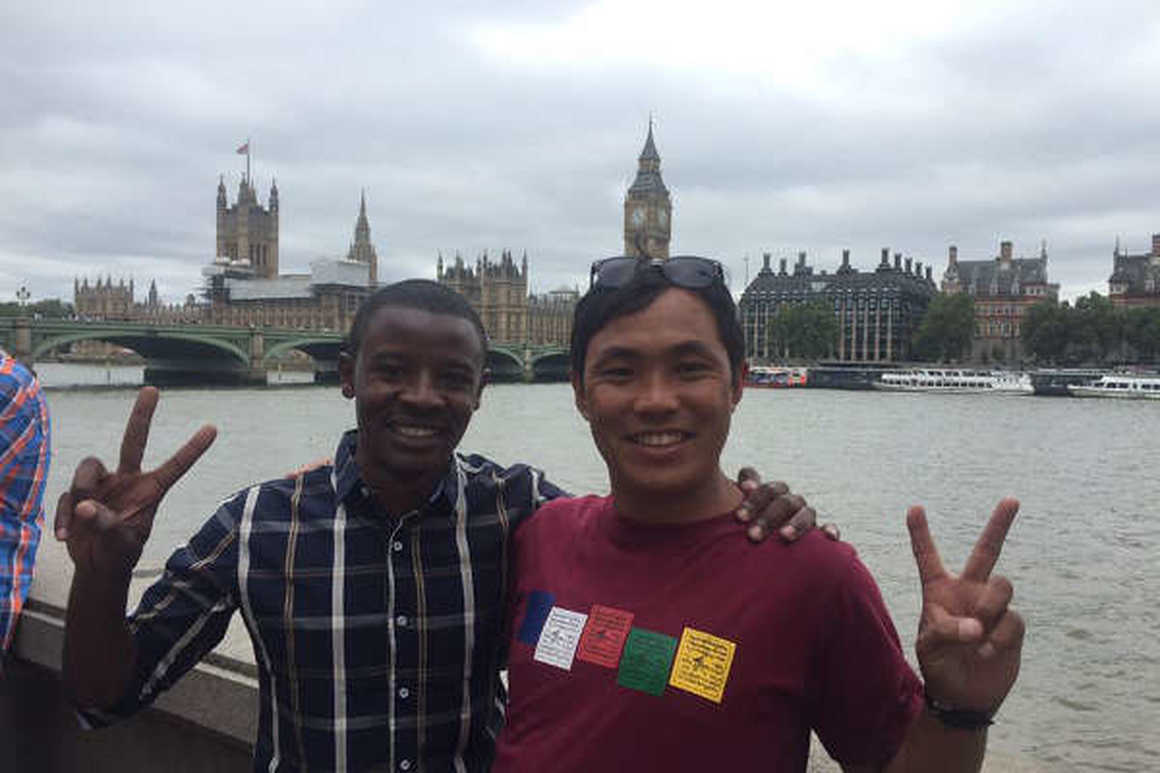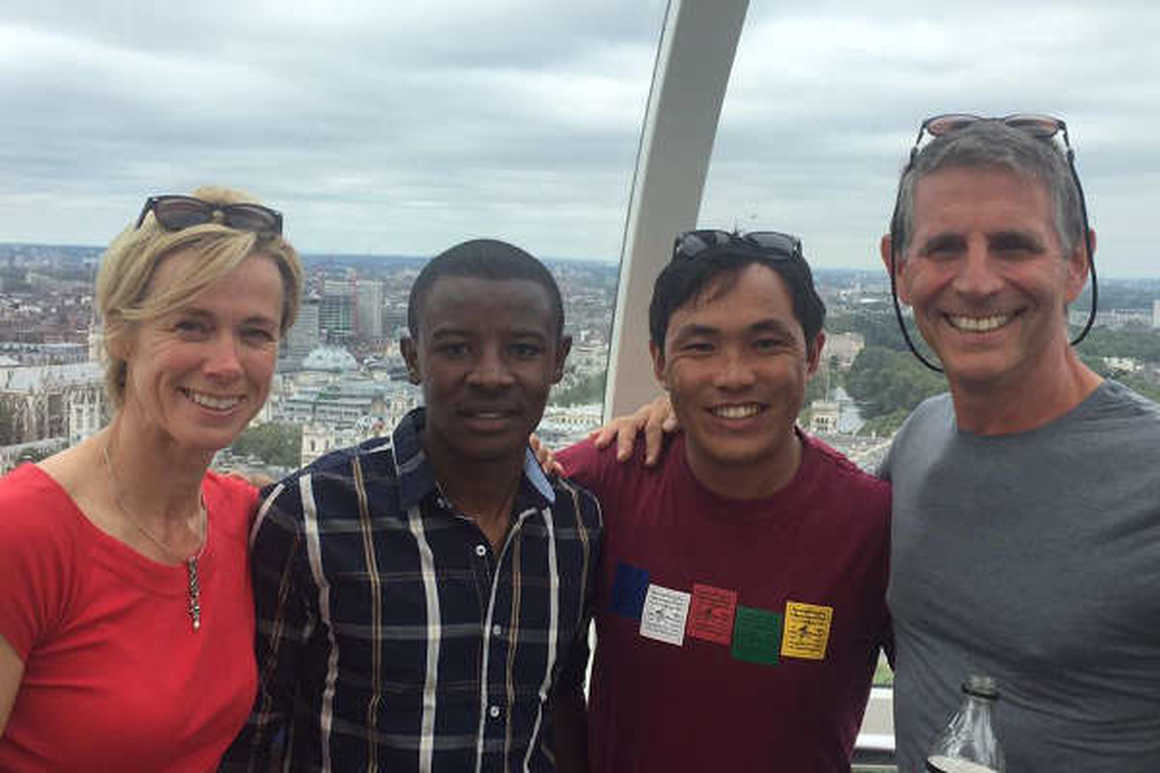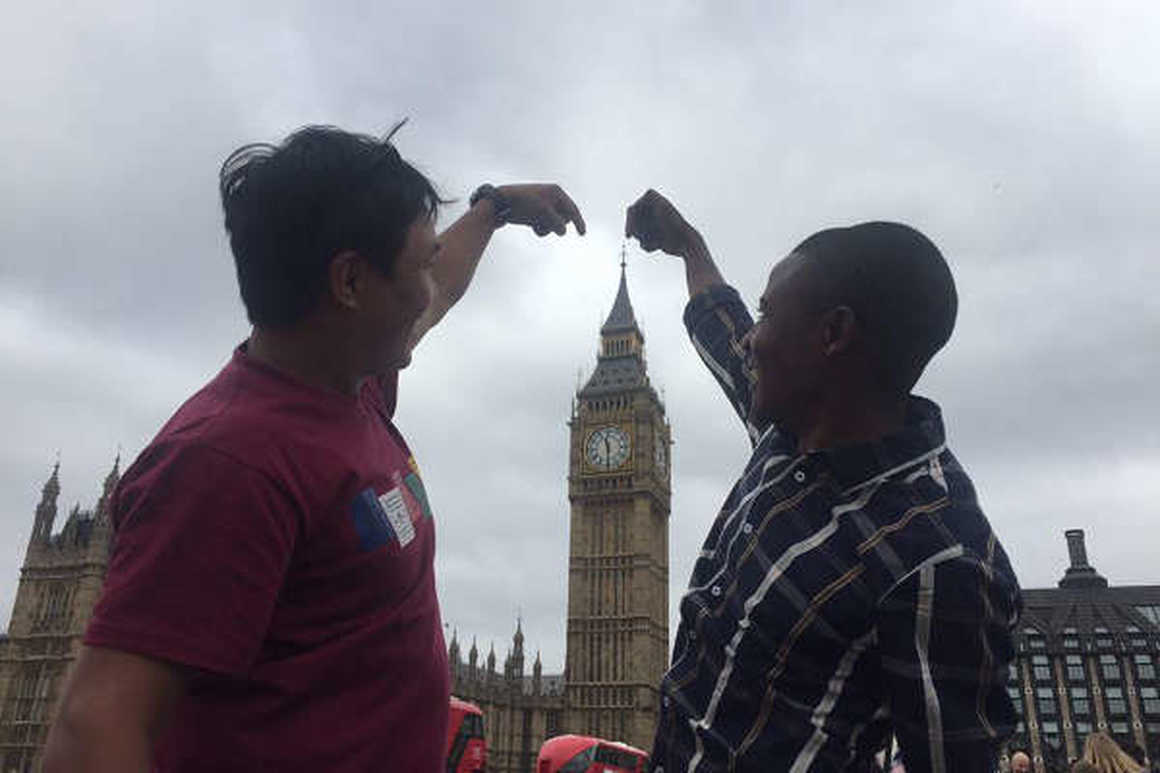 Leaving London the pair journeyed to the historic town of Cambridge where they were treated to tours of colleges and punting!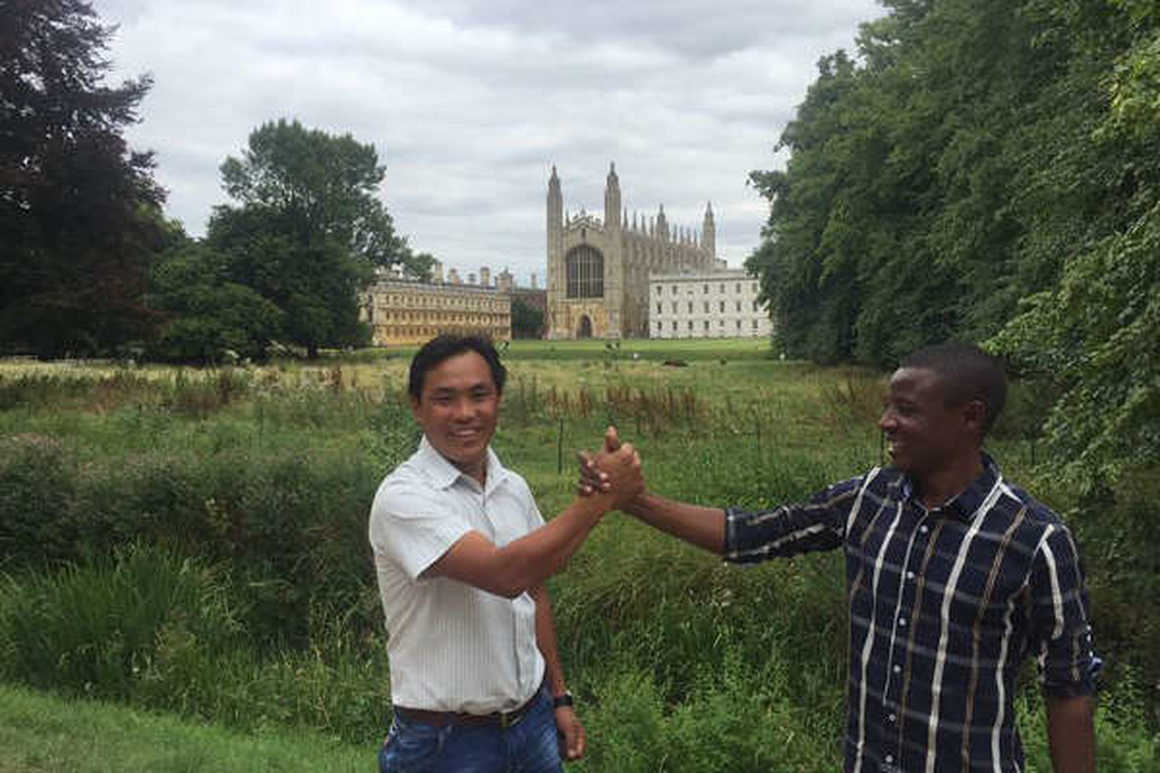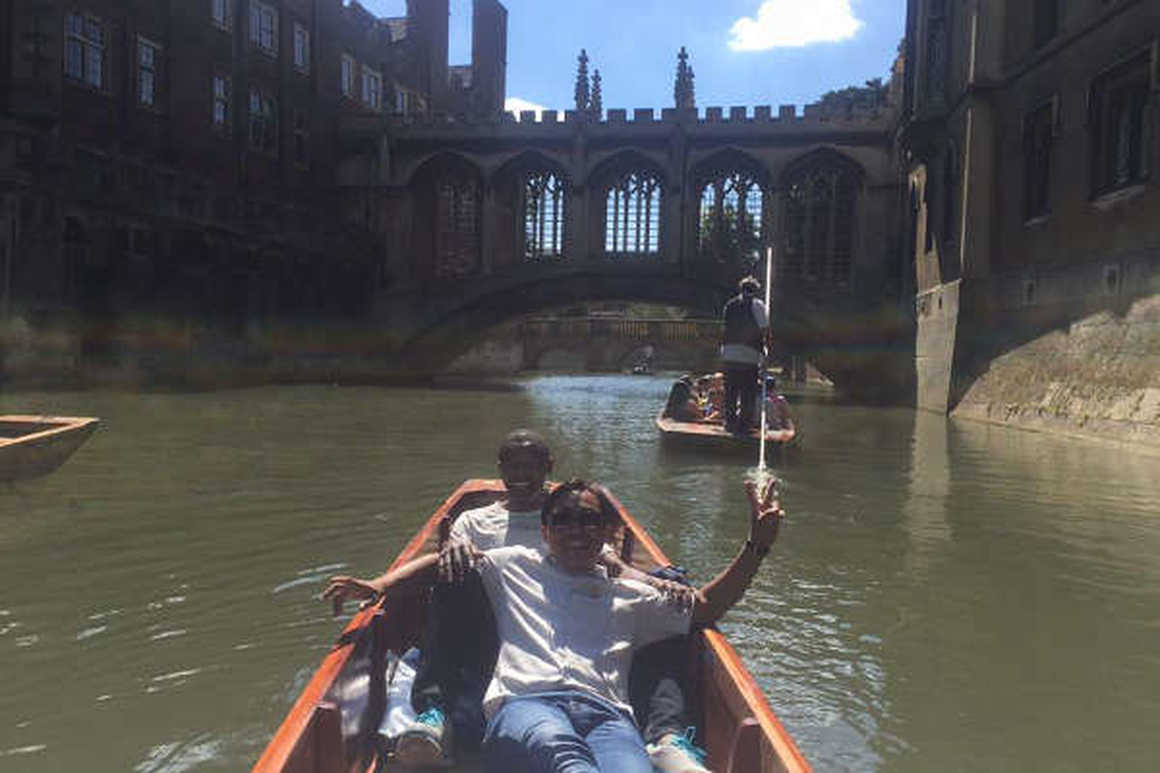 After Cambridge it was off to the midlands to visit Kandoo's headquarters and meet the team. The duo were treated to some glorious weather and a brilliant British BBQ at the home of our MD, Andrew Lloyd-Jones. The opportunity for Emanuel and Pimba to meet our office team and put names to faces was invaluable.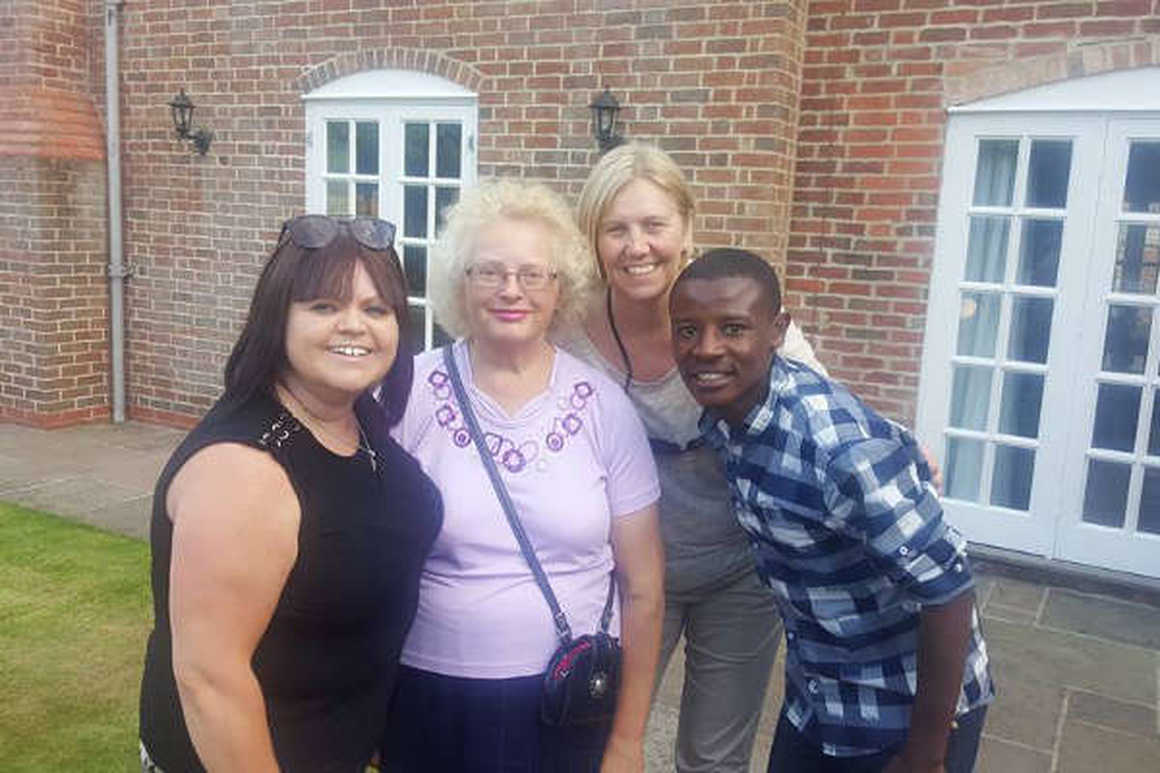 To celebrate the occasion one of our team members, Margaret Wale,  baked a Kandoo cake and composed a poem for our special visitors.
Welcome Emanuel & Pimba -  you sure came a long way
both left a wife & child to come visit England - the Kandoo way,
It's your own big adventure, leaving mountains behind – coming to concrete & clay
seeing the sights of London – Trafalgar Square, Buckingham Palace – home of our Queen
I hope it's all fulfilled your dream, and that you've seen historic Cambridge,
maybe been punted along the river Cam - by a man who can!
You've now made it to Barton -  we're very far from the sea,
but we have the pretty marina where you can enjoy a pint, or a cup of tea,
I feed the ducks, geese & swans each day,  as I walk to work – the Kandoo way.
We hope you'll enjoy the barbecue tonight,  and find  the English countryside is a pleasant sight.
You're heading off to visit Chatsworth – an English stately home,
where once butlers and maids did roam,
with antiques and history galore,    it'll show you English tradition and more,
set in the Derbyshire dales, the peak district is near, I hope the weather's good for views clear.
Then it's The Lake District – England's lakes and mountains to explore,
Maybe try Kendal Mint Cake, Grassington Gingerbread, and local beers galore.
Perhaps you'll try Skafel Pike – but to you it's not much of a hike!
Next – onto Manchester – a big city, far away from the countryside pretty,
home of Man. United, Man City & Coronation Street
It's airport's where you'll say goodbye, and soar away from England's sky,
Have safe trips home – I'm sure you'll have lots of stories to tell,
Your wive's will be so proud of you as well.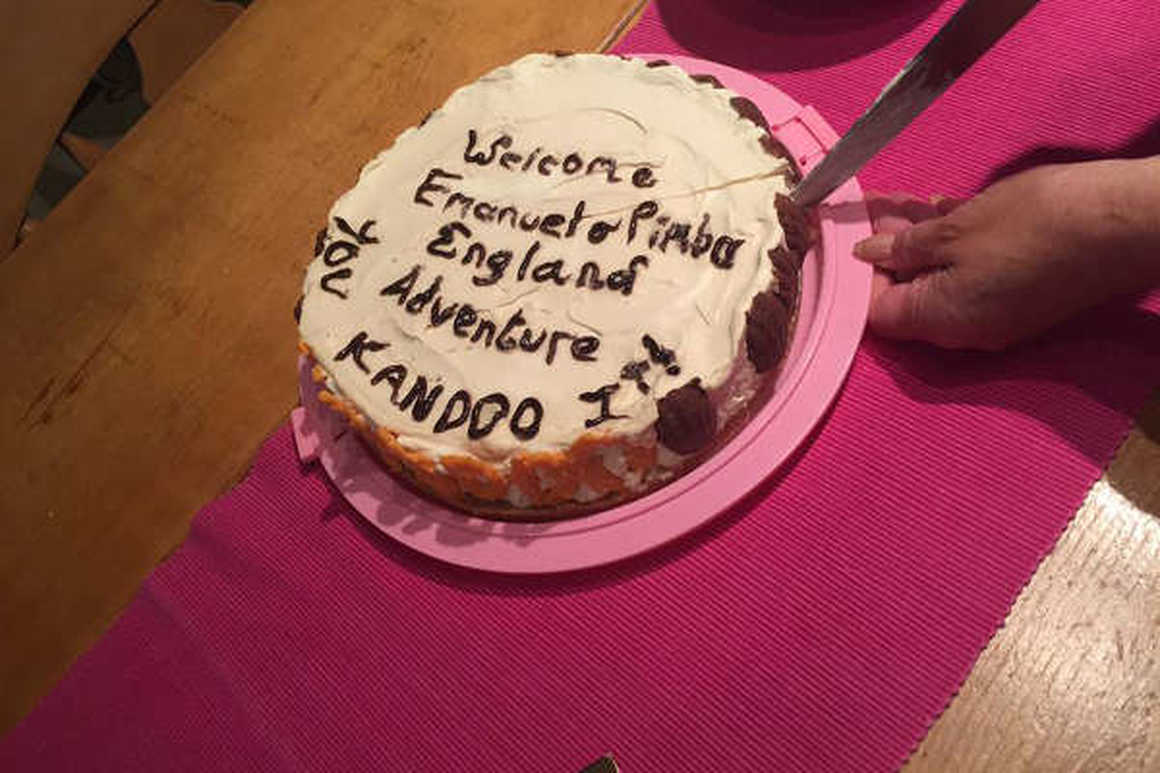 Lake District and Scafell Pike
After much celebration with the Kandoo team, we headed to the Lake District for some hiking. We were joined by our indispensable Kandoo operations manager, Rachel Miller, and close friends to the Kandoo movement, Jane and Tony Fox, who have both trekked with Emanuel and Pimba in the past!
As luck would have it the weather turned out perfectly for our 8-hour hike from the New Dungeon Ghyll hotel to the summit of Scafell Pike and back. At 978m, England's highest peak didn't prove too much of a challenge for our Kilimanjaro and Everest summiteers, but having the team share another summit together was a special moment indeed!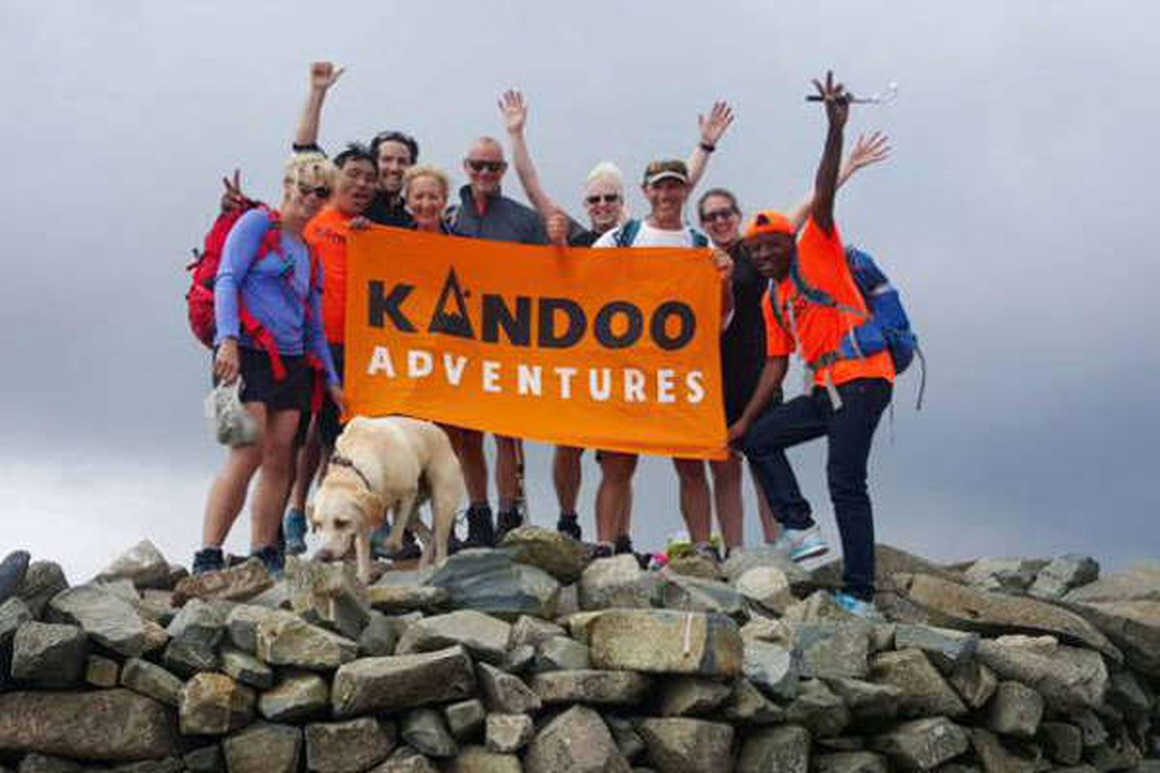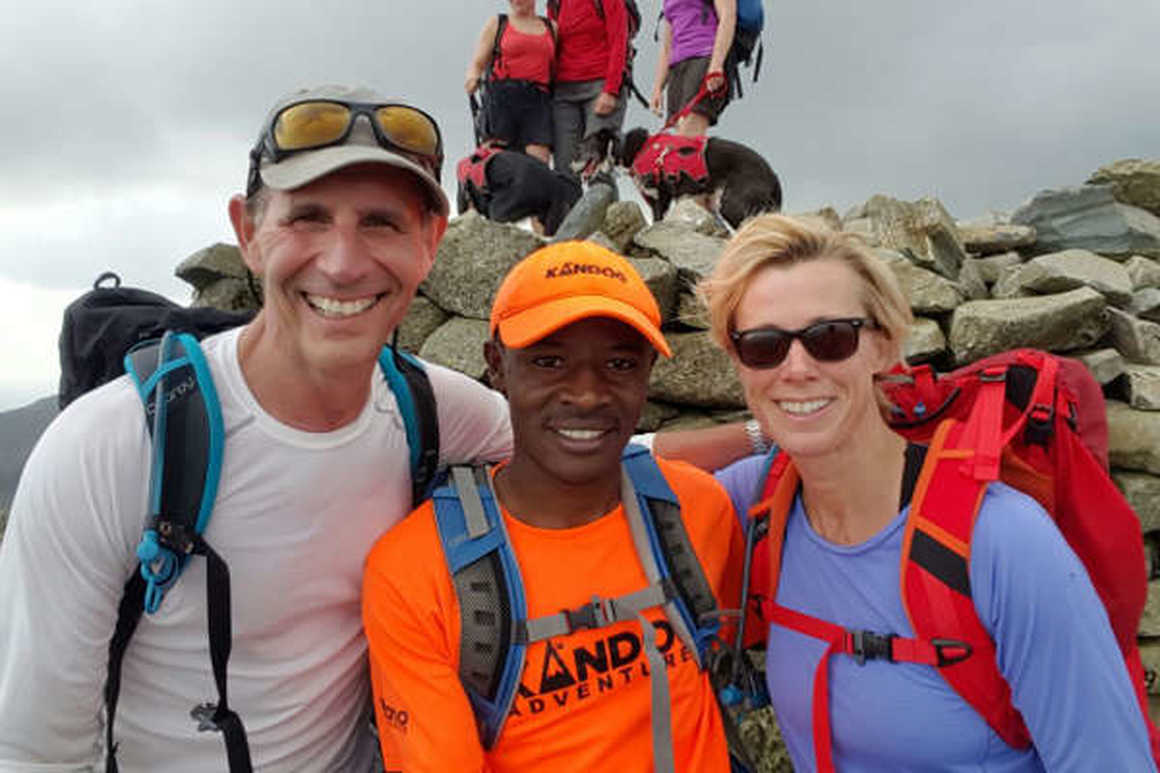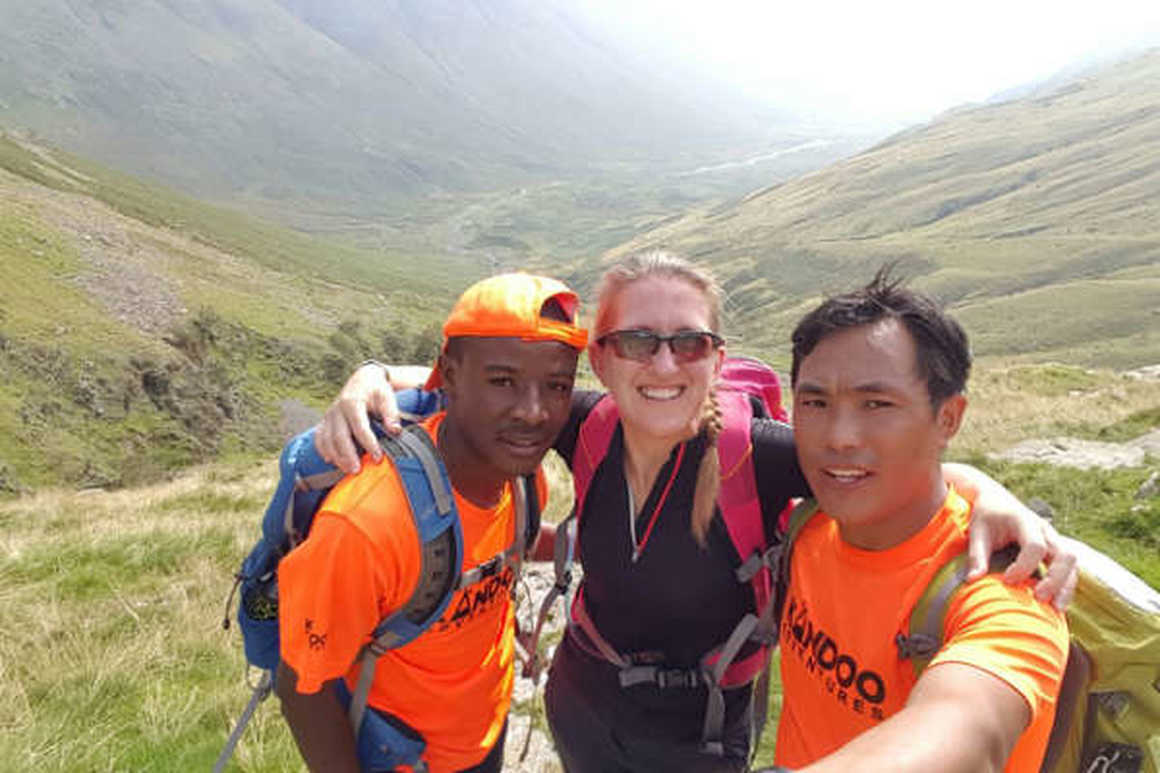 From the Lake District, the team headed off to Manchester for a highly anticipated tour of Old Trafford. It seems that red jersey has permeated every far corner of the planet and has fans where one least expects them.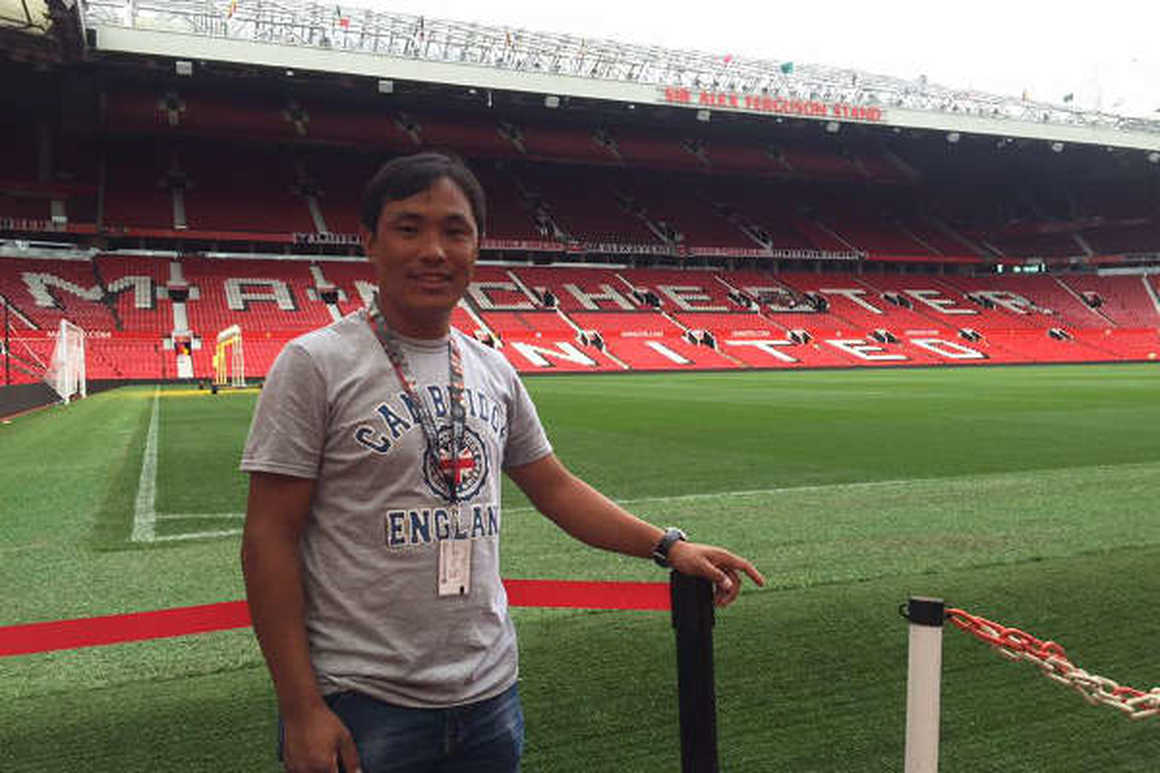 After a final dinner sad goodbyes were said. For us it was a great privilege to host the guys and show them some of the best parts of Britain. At Kandoo responsible travel is at the core of what we do. For us this starts with investing in the people, communities and destinations that we operate our tours in. Our Guide and Porter investment programme is just one of the examples we are doing to make a difference in the lives of our staff. You can find out more at the Kandoo Foundation. 
Thoughts From Emanuel and Pimba
After arriving back in their countries we received these wonderful messages from the guys. 
Emanuel wrote: "It was wonderful pleasure to meet and spend all the time with both of you in England. Thank you Jane for Heathrow airport pick up and everyone for all your time in London and showing all England has to offer to a visitor. It was challenging to see your history, old buildings and all decorations, nice and well protected environment from big cities to your highest mountain (Scafell). The two nights in London with Jane and Paul was lovely - for sure will remember all your kindness, thank you so much! Staying to your homes, eating and spending all your time was unbelievable, it makes me feel like I came to my house and the same time indebted to all of you. Thank you Mark for perfect moment in Cambridge, I had no any ideas how the college was made. It was amazing to hear all stories about genius and famous people at college like mathematician Sir Isaac Newton and more others. Thank you for the wonderful tour in the CAM river, asante sana! Meeting with all staff at Joe's house for bbq and having some beers was great moment, thank you for all life time events. Thank you Jane and Paul for hosting us to your house, thank you for spending all your time to take care of us for sure I felt safe and home. I know its not easy but I really appreciated. Taking us to Lake District and Scafell was unbelievable. So sorry for all long drive to Manchester and spend time to see Manchester United museum. I have nothing to say but from the bottom part of my heart I would like to sincerely say thank you very much, all is appreciated for the year 2016 as it has been good indeed from the top of world (Nepal) to bottom of the world (London). I  look forward to more adventures and better years with all of you. Asante sana and May God bless all of us!"
Pimba said: "Namaste and Greetings. First want to start with many thanks (for the) special efforts/contribution and providing a GOLDEN opportunity for two of us by providing a unique opportunity to see a developed countries, every system and England. Special thank you to Jane/Paul, Mark and Joe, and to all, for all expenses and everything. This was a lot for us. I'm safely back to KTM had a great time and great moment. Had a fabulous experience and won't forget for life time. Greetings from my wife and family too .. So happy here THANK YOU NAMASTE"