about annapurna
Annapurna, Nepal, or officially Annapurna I, is both the 10th highest mountain in the world, at 8,091m, and the name of the mountain range it sits within. Annapurna is bordered on the south by the Pokhara Valley, by the Kali Ganaki Gorge to the west, and by the Marshyangdi River on the north and east sides. Renowned as being one of the most difficult and dangerous mountains in the world, Annapurna has been summitted successfully by 365 people but tragically 72 people have died during their attempts. The treacherous climbing involved, unpredictable weather conditions and avalanche risk make the Annapurna summit the second most deadly in the world, after K2.

Annapurna literally means 'She Who is Full of Food', but a better translation is 'Goddess of the Harvest'. Annapoorna devi is a Hindu mother-goddess of the hearth and kitchen, and provider of food and comfort. She is closely associated with Lakshmi, goddess of wealth and prosperity.

The Annapurna Massif boasts a single peak over 8,000m, Annapurna I, and there are 13 more peaks higher than 7,000 metres and a further 16 that are more than 6,000 metres high. This awesome massif is home to some of the most iconic hikes in the world, with the Annapurna Sanctuary Trek and the Annapurna Circuit Trek as two of the most popular Annapurna trekking routes. Annapurna Base Camp is situated at 4,130m and forms part of the Annapurna Sanctuary trek but can be completed as a standalone trek and you can pick up the Annapurna trail from Chomrong. The extraordinary scenery, rugged mountains and local hospitality make the Annapurnas an unforgettable place to trek in Nepal.

Annapurna Conservation Area
The Annapurna Conservation Area was the first conservation areas to be formed in Nepal, and is still the largest. It was established in 1986 and is the responsibility of the National Trust for Nature Conservation. The area incorporates more than 7,500 square kilometres of territory, including lands in the Lamjung, Myagdi, Kaski, Mustang and Manang districts. Its lowest point is only 790 metres above sea level, and its highest is the peak of Annapurna I at more than 8,000 metres.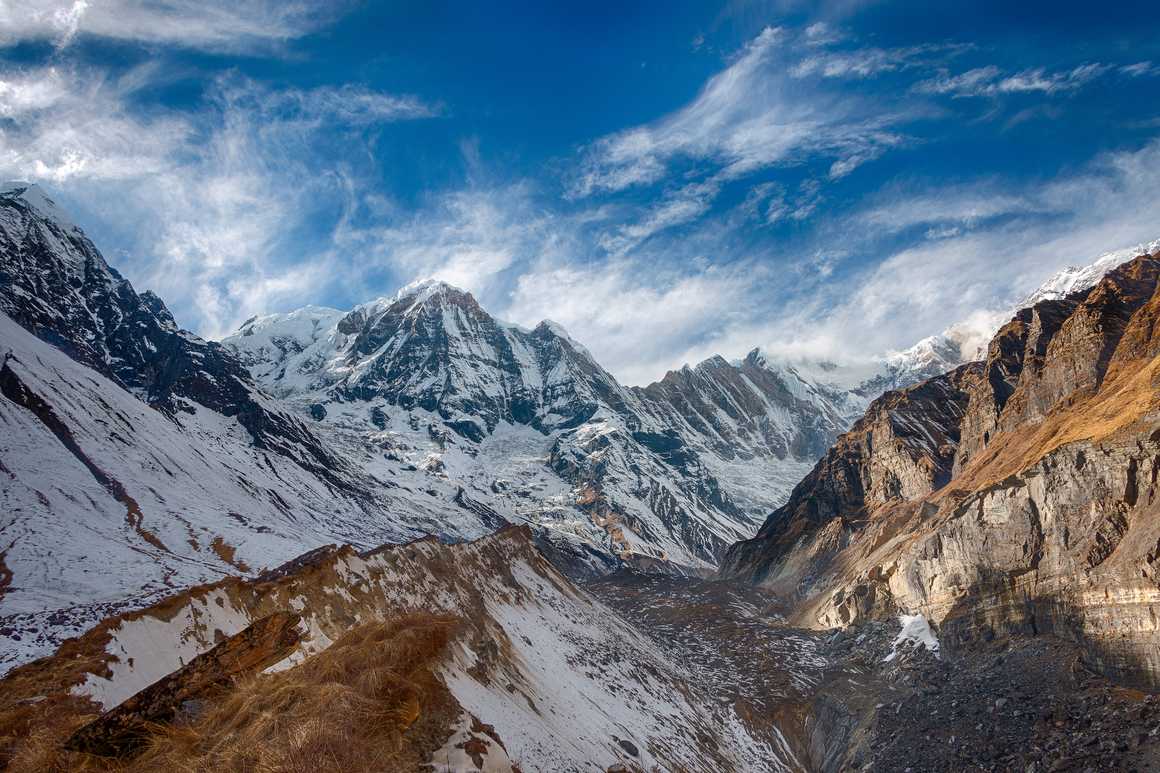 The Annapurna Peaks
Annapurna I - 8,091 m (26,545 ft)
Despite its tragic history, Annapurna I was actually the first peak of greater than 8000 metres to be climbed. Louis Lachenal and Maurice Herzog were the first to reach the summit in June of 1950. Until Everest itself was finally summitted a few years later, this was the highest summit ever attained, despite the fact that higher non-summit climbs had been made on Everest as early as the 1920s.

The first successful winter ascent of Annapurna I occurred in 1987, by Artur Hajzer and Jerzy Kukuczka. Annapurna's South Face remained unconquered until 1970 when Dougal Haston and Don Williams first managed it, narrowly beating Henry Day's British Army expedition. The first successful solo of the South Face was in 2007, by a Slovenian named Toma Humar. His route took him first to Roc Noir then on to Annapurna East at 8,047 metres. In October of 2013 Ueli Steck managed a solo attempt along the Lafaille route in what has been called one of the most impressive climbs in Himalayan history. This was Steck's third attempt, and he managed to get from Base Camp to the summit and back in only 28 hours

Annapurna II - 7,937 m (26,040 ft)
Annapurna II is the easternmost of the large peaks. It is a fully independent peak, and not much lower or any less prominent than Annapurna I. It was first successfully summited by J. O. M. Roberts' expedition in 1960, a feat not repeated until 1969. The Macartney-Snape expedition summited Annapurna II in 1983, the first to take the south spur route. The expedition was trapped on the mountain by a blizzard and had been without food for five days when they finally made Base Camp, much to the surprise and relief of their camp crew. The first successful winter ascent of Annapurna II was in 2007, by Lhakpa Thinduk, Lhakpa Wangel, Temba Nur and Philipp Kunz.

Annapurna III - 7,555 m (24,786 ft)
This peak was first conquered in 1961 by Captain Mohan Singh Kohli's expedition. Captain Kohli made the summit with Sonam Girmi and Sinam Gyatso.
Annapurna IV - 7,525 m (24,688 ft)
Annapurna IV was first successfully summited by the Heinz Steinmetz expedition in 1955 via the North Face and Northwest Ridge.

Gangapurna - 7,455 m (24,457 ft)
Gangapurna went unclimbed until 1965, when Gunther Hauser's expedition successfully ascended by the East Ridge. This Annapurna mountain was named after the Hindu goddess Ganga, the goddess who personifies the Ganges River.

Annapurna South - 7,219 m (23,684 ft)
Annapurna South is also called Moditse and Annapurna Dakshin. It was summited by Mingma Tsering and S. Uyeyo in 1964, as part of a Japanese expedition.
Why choose Kandoo Adventures?
Now you've heard about the stunning Annapurnas and the iconic Annapurna trekking routes, why not join Kandoo Adventures on an adventure trip to explore this fascinating country?

Joining a trekking group will save you time and effort, pair you with like-minded travellers and take all the stress out of organising a trekking trip in a foreign country. As the adventure travel experts, Kandoo have been exploring Nepal for over 10 years and our local experienced guides are knowledgeable, friendly and fun.

What are you waiting for?!