About Everest Base Camp
Whilst some individuals seek to summit the highest mountain on earth, it is enough for us mere mortals to simply reach the base and experience the awesome stature of Mount Everest from below. There are no roads into Everest Base Camp and every person seeking to view the incredible mountain up close will need to trek through the Khumbu Valley from Lukla to Base Camp and back again - unless, of course, you can afford a helicopter! The journey usually takes several weeks and can sometimes seem a little daunting to a novice hiker. But don't panic, it's totally achievable!

Mount Everest Everest Base Camp in
Nepal
sits at 5,364m, just 3,484m below the summit of Everest, which stands at a staggering 8,848m high.
The first thing to make clear is that the Everest Base Camp trek requires no technical climbing skills and is essentially just a long scenic long hike. We therefore strongly believe that anyone with enough determination and a basic fitness level can trek the route - just as all of our successful clients! We have seen overweight and underweight, old and young do this trek and every single one of them enjoyed it thoroughly.

That being said, there are a number of crucial factors to consider prior to attempting the Everest Base Camp hike. These include route length, altitude and training that will help you determine whether you think the EBC route is the right trek for you .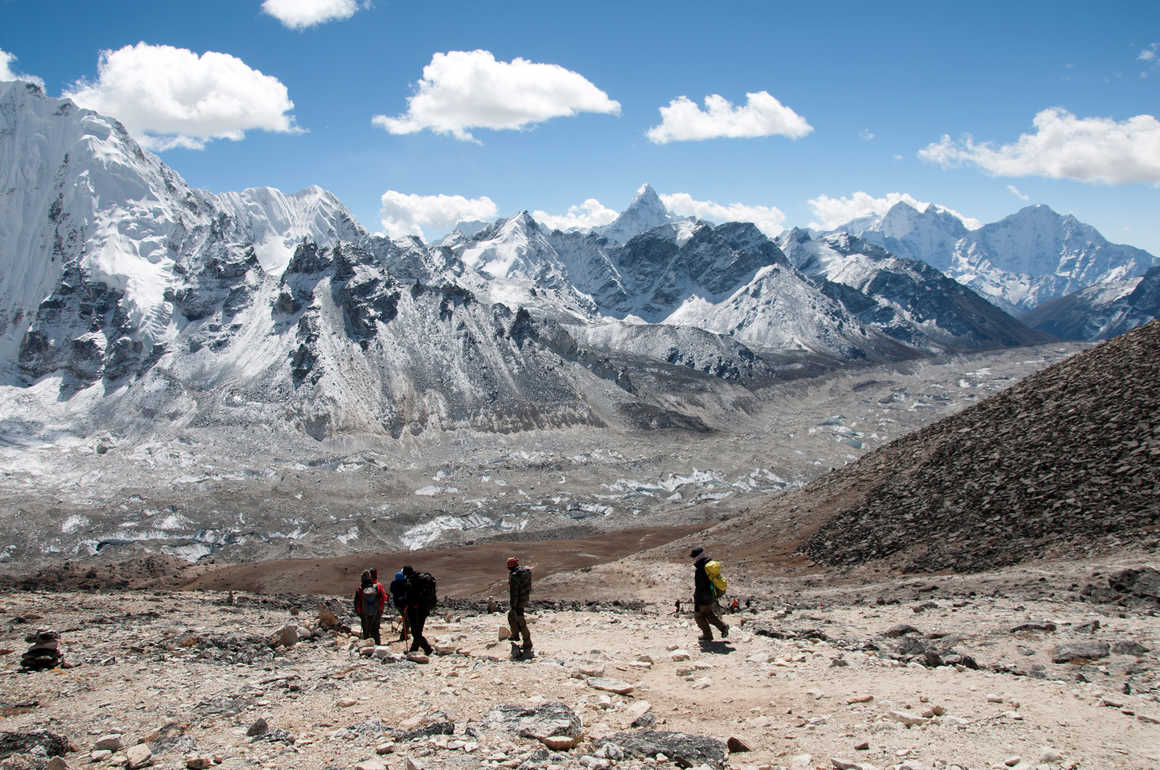 How long is the hike to Everest Base Camp?
After a fairly nerve racking flight into Lukla, your 65 km trek to Everest Base Camp will begin, a 130 km round-trip in total. Depending on who you are and how experienced a trekker you are, 65 km may or may not sound like a long distance. In reality, even for a novice trekker, 65 km is not particularly far when you think that the average walking speed of an individual is 5 km per hour. The walking is made even easier when you consider that your larger bags will be carried by porters.

On our 14 day return trek to EBC you will be walking for 9 of these days with an average of 15 km a day. Although this does not sound very long, the terrain can often be steep, rocky, slow going and, depending on the season, icy and snowy. It is important to remember that this is a wilderness trek and at no point is the path paved. As with most paths in the Himalayas, the trek is very up and down and you will need to make sure you stop and rest often to prevent over-tiredness.

Altitude and acute mountain sickness
Altitude is the most difficult aspect of the trek and what makes the relatively easy length of the trek seem quite far. Acute Mountain Sickness (AMS) is a serious condition that should not be underestimated or taken lightly by anyone, especially when trekking a route of this altitude.
Starting just below 3,000 metres at Lukla, the trek steadily winds its way upwards to Everest Base Camp at 5,364 metres. At 3,000 metres, Lukla is already very high and you will need to take the trek slowly if you are to reach Base Camp safely. The highest point of the trek is at Kala Pathar on the return section - a beautiful view point at 5,554 metres. Kandoo's itinerary offers two acclimatization days during the trek which we feel is very important for the welfare and comfort of our clients. We take 9 days on our outward journey and 3 on the return journey. This is to help acclimatization as you ascend to higher altitudes.
It is very important that you seek medical advice prior to trekking at these altitudes and research altitude sickness to make yourself aware of the symptoms and treatments available. Please also note that there is no correlation between fitness, age or gender and altitude sickness - everyone is at risk.

Training plan
You certainly don't need to be an Olympic athlete in peak shape or be a young individual to accomplish this trek - although being in great shape is certainly a bonus! Although it's a hilly trek at high altitude, our belief is that with some basic training, any weekend walker can tackle the Everest Base Camp Trek.
Some days will be easier than others but you need to be prepared for the tough ones and this means setting yourself a training plan at least 6 weeks prior to your trek. A 6 hour trek in the mountains will take it out of you physically if you are unfit and building your strength up prior to leaving will make the trek far more enjoyable.

We always recommend to our clients to build a training plan that encompasses several long walks a week (preferably carrying a heavy load), strength training at the gym (particularly your legs) and some form of aerobic exercise like jogging or swimming to build up your long distance fitness.
We hope this as given you some idea as to the difficulty of the Everest Base Camp trek and how best to prepare for it. Good Luck!