Nepali Festivals and Special Events
Not only is Nepal bang on the money as a destination for spectacular high altitude treks, it also offers more opportunities for cultural enrichment than you can shake a walking pole at. When you're not boggling at the immense beauty of the Himalayas, you might seek the path to enlightenment in a Buddhist monastery, spectate at a game of Kabaddi - the slightly bonkers national sport, or indulge in a spot of afternoon yak-butter tea with a friendly local herder.

For those who really want to get immersed in the Nepalese vibes and grab some cultural colour, there's no better way than to get involved in any of the Republic's big events and festivals. You might even want to try some of the most popular Nepalese wines. Lucky you – you're spoiled for choice; the Nepalese clearly enjoy a good celebration, so you're likely to find a top-notch festival or event nearby at almost any time of the year.

So, ready to trek your socks off and then party on down at a Nepalese cultural shindig? Thought so. Read on then for our pick of the best festivals and events in Nepal and don't forget to pack your dancing shoes.

Navavarsha: National New Year's Day (April)
Yep, that's right, April. You see, they do things slightly differently in Nepal. They even have their own calendar which is roughly 57 years ahead of our own. So if you want to party like it's 2075, visiting in April is a must. Actually, thanks to Nepal's mega cultural and religious diversity, different groups celebrate New Year at different times, so in theory you could see the new year in nine times in one year. Anyway, in April all of Nepal takes a national holiday to celebrate the Nepal festival of Navavarsha or New Year. In many places, although the bars and restaurants make an effort, the celebrations can be a bit subdued. This is a day for family gatherings, swapping gifts and making resolutions.

Unless… you happen to be in the town of Bhaktapur to the east of Kathmandu. It might have taken a battering when Nepal was hit by an earthquake in 2015, but that's not enough to stop this party town. On New Year's Day, the week-long Bisket Jatra festival in Nepal begins and everyone – and we mean everyone – joins in. Bhaktapur's streets, squares and temples erupt with crowds eager to celebrate the god Bhairab and goddess Bhadrakali.

Immense wooden chariots are pulled through the town, a decorated cow is paraded in memory of those who died during the year, people are showered with red powder paint and one lucky (and willing) volunteer gets their tongue pierced with an iron spike as part of the festivities. Simultaneously crazy, frenetic, baffling and fun if you're in Nepal in April, Bhaktapur's the place to be.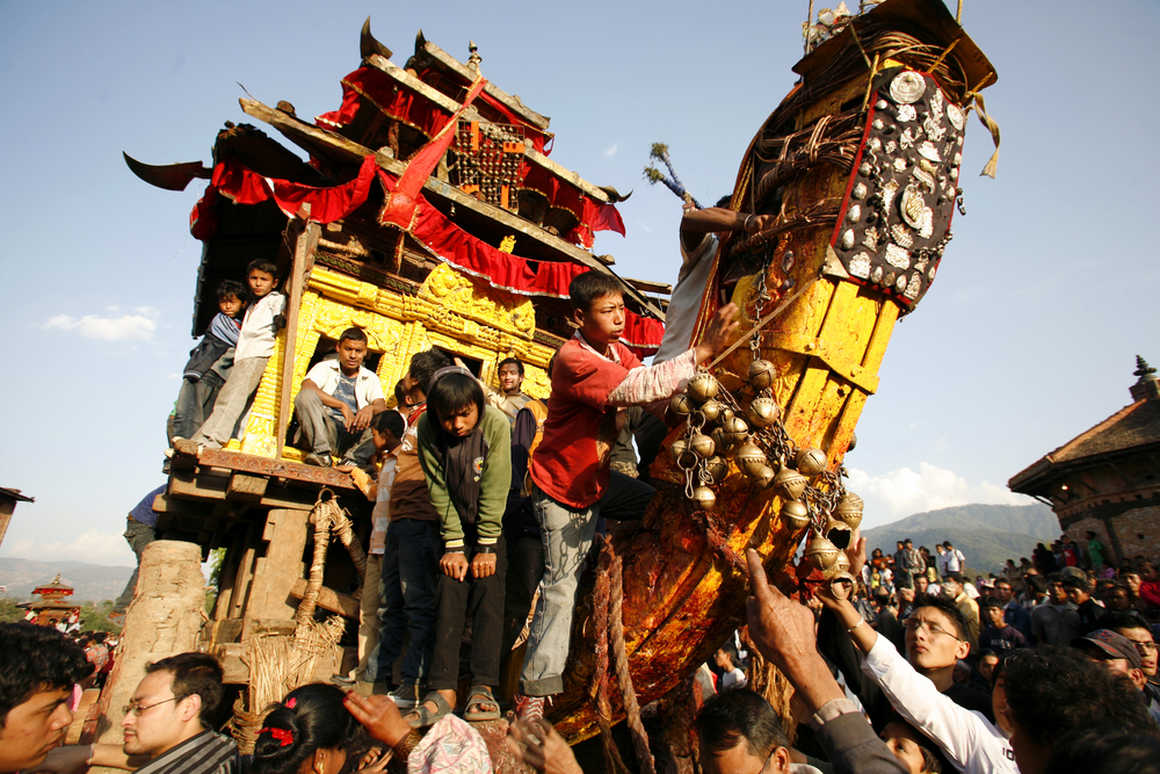 Gai Jatra (August/September)
Holy cow! Yep, that's the translation of 'Gai Jatra' one of the most fun, popular and entertaining festivals in the Nepalese calendar. Which is odd, really, because it's a celebration of all those who died during the previous twelve months. But the Nepalese don't wallow in grief. Oh no. Instead they fill a day with pranks, humour and general light-heartedness.

The cow, by the way, is regarded as a goddess in Nepal, and is also the national animal. By tradition, any family that has lost a member during the year must parade a cow through the streets of their town during the festival. The bigger the town, the bigger the potential cow parade. If a cow is unavailable, a small boy in a cow costume(!) is an acceptable substitute.
Once the cow parade is over, it's customary for revellers to dress up, don masks, sing, dance hand out sweets and generally fool around – the idea being to make a mockery of death. So, if festivals involving cows, colourful costumes, comedy, music, and streets full of happy people sound like your bag, Kathmandu, Patan and Bhaktapur are the best places to fill your (trekking) boots.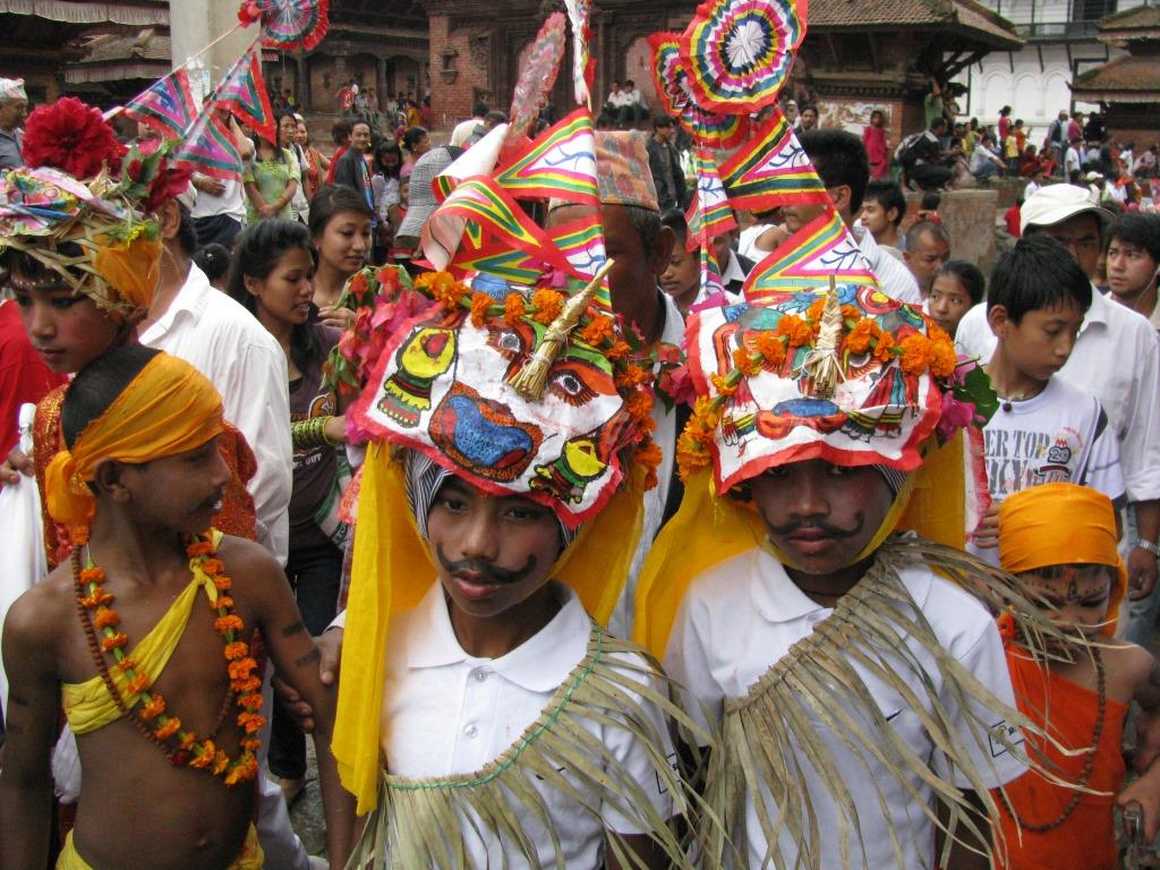 Dashain (Late September/October)
As events and festivals in Nepal go, Dashain is the biggie and a cultural experience without equal. Spanning a full fifteen days, the Nepal festival of Dashain is celebrated by Hindus and Buddhists throughout Nepal. What's happening here in this joyful extravaganza is that the populous of Nepal is celebrating an essential triumph of good over evil; and what better excuse could there be for a humungous nationwide party?

Want more detail? OK, so Dashain has its roots in Hindu religious lore, and celebrates the vanquishing of the demon-king, Ravana and the demon Mahishasura by the Hindu goddess Durga. Anyway, the upshot for the modern festival-goer in Nepal is that Dashain offers loads of culture and fun. You'll likely find funfair attractions in many towns and cities, kite flying is traditional, there are plenty of music events and, in the cities of the Kathmandu Valley you can be swept along by impressively colourful processions in which statues of Nepalese and Hindu gods are carried aloft.

One small word of warning about different cultures is different rules. Animal sacrifice is part of Dashain tradition, it's all about appeasing the Hindu goddesses, you see, but if this is likely to upset or offend you it can be avoided. This mostly happens on the eighth day of the festival so you might want to plan ahead and arrange to be on a high altitude trek somewhere rather than be in town that day.

Holi aka 'the Festival of Colours' (February/March)
Things are going to get messy, but in the nicest, most fun way. One of the liveliest of Nepal's cultural events – and definitely the most colourful – the Hindu festival Holi celebrates the arrival of spring and (in brief) the defeat of another naughty Hindu demoness called Holika. 
Despite having religious connotations, Holi is unusual in that it demands no religious activity of its participants - this festival is all about fun. Messy fun. And it's almost impossible not to get caught up in the action and have an amazing experience. What's so great about Holi is that everyone, young or old, takes part in a day of utter mischief and revelry – people throw water bombs with brightly coloured payloads at each other, powdered paints are liberally showered over crowds, paint is smeared on faces and everyone has a damned fine time looking like idiotically smiling rainbows.

Here's our advice: if you want to experience Holi to the max, you'll have a great time in the bigger towns and cities like Kathmandu, Pokhara, Patan, Bhaktapur etc. If you're doing it properly your clothes, face, hair and belongings are going to end up technicoloured so you might not want to wear brand new designer gear. The action mostly takes place between 10am and 3pm so you'll have time to get a much-needed shower and change in the afternoon before more partying on in the evening.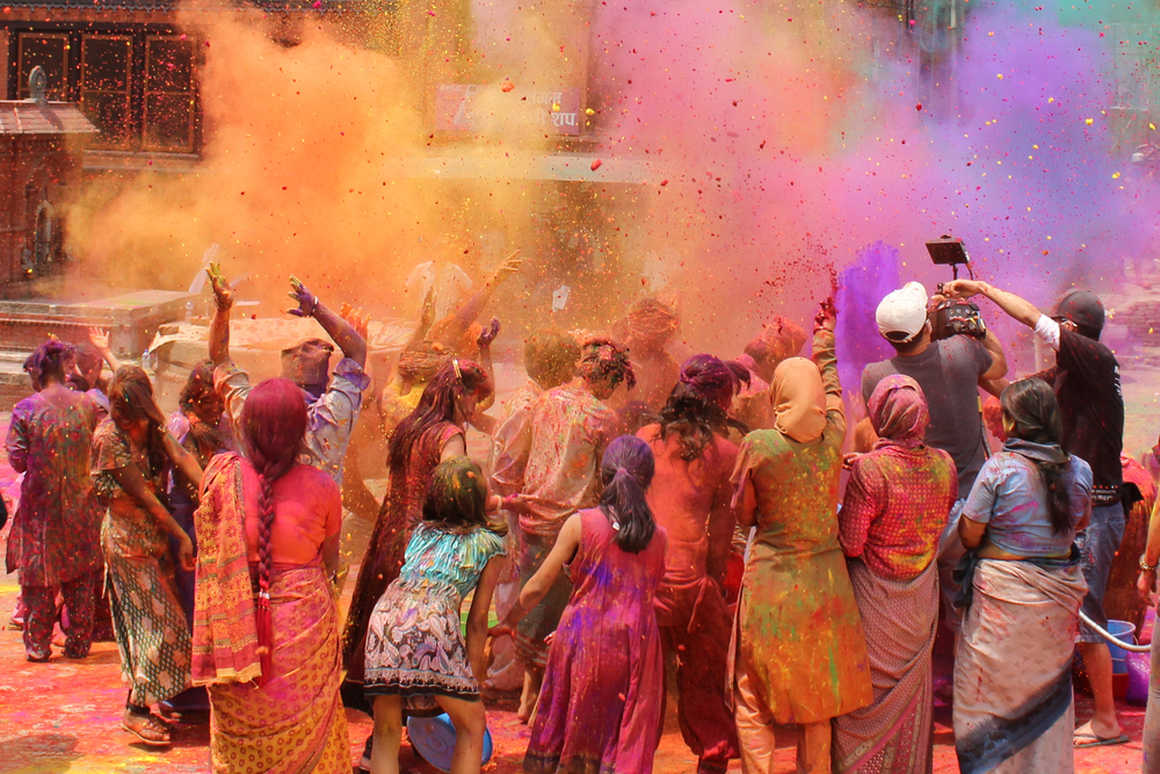 Indra Jatra (September/October)
Ever wondered what a living goddess looked like? You'll have to be in Kathmandu in September to find out. That's when the exciting celebration of 'the Lord of the Rain' – Indra - takes place. Coincidentally, of course, it also happens to be at the end of monsoon season - that's got to be a good omen if you're here for the trekking.

Indra's one of the more interesting Hindu gods in charge of rain and thunderstorms he rides a white elephant and carries a lightning rod. He's also pretty important – the Indra Jatra festival lasts eight days.

One of the highlights is the opportunity to see Kathmandu's living goddess (known as 'Kumari'), a tough gig that can only be awarded to a Nepalese girl aged between two and four from the Kathmandu Valley who meets a demanding checklist of goddess selection criteria. Still, later on in life 'goddess' is going to look good on her CV.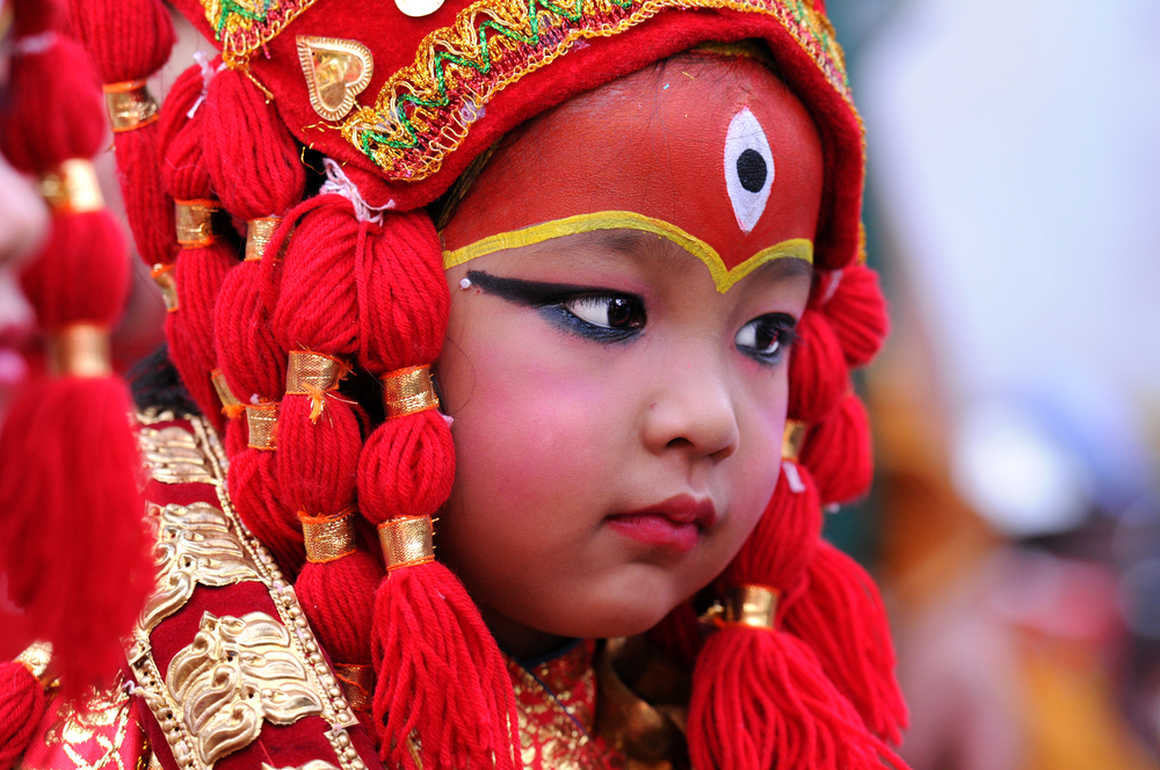 Nice for her, but what's in Indra Jatra for you? Well, a pretty unforgettable cultural experience to be honest, featuring masked dancers accompanied by drummers. From Kumari's chariot procession and beautifully lit houses and buildings to the symbolic erection of a symbolic 36-foot long flagpole, boisterous, good natured crowds and, in Kathmandu's Durbar Square, the unveiling of a colossal statue of Bhairab (a scary-looking manifestation of the Hindu god Shiva) from the mouth of which… wait for it… alcohol freely pours.

Will there be dancing in the streets? Oh yes.