The Best Annapurna Treks in Nepal
The Annapurna region may conjure stories of massively experienced climbers taking on some of the most hard core climbs in the world. It may feel a million miles from a place you yourself might go. The great news is you definitely don't have to be a hardened climber to enjoy the stunning scenery and epic treks on offer in these majestic region of Nepal.

If you like spectacular treks, you simply cannot pass up the opportunity to explore the iconic Annapurna region. Narrowing down the choice of fantastic escapades that await you in this mountainous area of western Nepal is tough, but here are Kandoo Adventures' picks of the best Annapurna treks.

Poon Hill Trek
If you're new to Nepal, you couldn't hope for a better introduction to the delights of Annapurna and the mighty Himalaya than the eight-day
Poon Hill Trek
with Kandoo Adventures. You need to be moderately fit and, since you're only going to attain a maximum altitude of 3,210 metres, it's the gobsmacking scenery rather than the lack of oxygen that's going to take your breath away.
That being said, although the paths on this trek are easy to follow, there are a lot of stone steps to climb up and then come back down. This can be physically demanding and maybe troublesome if your knees finding hiking up and down mountains taxing. Aside from that, you'll be making your way through some amazing and constantly-changing landscapes, ranging from the agricultural (paddy fields), through the beautiful (rhododendron forests) to the outrageously spectacular: the view of the Annapurna mountain range from the top of Poon Hill will simultaneously swell your heart and exhaust your camera batteries. And that's just for starters.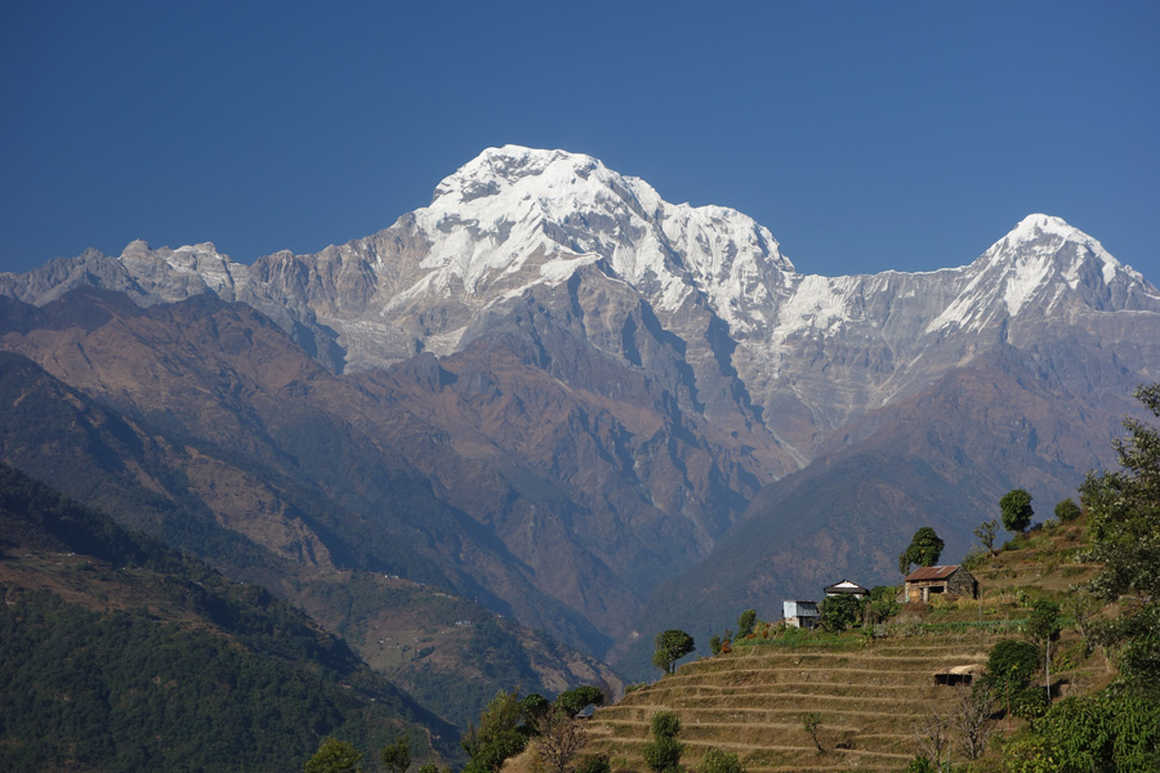 Annapurna Sanctuary (Base Camp)
There are so many good reasons why the 12 day hike to
Annapurna Sanctuary
is one of the world's most popular high-altitude treks. Firstly, you're surrounded by mesmerising natural beauty from the start, where you'll gain sneak peeks of the pointy summits of the mountain giants that lie ahead of you. Then there's the sheer variety of terrain you'll cover, the immersion into Nepalese 'tea house trekking' culture, and a number of river/ravine crossings that you'll find either exhilarating or nerve-racking, depending on the state of the bridges involved (don't worry, you'll be safe). Best of all, though, is your arrival at Base Camp, a.k.a, 'Sanctuary'. This natural amphitheater, tucked away in the heart of the Annapurna Massif is enclosed by soaring mountain peaks and lets you get up close and personal to a couple of 8,000 metres-plus monsters.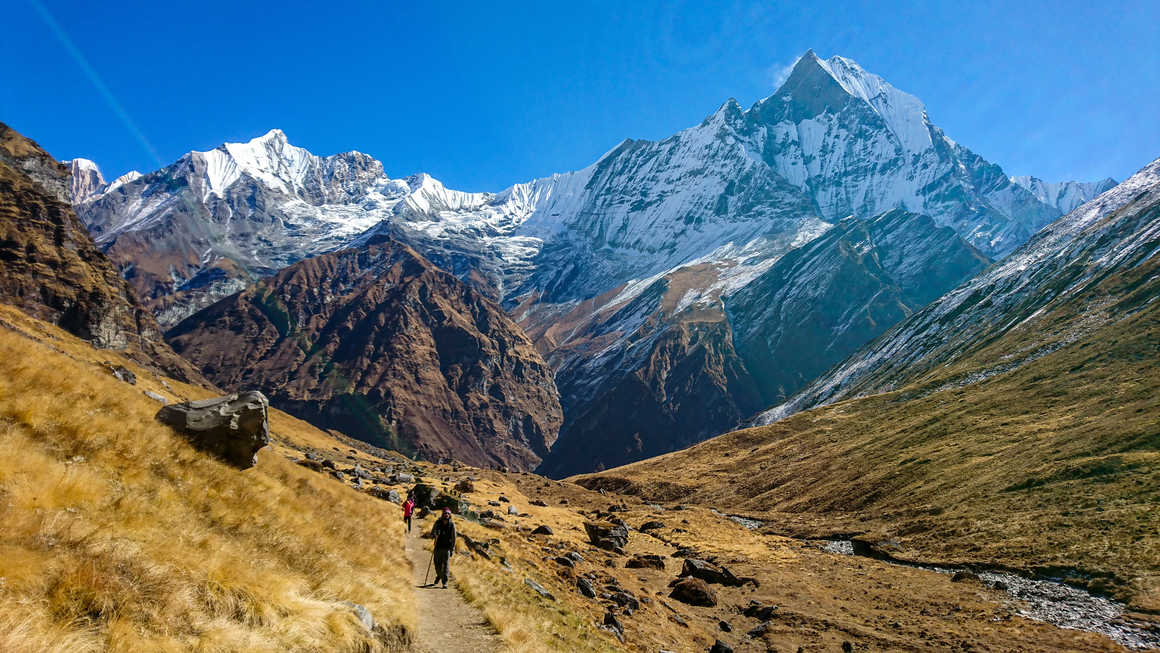 The Annapurna Circuit
Modernisation and the minor encroachment of new roads have rubbed a bit of the shine off what was once regarded as the world's most iconic circuit trek. But let's be clear about this – the
Annapurna Circuit
is still utterly phenomenal and our a firm favourite Annapurna region trek. Basically you're trekking the region's 'greatest hits'; the route exposes you to a bit of everything you could possibly want to see on a trek in the Annapurna region. So that's stunning mountains (of course), cavernous gorges spanned by suspension bridges, ancient Buddhist monasteries, traditional villages and tea houses … we could go on, but it's better to experience all of it yourself.
Cards on the table, you'll need to be pretty fit for this one – not least because you'll be tackling the devilish Thorung La pass which, at a leg-wobbling breath-sapping elevation of 5,416 metres is the highest point on the circuit. The effort is worth it, though, for the sheer volume of unforgettable experiences you'll find crammed into this king of Nepalese treks.

Manaslu Circuit
The
Manaslu Circuit
is a relatively new trek that aims to supersede the Annapurna Circuit. The Manaslu region adjoins Annapurna but hasn't yet attained the same legendary trekking status. This means that you get sights, thrills, experiences and benefits that are similar to those of an Annapurna trek, but you're more likely to have this place to yourself. At 16 days duration Manaslu Circuit is a long trek, but we assure you that you won't regret a single step.
Manaslu is the eighth highest mountain in the world, and whilst trekking in its shadow you'll discover glaciers, monasteries, pine and bamboo forests, rural farms and villages and some thrilling mountain passes; the challenging Larkya La pass (5,150 meters up) is a corker and one you won't forget in a hurry.

Are you up to this epic trek? As long as you're relatively fit, acclimatized to
high altitudes
and have a bit of stamina, then we highly recommend this one.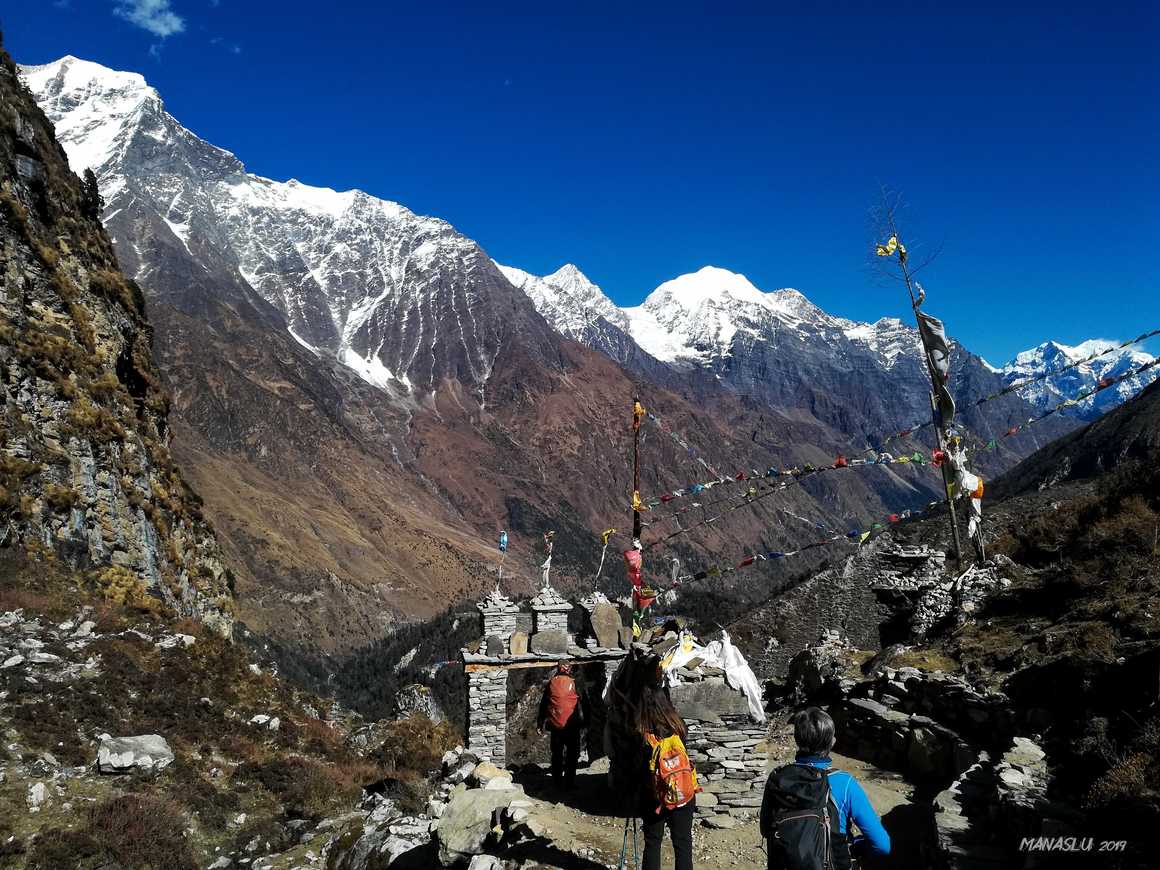 Tilicho Lake Trek
When you're constantly surrounded by frankly astounding mountain ranges it's easy to forget that Annapurna has a few other lovely natural features up its sleeve. One of these is the gorgeous and glacial Tilicho Lake, which claims to be the highest lake in the world. And –guess what? – you can trek to it.

Basically, you begin at the same starting point at the Annapurna Circuit, continuing as far as the town of Manang where the route splits. Head north and you're doing the Circuit, but head west instead and you'll be trekking the challenging but enjoyable route to Tilicho Lake. The trek from Manang to the lake and back again should take 6 to 8 days, during which you can expect to bump into the occasional herd of yaks, pass by an ancient monastery and be bowled over by some mega Annapurna region scenery. Ascend your way up to the lake at 4,919 meters and prepared to be stunned by this magnificent stretch of turquoise water surrounded by snow dusted mountains. However tempting it might look, you're probably better off resisting the urge to take a quick dip at this point. Just being there should be more than enough to satisfy your soul.