If there's one thing that South America does really well, it's hosting fantastic festivals and fiestas. Brazil might take the party crown thanks to the legendary multi-coloured, booty-shaking, week-long Rio Carnaval each February, but Peru is no slouch when it comes to local and national celebrations.
In fact, when you've filled your boots (or worn them out) with spectacular high-altitude trekking, you can bet your, er, boots that wherever you are, and whatever time of year it is, there's some kind of cultural jamoboree taking place in a village, town or city not too far away. And the great news is that everyone is welcome – if not positively encouraged – to join in the fun.   It's a near impossible task to whittle down the list of amazing festivals and events in Peru, but we've had a go and here are our recommendations. You're welcome.
Inti Raymi (The Festival of the Sun), Cusco
In the UK, sun worshipping typically means stripping down to a bare minimum of clothes, grabbing a brolly (you know, just in case), dashing off to the nearest park or beach, baking until we're a throbbing shade of red and, if it's a bank holiday, playing raw-burger roulette with a rarely-used barbecue.
In and around Cusco, they do Sun Worship on a much grander and more stylish scale.
Each year on June 24, the city celebrates Inti Raymi, an ancient Incan ceremony and celebration which pays tribute to Inti, the Sun God. Back in the day (i.e. five centuries ago) this festival involved the sacrifice of a couple of hundred unlucky llamas, plus drinking, dancing and coca leaf consumption from dawn until dusk. To be honest, although llamas are generally no longer at risk (spoiler: one does meet its maker towards the end of the day during the recreation of the ancient Incas' winter-solstice celebrations; you might want to skip that bit), not much else has changed. Inti Raymi remains one of the largest, most important and most unmissable festivals in the Peruvian calendar, attracting vast crowds of locals and tourists alike.
Fiesta de la Cruz (Festival of the Cross), various locations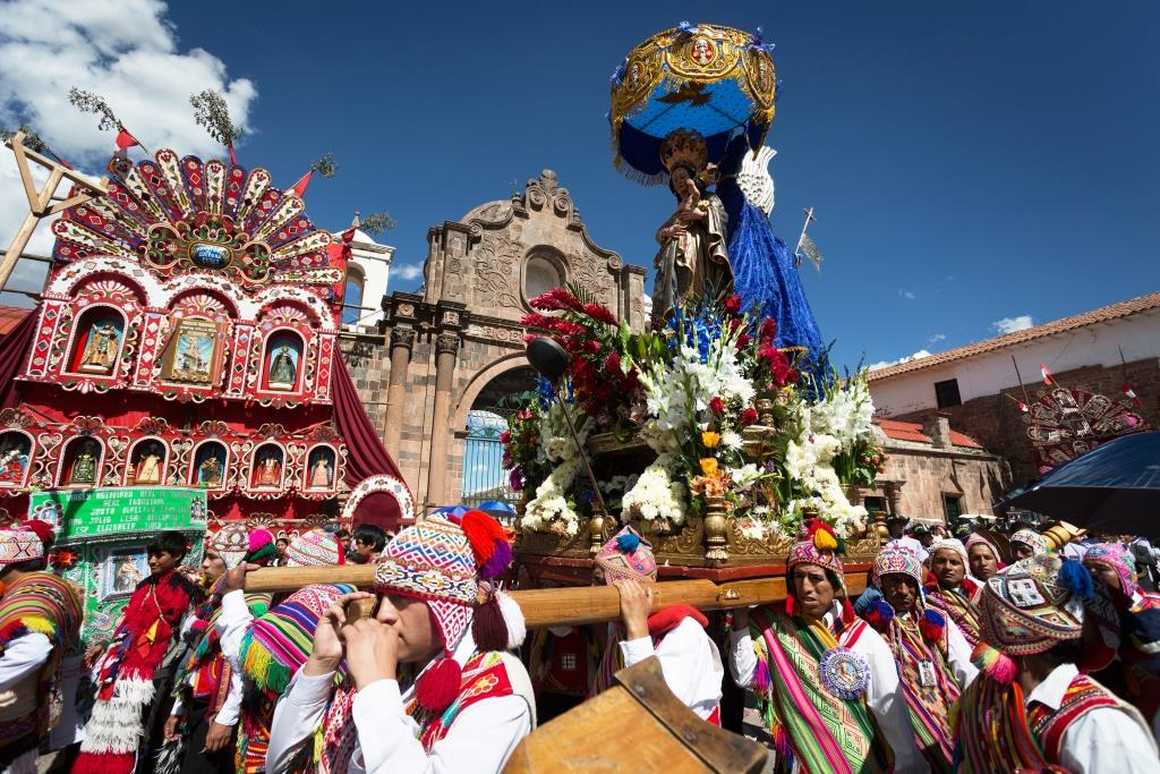 No, not a celebration of slightly angry people, the Festival of the Cross (or crosses, depending upon where you are in Peru) does, of course, have religious connotations but it's also an excuse for a shedload of fun, dancing and dressing up. Versions of this festival take place throughout South America – it's a biggie – and all over Peru, but one of the best places to experience locals lugging huge, lavishly decorated wooden crosses from church to church is in and around Cusco. It all kicked off when the Spaniards conquered Peru in the fifteenth century. For centuries, the Incas had celebrated a good harvest with pagan festivals. The Spanish were having none of this, and sought to replace ancient traditions with a shiny new Christian celebration; the 'May Crosses Festival'. The plan didn't quite work: two cultures merged and gave rise to the hybrid Fiesta de la Cruz that is still celebrated today. Anyway, if you happen to be in Cusco, Apurimac, Ayacucho, Ica, Junin, Pasco or Puno in May, expect to be dazzled by huge processions, big colourful crosses, folk dancing (look out for the famous 'scissor dance' – you'll know it when you see it), fireworks and a whole lot of revelry.
Virgen del Carmen, Paucartambo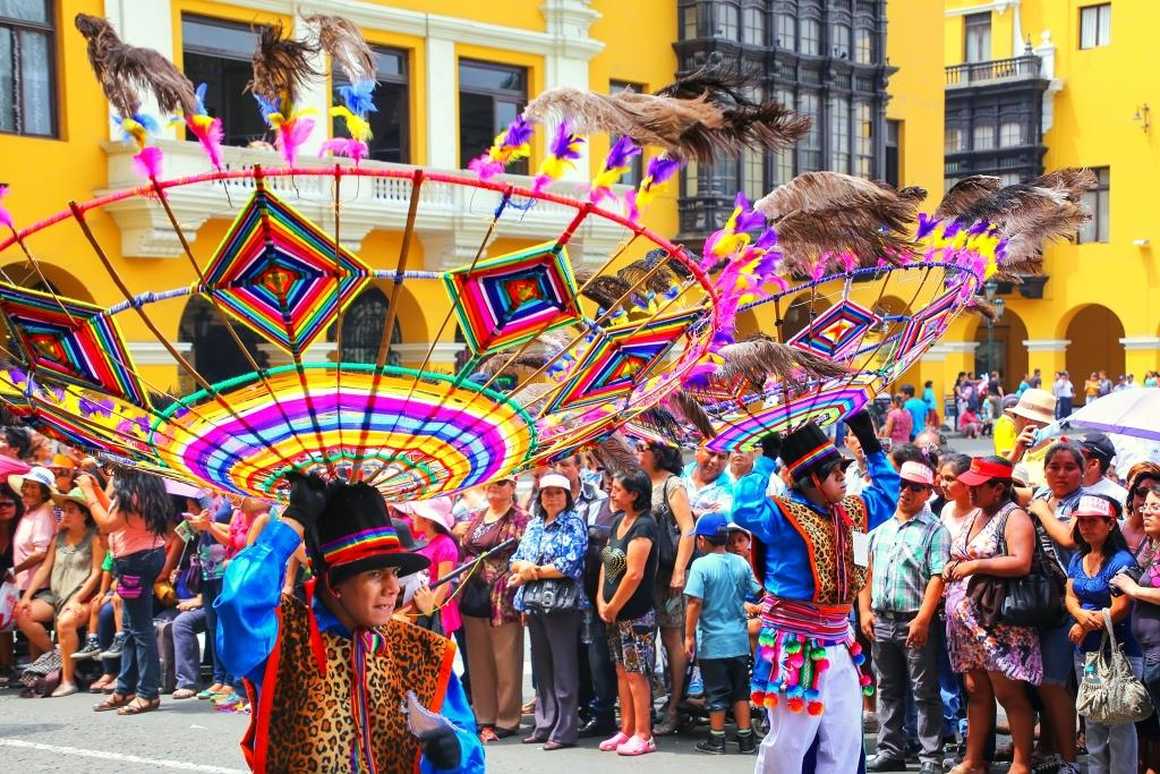 For most of the year, Paucartambo is a sedate, pretty and well-behaved Andean village, about four hours to the east of Cusco by bus. But for four days in mid-July each year Paucartambo becomes party-town, where locals and visitors alike join in a joyous and raucous celebration of the Virgin of Carmen (a.k.a. 'Mamacha Carmen'). This particular Virgin is both the patron saint of Peru's mestizos (people of mixed Latin-American and European heritage) and of folk dancing and, blimey, do they celebrate her! Get ready for plenty of outlandish dancing, drinking and costumes, risky rooftop gymnastics, processions and a final gathering in the local cemetery where tribute is paid to the souls of the dead. A word of warning: if you want to be a part of one of the wildest and most wonderful four-day fiestas (who wouldn't???) you'll need to plan ahead. Paucartambo is not a big place and the few places offering overnight accommodation book up well in advance, but if you have the mindset of a UK festival-goer and don't mind crashing out in a tent for a few nights, this is definitely the gig for you.
Puno Week, Lake Titicaca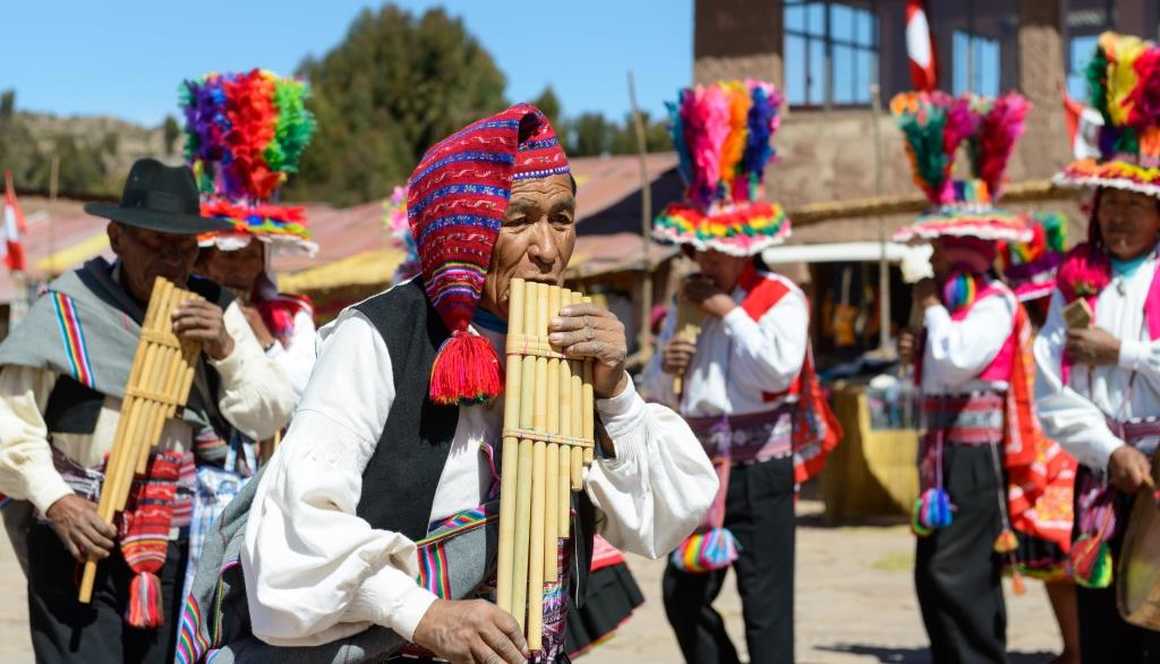 Should you find yourself in the gorgeous city of Puno on the edge of Lake Titicaca in southern Peru at the beginning of November, you're in for a treat. A week-long treat, if you can handle it.
Puno Day (November 4) falls slap bang in the middle of Puno Week – a seven-day celebration of the founding of the city (in 1668, since you asked). This is one long mega-party, and if you succumb to it you're not going to pause for breath as the city erupts into a melee of traditional dancing, parades, fireworks and countless blissed-out folk in traditional costumes partying on down like there's no tomorrow. Puno week also celebrates the birth (in legend) of the founders of the first Inca dynasty; Manco Cápac and Mama Oclio. A re-enactment of their arrival on land from Lake Titicaca is one of the highlights of this cracking festival, and if nothing else will enable you to rest your tired legs for a bit after all that dancing in the streets.
El Senor de los Temblores (The Lord of the Earthquakes), Cusco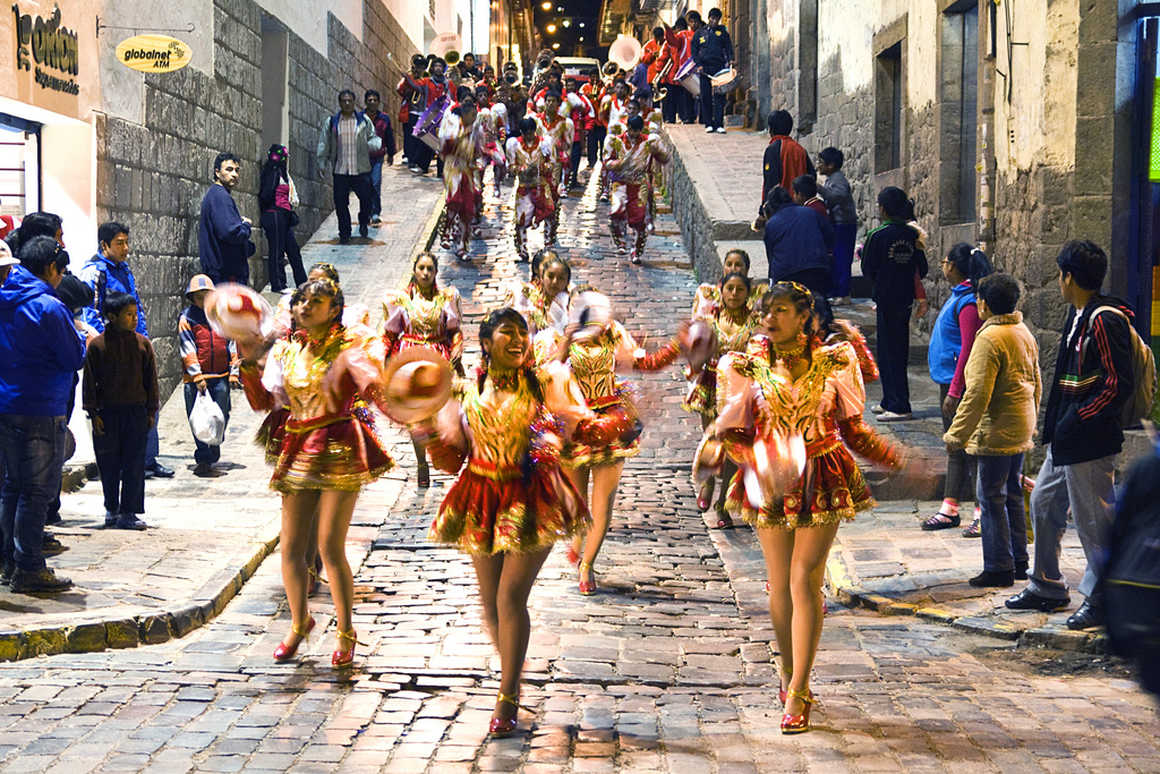 Easter is a time of major celebration throughout South America, and Holy Week (the last week of Lent) is an awesome time to be in Cusco. The city is alive with a good-natured buzz; it's all brass bands and dancing by day, fireworks and partying at night. The Monday of Holy Week is a little bit special though. This day is devoted to The Lord of the Earthquakes. It's claimed that an earthquake that was ravaging Cusco in 1650 was quelled by a statue of the crucifixion of Jesus taken from the city's cathedral, preventing further devastation. Thousands of people amass in Cusco's Plaza de Armas and at 7pm the statue is taken from the cathedral and paraded through the streets. Whether or not religion is your bag, experiencing the electric atmosphere that runs through the crowd during this remarkable event is something that will stay with you for a long time. And if there's a better way than that to celebrate the start or finish of a trek to Machu Picchu along the Inca Trail, we haven't found it yet.