When most people think of the Inca Trail to Machu Picchu, they see the ancient citadel as the high point, both figuratively and literally. Whilst figuratively this is generally true, in terms of altitude, Machu Picchu is certainly not the highest point on the trail.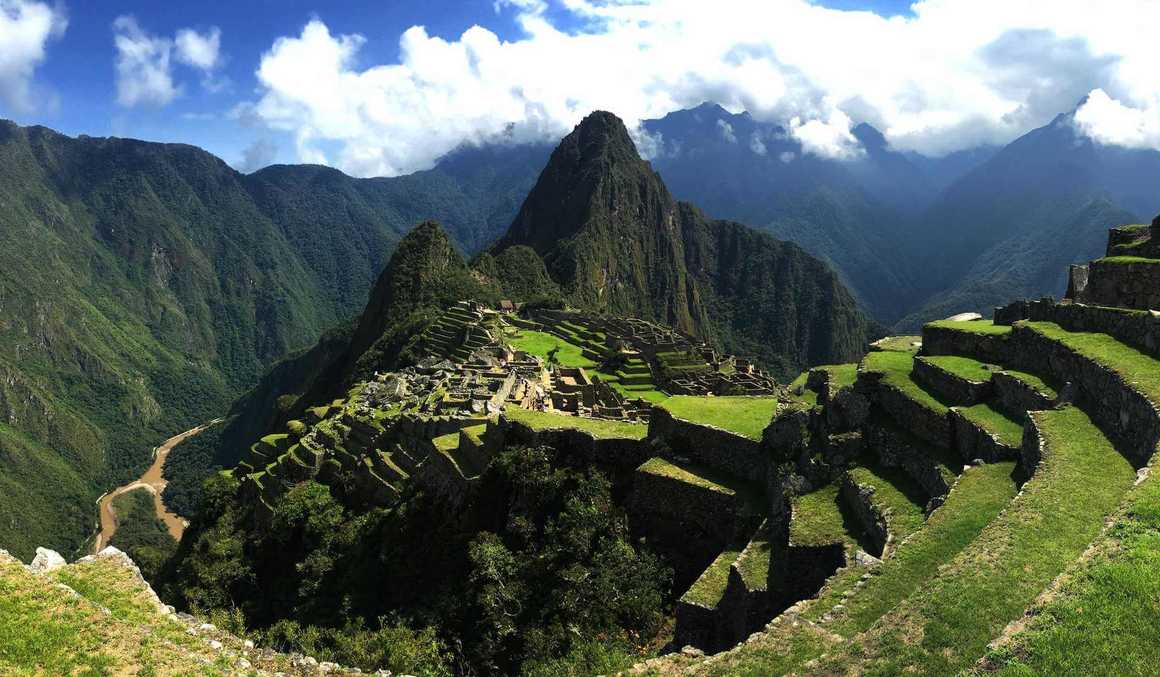 Highest point of the Inca trail
In fact, standing at 2,400 metres, Machu Picchu is one of the lowest altitude points on the Inca Trail. The highest point on the Inca Trail is Abra Warmihua?usca or 'Dead Woman's Pass' which stands at 4,200 metres. Generally, to be affected by altitude sickness, you need to be above 2,500 metres. Therefore, whilst Machu Picchu is below this point, Dead Woman's Pass is easily high enough to bring on symptoms of altitude sickness.
Most Inca Trail treks (including all of ours) begin at Cusco, which, at 3,400 metres, is already considerably higher than Machu Picchu. By staying there prior to your trek, you will give your body time to acclimatize to the Inca Trail altitude.
The Inca Trail altitude varies greatly throughout the trek and your body will notice the differences, especially at the higher points.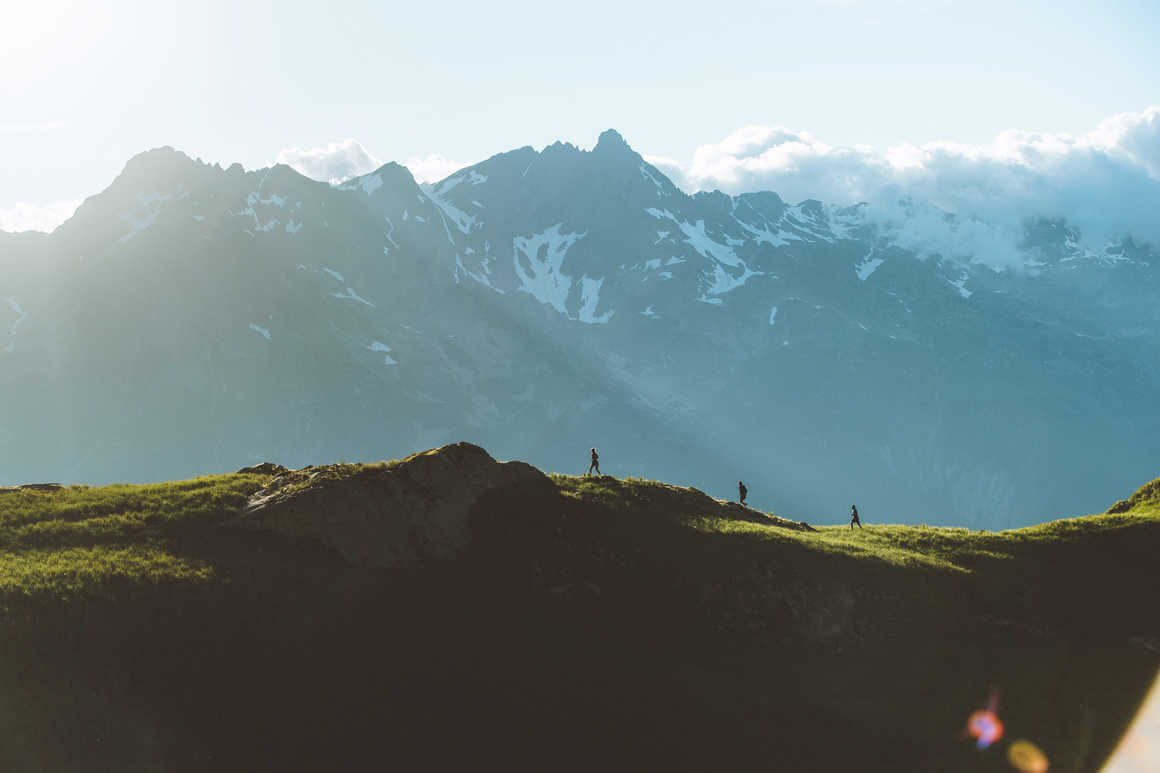 The trail begins at a place called Km 82 at 2,600 metres and descends slowly downwards during the morning before ascending in the afternoon to Yuncachimpa at 3,300 metres. Although this is a high enough altitude to bring on altitude sickness, if you have spent several days in Cusco beforehand you should be fine at this point.
The second day is the toughest on the Inca Trail as it is spent ascending up and over Dead Woman's Pass at 4,200 metres. Your body will almost certainly feel the effects of the altitude here as the air is providing less oxygen than your body is used to. You do not spend long at this altitude and the rest of the day is spent descending down to 3,600 metres where you camp at Chaquiccocha.
From Chaquiccocha it is generally easy going as you descend to the Sun Gate and then Machu Picchu where the Inca Trail comes to an end.
Below we have provided an altitude graph for the Inca Trail.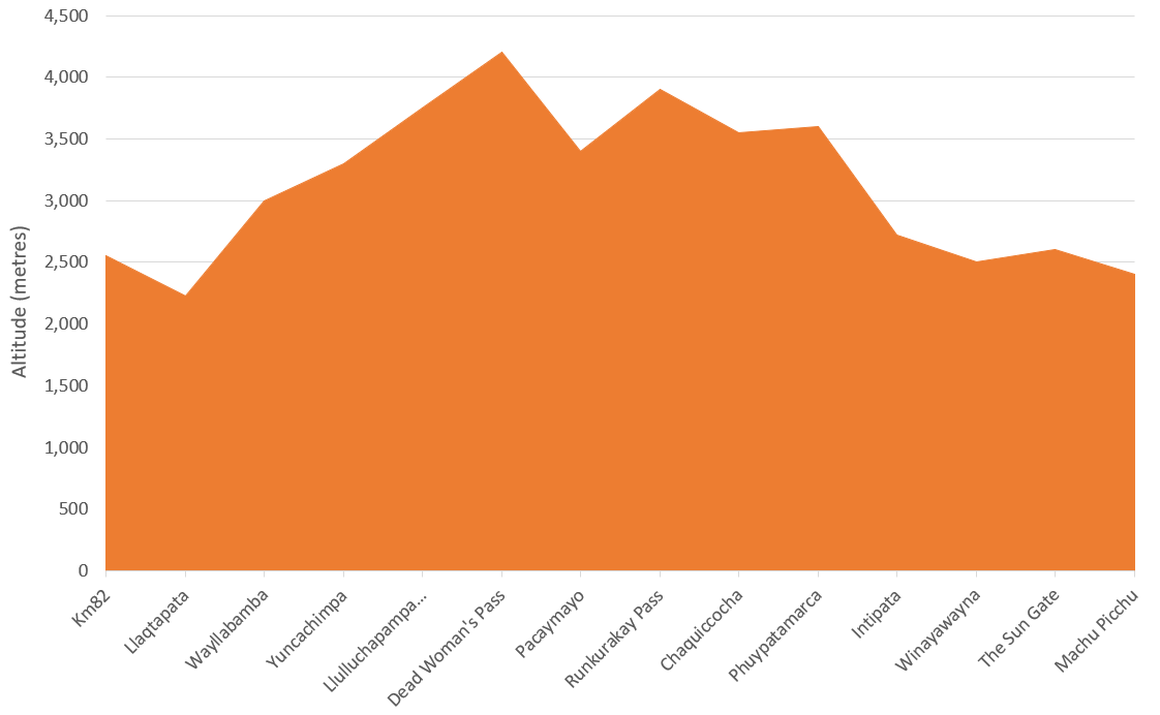 Acute Mountain Sickness (AMS or altitude sickness)
Before trekking the Inca Trail it is important to be aware of the causes and effects of altitude sickness and how to treat it if it occurs.
Altitude sickness is not something that should be taken lightly and severe AMS can lead to High Altitude Pulmonary Edema (HAPE) and High Altitude Cerebral Edema (HACE). Both HACE and HAPE are life threatening unless treated immediately and anyone displaying symptoms of either should descend rapidly.
Less severe altitude sickness generally takes the form of headaches, feeling of nausea, sickness, loss of appetite and shortness of breath. These symptoms all result from the fact that your body is not getting the amount of oxygen into the bloodstream that you're used to. As you ascend higher the density of oxygen molecules in the thinner air decreases and often leaves you feeling short of breath.
This is why acclimatization is key. All trekkers travelling with Kandoo Adventures will spend at least a day in Cusco before departing on the trail. This gives your body time to acclimatize which it does by creating more red blood cells, breathing more deeply and increasing pressure to your Pulmonary Capillaries which forces blood into areas of your lungs that lie dormant when breathing at sea level.
If, on the Inca Trail, you feel the onset of any symptoms of altitude sickness, it's very important to communicate this to one of our guides as they will be able to help and advise you on the best course of action. Getting altitude sickness on the Inca Trail does not mean you will have to turn back, it usually just means you will either have to descend for a short time or rest where you are until your symptoms have cleared.
For our full guide on altitude sickness and acclimatization please click here.

References