This is a personal account of our Colca Canyon hike with Kandoo during June which was a fantastic time to do the trek.

The Colca Valley and Arequipa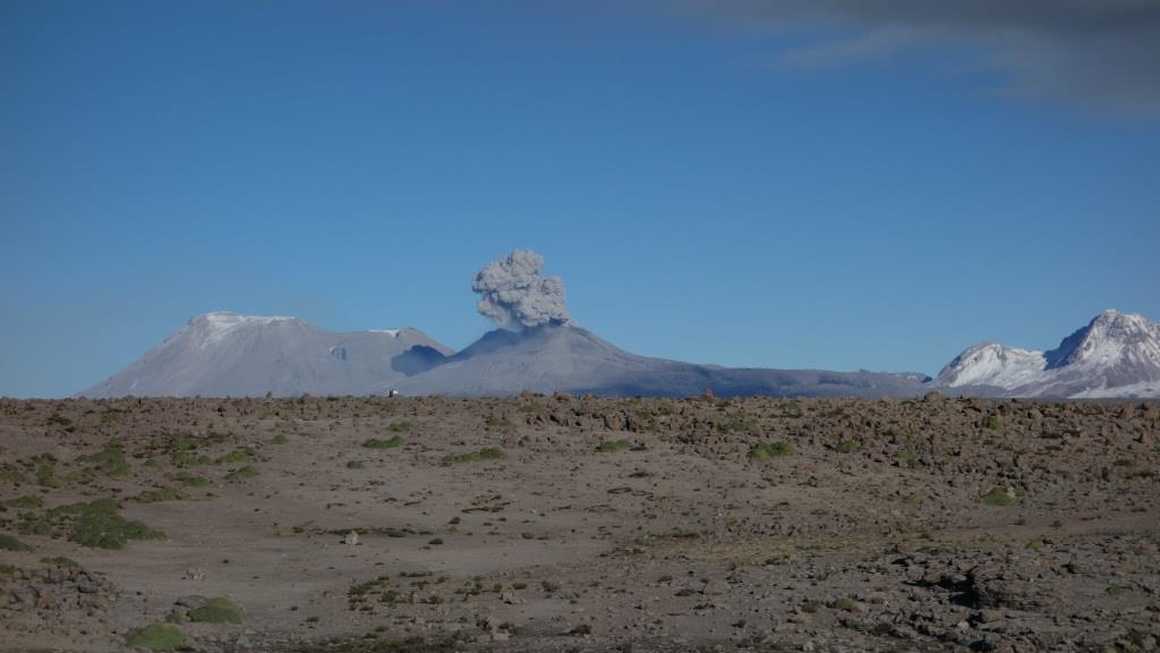 We spent the afternoon in the very attractive town of Arequipa surrounded by the beautiful El Misti and Chachani volcanoes. The next morning it was a 5am start with our guide Ankel for the drive across the Reserva Nacional Salinas y Aguada Blanca which is a vast barren area dotted with volcanoes .  There was an occasional farmstead with herds of lamas grazing.  Wild vicuña herds were seen grazing by the roadside.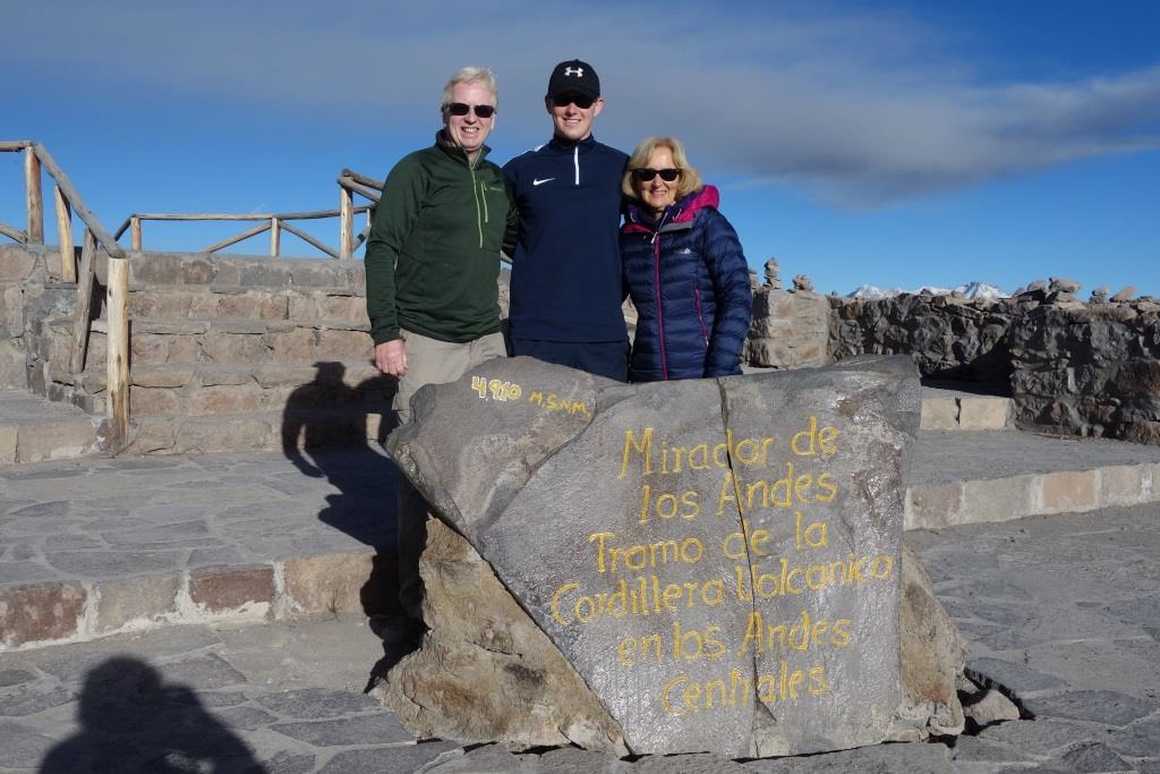 We stopped briefly at the high view point, Mirador de los Andes Tramo de la Cordillera Volcania en los Andes Centrales, at an altitude of 4910m, there was a spectacular view of 8 volcanoes including the active Sabancayo volcano that was sending clouds of ash into the atmosphere, a spectacular sight.  We then descended towards the Colca valley before the effects of altitude caught up with us.
The Colca valley was in sharp contrast to the barren lands we had crossed since leaving Arequipa, it  is green and lush with terraces and surrounded by snow capped mountains.  We then ascended to the Cruz de la  Condor view point to watch the majestic condors playing on the morning thermals and to drink a welcome cup of coca tea to help with acclimatisation.  We had a short walk between the viewing areas and this gave us our first glimpse down into the Colca Canyon with its steep vertigo inducing sides and the river below, noticing a variety of beautiful wild flowers en route.
From here we were driven to the village of Cabanaconde where we had a delicious 3 course lunch; stuffed advocado, fresh trout (that is farmed locally) and fresh fruit salad at a small local restaurant, then it was time to start trekking down the canyon to Llahuar.
Day 1 - trekking down into Colca Canyon to Llahuar
The Colca Canyon trek is unsupported so we had to carry all we required for the 2 night stay in our rucksacks.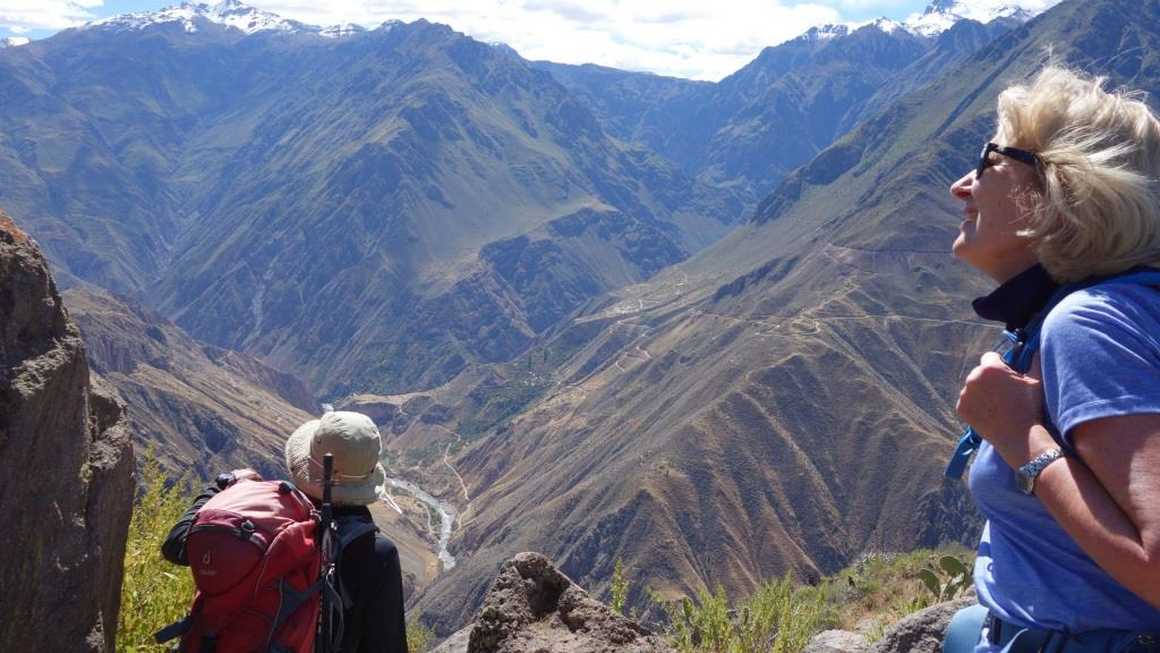 The trek was a knee busting 4 hour, 1000 metre, descent down a very roug steep path with a lot of loose stones.  The scenery was spectacular, there were catci growing all over the canyon sides.  The descent was tough, it required concentration, poles were needed by Tony and I, but Nick, our 21 year old son, had no problem almost jogging down in places,  the agility of youth!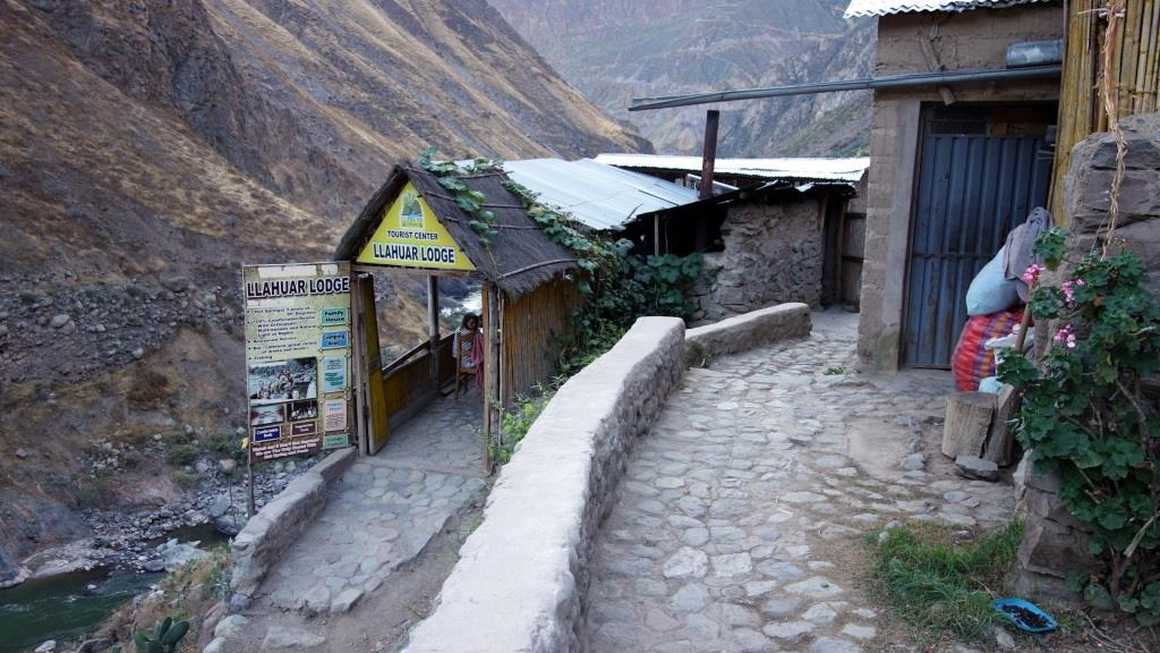 We eventually arrived at the river with shaky legs then a short ascent  to Llahuar  where there is one lodge, the accommodation is very basic! Small stone built rooms with cement floors and a bamboo screen for a door, hot and tired the three of us sat on our beds and there was slight hysteria in our laughter, there was however a shared flushing toilet (a definite step up from Nepal) and a cold shower that we did not investigate.  I have to admit we did not venture into the hot springs, I think a combination of a long day and jet lag we were just too tired to walk a further 10 minutes to the springs. Llahuar is beautifully situated at the base of the canyon with the river running past ,worth the trek down.
That evening there was no choice of menu and the food was very basic.  Fortunately, breakfast was better with fruit juice, cereal and banana filled pancakes.
Day 2 - trekking inside Colca Canyon to Sangalle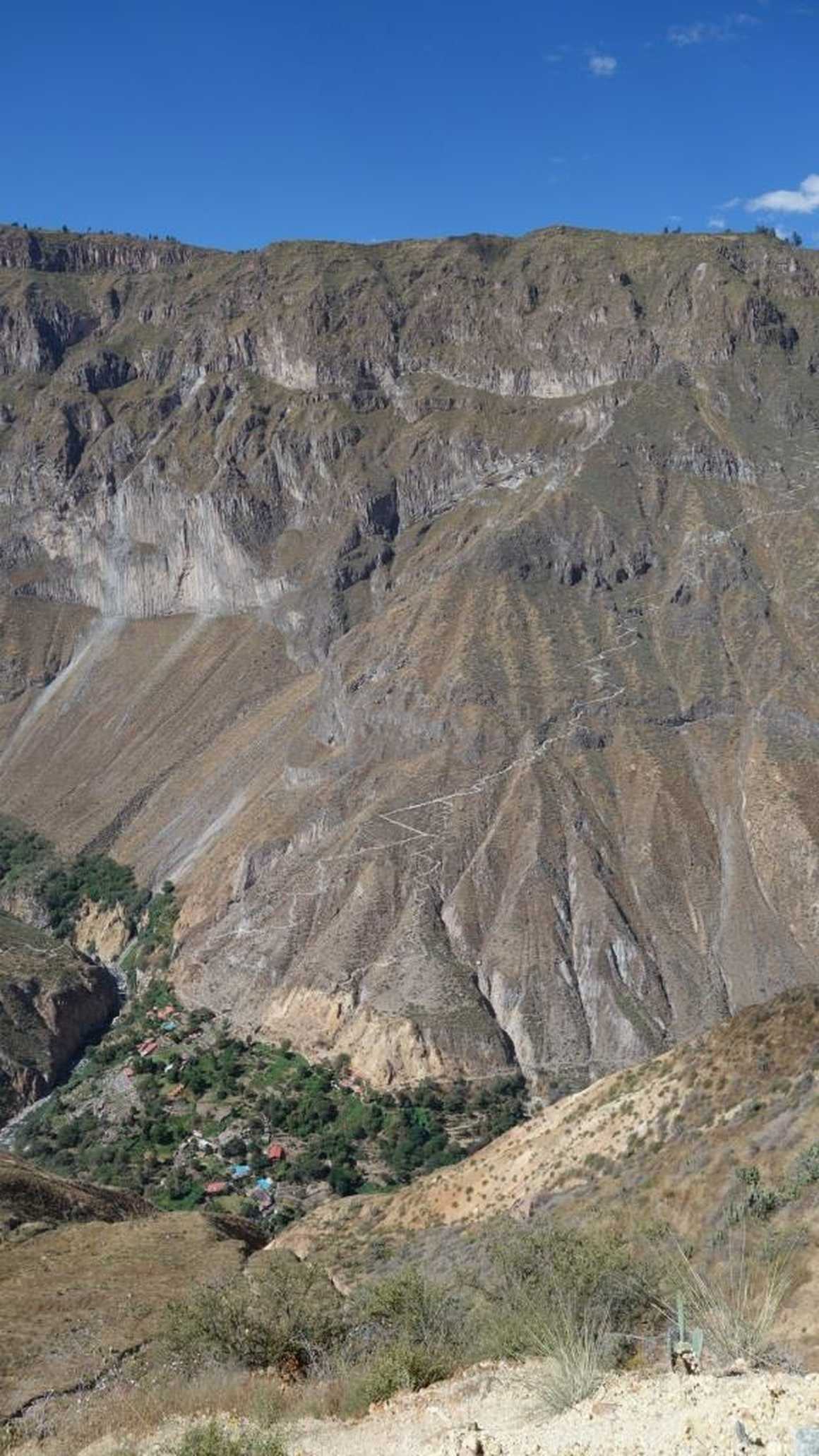 Next morning we started our trek to Sangalle at around 7 am.  We walked up the right side of the canyon, this was a fabulous walk with changing vegetation, initially there were large cacti and then as we ascended into a subtropical area where there were numerous flowers and plants.  Our guide, Ankel, had a fantastic knowledge of the plants and wildlife, their medicinal and nutritional uses,  I was very excited to see avocados growing, one of my favourite foods.  We passed through a small village then contoured around the side of the canyon on a new rough road,very quiet, we only saw 2 cars.
We had our first view of Sangalle from the road, it is nicknamed the Oasis.  We could see palm trees and swimming pools, quite unexpected in this mountainous scenery.  We left the road and followed a rough track for the steep descent to Sangalle, arriving about 12.30pm.
Sangalle is only accessible by footpath and is made up of a number of lodges with volcanic water swimming pools  Tony and I felt rather old as the average age of the other guests was about 20 years, clearly a backpackers destination! Nick fitted in well.
Our lodge was a number of individually built rooms around a central garden, the accommodation was basic but clean and we had a very interesting ensuite bathroom made out of the rock face, a welcome cold shower, flushing toilet and wash basin.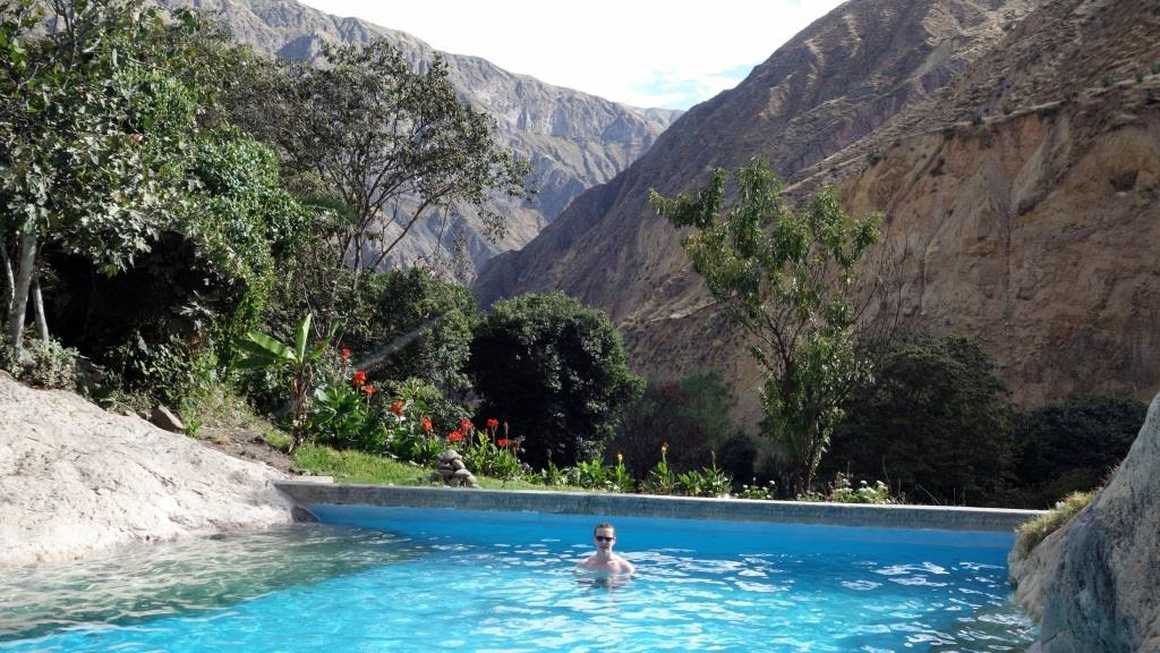 Lunch was good, no choice but that was fine and an extra treat as Ankel made us guacamole with avocados he had bought in one of the villages on the way.  We had the option to do another walk in the afternoon but chose to relax in the garden and swimming pool and enjoy a pleasant afternoon surrounded by the looming walls of the canyon.
Late afternoon some locals were playing football, Nick joined in but soon realised that football at 2160m was not the greatest idea.  He retired somewhat out of breath!
Day 3 - trekking out of Colca Canyon to Cabanconde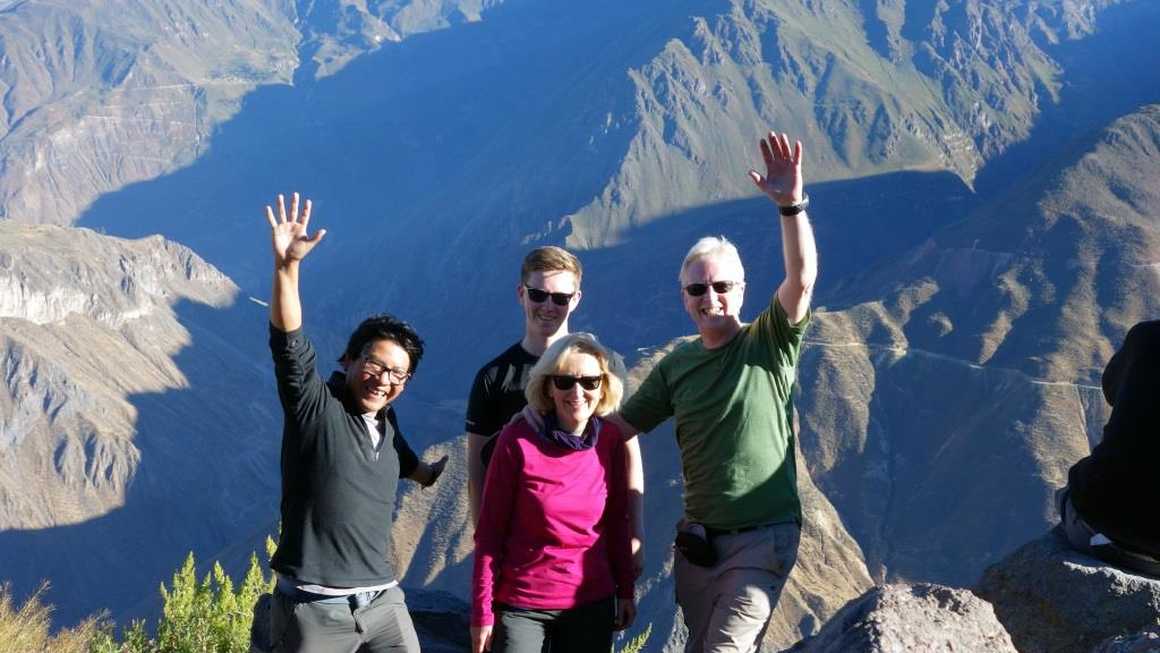 3 course dinner, soup, spaghetti and a milk type desert then an early night ready for the next mornings 1000m ascent out of the canyon.  We were up at 4.30am a quick hot drink before starting our ascent up the left side of the canyon at about 5 am by torch and starlight.  A slow plod up the zig zag path with spectacular views of the sunrise lighting up the snow capped mountains.  We reached the rim of the canyon around 7.30 am, ahead of schedule.   Our guide, Ankel, had suggested we stop every 20 minutes during the ascent for a rest but with my slow plod rate this was not necessary .   There was the option to have our rucksacks carried up by mules or even to ride a mule up the ascent.  Tony and I took the option to have our rucksacks carried but Nick carried his own.  I think going up the narrow stony path on a mule would have been terrifying but some people did take that option.
After arriving at the rim it was a short walk to Cabanconde where we had a very welcome buffet breakfast.
We then began the journey back to Arequipa via some hot springs where you could enjoy a warm soak.
We had a delicious lunch en route, buffet style with a large choice of starters followed by hot local dishes and  a selection of desserts.
We arrived back in Arequipa late afternoon then off to ZigZag restaurant, a reservation is advised, for another delicious meal and the best ever pisco sour of our whole holiday.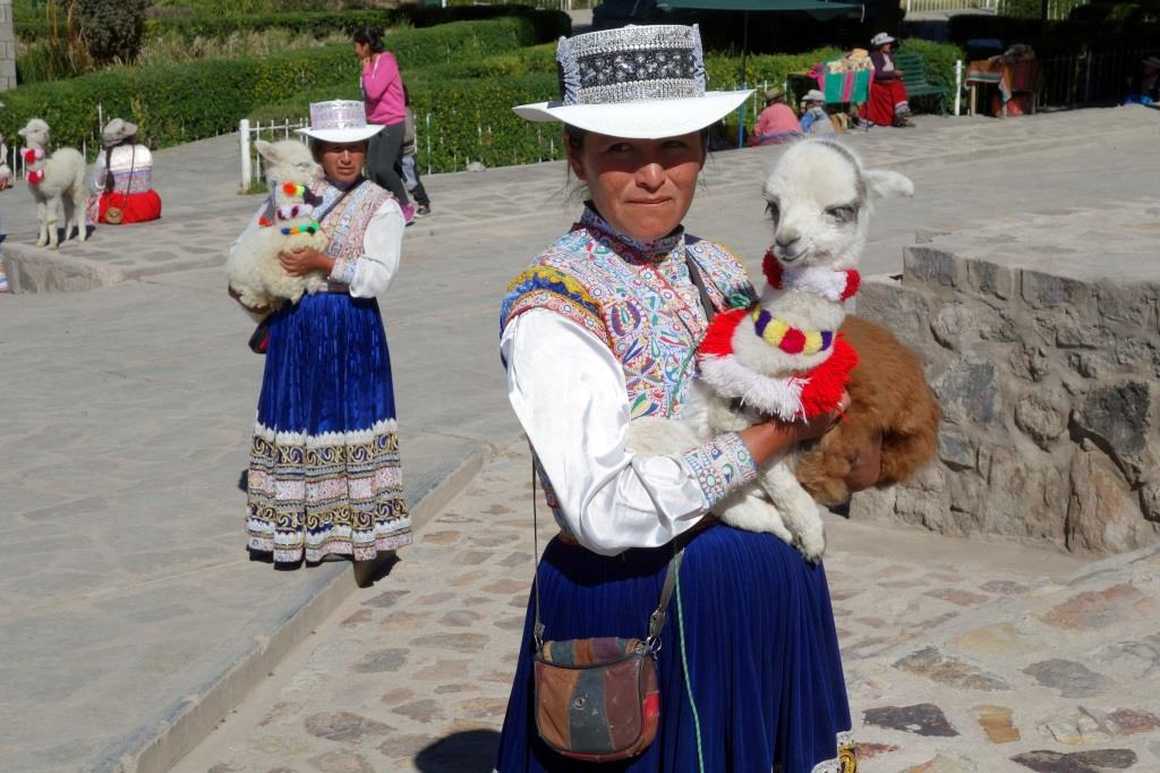 Our trip was enhanced by Ankel our guide who was originally from a village 4 hours walk from the Colca Canyon at 4000m. There is still no road to his village, when he was 10 years old his parents moved the family to Arequipa so that the 10 children could be educated.  They were a farming family originally.  Ankel trained as an art teacher but then later retrained as a guide .  He and his siblings return to their village every year for festivals and also to do work in the village. Obviously his local knowledge is fantastic.
He told us a lovely story; he and his  brother shared a bed as children, it was very cold at 4000m so they used to sleep with a baby alpaca, the only problem was that when the alpacas grew they still wanted to sleep with the brothers !