Are you sitting comfortably? Good, because I want to tell you a brief story the point of which will become clear in a moment. Back in 1994, the late Douglas Adams – much loved author of The Hitch Hiker's Guide to the Galaxy – did an extraordinary thing in Africa. In fact, he very nearly did *two* extraordinary things on this particular trip, but the second didn't happen: something he later admitted that he was "very sorry" about. 
What Douglas Adams did that year was this: he joined a charity trek to Kilimanjaro. The extraordinary thing about it was that he, and the rest of his trekking party, took it in turns to wear a large grey rhinoceros costume made from a painted woven-plastic fabric stretched over a metal frame. You see, Douglas was one of the founding patrons of the charity 'Save the Rhinoceros' and, well, doing the Kilimanjaro climb in a heavy, claustrophobic and – eventually – pretty smelly costume probably seemed like a good fundraising idea at the time.
Even for a relatively fit and acclimatised high-altitude trekker, Kilimanjaro (Africa's highest mountain don'tcha know) presents a decent challenge. So doing it in stifling heat while togged out in a cumbersome rhino suit is a) completely bonkers and b) quite an admirable gesture, given that it was for a really good cause.
Now, the second extraordinary thing would have been if Douglas Adams had actually climbed Kilimanjaro and reached the summit along with the rest of his team. In his own words, Douglas said: "I only spent a week on the walk. I didn't get to climb Kilimanjaro, though I did get to see it. I was very sorry not to go up it…"
In fairness, Douglas Adams had nothing to prove. His aim for the Kilimanjaro adventure was to raise £100,000 which "would be spent on building classrooms, stocking libraries and paying for other community projects… to encourage [local people] to see that whatever problems the local wildlife may pose to them, it was of benefit to them as well."
So why am I telling you all this? What's the moral of the story? Simples. You too can be extraordinary. You can follow in, and go beyond, Douglas Adams' footsteps. You can climb to the top of Kilimanjaro to raise money for your favourite charity or good cause. No rhino costume (or any other fancy dress) required. And, doggone it, but here at Kandoo Adventures  we'll do everything we can to help you. Because we like heroes like you.
Why climb Kilimanjaro for charity?
Think about it. The thrill of an African adventure. The (possibly) once-in-a-lifetime experience of climbing Mount Kilimanjaro with a bunch of your best buds. And the chance to bask in that fuzzy warm feeling in your tummy that says not only have you conquered one of the world's most celebrated high-altitude treks but also that you've made life a whole lot better for someone, somewhere thanks to your charitable spirit. What's not to like, eh? Some people – not you, of course – like the idea of climbing Kilimanjaro for charity but somehow talk themselves out of it. You know the sort of thing: "oh, I don't think I'm quite fit enough for that" or "I'm not sure I'll be able to get the time off work" or "oh yeah, that's definitely one for next year". It's easy to make excuses, but at the end of the day you're denying yourself the most unforgettable and potentially life-changing experience imaginable.
Don't be like Douglas Adams and regret not doing it; grab your comfiest hiking boots, get yourself trek fit, start nagging people for sponsorship until they give in and promise you wads of cash… and you're on your way.
Top tips for climbing Kilimanjaro for charity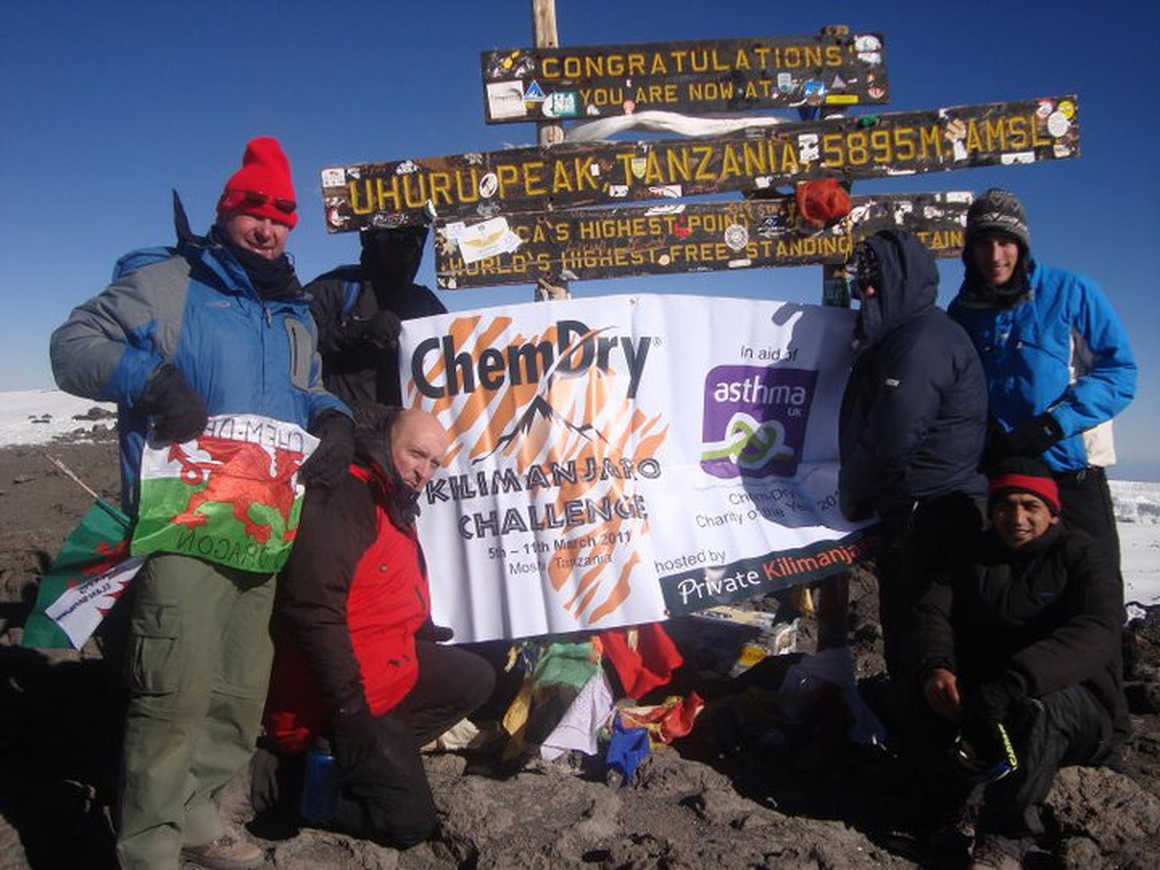 And, as we said earlier, at Kandoo Adventures we'll give you as much help as we can to make sure that your charity trek is a big success. If you'll allow us to blow our own trumpet for a moment (just a little 'parp', we promise) we're the dog's danglies when it comes to arranging group charity challenges. "Why's that then?" we hope we hear you asking. Well, firstly, we have stacks of experience of arranging these things (seriously, we've done hundreds). Secondly, because we arrange and have total control over every trekking trip we offer, we make sure that your safety and enjoyment are our top priorities. Trust us: we're gonna keep you safe and you're going to have a fabulous time. Thirdly, and perhaps most importantly, Kandoo Adventures only offer self-funded climbs which means we'll give you the best price possible for your climb, (we can do this because we're the only UK based tour operator that doesn't subcontract any of its trekking operations to a local land agent). After that, every penny goes to your chosen charity. By setting up a fundraising page, you can easily raise and collect donations for your chosen charity by promoting your challenge to friends, family and workmates, the crew down the pub etc. Parp over.

So now you know the score… what's stopping you?
To paraphrase the celebrated philosopher Bob the Builder, "Can you do it? Yes you can!" We're here to tell you that with a bit of fitness training and acclimatisation you're more than up to the challenge of climbing Kilimanjaro for charity. Close your eyes for a moment and feel the warmth of the Tanzanian sun; picture yourself trekking through wildlife rich rainforest, the cries of exotic birds ringing in your ears; imaging African sunrises and sunsets witnessed from Kilimanjaro's rocky slopes and plateaus. Is this ringing your bell?

You could be there for real; a Lion King in walking boots, drinking in the majesty of your surroundings and feeling the glory of completing one of the world's greatest treks whilst supporting your favourite charity. Believe us; trekking adventures don't get much better than this. Are you up for it? Course you are. Call us.