Prepare to be impressed. I'm going to tell you something about yourself that you might not know. Ready? OK… you (yes, YOU) have a superpower. Really; you do. And I'm not talking about something mundane like the ability to leap tall buildings in a single bound (who the hell needs that)? 
No, you have the superpower to transform communities, improve people's lives and generally leave the world in a better state than you found it. Stick with me; I'm not here to ask you to dip into your pocket for a charitable donation or buy a strip of raffle (OK, cloakroom) tickets for a good cause. Your superpower is, in fact, a by-product of your natural thirst for amazing high-altitude trekking escapades.
When you book a trip with Kandoo Adventures (and why wouldn't you? We're the bestest, even if we say so ourselves), you're helping our charitable arm – The Kandoo Foundation – to help others. Funded and managed entirely by Kandoo Adventures, the Foundation invests in projects that benefit communities in the destinations where Kandoo operates.

We simply couldn't do this without folk like you (yes, YOU). And you've got to admit that the ability to help people and communities secure a brighter, happier future whilst enjoying some top-notch trekking is a pretty special superpower indeed. Still not convinced? OK, here are a few examples of stuff that the Kandoo Foundation has achieved thanks to travel-loving trekkers like you. Oh, and just so's you know; every last penny of the money received by the Foundation goes towards the amazing projects we run. Check these out:
Helping malaria prevention in Tanzania

Tanzania, east Africa, is a fabulous destination for high-altitude trekking – not least because this is where you'll find the mighty Mount Kilimanjaro. But, as with many areas of Africa, malaria is a problem here. Kids are particularly vulnerable and many die needlessly for want of a three-dollar mosquito net (three dollars! At today's exchange rate that's approximately… b*gger all ('scuse my language) to the average man in the street. Seriously; you wouldn't even miss it). Anyway, in 2017 the Kandoo Foundation was able to buy and distribute 1,500 mosquito nets to help protect the friends, families and relatives of the people (guides, porters and the like) who help us on our treks in Tanzania. Potentially – hopefully! – that's at least 1,500 lives protected against this unforgiving and life-threatening disease.
Providing clean water in Tanzania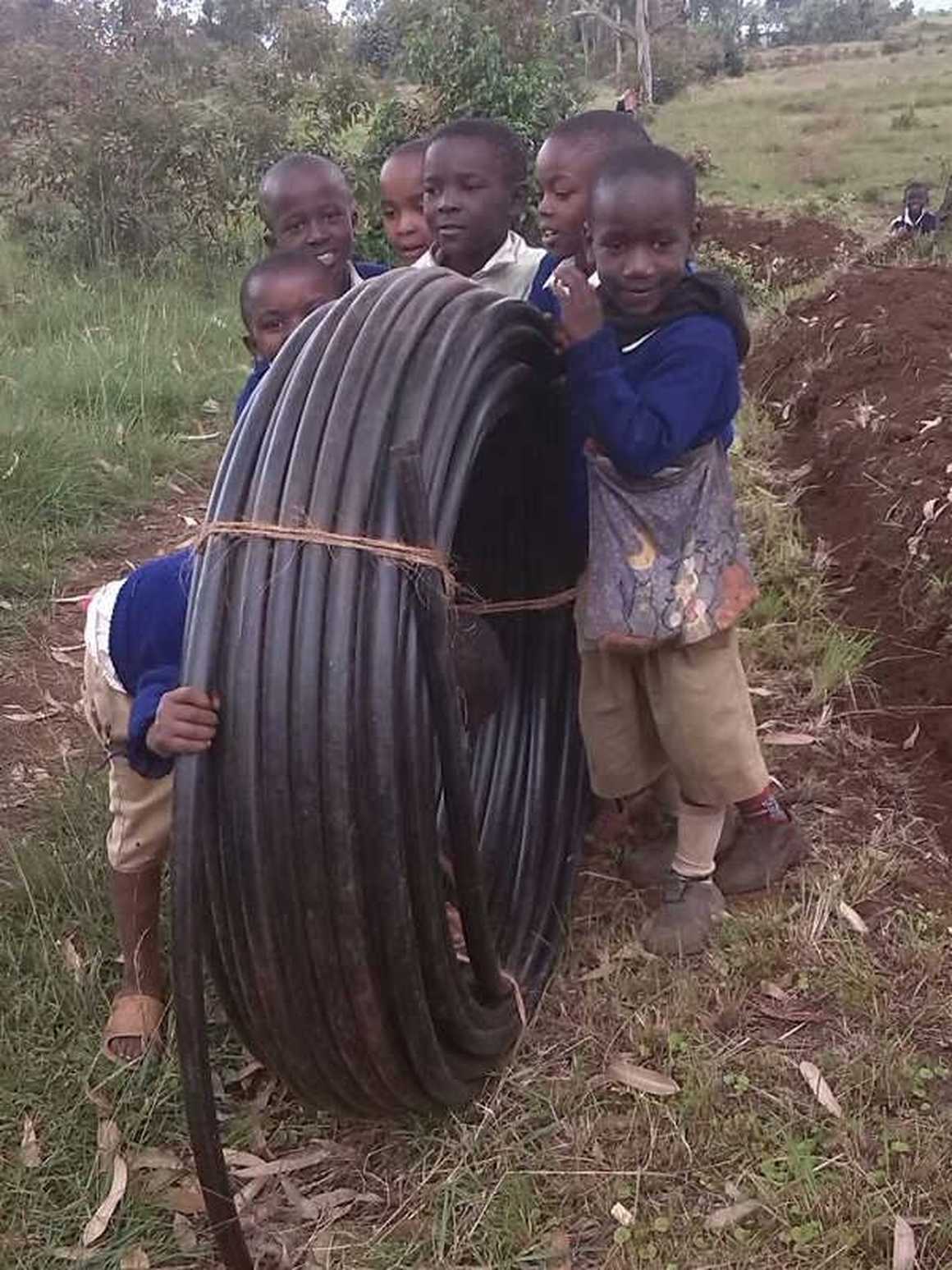 Let's head over to a little Tanzanian village called Komela. Situated not far from the town of Moshi – a gateway to the Kilimanjaro National Park – Komela is home to several of the porters who assist Kandoo Adventures. Now, until 2015, Komela lacked a supply of clean running water. 
That sentence might have passed you by without registering, so here's a bit of context to bring home what it means. Imagine you lived in Komela a few years ago. It's a hot day – you're in Africa, remember – and you fancy a nice cool cup of water or maybe a cup of tea. Oopsie; there's no popping to the kitchen tap here. The village's nearest natural water springs are between two and four kilometres away. You like trekking, so that's not a problem. Until you realise that you have to make that trek every time fresh water is needed for you or your family. Try going for just one day without drinking any water, flushing the loo, having a shower or bath, brushing your teeth or doing anything else that relies on the availability of fresh, clean water. Not a fun idea is it? But what's unimaginable to us is daily reality for others. 
Anyway, our Country Manager in Tanzania, Emanual Nguma, asked if the Kandoo Foundation could lend a hand with an idea he'd had to bring fresh water from the springs to Komela. Consequently project 'Asante Kandoo' (that means 'Thank You Kandoo') was born. Everyone in the village – kids included – worked together to dig a channel running from the springs to Komela. Eleven rolls of piping to carry the water were bought and laid in the new channel to create a water supply network. In just two weeks a main water supply to the village was installed, from which the villagers could then run further supplies into their own homes. Voila! One community's lives utterly transformed for the better. We're proud to have been a part of that, but like I said, we couldn't do it without super-powered trekkers like you.
What's that? You want one more? OK, well seeing as it's you, how about:

Building a playground and communal space in Hongong, Nepal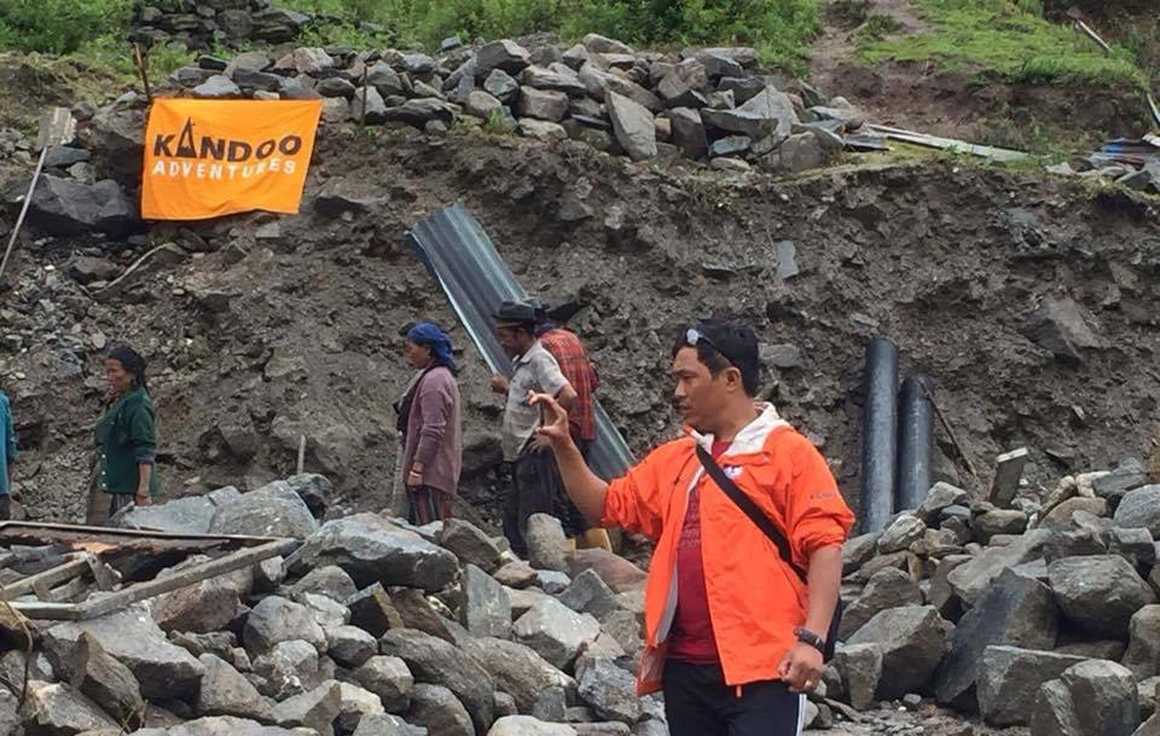 For dedicated high-altitude trekkers, Nepal is one big adventure playground; it's more or less peaks and mountains of varying elevations as far as the eye can see. Great for the adventurous visitor looking to trek to Everest Base Camp, not so much if you're a local living in a village that doesn't have a single flat, open space on which kids can play sports or a market or community gathering can be held.
Hongong, (pronouced Hungung), is in the far Western side of Nepal in the Sankhuwasabha district. It's home to the Bhote ethnic group and is the main village from which Kandoo Adventures' Nepal crew originate. Hongong has a school but no school playground. At the request of the community, Pimba Tenjing – our Country Manager in Nepal – raised the issue. The good news was that, with the help of the Kandoo Foundation, the problem could be solved. The bad news was that Hongong is so remote that there's no way of getting the excavation and ground levelling equipment needed to the site. In this instance, other superpowers (those of perseverance, dedication, ingenuity and community spirit) saved the day. 
Over two weeks nearly every adult in the village (total population around 600 people) helped to dig, move and flatten a playing area the size of a small football field. Boulders weighing up to 100 kgs were moved by ingenious levers and tonnes of rubble were transported by a water tunnel that the villagers created. Using chisels and basic masonry tools they also built a reinforced stone wall for good measure.
As a result Hongong now has a spanky new and – crucially – flat area that serves both as a sports area and playground for the school and an open space for communal events. The project also provided a fortnight's paid work for around 400 villagers; it might not sound much to you, but for them it is enough to sustain their families for six months. Basically, everyone's a winner.
So there you have it. Great projects carried out by great people that help great communities who help us to provide the best possible trekking experiences around the world. These life-changing projects are only possible thanks to people like you. When you book a trekking trip with Kandoo Travel – whether you realise it or not – you're enriching lives through adventure, helping those in need and making the world a better place. 
You (yes YOU!) are our kind of superhero. 
What? A tear? *cough* Erm, no, I think I've just got something in my eye, that's all.