Chances are that if you're heading off for mega high altitude trekking adventure in Nepal, you're going to have a bit of pre- or post-trek downtime in which to explore this tiny kingdom and get a better feel for it. It might be crammed into a titchy space – Nepal is 65 times smaller than neighbouring China – but the spaces between the mountain ranges are packed with enough great stuff to fill every spare moment you have. Like what, you ask? Well, read on for our personal pick of the top 10 things to see and do in Nepal.

Get a selfie with Everest
Come on; you can't go to Nepal and NOT get at least a glimpse of Mount Everest – it's virtually a crime. Not a lot of people know this* but you can actually see the world's highest mountain without a) climbing the thing or b) doing the legendary
Everest Base Camp trek
. On a clear day, from a viewing tower atop Chandragiri Hill in Kathmandu, you can get a panoramic view that takes in 9 of Nepal's 13 Himalayan mountain ranges including the Mahalangur range in which ole' Everest sits. Bear in mind that, unless you've got an unfeasibly big zoom lens (oo-er missus), you're not going to be getting detailed close ups of the mountain BUT at least you can say you've seen it and you'll have photos to prove it. Hang on, you say; haven't I got to climb a freakin' big hill for this privilege? No, we reply, because there's a fabby cable car that will whizz you up to the top of Chandragiri Hill and back down again. You're welcome. (*OK, they might do, actually.)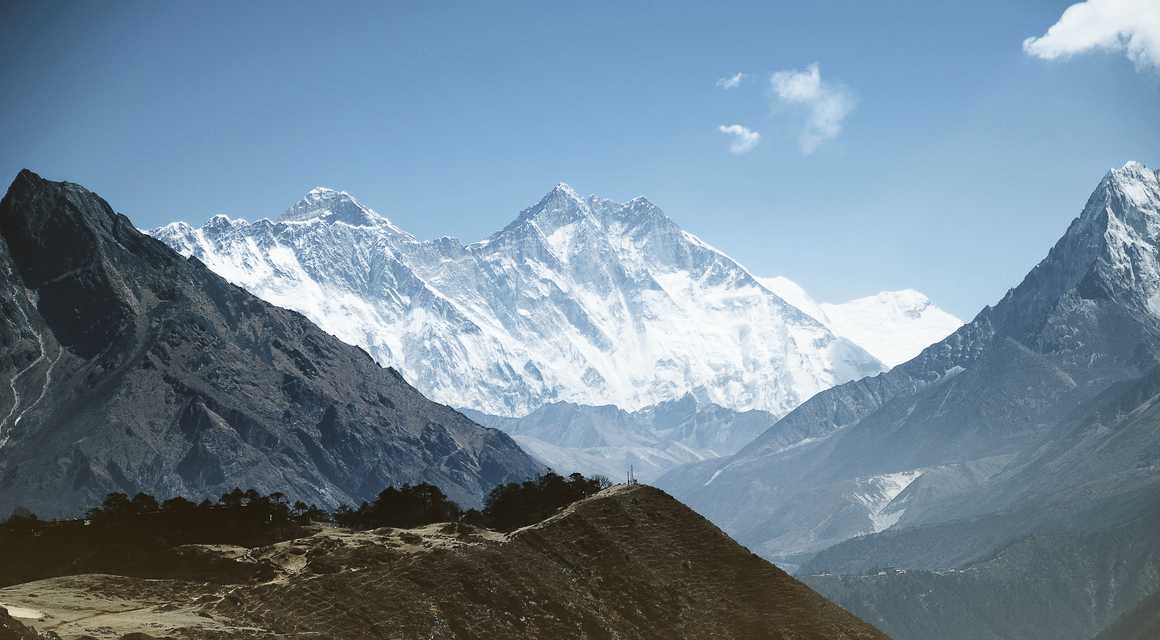 Take in the temples in Kathmandu
Nepal is absolutely stuffed with top-notch temples and stupefying stupas. No matter where you end up in the country, you're going to find some kind of fabulous sacred structure to admire. Picking a few sites at random we'd recommend the gorgeous Peace Temple in Pokhara, the Swayambhunath Stupa in
Kathmandu
, Bhaktapur's Durbar Square and the 12th century Golden Temple in Patan.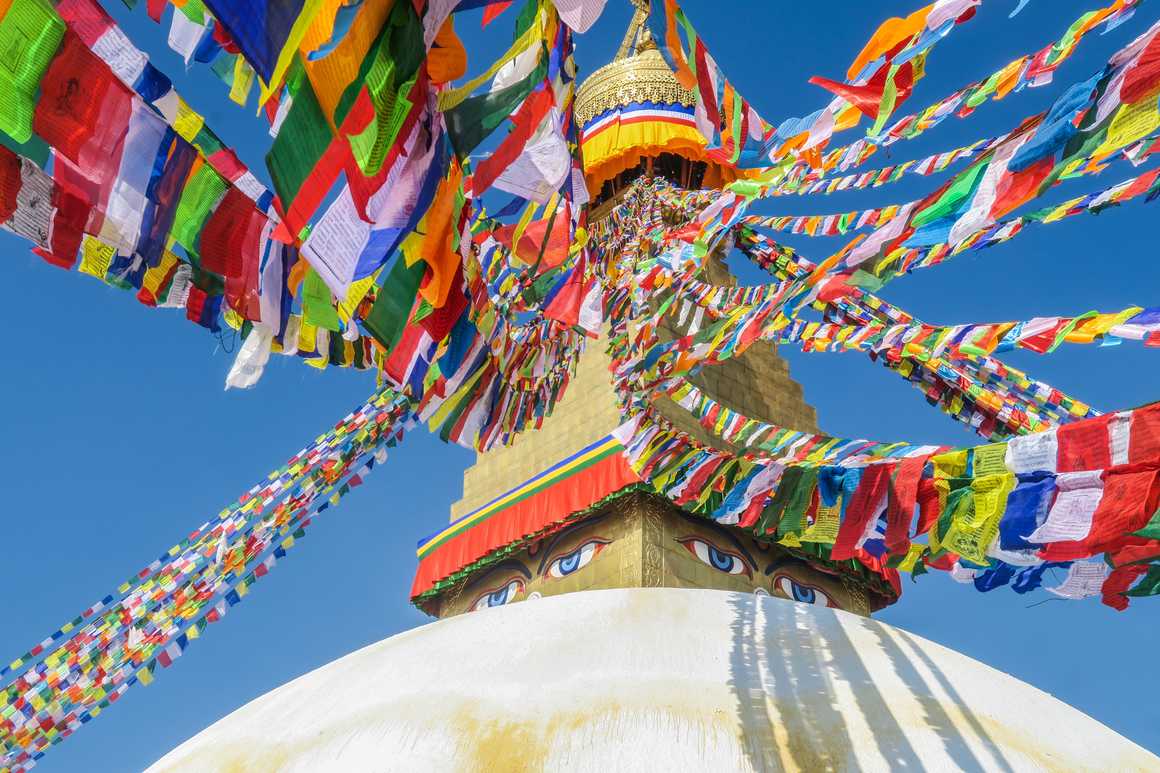 Nibble some Nepalese Nosh
Neatly tucked between India to the south and China to the north, a lot of Nepal's cuisine is influenced by its neighbours. This is great news if you like spicy stuff, but even if you don't you're sure to find something to tickle your buds. Dal Bhat – a thick lentil soup and rice accompanied by a selection of meat, fish and/or veggie sides – is practically the national dish. Then there's the popular Thukpa; a spicy noodle broth with veg and, typically, buffalo meat. Staying with the buffalo theme, you might try buffalo milk curd; a kind of 'custardy' set yoghurt flavoured with honey. You'll see momo everywhere too: yummy little steamed dumplings filled with chicken, fish, veggies or (yep) shredded buffalo. Of course, there's loads more top Nepalese grub we could tell you about but, hey!, this is your adventure and you're not going to struggle to find great food. Go on, be daring.

Do Kathmandu
Kathmandu doesn't so much feast your senses as grab them, jiggle them vigorously and bounce up and down on them in a way that leaves you breathless with the overwhelming joy of it all. Put lazily, Nepal's capital city has something for everyone. But that's grossly underselling Kathmandu's chaotic riot of fabulous sights, sounds and smells.

From its gob-smackingly beautiful temples and gardens, through its colourful back street bazaars and markets, to its exotic and aromatic eateries, Kathmandu is gonna pull you in, give you a fistful of unforgettable experiences and do its best to make sure that you fall in love with it. And - trust us - you will.

Visit Buddha's Birthplace
Holy destination, Batman! If you fancy a bit of spiritual enlightenment on your Nepal adventure, there's no better place to find it than in the southern province of Lumbini. It was here, in 623BC, that Siddhartha Gautama – Buddha himself – was born. Lumbini's focal point is the Maya Devi temple; one of the holiest pilgrimage sites on the planet, but this is surrounded by many more stunning temples, monasteries, pagodas and gardens. Enough, in fact, to fill a whole day's meandering if you fancy getting down to some Buddhist monk-y business.

Find a Fab Festival in Nepal
Nepal really loves a good time.
Festivals
, parties, celebrations and other joyous events can be found somewhere more or less all year round. And Nepalese folk are just so darned nice – it's like happiness is the natural currency – that you're more than welcome (positively encouraged, in fact) to join in the fun. We could go into detail here about all of the big cultural festivities you can enjoy in Nepal but… we've already done that and you can read about them here.
Set off on a Safari in Chitwan
Africa. Who needs it? Well, as a
high-altitude trekker
you might do if you want to have a crack at
Mount Kilimanjaro
. But what we're getting at here is that it's possible to have all the excitement of an African safari in the faraway jungles of Nepal. Really? Oh yes. Spend a little time in
Chitwan National Park
and you might be lucky enough to clap eyes on a Bengal tiger, a leopard or some of the rhinos, monkeys, wild elephants, sloths and who-knows-what-else wildlife that inhabits these spectacular 932 square kilometres of forests and grasslands. Frankly, all that's missing is Tarzan, but that's a small price to pay for so much jungly fun.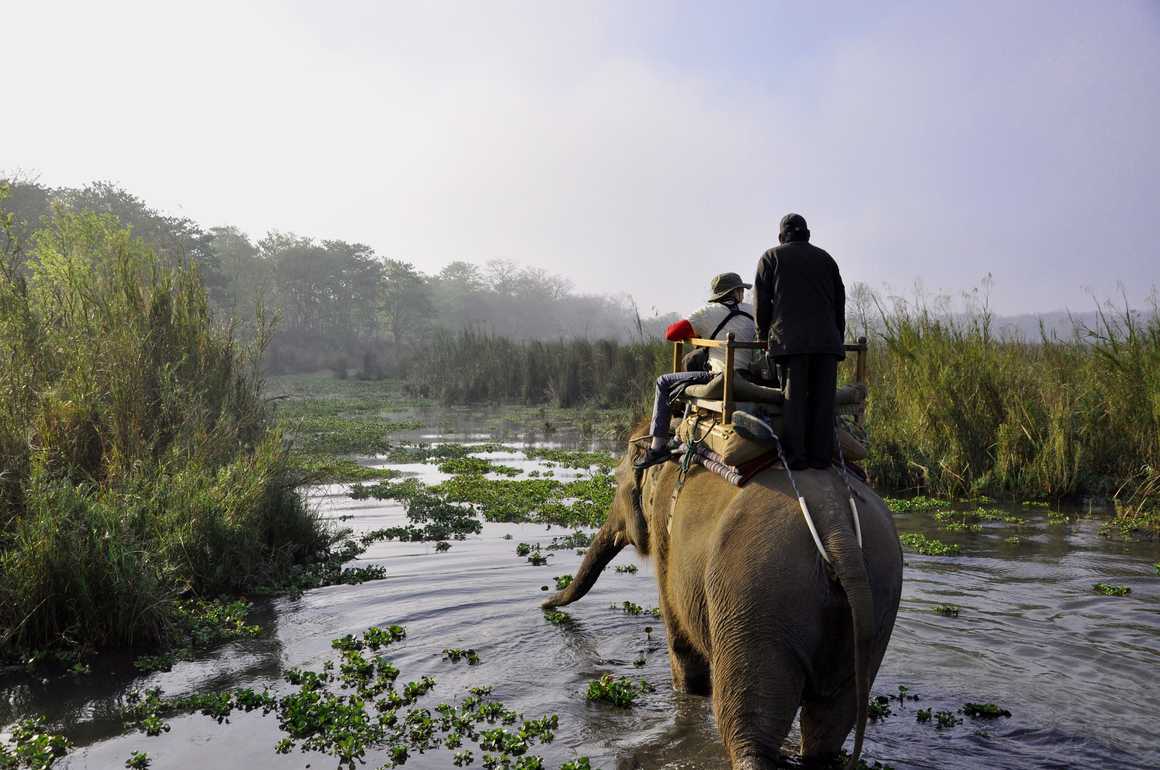 Fling yourself off a mountain
Yep – in the nicest possible way we're suggesting you go take a running jump. Off a mountain. We're talking about paragliding, silly! As if trekking your way around Nepal wasn't exhilarating enough you also have the opportunity to glide over a bit of it (the valleys surrounding the city of Pokhara, specifically). What do you need to know? It's completely safe, it's as unique and amazing as it sounds, the views of the mountains you'll get are unmatched and, boy!, will you have some bragging rights in the bar later on.

Sample a snifter of Khukri rum
Prodigious alcohol consumption and high altitude trekking don't go hand in hand; if you have notions about getting bladdered the night before setting off on the
Annapurna Circuit –
forget about it. That said, there is a time and a place for a wee (celebratory, perhaps?) drink if you've done all of the trekking you came to Nepal to do. In addition to various local beers, Nepal also produces its own brand of rum: Khukri. Interesting fact: the rum, which was first distilled in 1959, shares its name with a traditional Nepalese curved knife. Any stabbing head pains you get the morning after drinking a bottle of this smooth but potent spirit are purely coincidental, but sharing trek stories over a glass or two could make for a great evening.
Discover your inner Yogi
What's not to like about indulging yourself in a bit of mindfulness, peaceful meditation, relaxation and bending yourself into shapes that you'd previously thought physically impossible? A spot of yoga could be just the thing to restore mind and body after a physically demanding but rewarding high-altitude trek, and where better to give it a go than in Nepal? I'll tell ya: nowhere.