In August one of our Kandoo team Dan went on an adventure to South Norway. Our
South Norway trip
features the biggest highlights in the South West fjordlands of Norway, with some of the most magnificent views on the planet.
Discover his journey in his own words…
I'm going on an adventure…
When I was told where I was going on my first ever work adventure with Kandoo my jaw dropped. Before joining Kandoo I'd heard about how spectacular
Norway
was and dreamed I'd get to go one day. Now my dream would become a reality and I'd get to explore the fabled fjordlands and mountains of this epic country.
I checked the packing list and went shopping for any of the
essential gear
I was missing. My hole ridden old hiking boots weren't going to cut it for this trip. I invested in some high quality, durable hiking boots that could take on anything Norway could throw at them.
First days in Bergen
A warm welcome and short transfer to the city centre had me checked in to my hotel in no time. Our guide briefed me on the itinerary, which was changed very slightly due to weather and ground conditions. Our hotel was really smart and the buffet breakfast was a real highlight.

Eating out in
Norway
is more expensive than in the UK; I was pretty shocked to spend £28 on fish and chips and a bottle of soda water, but it was amazing food. Alcohol is heavily taxed in Norway, so a pint of Guinness will set you back over £12!
Bergen is a lovely city with the charm of a Scottish coastal town but on a much larger scale, with lots of historic buildings, lovely shops,and restaurants. There is also an opportunity to pick up anything you may have forgotten to bring with you for the days of hiking ahead.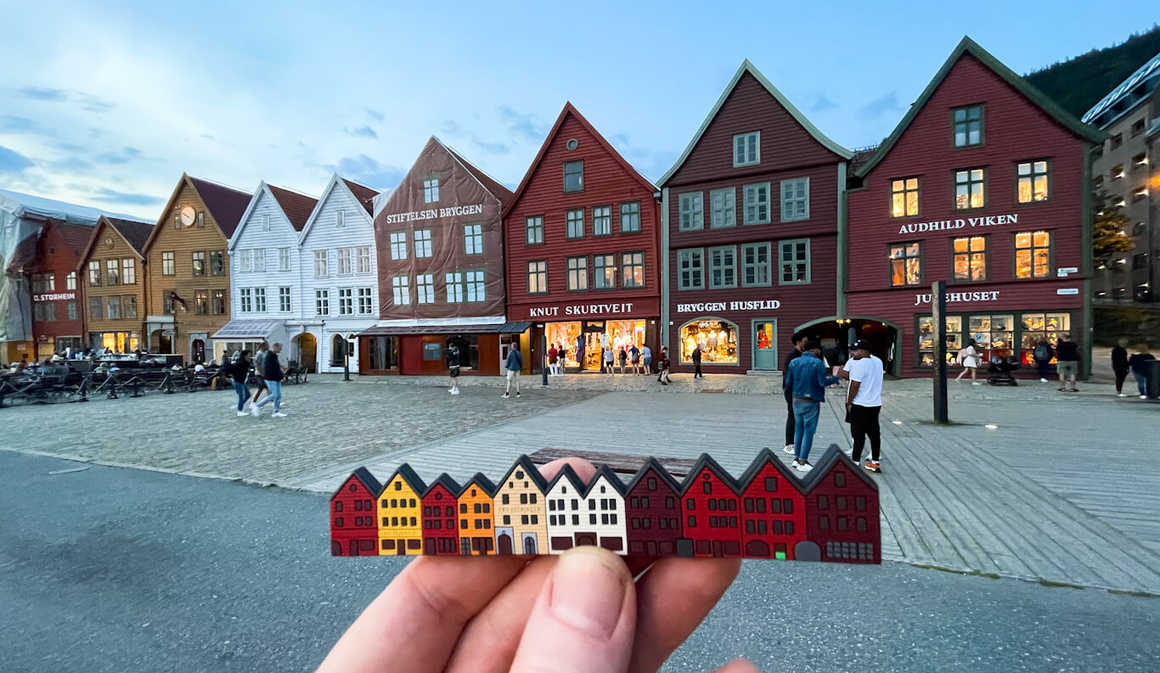 On day 2 you can hike up to Fjellhytten where you'll see the funicular riding up and down the hill and witness incredible views of Bergen and landscape beyond. Our guide took us up and told us about the local flora as well as edible berries on the way up.

We went out as a group for dinner which was great for getting to know people. I had a catch of the day - trying fish in Bergen is a must if you enjoy it, as it was likely caught that morning. We're told we're leaving at 8am sharp the next day so we bed down early.

Day 3 - Folgefonna
Our first drive is only an hour and half before we have a scenic stop off in Mundheim to have our first gaze of Hardangerfjord. We all take photos, little aware that this lovely view is just the tip of the iceberg.

A short ferry ride later leads us to Furebergsfossen; a stunning waterfall right next to the road. I've never seen anything so magnificent literally feet from a roadside.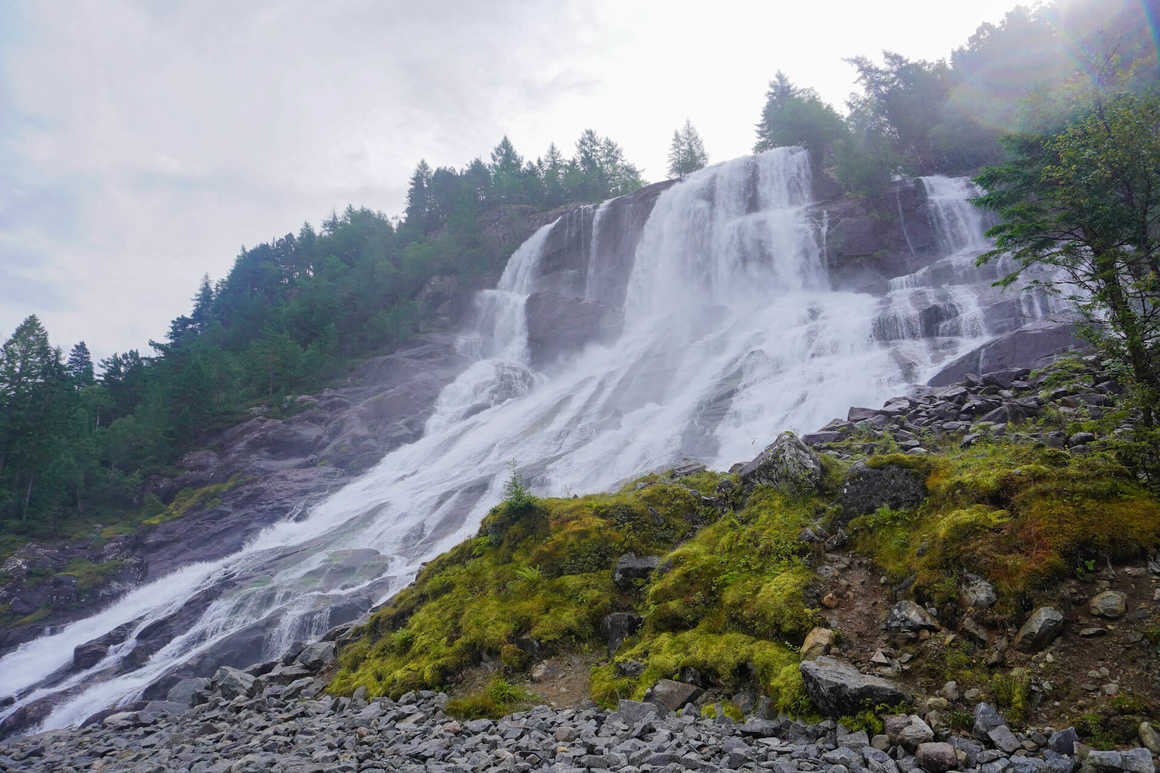 At Bondhus we park at the entrance to our hike to lake Bondhusvatnet in Folgefonna National Park and eat a delicious lunch, a buffet of cold meats and fish, breads, paté, salads, crackers, cheese, fruits and chocolate.

The hike takes three hours and leads us up alongside an amazing glacial river that is so vividly blue it's unbelievable. The water and huge boulders within make for dramatic scenes as you walk up the valley closer to the lake, all of which is fed by a glacier which we can see set high up in the mountain valley. The route is easy with a well laid gravel path all the way to the lake amongst vast swathes of trees. The views at the lake are simply breathtaking.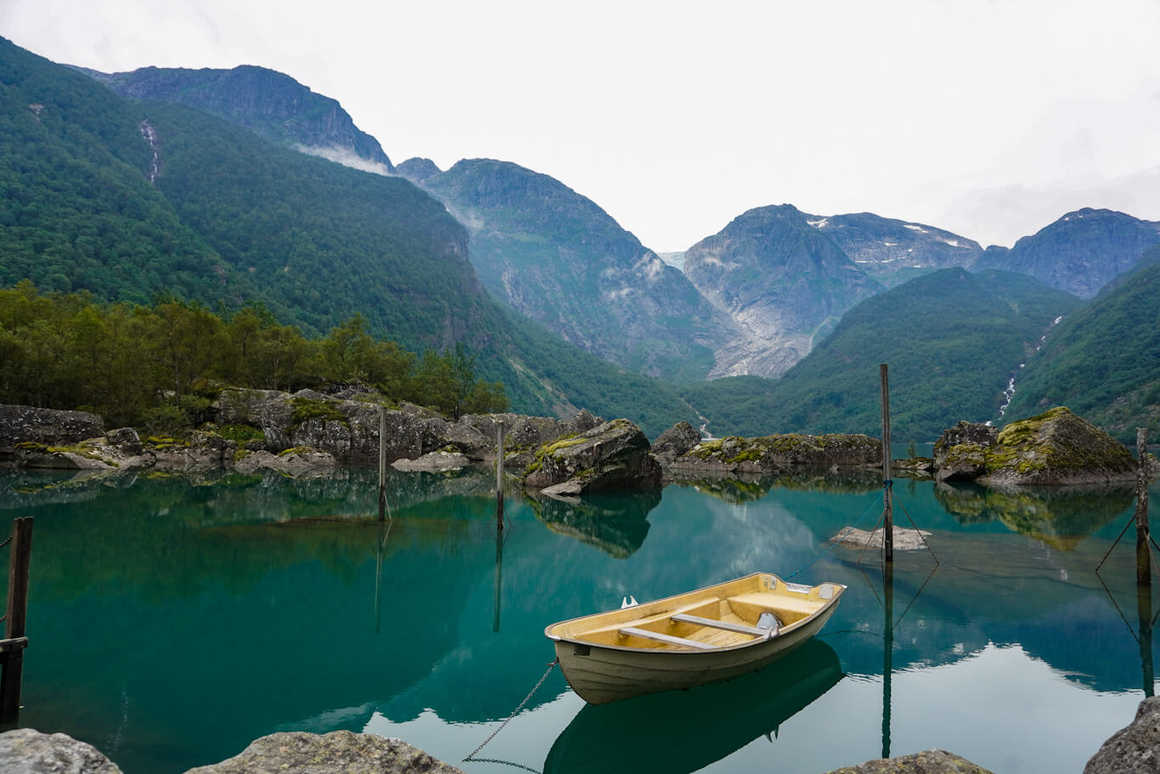 We then transfer to our accommodation at the Trolltunga Guesthouse where we all muck in making an evening meal with our guide. A great bonding experience for the group.

Day 4 - Trolltunga
Today is the longest and most intense hike of the week. We're about to ascend near 1000m meters and hike 18km. So a good hearty breakfast of breads, jams, yogurts and fruits set us up for an epic day. I prepare my day pack for anything as the forecast is mixed.

Initially the climb starts on an easy plateau of granite rock and streams with trees dotted around leading to the hardest part of the trail. As I hit the steep ascend I was glad I brought poles, they got me up this difficult section. The rest of the hike is far more manageable, but it's certainly a long way. The views throughout are just staggering especially as Ringedalsvatnet Lake slowly reveals itself.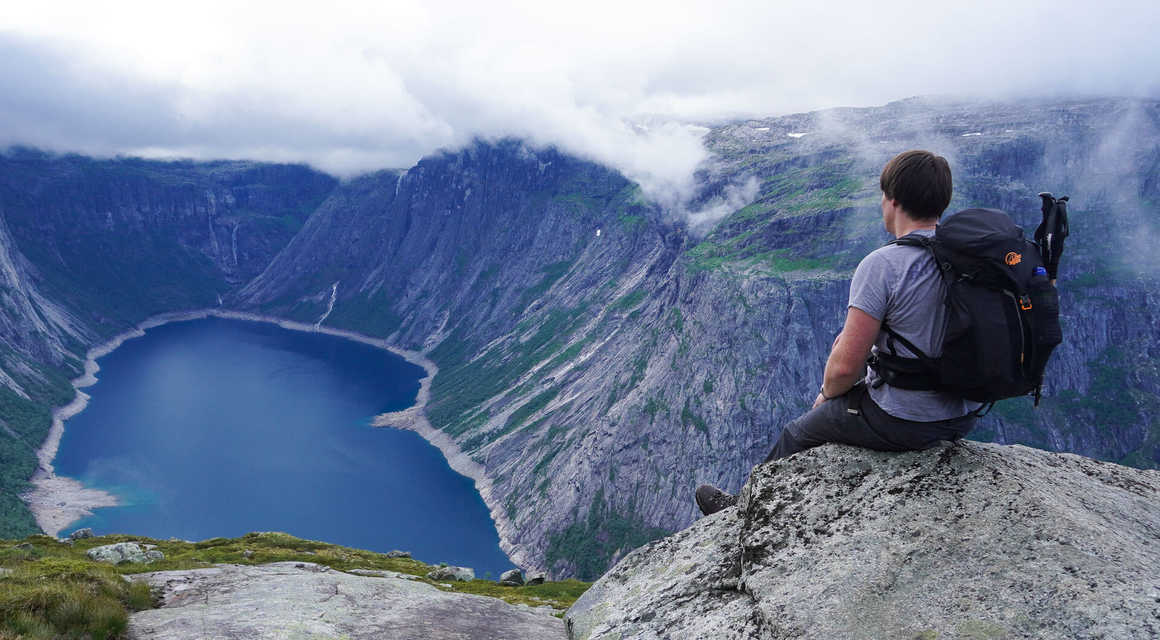 Arriving at
Trolltunga
is one heck of a sight. It's a cliff that overhangs and stretches out towards the lake, resembling a huge tongue, hence the name literally meaning "Trolls Tongue". In pictures it can look almost photoshopped, but once you see it in reality it really is awe inspiring. We are extremely fortunate as the weather means we get a great view. Also the line to have your picture taken on it is shorter than normal we are told.
The feeling of stepping on it for me was euphoric and not at all scary. It's a big piece of stone, very flat and stable. After we get our photos we have a well deserved lunch after a 4 hour hike.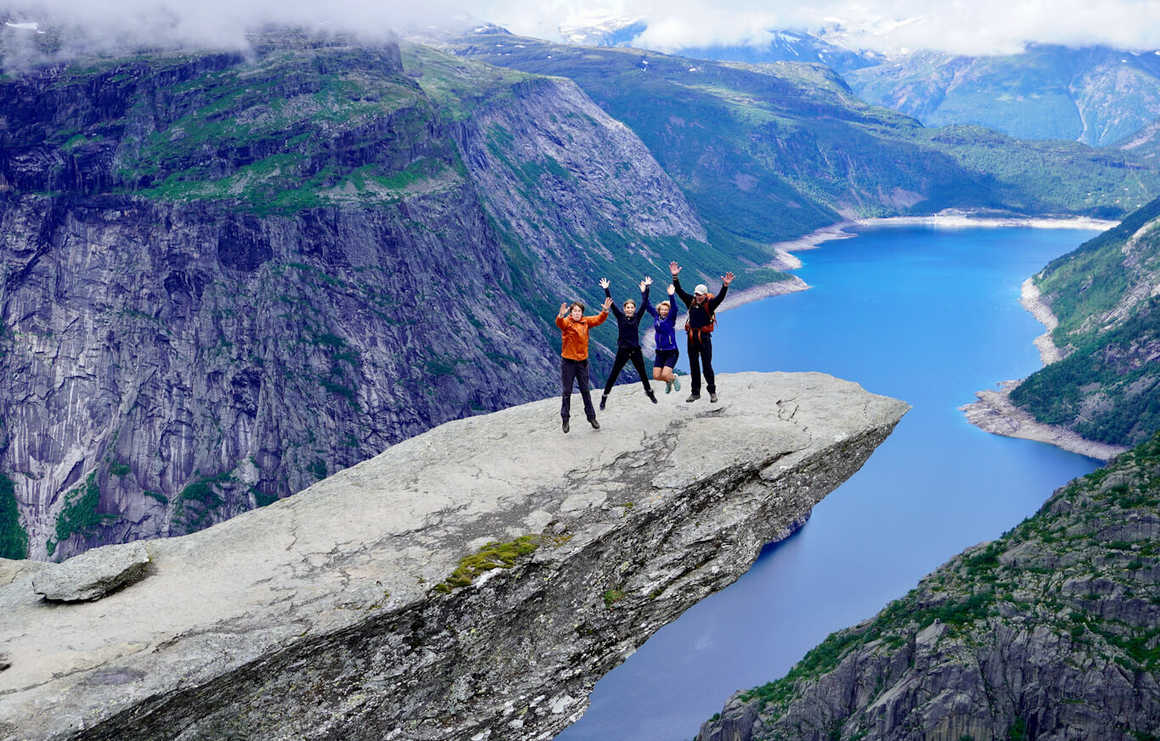 During our descent the sun comes out in glorious fashion, my sun hat comes in very useful. We stop off for a long break via a gorgeous small waterfall cascading down into the lake hundred of meters below us. Its wash blows back up the cliff as a fine spray, which is welcome as the sun beats down. I refill my water bottle in the stream, it's so clear and perfectly good to drink, as are nearly all the mountain streams in
Norway
.
Once back at the car park we all feel how epic that hike was, it was certainly the biggest day hike I've ever taken on. Some of us celebrate with a can of pop in the car park and we have an epic pasta meal when we get back to the guesthouse where we once again spend the night.

Day 5 - Road Trip and Nupstjørna
Today is one of our longer driving days, which is broken up with several stunning locations to stop at. Our first stop is only a half hour drive to Låtefossen, an incredible dual waterfall that once again is right next to a road. By this stage I'm fully in love with what
Norway
has to offer in the great outdoors, it's really a blessing.
We also stop at Røldal stave church, a lovely little wooden church which today is bathed in sunlight, and gives off this rich old wood smell. It was built in 1250!

Not long after we arrived at our hike. After the mega day yesterday we are treated to a relatively easy hike up to Nupstjørna, a pond in the middle of a beautiful valley surrounded by stunning hills and land roamed by sheep and wildlife, including lemmings. The setting is lovely and we are once again blessed by the weather.

We eat wild blueberries as we find them and they are small and sweet. Sheep graze along the valley and we reach a big slab of stone with snow surrounding us and look over the valley and mountains surrounding us before we head back down. We cross streams and I find it peaceful here as this is a trail less used.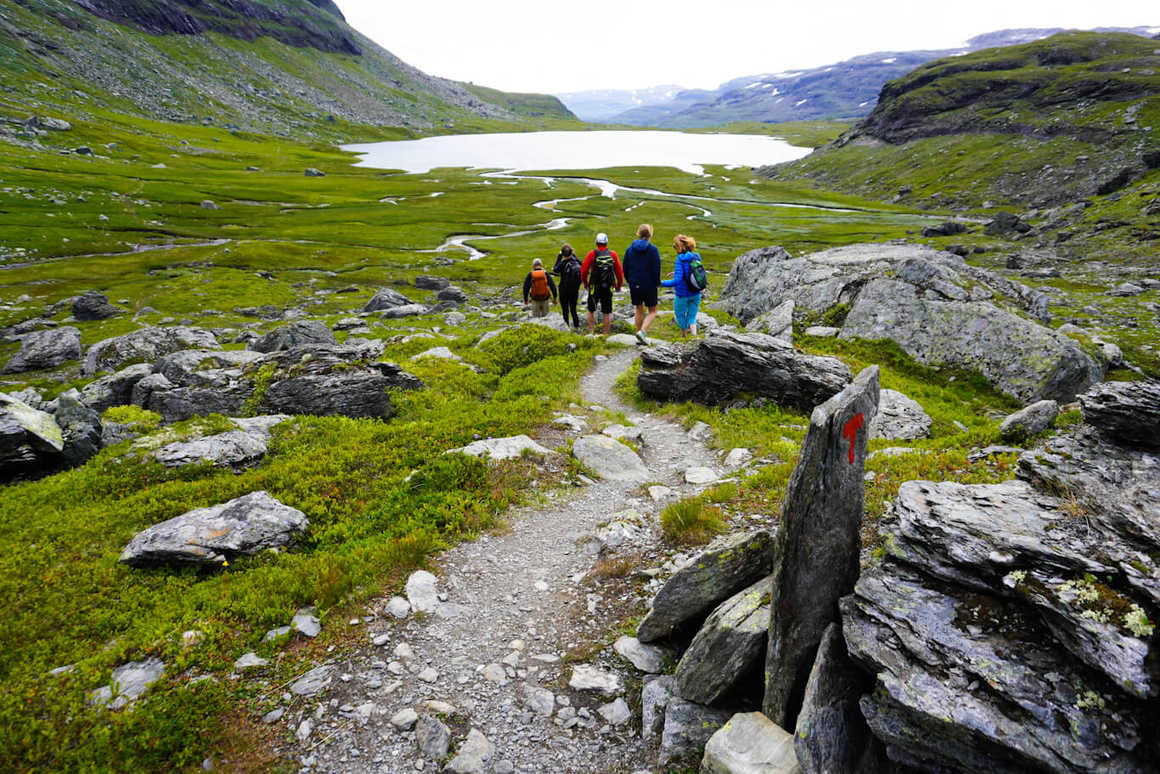 We lunch by the lake next to the road and we skip stones on the water. We then head off on a drive to reach arguably the best accommodation of the trip.

We park up and pack our day bags with overnight gear. A short 20 minute hike leads us to a picturesque refuge next to a lake with a small hut nearby, which is our toilet. Inside is so well appointed and cosey. The living space has a log burner, board games and lovely nooks to sleep in along with the many bunk beds. There's no running water or power here, but with a nearby stream there's plenty of drinking water. The toilets are compost based and actually smell amazing, yep a toilet that smelled like being in a wood.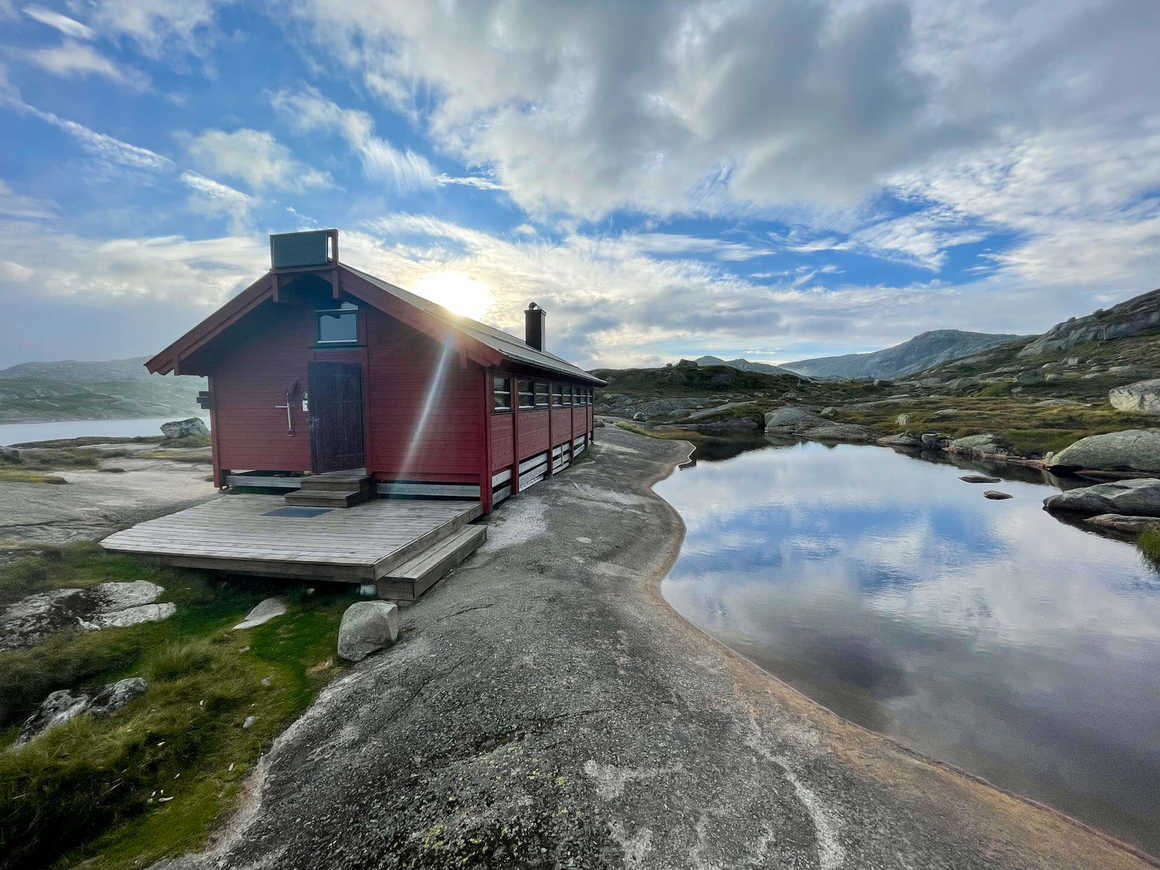 Our guide cooks a lovely Finnish style soup with leeks and salmon and for dessert we make crepes with chocolate sauce and cream. We sit and watch the sunset with a log fire crackling and bed down for the night.

Day 6 - Kjeragbolten (the hanging rock)
The morning in the refuge is beautiful and peaceful, we don't hang around long. Our mission today is to reach the hanging rock, or
Kjeragbolten
as the Norwegians call it. It won't be easy but the pay off is promised to be magnificent.
The start of the climb is up steep sheer granite slabs. I whip out the poles once again and stomp up the hill. It's tough and we go at a pace as the afternoon predicts rain and we want to beat it so the descent is not so treacherous.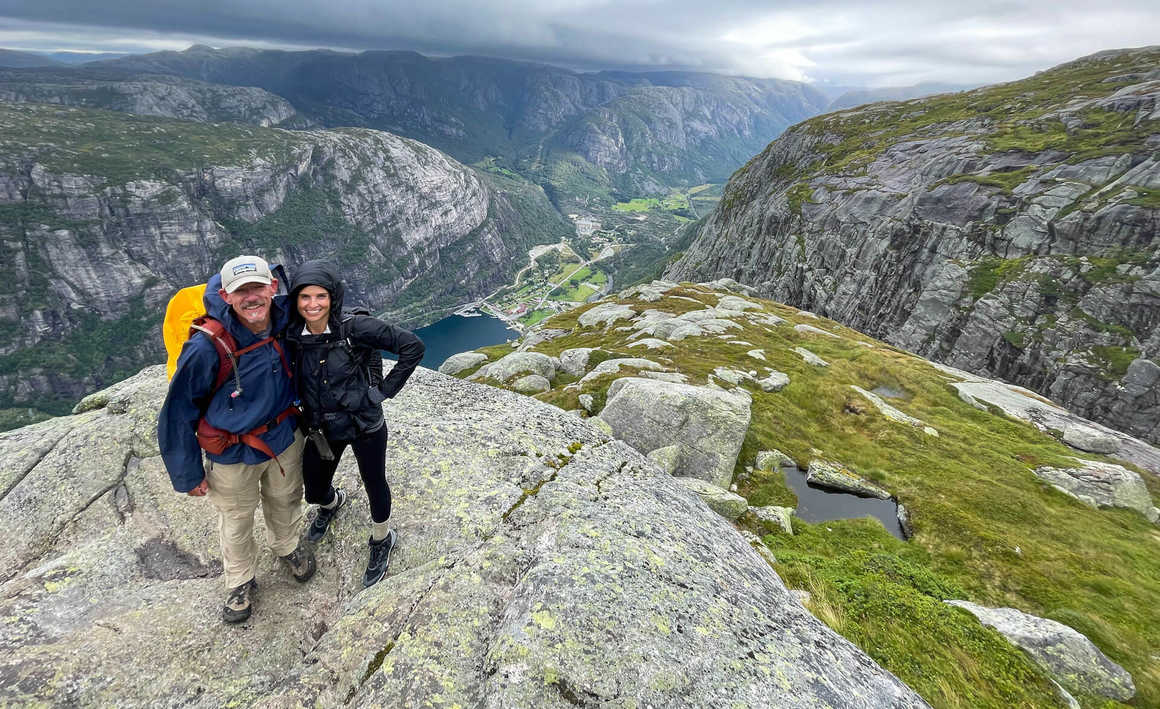 The sights as we climb higher become magnificent, we stop to just gaze for odd moments and to catch our breath. The path for half the trek is very up and down until we reach a plateau of granite stone. It's easy to navigate thanks to red T markers that have become a constant feature on our trip. The markers for the trails are left by the Stavanger Turistforening, a volunteer organisation that manages routes and refuges across this region of Norway.

After about two and a half hours of hiking we reach the entrance to a narrow canyon and descend towards the hanging rock. The sight is magical, a round stone caught between two cliff sides hangs above a sheer ravine that descends down into the Lysefjord almost 1000m below! What's amazing is you can stand on it for a photo op, if you have the guts.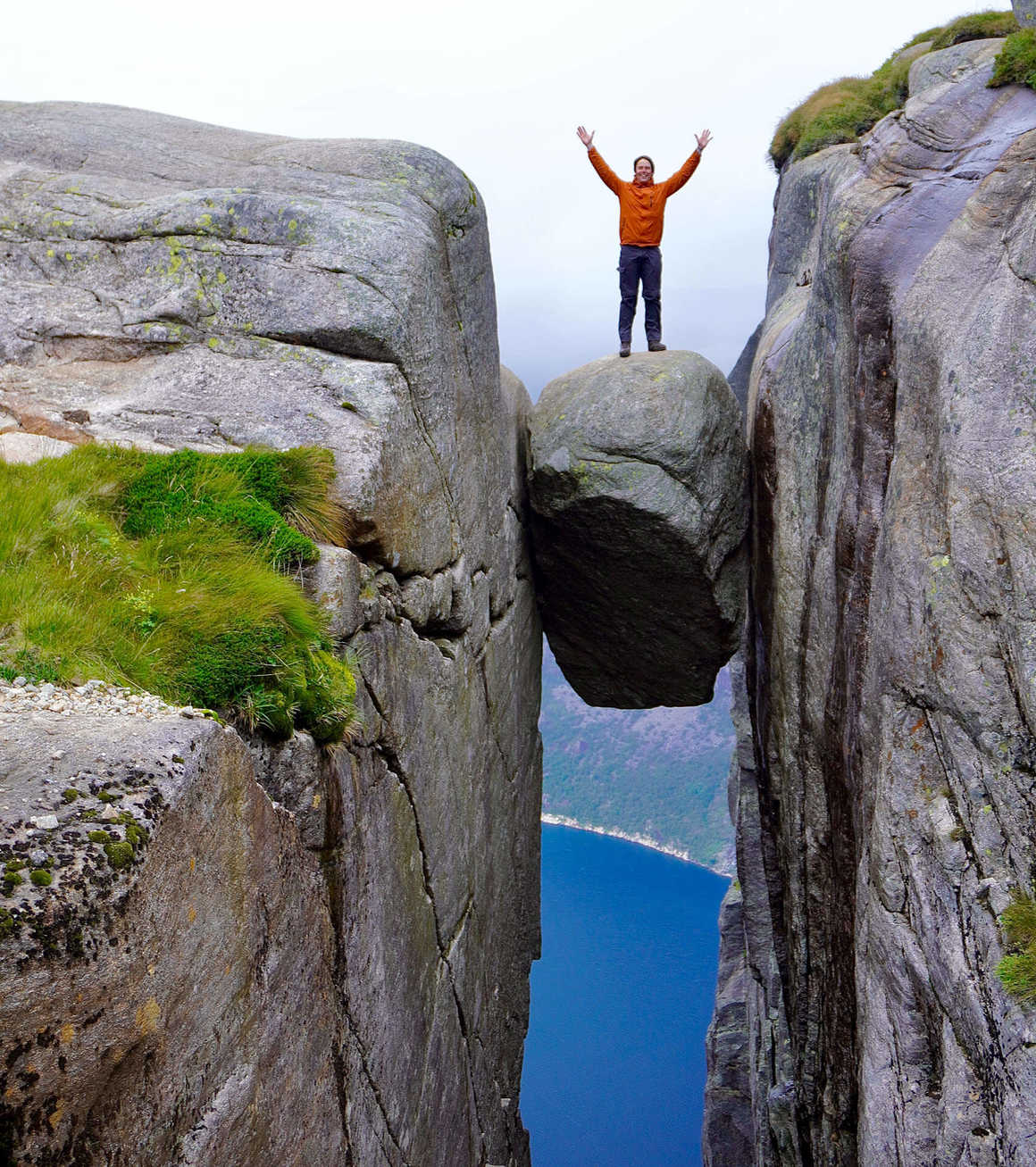 I went for it, as did most of the group. It was certainly worth it as it was both terrifying and awesome, the adrenaline rush after getting off the rock was intense!

We ate lunch and chatted excitedly about what we had just done and made our way quickly to attempt to beat the already incoming rain. About halfway down the rain really came and I stopped to get on my full waterproofs. It's the only time on the trip I needed them.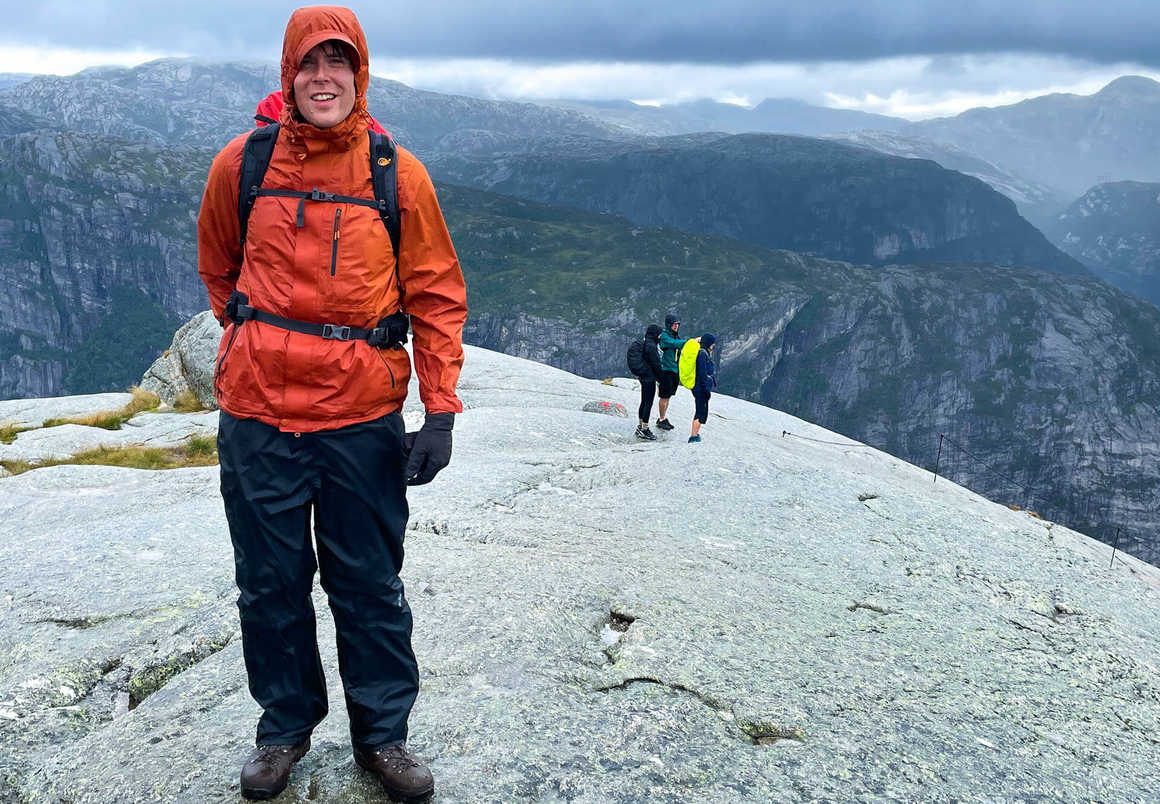 The descent is tricky, but we all take care and follow our guide down safely. A great big cafe greets us at the end and we have a good rest and snack here before moving on.

Our new refuge is a grass roofed building full of nice places to sleep and all the mod cons like power and showers thanks to being near the road. Tomorrow will be the final hike of the trip.

Day 7 - Priekestolen - Pulpit Rock
Our day starts with a short drive down to the ferry at Lysefjord. We have an hour to wait, so a couple of us decide to throw on our swimming gear and have a short swim in the water. It's pretty cold, but as a regular open water swimmer I'm used to it. It was certainly one of the most picturesque swims I've ever had, well worth enduring some cold.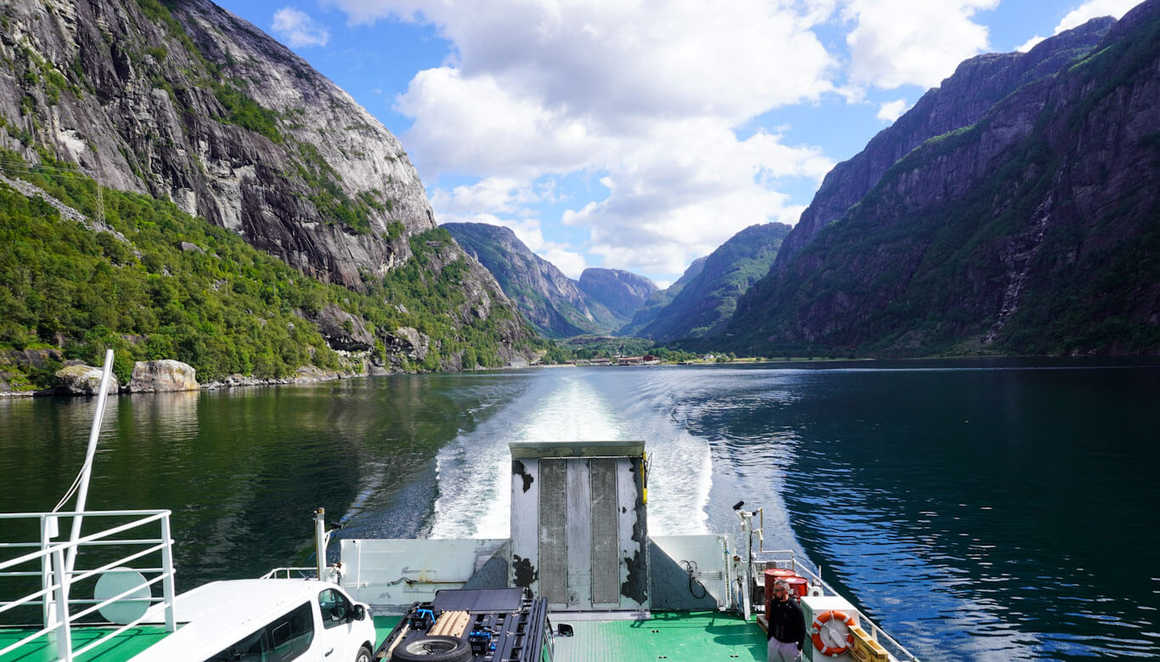 The ferry we board is small and gives us an excellent tour of the fjord including getting very close to a magnificent waterfall called Hengjanefossen. We also see Kjeragbolten up in the distance where we were yesterday and today's destination Priekestolen high above us. We go under the Lysefjord bridge which we almost immediately cross after disembarking the ferry.

Today's hike is one of the most popular in Norway, it's Saturday, and Norwegians love nothing more than a good hike to socialise and exercise. The path up is busy with all sorts of people, but moves at a good pace.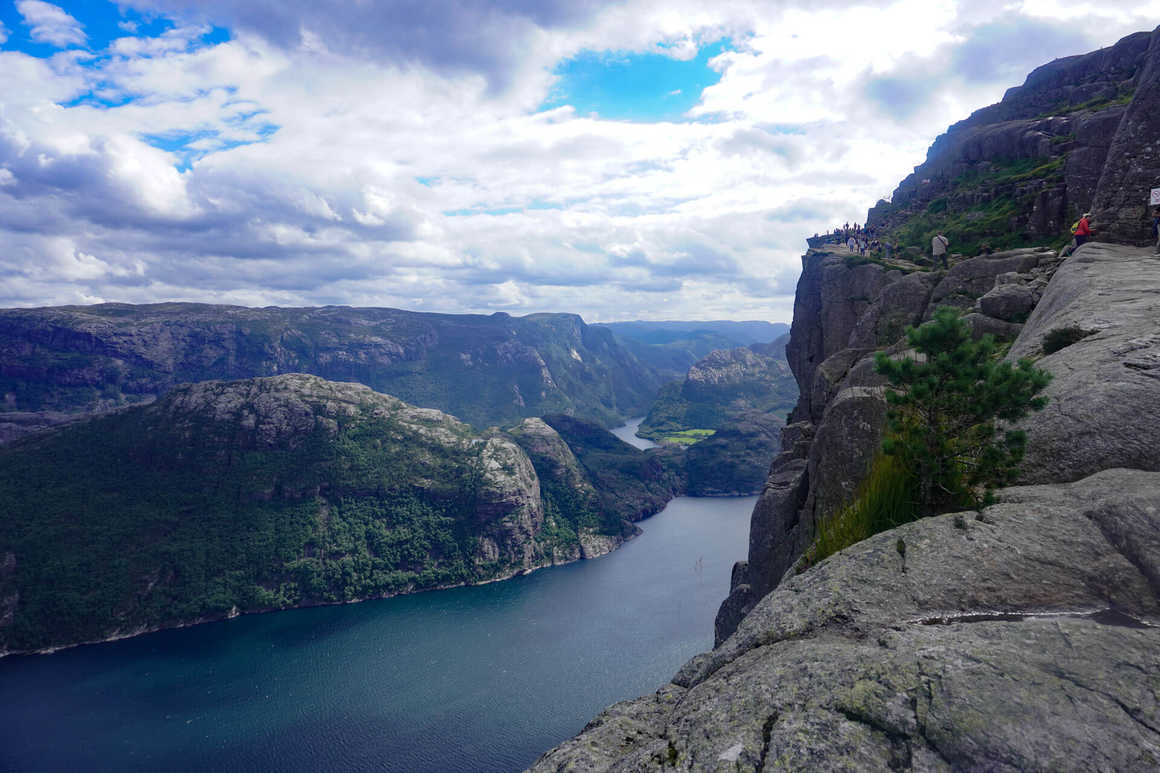 As we get closer to the Pulpit Rock the path follows a long cliff edge with amazing views down to the Fjord. With no fences it can be a little intimidating for those with fears of heights, but without them the place feels grand and untouched, despite being so popular. The views from Priekestolen are truly incredible and a queue awaits us to get the ultimate shot from the cliff edge.

The whole hike takes a total of around five hours and has some steep bits, but technically is not challenging at all. A fitting straight forward up and down hike with an eye widening pay off to round off this most epic of adventures in Norway.

We transfer to our hotel near Stavanger in Sandnes and explore this nice town and enjoy a well earned pizza out.

Day 8 - Stavanger and departure
I slept so well after a long week of hiking I had to be awoken by my now friends sharing the room in our hotel. We have a swift breakfast to take some of our group to the airport for their morning flights.

Another member of our group and I were lucky to have an afternoon flight which gave us time to explore Stavanger which was a stunning city filled with so much colour and street art. Our guide lifted us in and picked us up again to take us to the airport.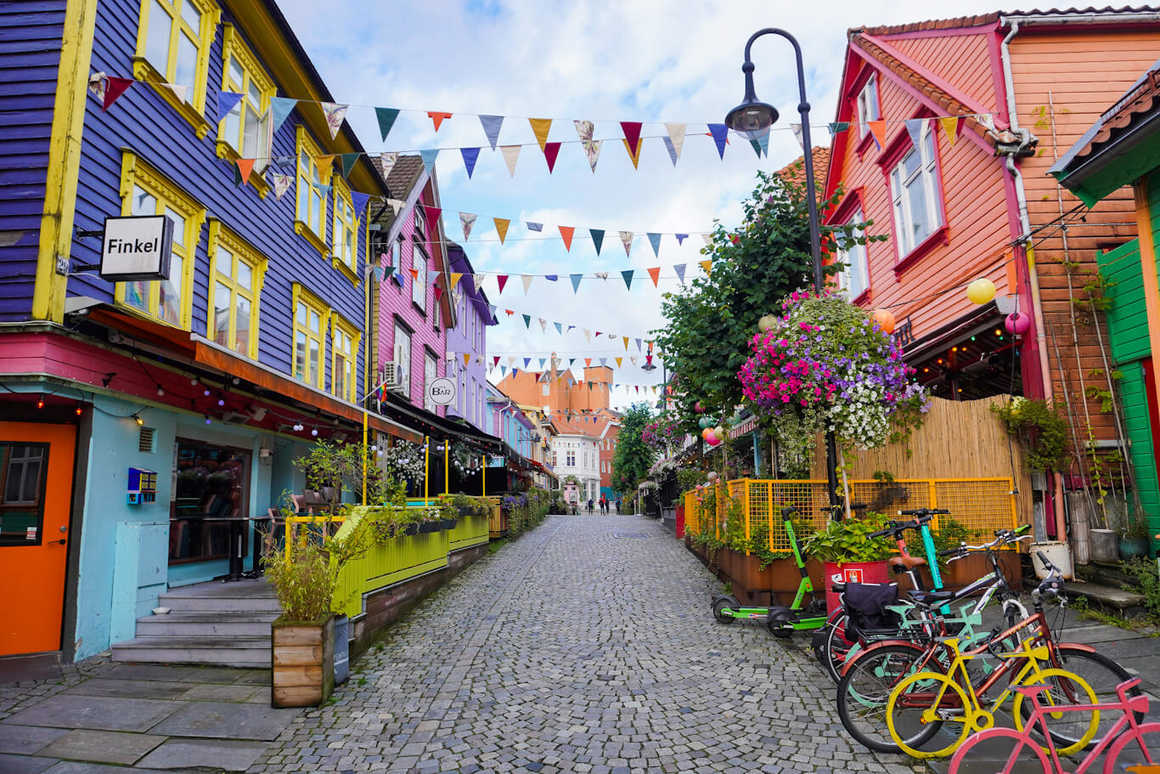 So my trip came to an end and it was absolutely epic. It had its challenges, but the feeling of accomplishment and exploration that I have will never leave me. It's instilled in me that I can manage massive hike days, that I can do it in all weathers, and I can't wait to experience my next great adventure with Kandoo.