About the Lofoten Islands
The Lofoten Islands
Norway
are rugged, remote, achingly beautiful and wonderfully wild. Off the northern coast of Norway, this awesome Arctic archipelago is popular with paddlers, trekkers, skiers and adventure enthusiasts looking to get off the beaten track.
Norway has one of the longest coastlines in the world, with thousands of islands scattered along the western coast, starting north of mainland Europe and stretching north into the Arctic Circle. The Lofoten Islands is made up of 7 main islands separated by narrow channels and fjords. When looking at a Lofoten Islands map, you'll see the islands are connected by a road that crosses the water via bridges, giving road access to the furthest islands.

This gorgeous collection of islands is unique due to its high peaks which tumble straight down into the water in places, its abundance of waterways and the associated wildlife, flora and fauna which flank the shores and its mild seasonal climate. The warm flowing Gulf Stream is responsible for keeping the temperatures fairly mild, despite the islands being within the Arctic Circle. The seasonality of the islands makes them perfect for trekking and kayaking in the warm summer months and skiing in the winter.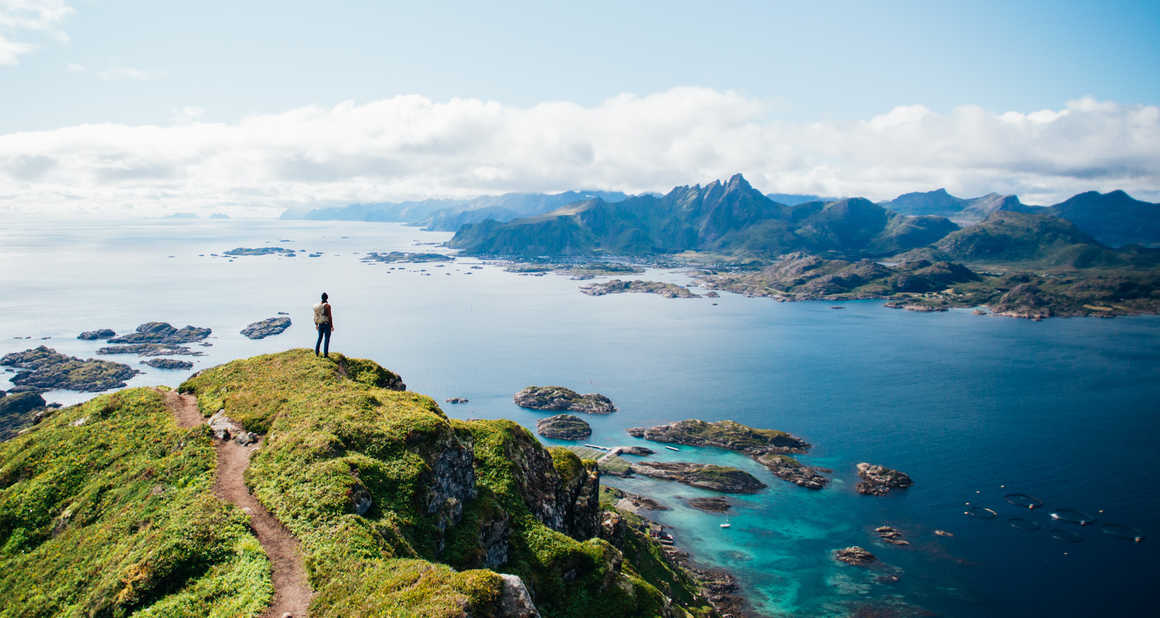 Kayaking in the Lofoten
Now that we've introduced you to the many characteristics that make Lofoten such an interesting place to visit, let's get down to the more interesting subject of kayaking in the Lofoten Islands.

The unique landscape of this fascinating archipelago, as well as its mild climate, makes it the ideal location for getting around by boat. The bonus of exploring the Lofoten in a kayak is that you access rugged and remote places you might not be able to find on foot. You'll paddle past hidden fishing villages and white sandy beaches, spot aquatic creatures through the crystal-clear waters and fish for your supper.

You needn't have any kayaking experience either for paddling around the Lofoten. So long as you have a reasonable level of fitness you can join a kayaking tour of Lofoten and experience this magical place as the locals do, on the water. The water in the fjords is typically shallow which makes it good for beginners trying kayaking for the first time. Experienced kayakers with Norwegian Wet Cards will be able to take their kit or hire equipment there and paddle the islands at leisure. To get the most out of your kayaking trip we would always recommend hiring a local guide though as they will have local knowledge, be able to take you to hidden coves and secret island sights that may otherwise remain undiscovered. They'll also be able to recommend where to fish and where to avoid, what to take and where to restock. This type of local expertise is essential for making the most of your kayaking trip around the Lofoten Islands.

Hotels are hard to come by along the more remote waterways and wild camping is a great way of immersing yourself in Lofoten island life. Sea kayaks are capable of ferrying plenty of equipment and it's entirely feasible to carry tents, kit, food and supplies in your kayak to pitch up and pack up as required.

One of the major perks of kayaking in the Lofoten Islands is the wildlife spotting opportunities. Find yourself paddling alongside otters and seals, even dolphins and whales if you're lucky, whilst thousands of seabirds such as sea eagles and cormorants, fly above you. It's not uncommon to see moose, ox, shy arctic foxes and elk on the mainland which may be spotted from your sea kayak or whilst you camp or trek in between paddling. Norway is home to some of the largest sea bird colonies in the world so expect the cacophony of birdsong as a common backing track to your kayaking experience.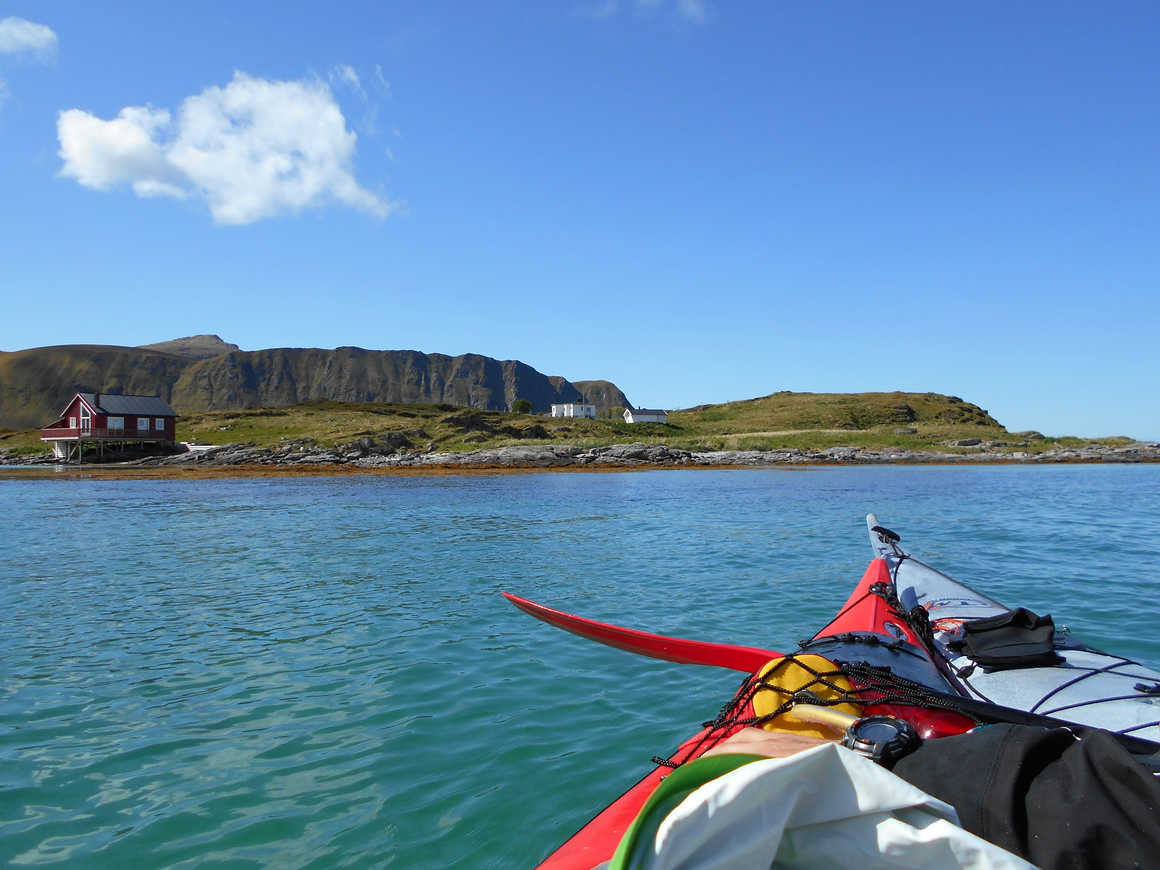 Fjords of the Lofoten
The larger fjords of the Lofoten will be salt water, whereas the smaller fjords of the Lofoten will be fed by freshwater lakes, often glacier melt and some of the oldest and purest water in the world. The Lofoten Islands are separated by the open-ended Vestfjorden which starts far inland to the east and opens out into the Norwegian sea. Vestfjorden, or Vestfjord, is awesome for whale watching and lucky paddlers may see dolphins and seals too.

Many of the fjords are inlets of the Vestfjorden however there are a few notable fjords worth exploring when on your kayaking adventure.

Trollfjorden is a dramatic Lofoten fjord that can be found on the island of Vesterålen, just north of Svolvær. This fjord is only 3 kilometers long, but it is one of the most remote fjords in the archipelago and can really only be reached by boat, unless you fancy a long, steep trek over flanking peaks. The fjord is lined with soaring mountains, the highest of which is 1,100m high and the scenery here is simply breathtaking and unlike anywhere else. Take a kayaking trip through this short mighty fjord for a super cool introduction to kayaking in Norway. You can join a trip from Svolvær or experience Trollfjorden as part of a longer trip.

Selfjorden is on the remote island of Moskenesøya and has the most beautiful turquoise waters, white sandy beaches and hidden rock inlets. This sheltered fjord is quiet and peaceful and a great play to get your sea-kayak legs before heading out into bigger, badder water.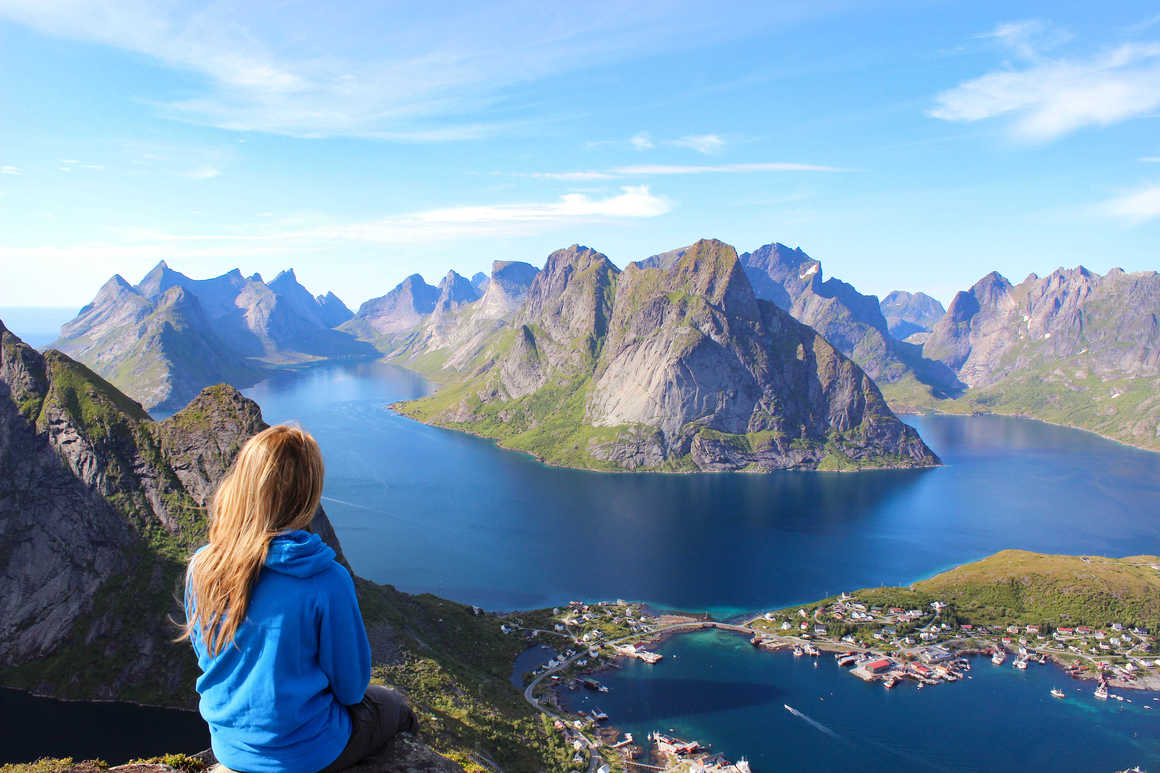 How to get to Lofoten Islands
You can fly directly into the Lofoten Islands to the domestic airport of Svolvær. The nearest mainland airport is Harstad/Narvik Airport but you can also fly into Bodø and take a ferry across to Lofoten. Bodø sits are the far north of Kystriksveien which is a 650km scenic coastal route across the western shores of Norway. If you're here to enjoy the water, then we would definitely recommend taking the ferry option from Bodø as you'll be rewarded with stunning views of the islands before you reach them and stand a chance of spotting some local wildlife along the way, such as dolphins, orca whales, mink whales and maybe even killer whales who enjoy the calm waters and plethora of fish in the Vestfjorden.

An added bonus is that Norway is on track to make all its public transport electric by the end of 2023. This includes passenger ferries across the Norwegian Fjords. There has been a serious investment in replacing all old diesel ferries with electric ferries to reduce carbon emissions and to improve the water quality of the UNESCO World Heritage Site Norwegian Fjords as part of their government target by 2026.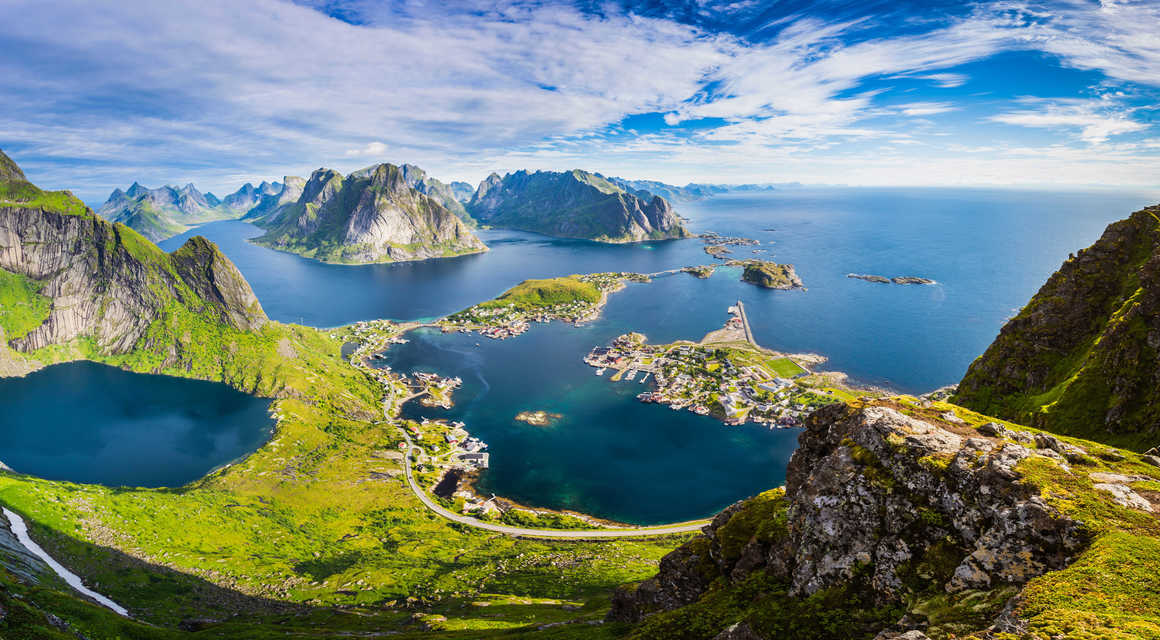 Best time to visit Lofoten Islands
We'd argue that the best time for kayaking in the Lofoten Islands is in the summer months when the temperatures are mild and you're overlooked by the Midnight Sun. During this time the sun will barely set over the horizon and you'll be able to experience the incredible Lofoten under a haze of perpetual sunrise and sunset.

It is possible to kayak the Lofoten at other times of year but more technical clothing and kit will be required for colder months to keep you warm on the water. You may also find you need winter camping gear to be able to camp during winter. For intrepid explorers who don't mind kayaking in the cold, the Atlantic Cod, or Skrei, migrate to the Lofoten to mate which can be fascinating to watch from February to March. The Skrei are known as 'the fish that built Norway' as fishing in the Lofoten, and for much of the coastal population in Norway, is the main way of life for many.

From later summer to early spring, September to March ish, you'll be able to see the breathtaking Northern Lights during clear weather. Outside of this time it may still be possible to see the Northern Lights but it will depend on the weather.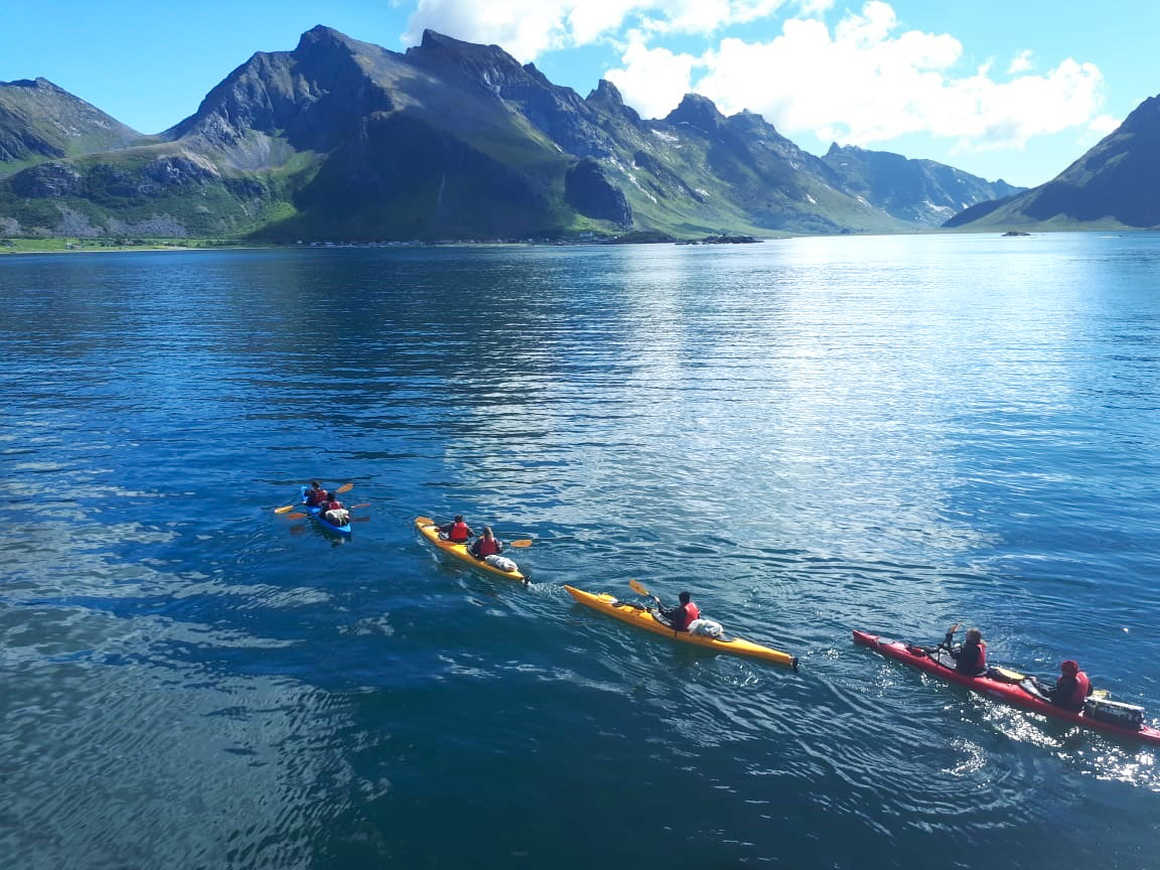 What to wear when kayaking in the Lofoten Islands
The key things to remember when kayaking in mild climates is that layers are essential, and cotton is to be avoided. You'll need a decent thermal base layer, a mid layer and possibly an outer layer underneath a dry suit or cag.

It will be much colder at night so packing warm clothing and socks is recommended. You'll likely get warm when paddling so moisture wicking fabrics are a good idea and waterproof outer layers should help keep you cool and dry.

See our blog for more information on what to wear when kayaking in Norway.

Highlights of Kayaking in Lofoten
Hopefully we've given you enough information to inspire you to book a Lofoten Island holiday kayaking. Kandoo Adventures offer a fabulous Lofoten Islands Kayaking and Trekking trip.

Lofoten Islands kayaking trip highlights include:

· Discovering remote islands, bays and inlets

· Kayaking through crystal clear waters

· Wild camping under the midnight sun

· Sea fishing for supper

· Stunning scenery from both the water and land

· Incredible wildlife-spotting opportunities

· Meet like-minded fellow travellers

· Great for solo travellers

What are you waiting for?! Book your adventure now!