Norway Mountains
Norway has an utterly unique topography. 10,000 years ago, the country was covered in a thick ice sheet which has slowly melted, creating the mountains, fjords, plateaus, lakes and rivers we can see here today.
Norway
is still home to several ice age glaciers, including Jostedalsbreen, which is the largest glacier in Europe. The terrain in Norway features rich, dense forest meeting crystal clear fjords, thinning out at higher altitudes to vast plateaus, glacial lakes and rocky crags, peaks and summit soaring above. As one of the most mountainous countries in Europe, Norway is a rugged, wild and remote destination with a relatively small population.
Over 90% of Norway is mountainous which is staggering. It's no wonder Norwegians favourite outdoor activity is trekking!

The main mountain range in Norway is the Scandinavian Mountains, or the Scandes for short, which loom out of the North Sea from southern Norway and stretch north along the spine of the country, where they form a border with Sweden to the north. This incredible mountain range reaches into Sweden and northern Finland, although it little more than foothills here, and carries on north towards the
Arctic Circle
where they retreat into the Norwegian Sea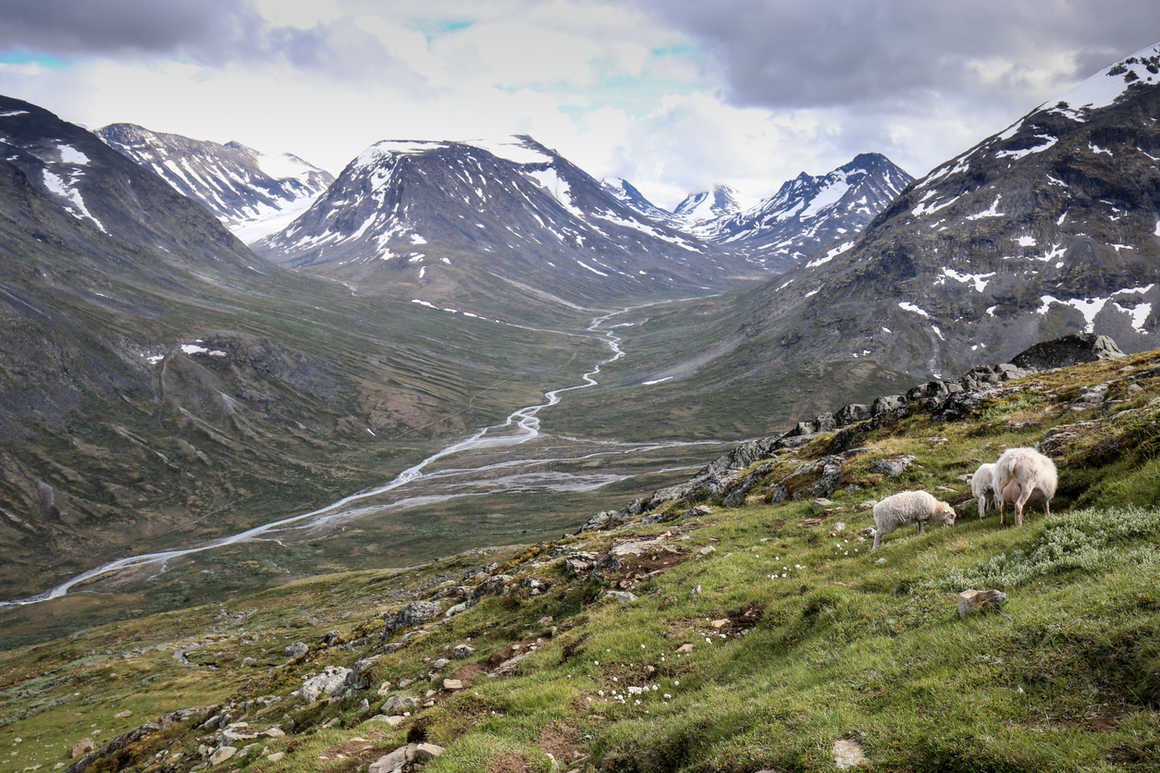 The Tallest Mountains in Norway
The highest mountain in Norway is Galdhøpiggen which stands at 2,469m. Galdhøpiggen sits within the area known as the Jotunheimen, an area of around 3,500 square metres in the Scandinavian Mountain Range, northwest of Oslo and northeast of Bergen.

The second tallest mountain in Norway is Glittertind. Glittertind, or Glittertinden, is 2,452 metres high without the glacier sitting on its summit. Interestingly, at one point it was thought Glittertind was higher than Galdhøpiggen but once the peak glacier was discovered a heated debate ensued as to whether the height should include the ice or not. Sadly, as of summer 2022 little remains of the summit glacier now thanks to rising global temperatures.

The twenty nine highest mountains in Norway are all located within Jotunheimen making it a super popular place for hiking and trekking. The Norwegian Trekking Association are responsible for maintaining the trails and lodges in the Norwegian mountains and it is possible to trek from cabin, or hytte, to cabin across the mountains. For spectacular climbs, iconic trekking and endless mountains, Norway is THE place to visit.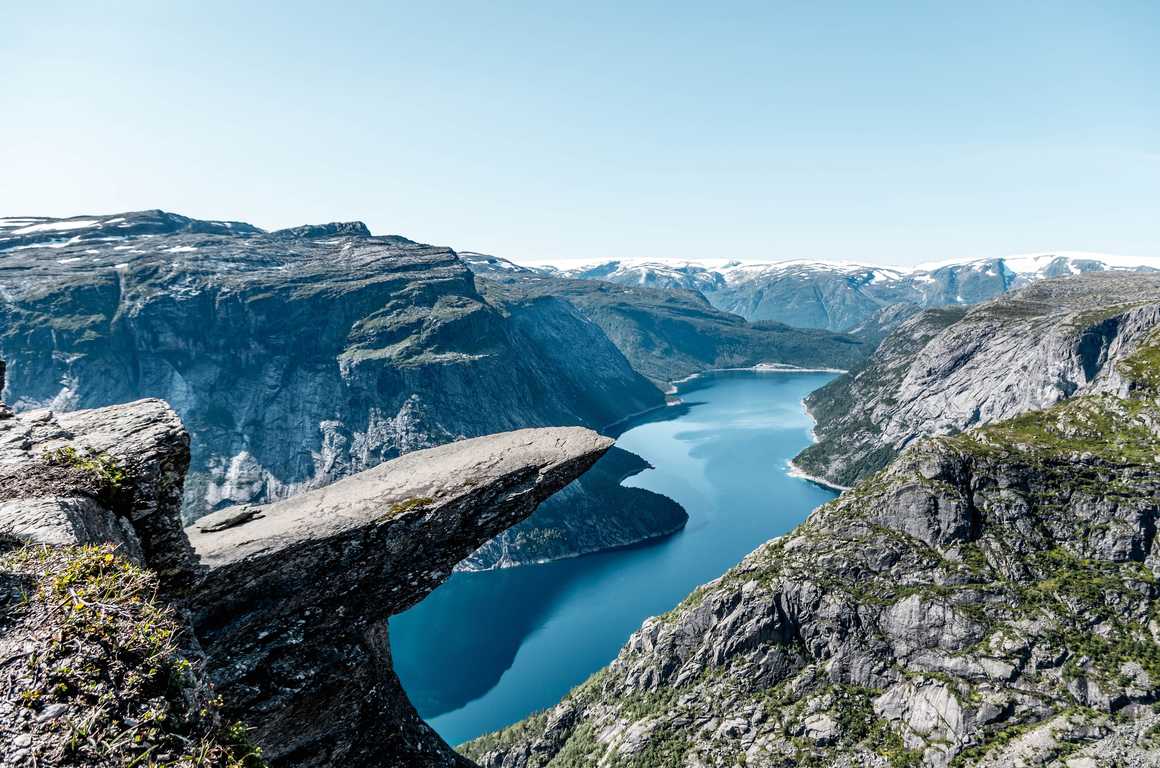 Rock Formations in Norway
In addition to the high peaks of Norway, there are many notable rock formations and cliffs which are popular visitor sites and make unforgettable photos.

Trolltunga Norway, or the Troll's Tongue, is a rock precipice which protrudes from the mountain above, hanging 700m high Lake Ringedalsvatnet below. The Trolltunga hike is a strenuous one, requiring a long hike much of which is ascent to reach this iconic rock. The scenery from the rock is absolutely breathtaking and well worth the effort. It is now one of Norway's most popular visitor hotspots.

Preikestolen, or Pulpit Rock, is another awesome sight not to be missed in Norway. Preikestolen is a rocky promontory which overhangs the Lysefjord with a 600m drop from the end. This gravity defying platform offers views across Norway that are unrivalled and the Preikestolen hike to reach it is nowhere near as exerting as climbing to Trolltunga. Pulpit Rock is not far from Stavanger and can be reached as a day trip or part of a longer itinerary or trekking route.

Not as much as a rock as a defiance of gravity, Kjeragbolten is an overhanging rock sandwiched between two cliffs high above Lysefjord. The kjeragbolten rock trek is a steep one but there are chain handrails to help you navigate trickier parts. The climb to the rock is climaxed by a final scrambling ascent before you are rewarded with magnificent views of the fjord and lake below and the endless mountain vista across Norway.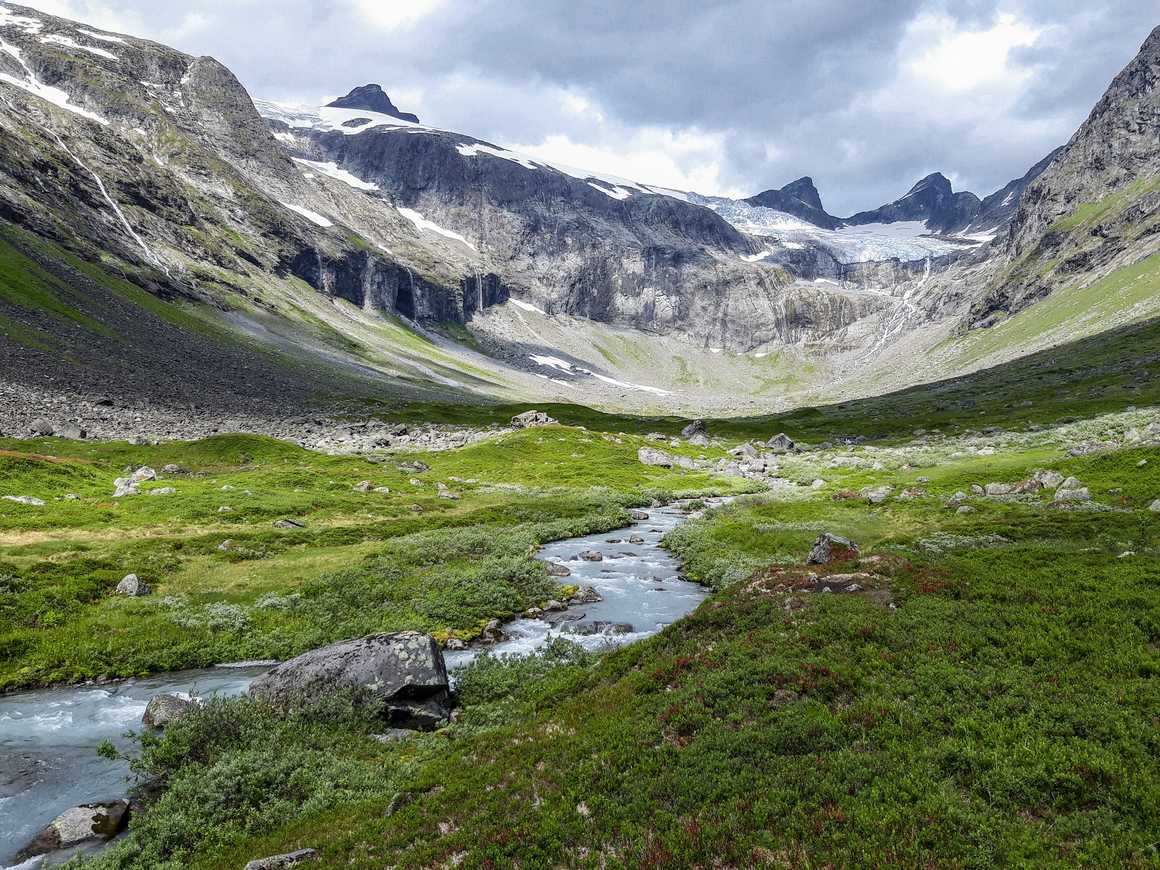 Best time to trek in Norway
It is a misconception that Norway is a cold country. Thanks partly to the Gulf Stream which flows along the west coast of Norway, the country enjoys seasonal weather unlike other countries along the same latitude.

The best time to trek in Norway from a weather perspective is the summer months of July and August. The weather is warm and mild and it's a popular time of year for visitors to travel to this beautiful country.

The winter months are much colder, and snow and ice are common, especially at higher altitudes. It's a gorgeous time of year to visit but unless you are an experienced trekker, conditions can be dangerous. The weather can be very changeable, and it can be hard to predict when a front may come in so pack accordingly, make sure you don't trek alone and plan your routes carefully.

Autumn and spring are quieter months to visit with milder temperatures and the budding wildflowers in spring or the autumn colours of fall show Norway in a plethora of colours. Come at this time of year to see less crowds and more landscapes.