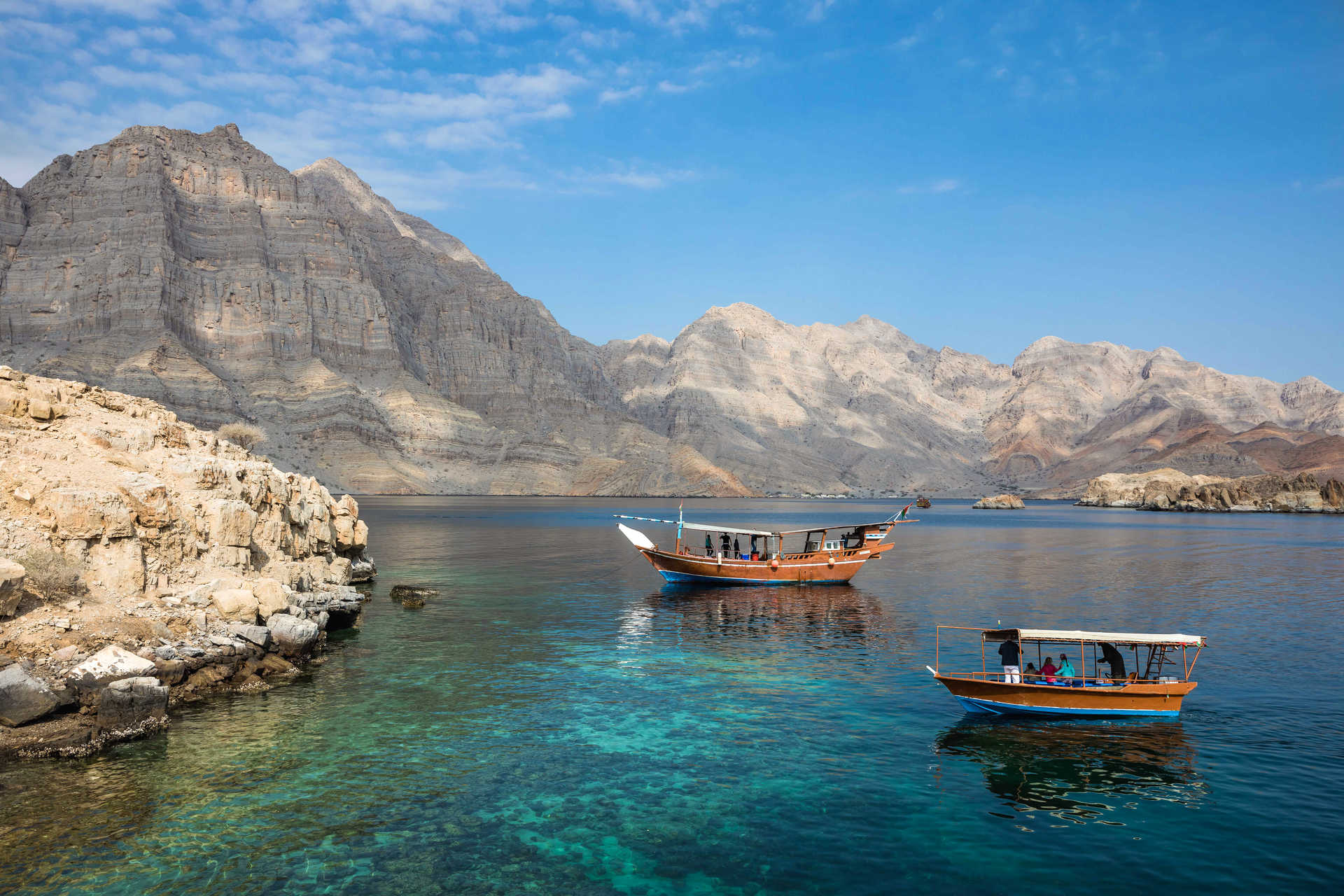 8-day adventure
The Fjords of Arabia
Oman
Kayaking
Trekking & Hiking
Our local team
Our base in Oman is in the town of Khasab, near the tip of the Musandam Peninsula and roughly 200km from Dubai. This is the perfect location for launching kayaks to explore the Arabian Fjords or setting off on foot to discover the sharp peaks and deep valleys of the Musandam mountains. Geographically, the peninsula shares many similarities with the fjords of Norway and Greenland and it is often our arctic specialists who will guide you through...
Learn more
Kandoo's view
Discover one of  the Musandam Peninsula's most breathtaking fjords to the gentle rhythm of your kayak paddles. Glide through the rugged scenery and enjoy regular stops to jump in the beautiful turquoise waters, swimming and snorkeling amongst a rich variety of marine fauna. This trip includes hiking along the narrow strip of land between Sham and Habbalayn Bays to discover a magical hinterland of ancient villages lost in the mountains. On the last day we will visit Dubai, the vibrant city provides a striking contrast to the peaceful Musandam wilderness.
Trip highlights
Paddle alongside dolphins in the still waters of Sham Fjord
Hike through the rugged peaks of the Musandam Peninsula
Take a city tour of Dubai
Experiences
Kayaking

Discover a different perspective as you journey and explore beautiful landscapes by kayak

Trekking & Hiking

Our core collection of treks and hikes, through some of the world's most outstanding landscapes
Itinerary
Day 1

ARRIVE IN DUBAI

On arrival in Dubai a member of the Kandoo team will meet you at the airport. We transfer by private vehicle to Khasab on the Musandam Peninsula and check in to our hotel. Tonight you can meet your guide and the rest of your group and there will be a briefing before we start our adventure in the morning.

Transport: Private transfer (2.8 hours, 181 km)
Accomodation: Hotel

Day 2

KHOR ASH SHAM

This morning we start the preparations for our adventure, organizing our gear and checking our kayaks. We leave in the late afternoon and paddle for around 2 hours to a secluded bay where we set up camp in a creek bordered by a sandy beach. This gentle start is a great opportunity to get used to paddling your kayak. Once we have set up camp, we can go for a swim under the stars in the warm waters of the Khor Ash Sham (Sham Fjord).

Activity time: 2 hours
Accomodation: Camping
Meals included: Breakfast / Lunch / Dinner

Days 3 to 6

EXPLORING THE FJORD

For the next 4 days we will be entirely self sufficient as we explore the most remote and quiet corners of Sham Fjord. We paddle among towering cliffs and tiny coves and the occasional fishing village. The bay is renowned for its exceptional wildlife including green turtles, dolphins, eagle rays and reef sharks (harmless). Bordered by two lines of bare rocky mountains, the inviting blue waters of the fjord offer a surreal contrast with the surrounding rocky landscape.

In the mornings we glide quietly through the clear waters, sheltered from the tumult of the open sea. In the afternoons when the sun is at its hottest, we enjoy swimming and snorkeling among multi coloured corals. In November the sea temperature is roughly 30 degrees. In the evenings we invite you to learn how to fish, in these abundant waters fresh fish for our evening meals is guaranteed!

At the end of each day we find secluded spots to set up our camp for the night and settle down discuss the days events. There will also be 1 or 2 short hikes up into the mountains for spectacular views across the bay.

This is 4 days of complete freedom and peace. An immersion in the mountains and waters of Oman that will make you forget you ever existed anywhere else. An experience of a lifetime.

Activity time: 4 - 5 hours
Accomodation: Camping
Meals included: Breakfast / Lunch / Dinner

Day 7

RETURN TO KHASAB

This our final day of paddling on the Fjord as we make our way back to Khasab. There will be opportunity for a final swim before we leave behind our kayaks and check in at our hotel.

Activity time: 2 - 3 hours
Accomodation: Hotel
Meals included: Breakfast / Lunch / Dinner

Day 8

DUBAI CITY TOUR

We transfer back down the coast to Dubai, arriving in the early afternoon for a guided tour of the city. We start by inhaling the rich aromas of the souqs before taking a taxi boat to the other side of the "creek" to explore the heritage district. We then gaze up at the unfathomable heights of Burj khalifa, the tallest tower in the world and a truly remarkable sight.
We can enjoy dinner at a local restaurant to mark the end of our trip before transferring to the airport for a night flight home.

Meals included: Breakfast

See the map
Trip information
Difficulty
Although this adventure is not overly demanding it is still important that you are in good physical condition. You will be required to paddle for up to 6 hours a day for 6 consecutive days. Paddling a kayak for extended periods of time will place strain on the lower back and abdominal muscles. Previous kayaking experience is not required as your guide will provide you with training. You will also take short hikes into the mountains which could be on loose and steep terrain and care should be taken to avoid slips and trips.

To ask about your suitability for this trip and what you can do to prepare please feel free to give us a call.

Food & drink
We love the local cuisine in Oman! It is not always easy to carry fresh products on board kayaks but we are proud of the hearty and varied menus we deliver each evening.

Fishing enables us to provide for ourselves during our adventure so expect to eat fresh fish very regularly (possibly caught by you). You can also expect buffet style lunches, hot evening meals and local products including houmous, pita beds and fresh fruit.

If you have special dietary requirements please call and let us know as soon as possible before departure. We will do everything possible to accommodate your needs.

Accommodation
Whilst out kayaking on the fjord you will be wild camping in secluded locations. You will be provided with a mattress and a 3 man dome tent to share with one other person. Blankets are also provided.

Our hotel in Khasab is an apartment hotel with comfortable twin or double rooms and shared bathroom facilities. There is also a swimming pool and free WiFi is available in public areas.

Luggage
During this trip you will be carrying your luggage with you in your kayak at all times. We recommend that you choose gear which is as small and lightweight as possible. The weather is going to be hot so there is no need for bulky sleeping bags or jackets or heavy duty walking boots. Go for a flexible duffel bag or backpack and not a rigid suitcase. A small day pack could be useful on the hikes and as cabin luggage on the plane.

How do I get there?
You will need to arrive at Dubai international Airport (DXB) on day 1 of your itinerary. We recommend booking a flight that arrives at Dubai in the morning before midday, the drive north to Musandam will take roughly 3 hours.

Dubai is one of the busiest transport hubs in the world and it is the base for Emirates Airlines so booking a suitable flight should be very easy.

If you are travelling from the UK, Emirates and British Airways both have direct flights to Dubai from London Heathrow. Emirates also offer direct flights from Manchester and Birmingham. The travel time is roughly 7 hours.

From the US, Emirates have direct flights from New York and Boston with a travel time of roughly 12 hours. Turkish Airlines offer convenient indirect flights from Los Angeles and San Francisco with a short stop in Istanbul.

Regardless of where you are travelling from, you should find reaching Dubai very straight forward.

Once you have arrived in Dubai, cleared immigration and collected your luggage, please look out for a member of our team in the arrivals area. They will be holding a large "KANDOO" sign.

Budget & change
The currency in Oman is the Omani Rial (OMR). In Dubai the currency is the United Arab Emirates Dirham (AED). For the latest exchange rates please see www.xe.com

On the Musandam Peninsula the United Arab Emirates Dirham is commonly used. We recommend using Dirham rather than Rial. ATMs are widely available or you can exchange money at Dubai Airport.

Tips
Tipping is always appreciated - it is not obligatory and should be left to the discretion of each individual. We recommend an amount between $35 and $45 per participant based on the service you feel you have received.

Formalities & health
Passport
Most travellers will require a passport valid for at least 6 months after your return date. It is your responsibility to check your specific visa requirements.
Visa
To enter Oman most people will need to purchase an electronic visa at https://evisa.rop.gov.om Tourist visas are valid for 1 month from the date of issue, so do not apply too early. Visas for the UAE can be acquired in country and are free of charge.
Vaccinations
Recommended vaccinations include: Hepatitis A and Typhoid. Hepatitis B, Rabies and Yellow Fever vaccines are also advised. It is your responsibility to check the latest advice before departure.
Insurance
It is your responsibility to ensure that you are fully and adequately insured for the duration of your trip. Please ensure that all activities, excursions and destinations in your itinerary are included in your travel insurance policy, in addition to your regular cover for cancellation and medical expenses. We ask that you keep a copy of your policy summary (containing policy number and the emergency contact number for your insurer) in your day sack at all times, so that we can access this information should we need to contact the insurer on your behalf.
Medication
Your guide carries a first aid kit at all times but we recommend you carry the following items: - Painkillers - Sunscreen for lips and skin - Moisturising cream (for sunburn) - Elastic bandage, regular bandages and Blister bandages - Sanitary products

Equipment & clothing
Equipment supplied by Kandoo Adventures
2 man sea kayaks

Kayak paddles

Buoyancy Aids

Dry bags for your gear

Tents (1 tent per 2 people)

Comfortable seeping mats

Blankets

Clothing to bring
Sun hat with wide brim for protection

Sun glasses

Long sleeved t-shirts

Short sleeved t-shirts

Lightweight trousers and shorts

Suitable quick drying underwear

Warm jumper or jacket for evenings by the sea

Waterproof and windproof lightweight jacket

Sports sandals (great for in the water and camping on beaches)

Pajamas, travel towel and toiletries

Rash vest or lycra t-shirt for kayaking

Swimming costume / shorts for kayaking

Comfy shoes and socks for short hikes

Equipment to bring
Lightweight sleeping bag with a comfort rating of 10°C

Head torch and spare batteries

Reusable water bottle(s) minimum 1 litre

OTHER USEFUL KIT

Camera

Power bank (no electricity while camping)

Small dry bag for person items

Wet wipes and hand sanitiser

Plastic bags for wet/dirty clothing

Snorkel / mask / flippers

Dates & prices
From
To

Price

Availability
Book
Enquire
03/12/2022
10/12/2022

$1,885

£1,449

Available

Book now
Enquire now
Want to add flights or create a private trip? Don't hesitate to contact us!
Contact us
Price includes
Airport transfers

An expert Kandoo Adventures guide

All transportation

All accommodation

7 breakfasts, 7 lunches, 7 dinners

Kayaking and camping equipment

Dubai city tour

Price does not include
International flights
visa (if required)

Travel insurance
Drinks and personal expenses

Tips
Dinner on day 8