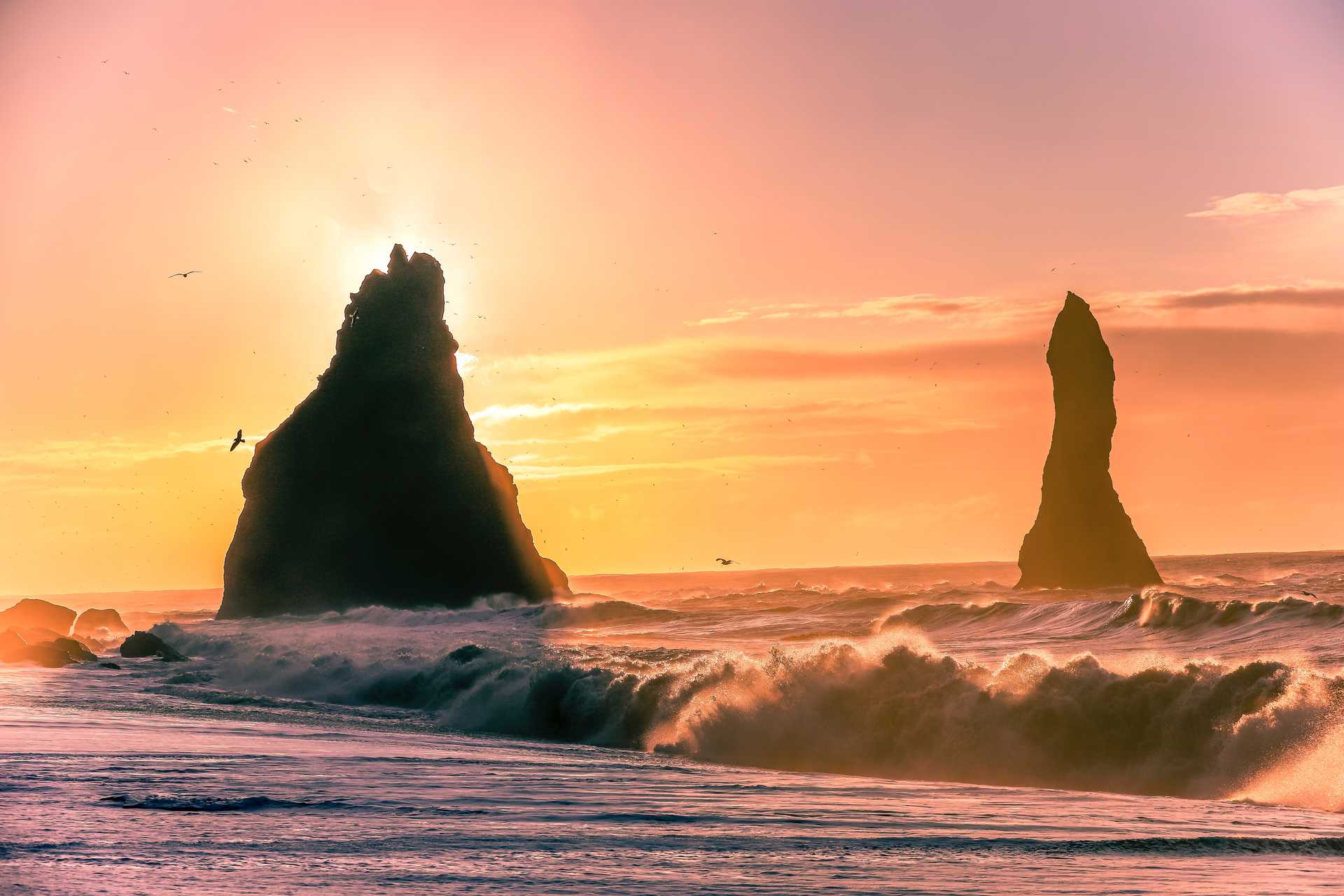 Iceland Travel Guide
When to go?
Seasons, climate, festivities
June to September

The summer months are the busiest time for tourism in Iceland and one of the many highlights of this season is the "midnight sun". From May to July the sun is above the horizon line for nearly 24 hours a day. All that daylight means travellers have plenty of time to explore and there is certainly no rush to reach your campsite each evening. You can expect temperatures between 6°C and 18°C. This is also a great time to see whales and puffins. The highland roads are all open making the Laugavegur Trek possible.

October to November

As the summer season comes to an end the days will start to grow shorter and the temperatures much cooler. In November you can expect some daylight for around 6 hours and temperatures between -1°C and 3°C. At this time of year the snow will already be falling producing some incredible scenery and you can start to get glimpses of the Northern Lights if you are lucky.

December to March

Winter in Iceland is the best time for travellers to witness the incredible Aurora Borealis, better known as the Northern Lights. The reason you can witness the Northern Lights at this time is because the sun sun rarely comes over the horizon line and the country is nearly always in darkness. Visitors can enjoy the daily "golden hour" when the sun does briefly come up and bathe the landscape in pink light before promptly setting once again. Daytime temperatures will range from -3°C to 3°C. In December and January there will be a small amount of daylight for around 4 hours. Road conditions can be treacherous making travel difficult.

April to May

The spring in Iceland offers between 15 and 18 hours of daylight per day and temperatures between 0°C and 10°C. The advantage of travelling in this period is the low number of tourists and a slim possibility of still catching a glimpse of the Northern Lights. The snow on the mountains is starting to thaw and alpine flowers begin to appear. Although it can still be very cold in spring, the lack of many other tourists makes this a special time to visit.
Temperatures and climate
Min/max temp (°C) / Average rainfall (mm)
Reykjavik

Jan
Feb
Mar
Apr
May
Jun
Jul
Aug
Sep
Oct
Nov
Dec

Average temp

C° min / max

-3° / 2°

-2° / 3°

-2° / 3°

0° / 5°

4° / 10°

6° / 12°

8° / 13°

7° / 12°

5° / 10°

2° / 7°

-1° / 4°

-3° / 3°

Average rainfall

(mm)

83

80

79

59

54

50

54

68

75

96

87

84
Holidays and festivities
Reykjavik Winter Lights Festival

February

This festival celebrates the return of daylight to the country after the long dark winter months. Buildings all over the city are illuminated and the museums and hot springs are open to the public for free on certain nights.

Iceland Airwaves Music Festival

October / November

This huge music festival features both international and local bands and attracts thousands of visitors from all over the world. Rated as one of the planet`s top music festivals.

Icelandic National Day

June

This festival celebrates Iceland's independence from Denmark in 1944. Reykjavik sees the biggest events with parades and marching bands passing through the streets.
Our blog