Swim Culture in Iceland
Things you may know about Iceland include that the island is on a volcanic ridge meaning it's riddled with volcanoes; it is on the cusp of the
Arctic Circle
making the weather in Iceland pretty chilly for most of the year, hence the name; and that it is so far north that you can see the incredible Northern Lights here.
You may not know that despite its Arctic location, cool climate and misleading name, Iceland has a prolific swim culture. Who knew.

Icelanders enjoy swimming so much that pretty much every town and village has their own community pool, many heated by nearby geothermal springs or underground geothermal activity. In fact, even the smallest hamlet in Iceland has a swimming pool that's open 365 days a year and the population is only just over 100 people. Not only are there swimming pools scattered all over this beautiful, icy country but there are hot springs, geothermal pools, warm rivers and stunning beaches just perfect for swimming in.

The island nation of Iceland sits across the Eurasian tectonic plate and the North American tectonic plate. The unique phenomenon of sitting on this ridge not only allows lava to flow closer to the surface of the earth, making all these wonderful warm pools of water, but you can actually see the divide between the ridge above ground in Iceland too. Pretty cool.

Some intrepid Icelandic swimmers even swim in the North Atlantic Sea! The benefits of ice baths and cold water swimming are well known, especially as they can help with circulation and blood pressure, improve mental health and even combat the symptoms of menopause. Coupled with the health benefits from bathing in hot springs, Iceland is a haven of swimming opportunities and it's no wonder the locals love to swim so much.

We've put together a list of the top swimming spots, including Iceland hot springs, thermal spa pools and Iceland diving opportunities.

Iceland Hot Springs and Baths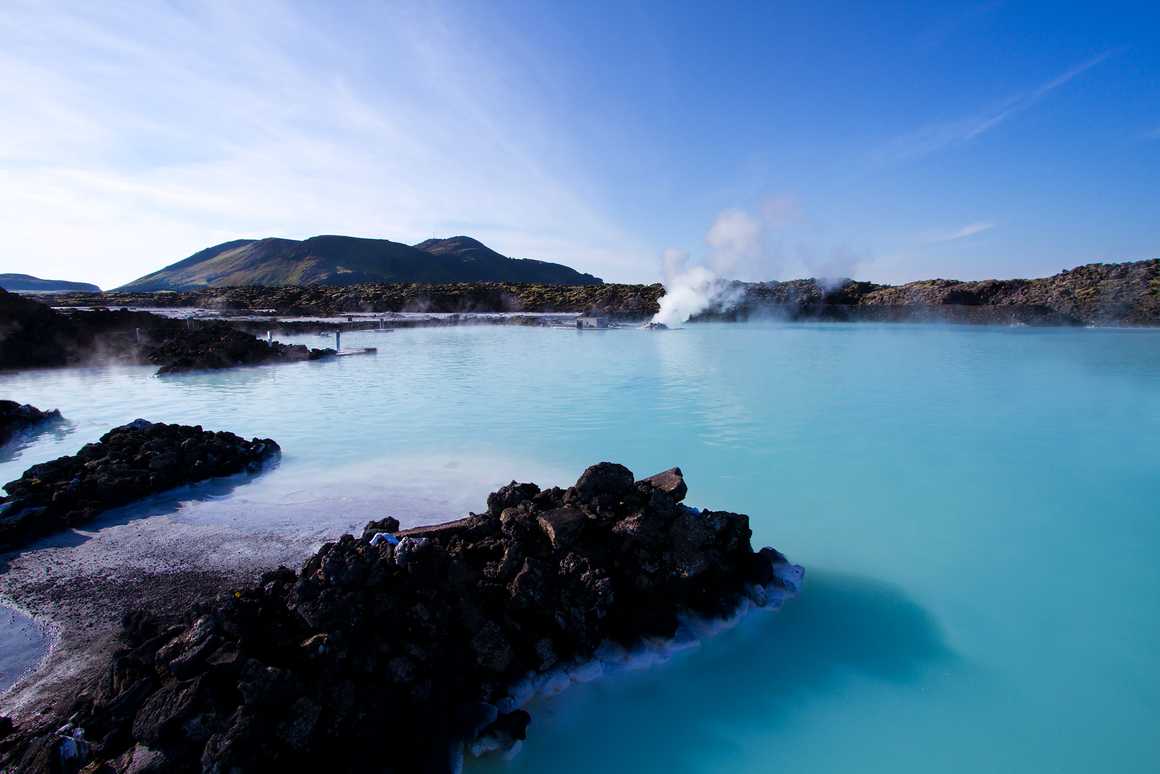 Blue Lagoon
Probably the most famous swimming spot for visitors, the Blue Lagoon Iceland is a luxuriously blue (not surprisingly) pool of warm water filled with white silica, algae and other minerals making it renowned for its rejuvenating skin and health benefits. Found in the southwest corner of Iceland surrounded by lava fields, Blue Lagoon is within the Reykjanes UNESCO World Heritage Site Geopark and overlooks Svartsengi Geothermal Resource Park. It is just 50 minutes' drive from the capital of Iceland, Reykjavik, and is a sprawling complex of 38 degree sea water volcanic pools, nestled next to luxury hotel accommodation, pool bars, spa facilities and fine dining establishments.

If you have Blue Lagoon on your list, make sure you book well in advance as tickets tend to sell out fast to this ever-popular volcanic attraction.

Secret Lagoon
Secret Lagoon Iceland is not so secret anymore. Located within the Golden Circle east of Reykjavik, these volcanic pools are the oldest in Iceland. Fed by three nearby hot springs, Secret Lagoon, or Gamla Lauglin as they are known as locally, has a constant supply of hot water maintaining a temperature of between 38 and 40 degrees but with entirely new fresh water every 24 hours. There is a boardwalk around the water where you can see the hot springs bubbling out of the ground and the views from the pool across the surrounding landscapes are beautiful.

Mývatn Nature Baths
Mývatn Nature Baths are in the northwest of Iceland and are another lovely blue lagoon-like lake. Just 65 miles south of the Arctic Circle,
Lake Mývatn
is a man-made lake fed by a hot water borehole. The water here stays around 36-40 degrees and has a high mineral content, giving it that gorgeous blue hue. This lake is more sulfuric than other lagoons, which is great for asthmatics and anyone with respiratory conditions.
Sky Lagoon
On the outskirts of Reykjavik, across the bay from Nauthólsvík Geothermal beach, is the stunning Sky Lagoon Iceland. This oceanside warm lagoon is essentially a large natural hot tub overlooking the beach. Even though the pools are man-made, the surrounding cliffs and grottos make this a wonderful, and much cheaper, alternative to visiting the Blue Lagoon. The views across the North Atlantic Sea are gorgeous, particularly at sunset, and the water is kept warm by geothermal warmth from below. The shallow water here is just perfect for floating, relaxing and soaking.

Swimming Pools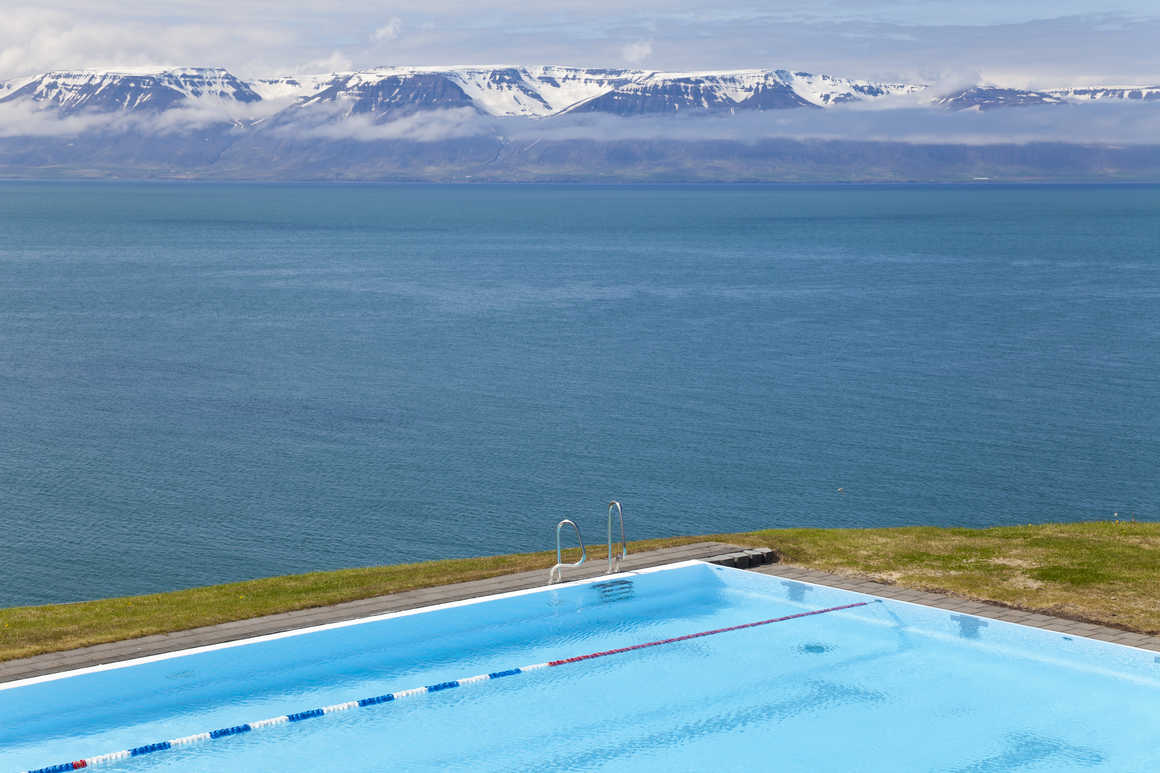 Hofsós
Hofsós swimming pool is located on the Trollaskagi Peninsula and is a fair diversion off the central Iceland Ring Road driving route. Saying that, it attracts visitors from far and wide due to the stunning views from this geothermal almost-infinity pool. From the water you can enjoy endless views across the coast and across the Skagfjordur, where it looks like the pool extends into the water. Renowned for being one of the most beautiful swimming pools in Iceland, Hofsós is open all year round and is an awesome place to enjoy the midnight sun and the Northern Lights displaying their colours across the sea.

GeoSea
GeoSea Geothermal Sea Baths have been included as a swimming pool as they describe themselves as a 'world-class geothermal bathing mecca'. These hot pools are not natural-looking like the Blue Lagoon and Secret Lagoon but look more like luxury spa pools, offering stunning views across the sea from their various infinity pools. Perched on a cliff just outside of Húsavík in the north of Iceland, GeoSea offers great views across Skjálfandi Bay for whale watching and catching the Northern Lights above the Arctic Circle.

Laugardalslaug Swimming Pool
Laugardalslaug is home to the largest swimming pool in the heart of Reykjavik and is a vast complex with indoor pools, and outdoor pool, children's pools, saunas, hot tubs, water slides and paddling pools. This facility welcomes both locals and visitors alike and is fun for the whole family.

Beaches in Iceland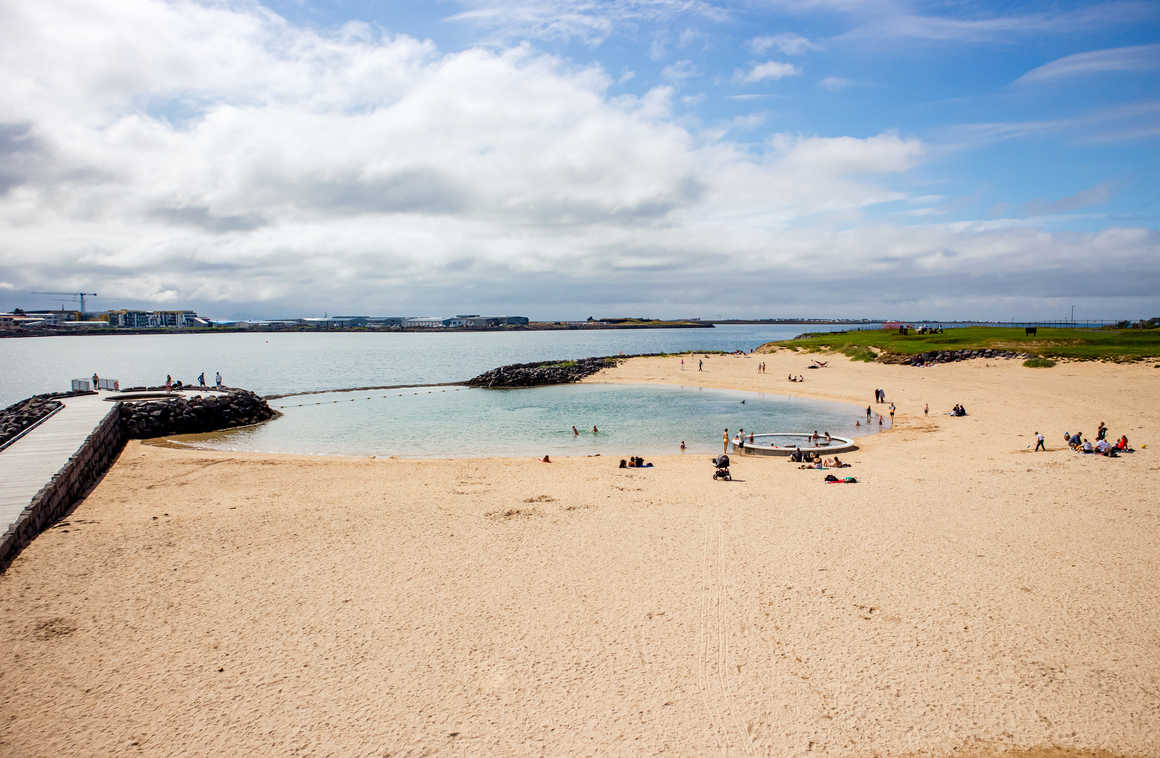 Nauthólsvík
Nauthólsvík Geothermal Beach is a man-made beach resort in Reykjavik. Hot water is pumped into the white sandy beach lagoon maintaining a summer water temperature of 15-19 degrees, so whilst this is a cooler place to swim in Iceland, it is by no means cold. Here you'll find steam baths and hot tubs, plenty of conveniences and pretty views across the bay to the south of the city beyond.

Rivers and Waterfalls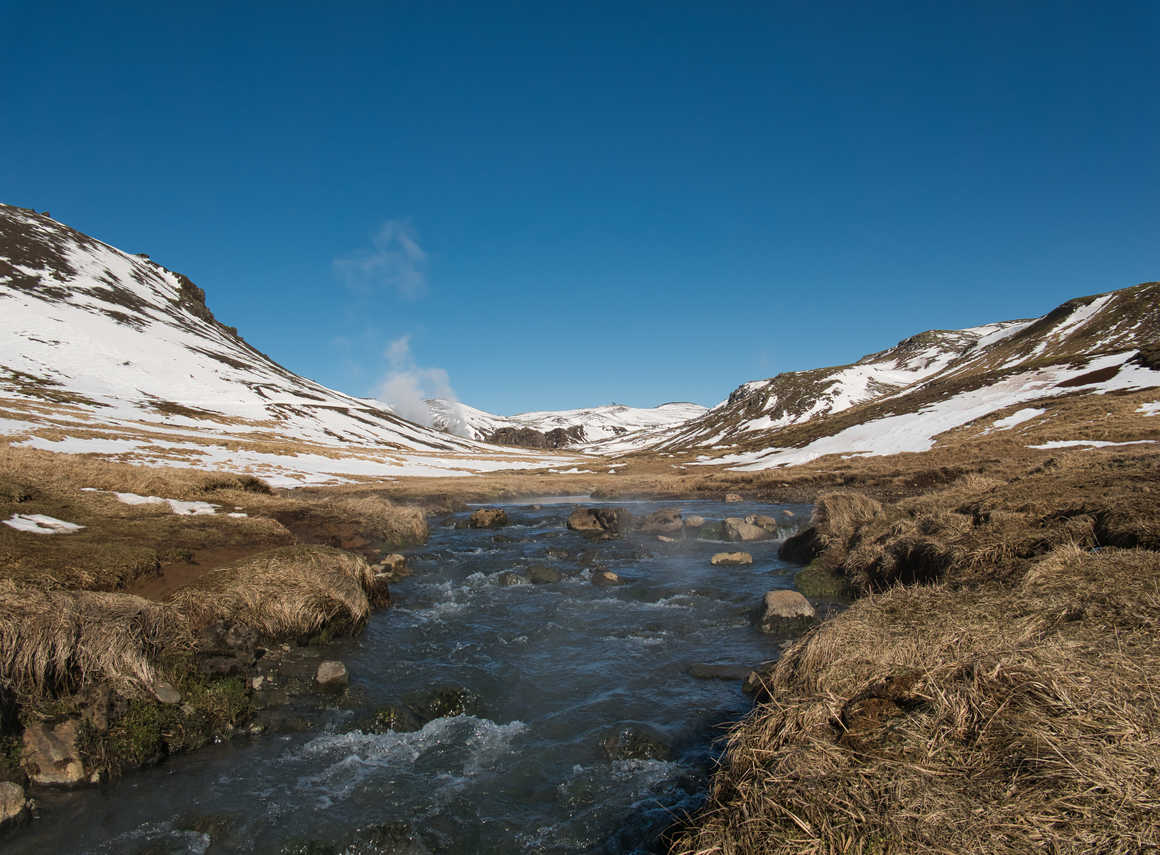 Reykjadalur
Reykjadalur is a hot spring thermal river that meanders down the mossy lava fields, just 40km east of Revkjavic. This geothermal river is close to the village of Hveragerði in southern Iceland and a pretty 3.5 hike from here will find you at the warm waters of the Reykjadalur valley. This active geothermal area not only provides locals and visitors with a scenic bathing spot to soothe tired muscles, but also the water is used for cooking with in some of the cafes and restaurants nearby in the valley.

Landmannalaugar
Landmannalaugar Iceland is a geothermal nature reserve situated within the Fjallabak Nature Reserve, in the southern highlands of Iceland. This incredible place is filled with colourful mountains and dramatic lava fields, and is where the iconic
Laugavegur Iceland trekking route
can be found. The name Landmannalaugar is named after the hot springs here, which were known as the People's Pools. The river hot springs have been a free and popular bathing spot for a long time and the area as a whole is a great place to camp and wait for the Norther Lights.
Snorkelling and Diving in Iceland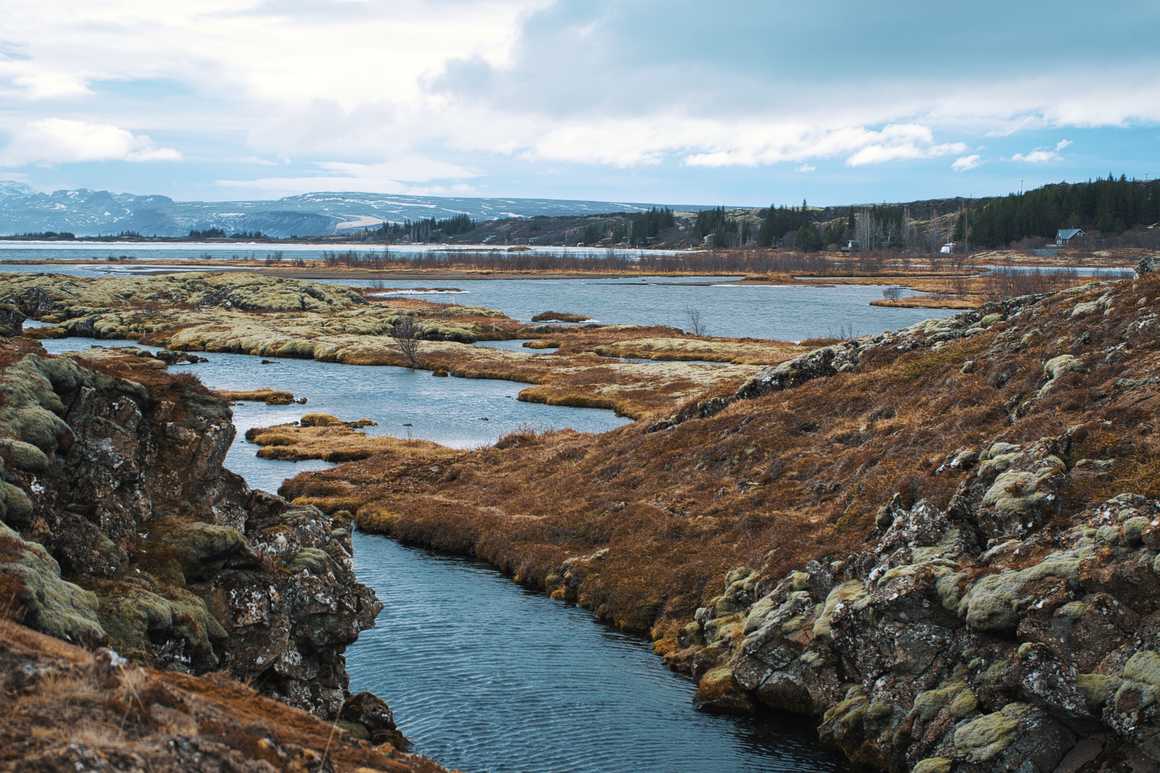 Silfra Fissure
You may not expect to find diving opportunities off the cold coast here, but Silfra Iceland offers a unique place for snorkelling and diving between two continents. The Silfra Fissure is where the tectonic plates of Eurasia and North America meet and is a deep crevasse located within the Thingvellir National Park, itself home to the UNESCO World Heritage Site, Thingvellir, and is northeast of Reykjavik. The water here is astonishingly clear with visibility of up to 100 meters, being glacial melt water filtered through lava fields. The water temperature stays around 2 – 5 degrees all year round so making sure you have appropriate gear before entering the water is important.

Spas in Iceland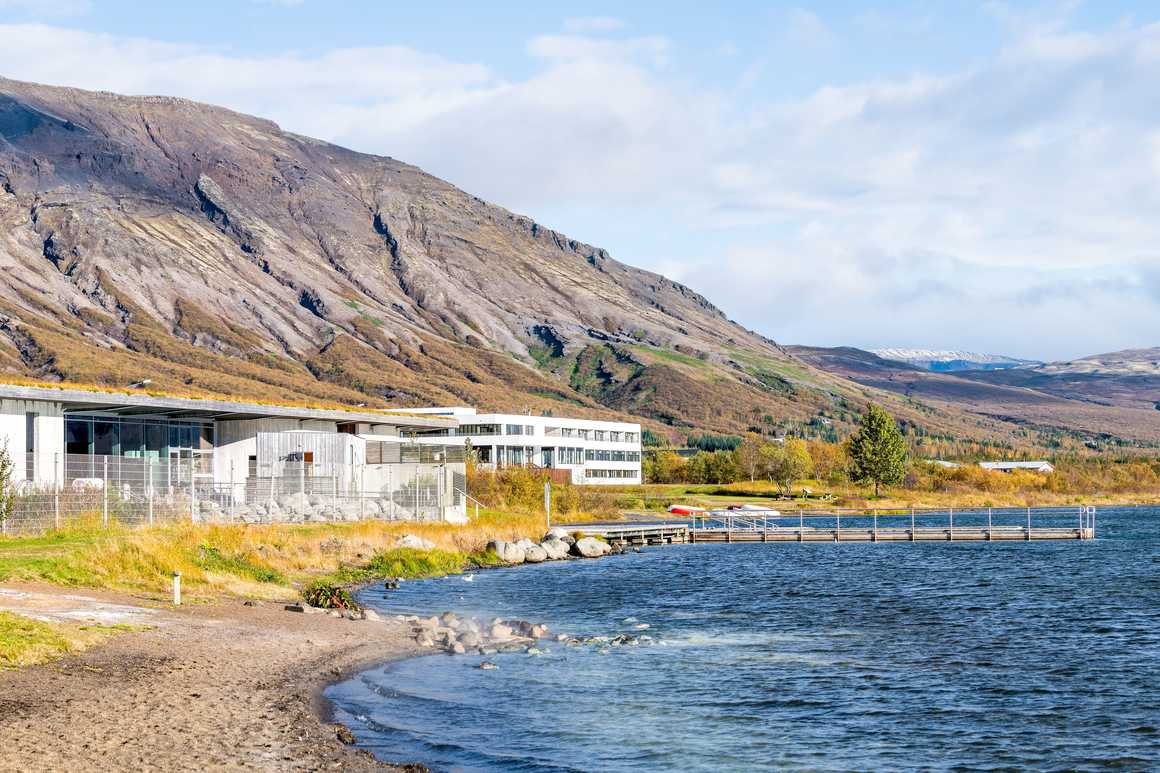 Forest Lagoon Spa
Forest Lagoon Iceland is a luxury spa in northern Iceland, a short journey from the town of Akureyri. Surrounded by the pine and birch trees of the Vaðlaskógur forest and overlooking one of Icelands longest fjords, Forest Lagoon offers geothermal pools, a cold plunge pool and a Finnish dry sauna. This is the perfect place for a relaxing soak, just make to sure you visit the bistro too whilst you're there.

Laugarvatn Fontana
A stylish, modern hot springs spa, Laugarvatn Fontana can be found on the seafront east of Reykjavik, along the Golden Circle scenic trail. This place is vast with multiple mineral pools of different temperatures and sizes and an elevated hot tub overlooking the sea. In addition to the hot pools there is a sauna, indoor baths and even a geothermal bakery! After your spa experience here, take a walk on the warm black sand beach next to the pools or tip your toes in the nearby geothermal saltwater lake.

Places to Avoid Swimming
Glacier Lagoon Iceland, or Jökulsárlón, is a glacial lake made from ice melt, some of which is water over 1,000 years old. This lake meets the sea at a narrow channel where seals congregate to fish at certain times of the year. It is not so much that you're not allowed to swim here, just that it would be pretty daft. It is a glacial lake. That means it's particularly cold. Visit here for the incredible icebergs lining the shores, the black sand beach at the coastal end and the wildlife that call here home. Don't visit here to swim.

Close to Glacier Lagoon is the coastal beach of Diamond Beach. Like Glacier Lagoon, the seashore is littered with diamond-like glistening iceberg and glacier fragments which shine brightly on the volcanic black sand beach. This is a really unique place to visit in Iceland. The ice from the Breiðamerkurjökull glacier slowly melts and dips into the Glacier Lagoon where it is carried out to sea and scattered along the beach. The glacier melt is 1,000 year old water and the glacier is melting at an ever-accelerating rate.

Reynisfjara beach or Black Sand Beach Iceland is close to the village of Vik and is a gorgeous stretch of beach overlooked by two pinnacles of rock jutting out of the sea. This coastline is definitely worth a visit, but the strong rip tides here make it a dangerous, and very cold, place to swim.

Gullfoss Waterfalls are stunning falls in the southwest of Iceland that carry water from the Hvítá river into the canyon. The name Gullfoss translates to Golden Waterfall and is a popular place to visit on the Golden Circle Iceland sightseeing route. The falls are actually made up of a two-tiered drop which carries glacial melt water from the Langjökull glacier. This torrential cascade is a must-see spot in Iceland and can be reached from Reykjavik in under 2 hours. Swimming is strictly prohibited as the river currents are strong and the water is very cold.

Iceland is sounding pretty good right now, right?!
Kandoo Adventures have a choice of awesome Iceland adventures, all of which offer the opportunity for some hot spring soaking in Iceland.

Safety First
Many of the places we have mentioned are organised and maintained swimming facilities. If you choose to go wild swimming in Iceland please follow these guidelines for ensuring safety in the water:

· Never wild swim alone

· Always tell someone where you are going

· Do not wild swim anywhere without getting a recommendation from a local who knows the area

· Never swim in fast moving rivers without a personal flotation device and helmet

· Avoid the places we have suggested - Gullfoss, Diamond Beach, Glacier Lagoon and Reynisfjara