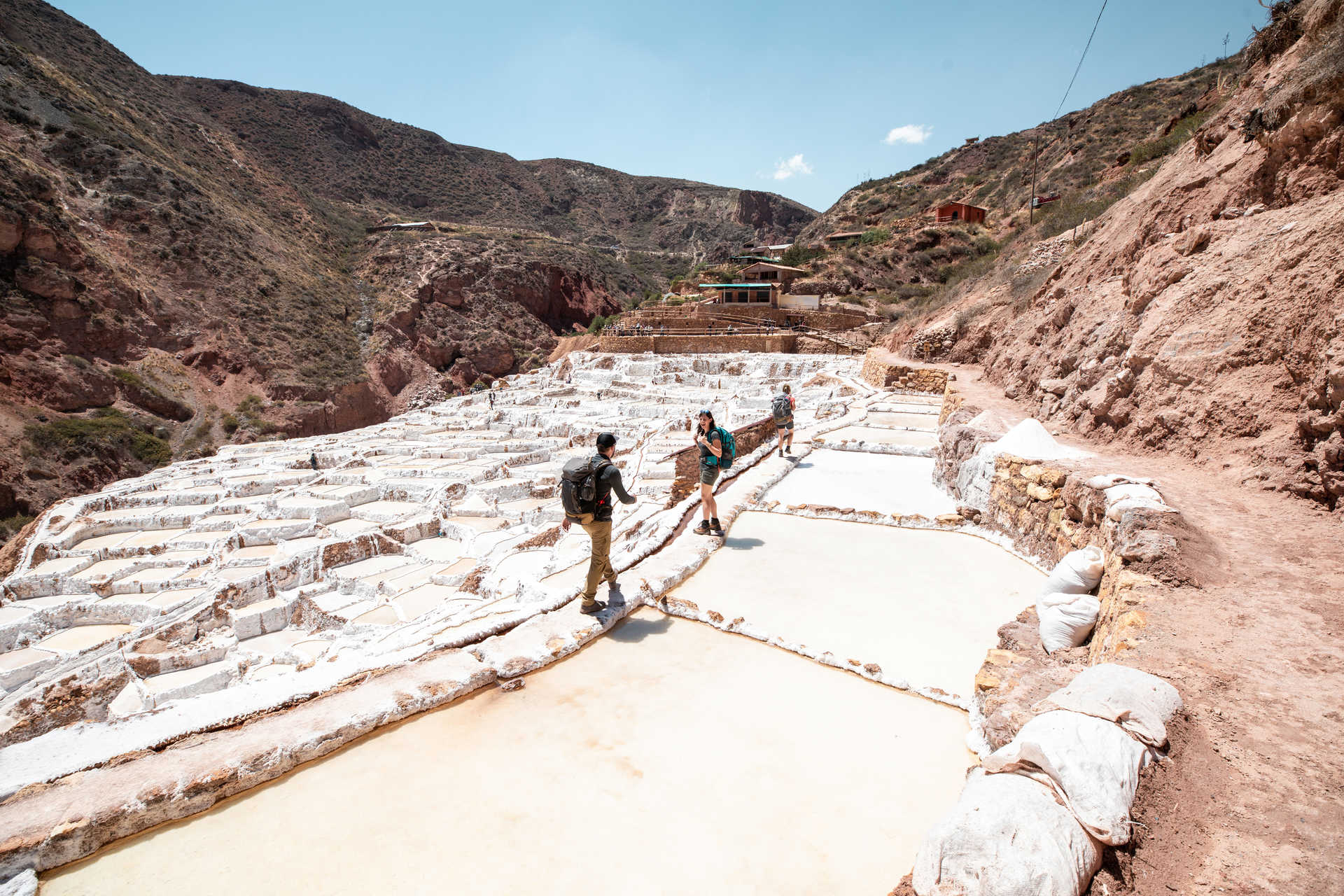 Peru Travel Guide
Peru
What is the best month to travel to Peru?

When going to Peru, you need to remember that you'll be in the tropical, desert, and mountain climate. If you want to enjoy Peru treks and admire nature, it's best to do it during the dry season, when the skies are clear and the weather is warm.





In the mountains and jungle, the rainy season lasts between December and April, with heavy rain being very frequent on higher ground. However, even October and November can be rainy, so you need to take that into account when planning your trip. The dry season lasts from June to August. If you want to avoid summer crowds and enjoy good weather, consider going to Peru in May, June, or September.





When it comes to the temperature, it changes depending on the season and location - you can expect a comfortable 54°F - 77°F (12°C - 25°C). The southern deserts are usually drier and cooler in the rainy season, while the northern coast gets hotter and wetter. The capital city, Lima, which is located on the coast, tends to be foggy and cloudy for much of the year. It gets warmer and rainy from December to April and cooler and cloudier from May to November.


What visas do I need?

Before you go to Peru, you must ensure that you have a valid passport with at least one blank page available for the entry stamp. In case you're traveling somewhere else after your Peru trip, proof of onward travel would also come in handy.





Upon your arrival to Peru, you'll receive a tourist visa, and the length of your stay will be decided by immigration officials. When it comes to Peru, the maximum amount of time you can stay in the country is 183 days each calendar year. This rule applies to citizens of the U.S., Canada, the European Union, Australia, and New Zealand.


Do I need any vaccinations?

Peru is one of the most popular destinations in South America, and there is a number of vaccinations that are either required or recommended before getting there. Routine vaccinations include MMR (Measles, Mumps, Rubella), TDAP (Tetanus, Diphtheria, and Pertussis), Pneumonia, Chickenpox, Shingles, Influenza, Meningitis, and Polio. Peru authorities also recommend (but do not require proof of) vaccinations for Hepatitis A, Hepatitis B, and Yellow Fever. Vaccination for yellow fever is particularly recommended for those traveling to jungle areas below 7,500 feet in altitude.





Additionally, you should check the latest news regarding travel restrictions in Peru resulting from the COVID-19. As of today, travelers from Brazil are permitted entry to Peru once again, but those coming from South Africa are still suspended. People with proof of double vaccination are no longer required to present a negative test on entry to the country. However, the authorities require a negative PCR test taken up to 72 hours before arrival to the country in case of unvaccinated travelers and those after a single dose. Accepted vaccinations include Moderna, Pfizer/BioNTech, Janssen (Johnson & Johnson), Oxford/AstraZeneca, Serem Institute of India, Sinopharm, and Sinovac.





Lastly, before entering the country, you need to prepare a sworn health affidavit.


Is Peru a good family destination?

You may be wondering whether Peru is a good family destination, given the high altitude and sometimes demanding mountain treks. Rest assured, though - Peru is a wonderful destination for both children and adults, with plenty of activities they can enjoy. From chocolate making and cooking classes to sandboarding, kayaking, and visits to llama farms, Peru has many family-friendly attractions for you to try.


How to stay safe in Peru?

Peru is considered a safe country, with petty theft being the biggest of your worries. Whether you're backpacking or traveling around, avoid flaunting jewelry and money, watch your belongings, and lock your bags on overnight buses. Additionally, make copies of your personal documents, and don't engage in any drug activity. The latter may result in unwanted altercations with corrupt police officers. However, in case of emergency, have a list of helpful numbers and addresses at hand.





Ultimately, a good rule of thumb you should follow is "If you can't do it at home, don't do it in Peru." Stay away from any illegal activities and be a smart traveler - and you'll come back home with amazing memories.


How difficult is it to hike to Machu Picchu?

The treks we operate range in difficult to very hard. The Short Inca trail is a one day trek with a tour of the ruins on the second day and is a very easy option. The full Inca trail is one of the easier treks we operate and it is only when you look at the longer treks like Vilcabamba that they become more challenging.


When are the best times to hike to Machu Picchu?

The most popular time periods for Machu Picchu trek tours are May to September due to a lack of rain. From October to December, it is most likely to be rainy and from January to February, conditions are extremely wet, so much so that trails are closed until March. We recommend trekking between May and September where chances of rain are very low. However, better conditions means bigger crowds especially in the Citadel and even directly on the Inca trail. It's up to you to take the risk if you decide to trek during the rainy season.


What kit do I need for the trek?

You will not get big changes in temperature on a Machu Picchu trek so you will need fewer clothes. A pair of shorts, a t shirt and a thin fleece are fine for the day and a change into trousers and a thicker fleece/jacket for the evening. These can also be used if the daytime temperatures do get colder.





For wet weather gear we recommend using a plastic poncho. Even when it rains the humidity is high and gore-tex will not let your body breath fast enough to rid of sweat - you then get wet from the inside. There is a full list of recommended clothing and equipment in your trip dossier.


What is the difference between an open group climb and a private climb?

Private treks to Machu Picchu are your own personal adventure. They give you total flexibility to tailor-make your trip. Just choose your date, route and any of our tailor-made options. A private trek is ideal for a group of friends, a charity group or a couple looking to celebrate a special birthday or anniversary. Upgrades to private climbs start from £100 per person depending on the size of the group.





If you want the company of others while you trek to Machu Picchu then an open group is perfect for you. We have a schedule of open group treks every week during the trekking season from March through January. They are limited to a maximum of 12 climbers to make sure you get the best chance of summit success.


Do you organise charity treks to Machu Picchu?

Yes, we can organise Machu Picchu charity treks for fundraisers and for anyone looking to trek to raise money for your favourite charity. We do not organise treks where the cost of the trip is funded by donations.


Can I climb Huayna Picchu?

Absolutely yes! It looks impossible when you see a picture but Inca path builders have built a series of steep staircases. You will want to use your hands for balance but it requires no technical climbing skills


You do though need a separate permit and these are in high demand. They must be booked at the same time as you book your trek to guarantee your place as a Huayna Picchu climber.


How do I get to Machu Picchu?

Machu Picchu is not easy to reach as there are no direct flights. All routes either take you via Lima, the capital of Peru, or via Bogota. This difficulty can be made worse by the fact that strong winds often close Cuzco airport in the afternoon. From Europe the best flights are with KLM . From North America there is a wider range of options including American Airlines and US Airways. You can find further information about how to reach Cuzco in your trip dossier.


What are the passport and visa requirements?

A visa can be bought for all nationalities on arrival. Unlike a lot of destinations there is no minimum term required as outstanding on your passport. Remember if you are trekking the classic Inca trail you will need to keep your passport on you to be checked at the start of the trek.


What will the food be like on the trek?

The food that our cooks provide on our Machu Picchu treks is amazing. If you have special dietary requirements we can handle most things so just let us know well in advance. You will fin more information about eating and drinking in your trip dossier.


What are the tents you use like?

On all our treks we use comfortable three person mountain tents . They are extremely strong and with only two people in them you have plenty of room. Our mess tents are tall, strong and comfortable allowing plenty of space for large chairs


What are the toilets like?

On all our treks to Machu Picchu we provide a private toilet tent. This is a plastic toilet seat with a bucket underneath. Absolutely everything has to be carried out, so you do your business into a plastic bag which sits inside the bucket. This contains crystals to dehydrate everything. Our team then take care of the rest, as we've said, everything has to be carried out - including your pee and poo!


For those trekking the Inca trail, there are several public toilets on the trail on day one of the trek, but there are very few after that. You also need to pay 1 sol to use the public toilets, so make sure you have some change on you if you want to use these. Public toilets are all stand up and squat type. Generally, there is no need to use these as we will set up a private toilet for use by our group.


How will I wash during the trek?

Every morning and evening you will be provided with a bowl of hot water for washing. As well as this we strongly recommend a good supply of baby wipes for cleaning hands during the day. Another option is to take baby-wipes and do a "pits and bits " wash. Remember that everything, including rubbish and used wet wipes, have to carried out.


Will I be able to get mobile signal while trekking to Machu Picchu?

Trails to Machu Picchu are remote and, in many areas, you are surrounded by mountains. There is, therefore, very rarely any mobile reception on the trails themselves, however, once you reach Aguas Calientes, you will be able to get a mobile signal. You can also get WiFi at some hotels/restaurants


How should I expect to pay for tips?

Tips are not a substitute for us paying good wages. Kandoo pay our crew some of the highest wages of any operator. Tips are customary in Peru and we recommend $20 per day for the guide, $12 per day for the cook and $5 per day for the porters. These are all costs for the group. Of course tipping is optional. If you are not happy with the service do not feel under any pressure to pay tips.


What do you do for the local community?

Working with the local community is one of our highest priorities in all destinations. We work hard to give something back to each area we operate in, through our Kandoo Foundation. In Peru, we have recently opened a cultural craft centre in the Sacred Valley. This allows you to see first hand the local Peruvian people weaving and producing handicrafts.


Do I need any vaccinations?

The list of vaccinations recommended for a visit to Machu Picchu is quite long, and includes the Rabies vaccine, as well as other popular holiday vaccinations. Please consult your doctor before departure to confirm which vaccinations you require.


What insurance do I need for my trek?

You must have proper insurance for all of our Machu Picchu treks. This must cover you up to an altitude of 4,500m, and should specifically include the costs of emergency evacuation in case this is necessary.


What is the history of Machu Picchu?

Machu Picchu has been called 'The Lost City of the Incas'. It is located atop a mountain ridge, more than 2400 metres above sea level. It overlooks the Urubamba Valley and is less than 80 kilometres from the ancient Incan capital of Cuzco. It is believed that Machu Picchu was constructed in the early 1400s as a palace and temple complex for an emperor. Its ruins are very well preserved, and an excellent example of the 'classic Incan style' of architecture.


How was Machu Picchu constructed?

It was built with polished dry-stone walls and thatched roofs. Incan stone work used huge stone blocks carefully ground and shaped to fit together. These were combined in perfect complex patterns without mortar. The fact that they are still standing in this earthquake-prone region shows how well they were built. The stone used for Machu Picchu was quarried from the site itself. Chippings from the large stones went to form the terraces and courtyards allowing them to drain off the heavy rainfall they receive without too much erosion.


What are some of Machu Picchu's most important sites?

The site has two primary components: the agricultural sector and the urban sector. The urban areas are further divided into the upper town or temple district, and the warehouses of the lower town. It has around 200 buildings constructed in wide terraces, centred on a large public square.





To the west of this square is a tower called the Torreón, which was very likely an astronomical observatory (without a telescope, of course). Also of interest are the Temple of the Sun, the Room of the Three Windows, and the Inti Watana stone. These were all central to the worship of the chief Inca god, Inti, who was associated with the sun. The Inti Watana, sometimes called 'the Hitching-post of the Sun', is a stone set up to mark the position of the sun at the shortest day of the year, the Winter Solstice. Note that Bingham named it such, based on his limited understanding of its religious significance and his desire to make for compelling publication. Modern researchers believe the stone is more likely a calendar, much like Britain's Stonehenge. The Inti Mach'ay is an actual site associated with the worship of Inti at Machu Picchu.





It is a carefully constructed artificial cave designed to only receive light for a few days around the winter solstice, when the Royal Feast of the Sun was celebrated. Young nobles would be initiated into manhood by having their ears pierced as the sun rose upon them in the cave.


When was Machu Picchu discovered?

There is some evidence that Europeans may have found Machu Picchu's existence in the mid to late 19th century.


The most famous discovery was by an American named Hiram Bingham in 1911. He publicised it widely and explored the ruins in a lot of detail.


What is the future of Machu Picchu?

Machu Picchu is Peru's biggest tourist attraction and they are working hard to protect it. At the same time they want to get lots of visitors so they are making changes to permits to restrict the time you can spend in the ruins. This has split the day into morning and afternoon permits. These changes are not great for tourists, but it is the only way to manage the number of tourists while protecting the ruins.

Our blog