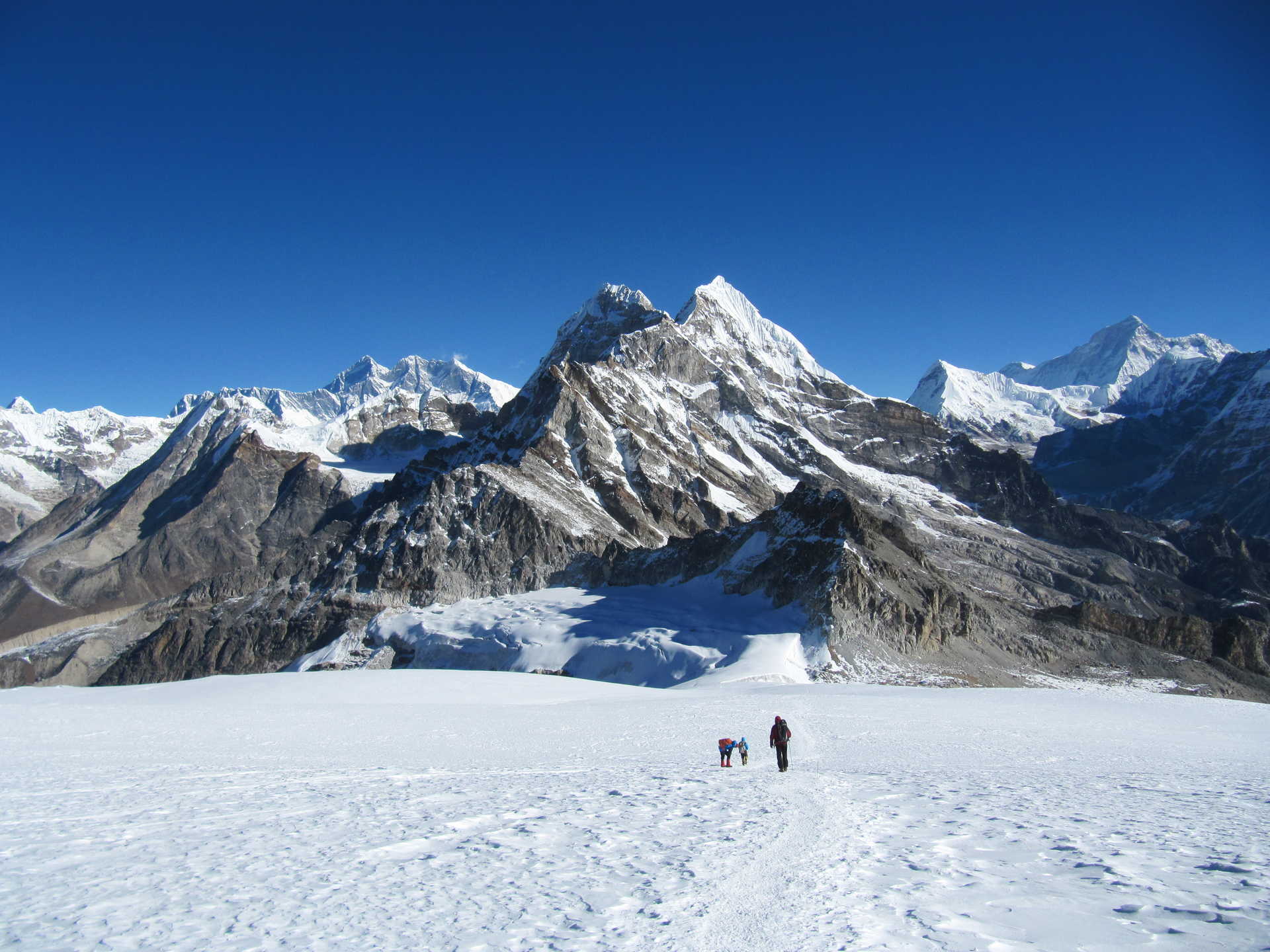 Nepal Travel Guide
Nepal
How to prepare for trips to Nepal?

Before travelling, make sure to get a comprehensive travel insurance policy that will cover all costs abroad, including medical repatriation or expulsion, repatriation of remains and legal costs. Ensure that the insurance you purchase is adequate to all the activities you want to engage in during your Nepal travel so that you are protected at all times.


How much does it cost to trek in Nepal?

Nepal is generally a relatively cheap country to travel in, however, depending on the trek you choose to embark on, prices can increase due to safety measures or impact on the local communities. Trekking in Nepal requires permits for certain treks to cover these costs. Some areas are classed as 'restricted areas' to limit tourist impact, so a specific 'restricted area permit' must be acquired for these areas. We cover the cost of these permits in our trip costs. Travel insurance for Nepalese treks will also be higher than your average insurance as you will need it to cover the height you will be trekking to and possibly winter conditions (including use of ice axes and crampons for some trips).


How hard is trekking in Nepal?

Generally the trekking in Nepal is not too difficult. Apart from on trekking peaks, there is nothing that compares with summit night on Kilimanjaro. What makes trekking in Nepal challenging is the altitude - you will be at a high altitude for the majority of the trek. The lack of oxygen in the air has a range of effects on the human body, but the most obvious is breathlessness. At Everest base camp there is half the oxygen content in the air that there is at sea level. This makes any exertion a lot harder, so the most important thing you can to do is go slowly. Exerting yourself too hard is a great way to bring on alititude sickness. In order to avoid getting altitude sickness you also have to limit the altitude gain in any day to 500m. This sometimes results in days when you can only work for 4-5 hours before you have to stop. So in terms of distance walked and the altitude climbed, a day's trekking in Nepal will be no more difficult than a typical day's hiking at home. Doing this for upwards of 12 days consecutively and at altitude do combine though to make any trek a tough challenge and you will need to be really fit when you arrive. Finally, you should remember your porters are hiking the same route as you but are carrying up to 25kg, so do not be too aggrieved if travel is slow and it sometimes feels as though the trekking day has been a little short. The higher you go up into the mountains the more your porters will be able to do compared to you so a little patience is more than justified.


Which is the toughest trek route in Nepal?

The toughest route we offer in Nepal is

Mera Peak

. Standing at 6476m, the oxygen content of air on the peak is less than half of what it is at sea level - for this reason we would not recommend you take on Mera as your first high-altitude trek. The extreme altitude does mean that no matter how fit you are, Mera Peak will be a tough challenge, however, no technical skills are required to complete the climb.

Is Annapurna or Everest harder?

Everest Base Camp

is a harder trek than either of our Annapurna routes. On this trek you are pretty much trekking 5-6 hours a day for at least 12 days. You need to have hardened your body off to walking to cope with this. The effect of altitude will also mean that by the time you reach base camp you will have lost almost 50% of the oxygen in the air and this makes any exertion tough. In comparison, on

Annapurna Circuit

a good level of fitness is required, as you will be walking long distances each day for two consecutive weeks. However, the altitude will not be as intense and generally the maintenance of paths along the route is better making the trekking easier than on the Everest Base Camp trip.

How fit do I need to be?

Our treks are designed for novice trekkers who are fit but have not necessarily trekked at high altitude before. Our treks to Everest Base Camp run over 12 or 13 days, and the schedule incorporates two acclimatisation days to ensure you adjust to the altitude as you make you way up to Base Camp. There is no technical climbing on any part of the route; you just need to be prepared to spend 6-7 hours walking for one day after another. Stamina and determination are what you need most! The best way to prepare is to get out (on the hills if possible) and get yourself used to spending so much time on your feet. There's useful information on our website

here

about getting yourself physically prepared.

Do I need to be vaccinated in order to enter Nepal?

Since the coronavirus pandemic, you might be wondering whether you need to have the vaccine to be able to enter the country and enjoy trekking. Well, according to the travel advisory, you do not need to be vaccinated in order to visit Nepal.





Also, it is a good idea to get all the recommended vaccines before travel, so that you minimise the risk of getting ill or suffering from more severe symptoms instead of just mild infection. In this way, a serious disease won't spoil you the time when you want to enjoy Nepal treks!


What vaccinations will I need to visit Nepal?

Always check with your doctor or Travel Clinic, as they will have the most up to date information. Make sure you allow plenty of time, as some injections are required 4-6 weeks before travel.





The recommended vaccinations are Tetanus, Typhoid, Hepatitis A and Diphtheria. Tetanus and Diphtheria are part of your childhood immunisations in the UK so you should be covered or may just need a booster.


You are required to have a Yellow Fever certificate if you are arriving from a country where Yellow Fever is endemic. If you are flying directly from the UK (airport transfers in other countries are permitted up to 12 hours) then you will not require Yellow Fever.





There is no risk of malaria in the mountain areas of Nepal, but there is a low risk if you are visiting Chitwan. Anti-malarial medication may be required depending on underlying health issues, so should be discussed with your doctor or travel clinic.


What are the best months to trek in Nepal?

Truth be told there's no straightforward answer. The best time to book your trekking trip is in either October or November. However, you have to keep in mind that those are the months in which most people visit the country, so it might be a little crowded - and it might be hard to find a room if you don't book one in advance (if you're organising a trip yourself).





When it comes to the period between December and February, the temperatures drop significantly, so if you wish to visit the country during that time, you should focus more on exploring the regions settled lower, such as the Chitwan National Park, located close to the Indian border.





The time between April and June is best for those who'd like to see the wildlife of the region. While sometimes it might be hazy, many of the Nepal trekking tracks are located above the haze, so you can trek normally. Finally, visiting Nepal between June and September might not be the best idea if you want to engage in trekking and exploring Nepal treks, as rain is very common during this time period, which might hide some of the beautiful views that definitely need appreciation.


Where should I visit in Nepal?

We have mentioned some of the places above, but it won't hurt to repeat them, as they are truly worth visiting:





Everest Base Camp - The Everest Base Camp is an ideal trek for those who are just dipping their toes in trekking. It allows you to acclimatise properly so that you won't get altitude sickness (or at least have lower chances of getting it) and leads you through some of the most beautiful scenery we have ever seen. In the end, you are rewarded with an incredible view of the highest mountain in the world - Mount Everest.

Kathmandu - Though we already talked about Kathmandu, we have to mention it again as it is the perfect place to see how the Chinese and Indian culture influenced the region.

Chitwan National Park - the first national park in Nepal, known for its biodiversity.

Annapurna - Annapurna is a massif located in north-central Nepal. There are plenty of Nepal treks that either lead you to a location from which you can admire the Annapurna Range, or guide you straight into its heart.


Which is the most scenic trekking in Nepal?

It is hard to find a route that isn't scenic in the Himalayas. Everywhere you go, incredible views greet you of towering, snow capped peaks. All of our trips guarantee you will be blown away by the views you encounter. These are some of our Kandoo favourites:

The Annapurna Circuit weaves through the Himalayan mountainside, trekking through deep gorges and high mountain passes, it has astounding views over the Annapurna Massif.

The Gokyo Lakes Trek is an amazingly scenic challenging trek, passing over the Cho La Pass and climbing to the summit of Gokyo Ri.

The classic Everest Basecamp trek will never disappoint on views, it's epic route through the world's tallest peaks will make even the most confident of us shrink into insignificance.


What is the best way to get to Nepal?

From Europe there are lots of flights to Nepal connecting via the Middle East hubs and via Delhi. Our favourite is Qatar, via Doha. From North America you can also fly via the Middle East or from the West Coast via Singapore or Bangkok.


Can I trek without a guide?

In 2023 Nepal introduced a new law requiring all foreign trekkers to be accompanied by guide. This is aimed at providing more jobs for local people and also a greater level of safety for visitors enjoying the worlds highest mountain range.


Is it safe to trek alone in Nepal?

The Nepalese people are world renowned for their friendly, welcoming attitudes. Nepal is considered a comfortable place to travel alone and although there are occurrences of theft and other petty crimes, these are not common. In 2023 Nepal introduced a new law requiring all foreign trekkers to be accompanied by guide. This means that you will never be entirely alone whilst trekking in Nepal as a guide must always be present on your trip.


What qualifications do your guides have?

We are members of the Nepal Mountaineering Association and all our guides have passed the "Basic Mountaineering Course". All our guides also have annual first aid training and specialised training in managing altitude sickness.


For peak climbs, our guides have as a minimum, passed the NMA's "Advanced Mountaineering Course" and most of them are qualified as members of the International Federation of Mountain Guides (IFMGA), this is the highest standard of guide qualification worldwide.


What are toilets like on the treks?

The toilet facilities in most lodges are basic but adequate. Generally they are all plumbed in toilets with water available for flushing probably in a tub with a jug. Take your own toilet paper though. There are now very few of the old fashioned "long drop" toilets but in nearly every lodge the toilet will be of the Asian "squatty" variety not the Western sit down type so make sure you are flexible!


What is the difference between an open group trek and a private trek?

Whether you book an open group trek or private trek, Kandoo provide the same high standard of service. Where they differ is the flexibility they offer. Our open group treks run to scheduled itineraries and dates. Private treks can be organised on any route or itinerary and on any dates. Also on private treks we are able to offer many tailor made options like camping overnight at Everest base camp, helicopter treks, hotel upgrades and safaris and cultural tours.


What happens if one of my group has to descend?

If you are unable to continue the trek due to a minor ailment and are still able to walk, you will be accompanied back to Lukla by either an assistant guide or a senior porter. We will arrange the flight back to Kathmandu and one of our team will meet you there and assist you with making accommodation arrangements. For more serious injuries, it is possible to be evacuated by helicopter back to Kathmandu. Helicopter evacuation would need to be covered by your travel insurance.


How will I be able to wash?

Hot showers are sometimes available in lodges at extra cost and you can also pay at most lodges for a large bowl of hot water to take to your room. Other than this you should plan on a combination of cold water washes and using wet wipes. Please remember though that you must take a "rubbish bag" up with you as all the trash you create you will have to carry out.


Do you organise treks in Nepal for charity?

Every year we organise more and more treks for charity. Our private tailor-made treks are perfect for a group of friends looking to trek to EBC to raise funds for their favourite charity.


Do I need travel insurance?

As a UK tour operator, we have to advise you to take out travel insurance suitable for the trip you are taking, particularly as you are taking part in a high risk activity. Failure to take out adequate insurance could result in significant costs for you if something were to go wrong – medical bills and repatriation would easily run to thousands of dollars. The information we give about the level of cover for high altitude is for your peace of mind so that you are specifically covered for the activity you are engaging in. We do say that travel insurance is required for all of our tours to bring it to client's attention, as we would hate for any of our clients to be left with astronomical medical and evacuation bills because they hadn't fully realised the potential cost. However, we cannot force you to take out insurance, and it is your decision to go against our recommendation and take the risk of travelling without insurance. If you choose not to take out the appropriate travel insurance, Kandoo Adventures will not be liable for any additional costs you may occur for failing to follow our advice. When you book your trip with us, you will need to sign a waiver to this effect.


What travel insurance do I need?

All trekkers must have proper insurance cover for any of our Nepal treks. The exact cover will depend on the trek being booked as most polices are linked to an altitude cap. Depending on the route you choose this may vary a lot.





Any travel insurance you take out must cover you for trekking to 6000m, as well as the standard cover for medical evacuation, repatriation and cancellation. In particular you should make sure that you are covered for helicopter evacuation. Some policies include the trekking as standard as long as you aren't using ropes (which you won't be on many of the treks) or it may be an additional option under the extreme sport option. If you are climbing a Himalaya peak, you will need cover to trek over 6000m, and fixed ropes will be used. It's always worth checking if you already hold a travel insurance policy.





We do not recommend any particular insurance as the level of cover can depend on individual circumstances, and what is acceptable for one trekker may not suit another person. You will need to check the wording on any policy to make sure you are happy with the level of cover it provides.





We do know that the following insurance companies can include the cover required for high altitude trekking for:





UK residents:





World Nomads - https://www.worldnomads.com/


Dogtag - https://www.dogtag.co.uk/


Snowcard - https://www.snowcard.co.uk/trekking-travel-insurance





Note: Dogtag or Snowcard have the best cover policy for Peak climbs.





US residents:





World Nomads - https://www.worldnomads.com/


Travel Guard - https://www.travelguard.com/


How dangerous are the internal flights in Nepal?

The majority of our trekking itineraries in Nepal involve a domestic flight. Airfields such as Lukla are among the most remote and difficult to land on in the world and are a challenge for even the most technically proficient pilots. It is not uncommon for bad weather to cause lengthy delays, as the airport will be closed if the cloud cover is too great. You should also be aware that flights in Nepal have a poor safety record compared to international flight standards. In 2013, all carriers from Nepal were put on an aviation banned list, preventing them from flying in EU airspace. This ban does not mean that these airlines are prevented from flying in Nepal, nor does it mean that an EU national cannot fly with one of these airlines. Since the ban, some airlines have been proactive and have retained an independent aviation safety expert to audit their operations. Wherever possible, we use one of these airlines.


Can I catch a helicopter?

There are no scheduled helicopter services in Nepal – to fly by helicopter you need to charter the aircraft. We do not offer the option to fly by helicopter on any of our open group treks, as we require the whole group to travel together. However, on our private treks, we can offer the option to take the helicopter from Pheriche back to Kathmandu, thus cutting out 2 days' hiking from the end of your trek. The cost to charter the helicopter is £3000 per helicopter. The helicopter is able to carry 5 passengers plus luggage, but it is our policy that one of our guides must travel with you. We do not offer helicopters on the way in to start the trek at a higher altitude, as it is important that you start the trek from Lukla in order to acclimatise well.





You should be aware that the helicopter is not a luxury service – these aircraft are the workhorses of the Himalaya and the carriage of healthy passengers is quite low on their list of priorities. Emergency evacuations take precedence over all other journeys, so even though we will have booked a departure time for your flight, your helicopter may be re-directed to an emergency and you will have to wait until this situation has been dealt with before you can depart. Updates from the helicopter pilots are not always available, so you would need to wait at the airport and be prepared to board the helicopter with little notice. The knock-on effect of this is that we do not always have time to contact the team back in Kathmandu about your expected arrival time, which can mean a further delay in Kathmandu while we wait for your transfer vehicle.


How can I prevent altitude sickness?

The only option you could consider in advance is to take Diamox. There has been a lot of research on Diamox that shows that it has been reasonably well proven to be helpful in avoiding AMS – it's what our team in the UK take when they are trekking at altitude. In the UK it is a prescription drug which must be prescribed by a doctor, as it can impact on other health conditions and medication. Some doctors are also reluctant to prescribe it. The concern is that by taking Diamox, people believe that they are immune from AMS and can ignore the symptoms. In reality, although Diamox can help prevent the symptoms, should symptoms still develop it means the drug isn't being effective and you have to take notice. Your guides will be carrying out daily health checks but you should always keep them informed of any changes to your health. Diamox is taken before you start trekking to prevent altitude sickness, not once you are in the mountains and symptoms have developed. Common side effects include numbness and tingling in the fingers and toes, and changes to your taste which makes fizzy drinks taste awful. You will also experience more frequent peeing, which will be exacerbated by the amount of water you will be drinking to help with acclimatisation.


I have a medical condition can I go on the trek?

Diabetes


It is a huge responsibility for us to take anyone with a pre-existing medical condition on a remote, high altitude trek. We do not have any trained medics on our treks. Our guide teams are trained as first aid responders and to carry out emergency evacuations if necessary, but they are not allowed to administer any form of medication. It is a pre-requisite of joining any of our treks that you must be able to self-manage any medical conditions, which would include administering any injections. Even if your condition is well-controlled, for our insurance purposes, we have to consider a 'worse case' scenario. For a type 1 diabetic, we have to look at what would happen if your condition deteriorated to a point that you were unable to inject yourself, as even in this situation our guides would not be able to provide the injection for you, and you may be too far from a medical facility for assistance. It is therefore our policy that we do not take any solo travellers who have type 1 diabetes on our treks. We would only book them if they trek with a friend or family member who would then be responsible for administering medication.





Asthma


There is no problem at all with asthma sufferers trekking in Nepal. If your asthma is triggered by pollution or dust, you may find that your condition improves in the clean air of the Himalayas. However, if cold temperatures are a trigger, your symptoms may become worse. There is some great information on the Asthma Society website - https://www.asthma.org.uk/advice/living-with-asthma/travel/ - which would be worth reading. However, it's always best to speak to your doctor about the trip, as your travel insurer may also require medical approval.





Other conditions


In this type of situation, we always refer our clients back to their doctors, as they are the only people in a position to judge whether the trek should be attempted given their medical condition. We do not take any qualified medics on our treks. Our guides are only certified First Aid responders, and trained in identifying and managing AMS (altitude sickness).





We would only be able to allow you to trek with us under the following conditions:


· You have a letter from a doctor / consultant confirming that you can trek at altitude





· You provide confirmation that your condition has been disclosed to your insurance company and that they have provided you with cover





· You sign a specific separate indemnity acknowledging we have no liability due to complications arising from your condition and that you are aware that our guides have only basic first aid knowledge


Is there a doctor on the trek?

We do not take any doctors or medics on our treks. All of our guides are qualified in Emergency First Aid, and are trained as Wilderness First Responders. We provide them with annual refresher training to keep their skills up to date. However, they do not have any specialist medical knowledge and are not permitted to administer any medication, so if you have a specific medical condition such as diabetes, you must be able to manage this yourself while you are on the trek.





The biggest risk to your health when trekking in the Himalaya is Altitude Mountain Sickness (AMS). We carry out twice daily health checks while you are on the trek to assess how you are acclimatising. We use pulse oxymeters to measure your pulse and blood oxygen saturation levels, supplemented by the Lake Louise Scoring System, a well-tested method for assessing the symptoms of altitude sickness. Our guides are trained to recognise the symptoms of AMs, and if they have any concerns about your health, they will arrange for you to descend back to Kathmandu.


Do I need a visa to visit Nepal?

Most visitors to Nepal (including nationals from the UK, Europe, USA and Australia) require a tourist visa to enter Nepal. Visa can be obtained at your local Nepalese Embassy or on arrival at Kathmandu International Airport. We highly recommend securing a visa before departure as this will ensure you have no problems passing immigration, as well as speed up the process of clearing immigration. You will need at least one blank visa page in your passport. Certain nationalities not mentioned above must apply for a visa in advance, so check with your local Nepalese Embassy.





Most of our tours require a 30 day tourist visa which usually costs in the neighbourhood of $50 (around £40). Visas can be extended once you are in Nepal, but overstaying your visa is taken very seriously, and can result in your being detained or not allowed to leave the country without paying a fine.

Do I have to pay tips to the crew? Are they included in the price?

It is common practice to tip crews in Nepal. We do not include this in our prices as tips should always be discretionary, and there is also no debate about them reaching the people they were intended for. Prior to your trek we will send you a tip recommendation sheet, which is based on the number of crew required for your group and the tip levels recommended by IMEC. It works out around $100-150 per trekker on a 12-day EBC trek. For a peak climb which is longer and requires a larger crew, tips would be around $200 per trekker.


Do I need to use porters?

Your trek price includes a team of porters who will carry your main equipment bag each day between teahouses. You will need to have a day sack with you, to carry everything you do need access to during the day, such as waterproofs, drinking water, spare fleece, sun cream, etc. We would expect you to carry your day sack yourself, but a personal porter option is available for a porter to walk with you each day and carry your daysack for you. A 35 litre day sack would be adequate, and you will be carrying around 5-8 kg (but getting lighter as you drink your water!)


You do not have to use porters and if you really want to carry all your kit we can arrange this for you. With your day-sack and the rest of the kit you need though you are likely to have around 20kg to carry. Unless you are exceptionally fit and acclimatise very well, the effort in carrying this load at nearly 5000m will reduce the chance of you completing your trek successfully. Porters rely on work for tourists as their main source of income and all our crew are well-paid and well looked after.


Is there gear rental?

We recommend that wherever possible you use your own gear for your trek as this is the best way to ensure your comfort and enjoyment. Of course, this recommendation applies particularly to boots! We recognise though, that the cost of some items is very high, and this may not be possible.





We do not have gear available for rental but there are places offering gear for rental in Kathmandu. The quality of rental gear in Nepal is very variable and there is no particular outlet we can recommend although we can provide a list of suggestions. It is your responsibility to select rental items and to check carefully the condition of any item you rent. We accept no responsibility for the quality of equipment hired. An indication of the likely rental costs is below:





Four Season Sleeping Bag - $2 per day

Sleeping Mat - $2 per day

Trekking Poles - $1 per day

Down Jacket - $2 per day





If you are climbing a peak you will need additional specialist equipment. This can be hired in Kathmandu and is also available to rent at lodges close to base camp. It is much cheaper to rent from these lodges as you only need to pay for 3-4 days hire. You should be aware though that the range of sizes and the quality of rental gear available at lodges is limited and you may not find something that is perfect for you.





High Altitude Climbing Boot - $3 per day

Crampons - $2 per day

Ice Axe - $2 per day

Climbing package (includes helmet, harness, carabiners, prusik loop, tape sling, ascender and descender) - $12 per day





If you decide to rent the sleeping bags, they weigh approx 2kg each, so please bear this in mind when you are checking the weight of your kit before leaving home. These items are carried in your main equipment bag, which cannot weigh more than 10kg for your internal flight.


What is food like on the treks?

As the quality of lodges has improved, so has the food. It used to be the case that the only meal available was Dahl Bhat - boiled rice with a very thin lentil dahl. This is what the porters will eat almost exclusively and you will often hear them joke "Dhal bhat - 24 hour power". It might be 24 hour power for a Nepali who has lived on it all his life but for anyone else it is pretty unappetising fair on a regular basis.





Fortunately, all but the most remote lodges now offer an extensive menu of food although, when you have seen almost the same menu every day for 12 days, you quickly realise the menu is not so long as it might appear - steamed spaghetti, steamed veg spaghetti, steamed egg veg spaghetti, mixed spaghetti are unsurprisingly pretty similar!





Nevertheless, the range of food options available led us to change our policy on food two years ago. Prior to that we charged food inclusive prices and in each lodge there would be "table d'hote" option which would be what everybody had. Over time it became increasingly clear that people wanted to choose exactly what they wanted to eat "a la carte", so we changed our pricing to exclude food. You need to budget between $25 and $30 per day for food and should use this figure when comparing our prices to other operators.


What is the accommodation like on treks?

On all our treks the accommodation is in lodges for the whole of the trek. On peak climbs there are a number of days around summit day where you will be camping.





The standard of accommodation still varies hugely but on the most popular routes there is generally plenty of clean, well kept accommodation. Lodges nearly all have inside toilets and for a modest fee you can even get a warm(ish) shower. Rooms are normally twin shares with two pretty hard wooden beds and a thin foam mattress. They may even provide blankets but we would certainly recommend bringing your own good quality 4 season sleeping bag unless you are used to sleeping rough in freezing conditions.


Dining in the lodges will be in a large open room with tables round the outside. Our guides try to make sure we secure you a spot away from the door and nearer to the fire but can't always guarantee this.





There are now a small but increasing number of "luxury lodges" - these are not on a par with a normal 3 star hotel but they will have heating, en-suite bathrooms and other home comforts. Upgraded accommodation can be provided on request and subject to availability on private treks only.


What's the difference between Classic EBC and EBC with Gokyo Lakes?

With the Gokyo Lakes trek, you follow the classic route up to Namche, but then leave the main Everest 'tourist' trail to follow a lesser used trail to the turquoise glacial lakes at Gokyo. It is a more challenging trek than the classic route, as it also includes the ascent of Gokyo Ri (5483m) and crossing the Cho La Pass (5420m) before you rejoin the main Everest trail and continue on to Base Camp. The return route is on the main Everest trail, so you don't miss any of the villages and monasteries. Accommodation throughout is at tealodges.


I've climbed Kilimanjaro. How does a peak climb compare?

Trekking at altitude in the Himalaya is very different to what you would have experienced on Kilimanjaro. Kilimanjaro is a 'stand-alone' mountain, so you can get very close to it before you start trekking. Both Island Peak and Mera Peak have long walks in, and you would be gradually gaining height as you make your way through the mountain ranges. Although Kilimanjaro is 5895m, you don't trek above 4600m until the day before your summit attempt, and then you go straight up and straight back down – you only spend a few hours above 4600m. With both of the Himalaya peak treks, you will spend 6-7 days above 4600m. You therefore need to spend more time reaching this altitude in order to acclimatise really well, as you are going to be spending more time actually at these higher altitudes.