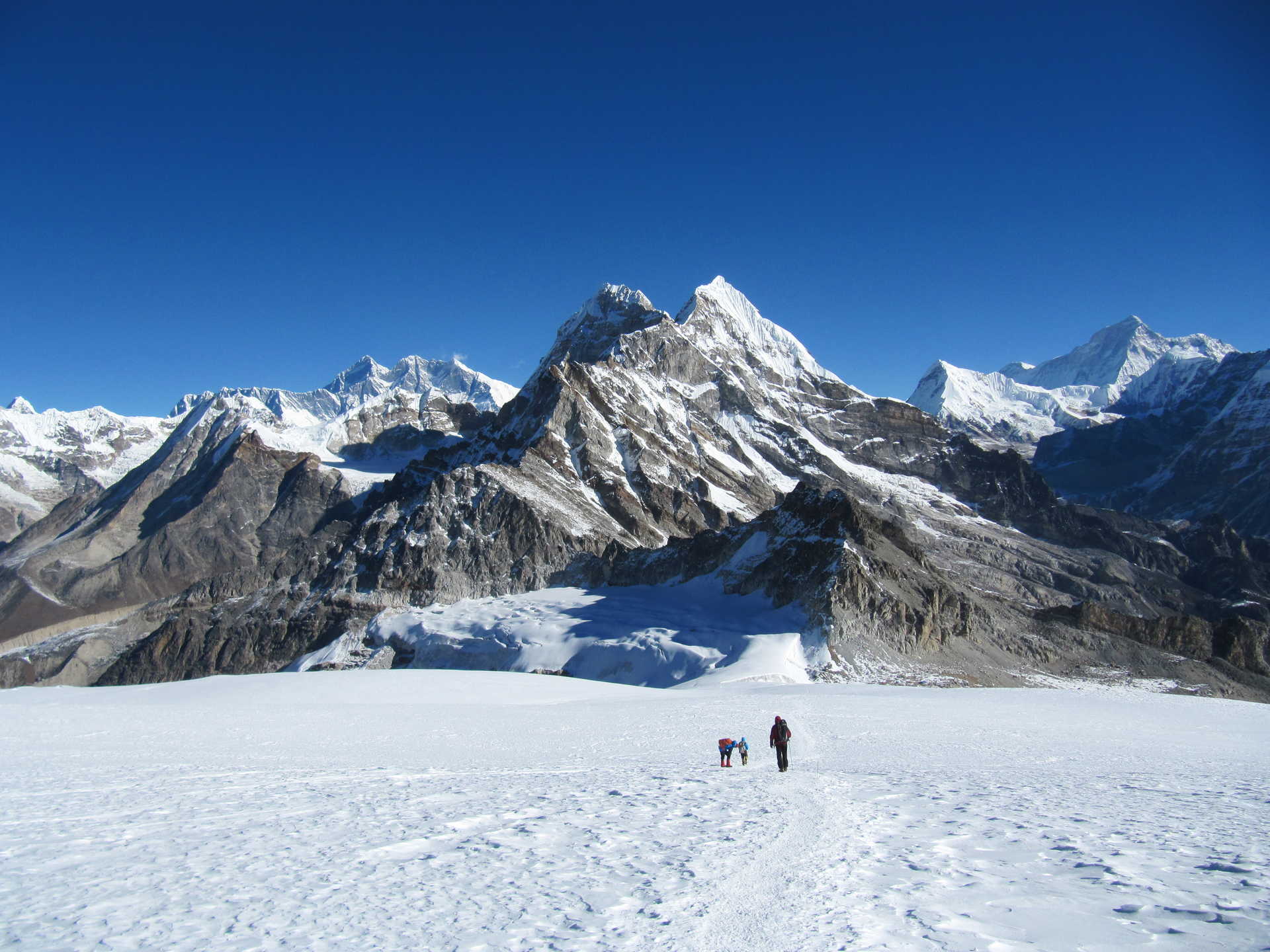 Nepal Travel Guide
Nepal
What is the best way to get to Nepal?

From Europe there are lots of flights to Nepal connecting via the Middle East hubs and via Delhi. Our favourite is Qatar, via Doha. From North America you can also fly via the Middle East or from the West Coast via Singapore or Bangkok.


How hard is trekking in Nepal?

Generally the trekking in Nepal is not too difficult. Apart from on trekking peaks, there is nothing that compares with summit night on Kilimanjaro. What makes trekking in Nepal challenging is the altitude - you will be at a high altitude for the majority of the trek. The lack of oxygen in the air has a range of effects on the human body, but the most obvious is breathlessness. At Everest base camp there is half the oxygen content in the air that there is at sea level. This makes any exertion a lot harder, so the most important thing you can to do is go slowly. Exerting yourself too hard is a great way to bring on alititude sickness. In order to avoid getting altitude sickness you also have to limit the altitude gain in any day to 500m. This sometimes results in days when you can only work for 4-5 hours before you have to stop. So in terms of distance walked and the altitude climbed, a day's trekking in Nepal will be no more difficult than a typical day's hiking at home. Doing this for upwards of 12 days consecutively and at altitude do combine though to make any trek a tough challenge and you will need to be really fit when you arrive. Finally, you should remember your porters are hiking the same route as you but are carrying up to 25kg, so do not be too aggrieved if travel is slow and it sometimes feels as though the trekking day has been a little short. The higher you go up into the mountains the more your porters will be able to do compared to you so a little patience is more than justified.


Can i trek without a guide?

Nepal is the only country in which we operate where you can trek without a guide. On the main routes the trail is very clear and finding your way is easy. A guide though can do a lot more than find the way. They have extensive knowledge of the mountains and local customs and they will also make the trek much, much safer. Self-guiding can seem like a great idea until something goes wrong. You might slip and damage an ankle. You might get altitude sickness. You might get a bad chest infection. Lots of things can go wrong at high altitude and the risks are very serious. If you are by yourself and there is a problem the consequences can be fatal.


In 2014 nearly 200 people died on the Annapurna Circuit because they got lost in a snow storm. Each year at least 20 people die on the Everest trek because of altitude sickness. These deaths could have been prevented if they had been trekking with an experienced, qualified guide.


What qualifications do your guides have?

We are members of the Nepal Mountaineering Association and all our guides have passed the "Basic Mountaineering Course". All our guides also have annual first aid training and specialised training in managing altitude sickness.


For peak climbs, our guides have as a minimum, passed the NMA's "Advanced Mountaineering Course" and most of them are qualified as members of the International Federation of Mountain Guides (IFMGA), this is the highest standard of guide qualification worldwide.


What are toilets like on the treks?

The toilet facilities in most lodges are basic but adequate. Generally they are all plumbed in toilets with water available for flushing probably in a tub with a jug. Take your own toilet paper though. There are now very few of the old fashioned "long drop" toilets but in nearly every lodge the toilet will be of the Asian "squatty" variety not the Western sit down type so make sure you are flexible!


What is the difference between an open group trek and a private trek?

Whether you book an open group trek or private trek, Kandoo provide the same high standard of service. Where they differ is the flexibility they offer. Our open group treks run to scheduled itineraries and dates. Private treks can be organised on any route or itinerary and on any dates. Also on private treks we are able to offer many tailor made options like camping overnight at Everest base camp, helicopter treks, hotel upgrades and safaris and cultural tours.


How will i be able to wash?

Hot showers are sometimes available in lodges at extra cost and you can also pay at most lodges for a large bowl of hot water to take to your room. Other than this you should plan on a combination of cold water washes and using wet wipes. Please remember though that you must take a "rubbish bag" up with you as all the trash you create you will have to carry out.


Do you organise treks in nepal for charity?

Every year we organise more and more treks for charity. Our private tailor-made treks are perfect for a group of friends looking to trek to EBC to raise funds for their favourite charity.


Do i need travel insurance?

All trekkers must have proper insurance cover for any of our Nepal treks. The exact cover will depend on the trek being booked as most polices are linked to an altitude cap. Depending on the route you choose this may vary a lot. You can find more information about travel insurance in our trip dossiers.


How dangerous are the internal flights in Nepal?

None of Nepal's domestic airlines are approved by the EU. This means they are not comparable with internal flights within Europe in terms of safety standards. Given the incredibly challenging flying and landing conditions the incidence of problems is very small. The risks of flying in Nepal should not be ignored and it is your choice whether you feel these risks are acceptable. Alternatives to flying though are not safer and are certainly far less convenient.


What vaccinations will i need to visit Nepal?

By the time you have had all the vaccinations you need to visit Nepal you will end up feeling like a pin cushion. Please ensure you see your doctor for specific up to date advice.


Do i need a visa to visit Nepal?

All travellers require a visa to enter Nepal. These can either be obtained in advance or bought at the airport. To buy a visa in Kathmandu you will need 6 months to run on your passport and a valid return flight ticket.


What tips do you recommend?

All our crew are paid excellent wages. More than those recommended by the Nepal Mountaineering Association. Tips for good service are normal in Nepal and our specific recommendations can be found on your trip dossier.


Do i need to use porters?

You do not have to use porters and if you really want to carry all your kit we can arrange this for you. With your day-sack and the rest of the kit you need though you are likely to have around 20kg to carry. Unless you are exceptionally fit and acclimatise very well, the effort in carrying this load at nearly 5000m will reduce the chance of you completing your trek successfully. Porters rely on work for tourists as their main source of income and all our crew are well-paid and well looked after.


What is food like on the treks?

As the quality of lodges has improved, so has the food. It used to be the case that the only meal available was Dahl Bhat - boiled rice with a very thin lentil dahl. This is what the porters will eat almost exclusively and you will often hear them joke "Dhal bhat - 24 hour power". It might be 24 hour power for a Nepali who has lived on it all his life but for anyone else it is pretty unappetising fair on a regular basis.





Fortunately, all but the most remote lodges now offer an extensive menu of food although, when you have seen almost the same menu every day for 12 days, you quickly realise the menu is not so long as it might appear - steamed spaghetti, steamed veg spaghetti, steamed egg veg spaghetti, mixed spaghetti are unsurprisingly pretty similar!





Nevertheless, the range of food options available led us to change our policy on food two years ago. Prior to that we charged food inclusive prices and in each lodge there would be "table d'hote" option which would be what everybody had. Over time it became increasingly clear that people wanted to choose exactly what they wanted to eat "a la carte", so we changed our pricing to exclude food. You need to budget between $25 and $30 per day for food and should use this figure when comparing our prices to other operators.


What is the accommodation like on treks?

On all our treks the accommodation is in lodges for the whole of the trek. On peak climbs there are a number of days around summit day where you will be camping.





The standard of accommodation still varies hugely but on the most popular routes there is generally plenty of clean, well kept accommodation. Lodges nearly all have inside toilets and for a modest fee you can even get a warm(ish) shower. Rooms are normally twin shares with two pretty hard wooden beds and a thin foam mattress. They may even provide blankets but we would certainly recommend bringing your own good quality 4 season sleeping bag unless you are used to sleeping rough in freezing conditions.


Dining in the lodges will be in a large open room with tables round the outside. Our guides try to make sure we secure you a spot away from the door and nearer to the fire but can't always guarantee this.





There are now a small but increasing number of "luxury lodges" - these are not on a par with a normal 3 star hotel but they will have heating, en-suite bathrooms and other home comforts. As they are in short supply they get booked very early and we only offer them on private treks.

Our blog