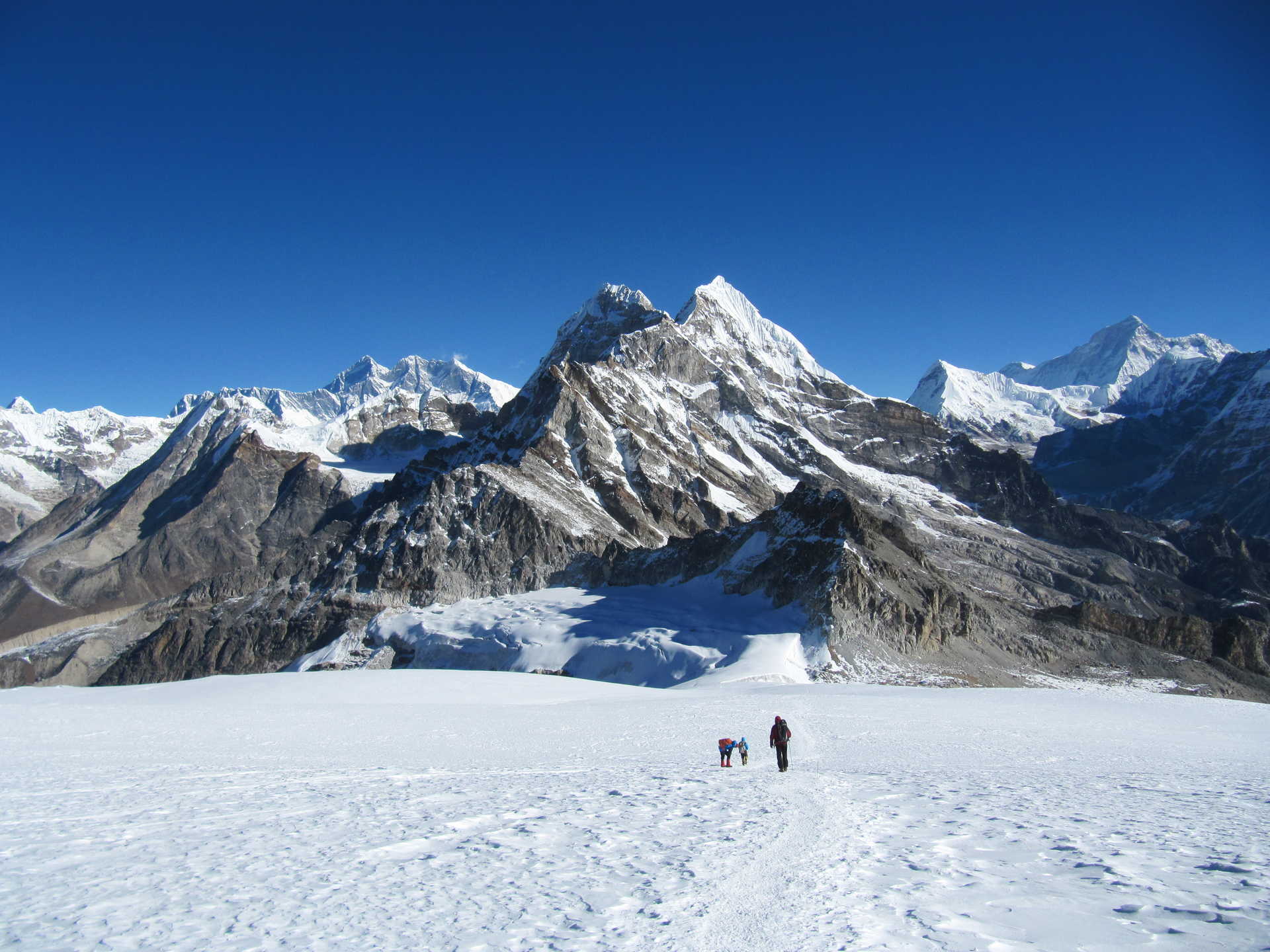 Nepal Travel Guide
When to go?
Seasons, climate, festivities
March to May

Hiking in Nepal in the spring comes with the same risks and rewards of any spring time activity: beautiful, blooming flowers and mild temperatures, but also the risk for the spontaneous chilly day in the early season. You can expect mild temperatures in areas of lower elevation (800-2000m) in the spring, making trekking in areas like lower Annapurna very pleasant. Locations with elevations above 4000m usually have moderate temperatures, making way for cloudless skies and warm weather trekking conditions.
Spring is considered one of the best seasons to trek and climb in Nepal, not only because of the weather but because of the gorgeous, growing landscape.

June to August

Monsoon season runs from late May until mid-September, so your standard summer vacation may not apply in Nepal. Trekking or climbing during this time of year is dangerous and discouraged. Monsoon season in Nepal also means warm, humid conditions that would make for uncomfortable climbing weather. The lower elevations tend to get completely saturated with rain, mud, and even leeches. But this by no means implies summer is totally off limits for the region. While Nepal likely won't be your destination of choice, these months are ideal for exploring the Ladakh region in India. Because of its elevation on the Tibetan plateau, this time of year is mostly dry and sunny, not to mention surrounded by incredible scenery.

September to November

Autumn is considered the best trekking season in Nepal. While springtime runs the risk of some cooler afternoons, after monsoon season clears, you can almost guarantee sunshine and cloudless skies all day long. Autumn in Nepal means moderate temperatures and pretty excellent trekking and climbing conditions, topped off by incredible views made possible once the dust and pollution are cleared from the atmosphere by the monsoon. But of course, you have to be careful: start too early and you could still run into monsoon trouble. You are usually safe starting around the middle of September, once the weather has fully settled. On the opposite end, beware of treks set too late in the year. Once you hit December, the temperatures can plummet.

December to February

For the majority of travellers, those December temperatures could mean a miserable trek in Nepal. The winter climate ranges from 9 - 12⁰C during the day to below zero at night. If you can survive the polar climate, you can certainly avoid the crowds, since most climbers explore during the more temperate times of the year. The Everest region, in particular, is far less crowded than in the Autumn, for instance. However, because of morning fog, high passes in the Everest region, such as Kongma La, Cho La, and Renjo La are usually closed from November until March.
Temperatures and climate
Min/max temp (°C) / Average rainfall (mm)
Kathmandu

Jan
Feb
Mar
Apr
May
Jun
Jul
Aug
Sep
Oct
Nov
Dec

Average temp

C° min / max

2° / 19°

4° / 21°

8° / 25°

11° / 28°

15° / 28°

19° / 29°

20° / 28°

20° / 28°

18° / 28°

13° / 26°

7° / 23°

3° / 20°

Average rainfall

(mm)

15

20

35

55

115

250

380

335

210

70

5

12

Namche Bazar (3440m)

Jan
Feb
Mar
Apr
May
Jun
Jul
Aug
Sep
Oct
Nov
Dec

Average temp

C° min / max

-8° / 6°

-6° / 6°

-3° / 9°

1° / 12°

4° / 14°

6° / 15°

8° / 16°

8° / 16°

6° / 15°

2° / 12°

-3° / 9°

-6° / 7°

Average rainfall

(mm)

15

20

30

35

55

170

280

260

160

60

5

5
Holidays and festivities
Holi - The Festival of Colours

February

The Holi festival is an explosion of colour held in Kathmandu each year in February or March. The festival is famous for huge crowds celebrating this Hindu festival by showering each other in water and coloured powder. It can get a little messy!

Bisket Jatra - Nepali New Year

April

Nepali New Year falls in mid-April and is celebrated all around the country, though the best place to be is in Bhaktapur, where the celebrations are immense.

Indra Jatra - Lord of the Rain

September

The Indra Jatra festival celebrates both the end of the monsoon, and Indra, the annual appearance of Kathmandu's living goddess. Indra is one of the most important Gods of the Hindu religion, and Kathmandu's living goddess represents Indra on earth.