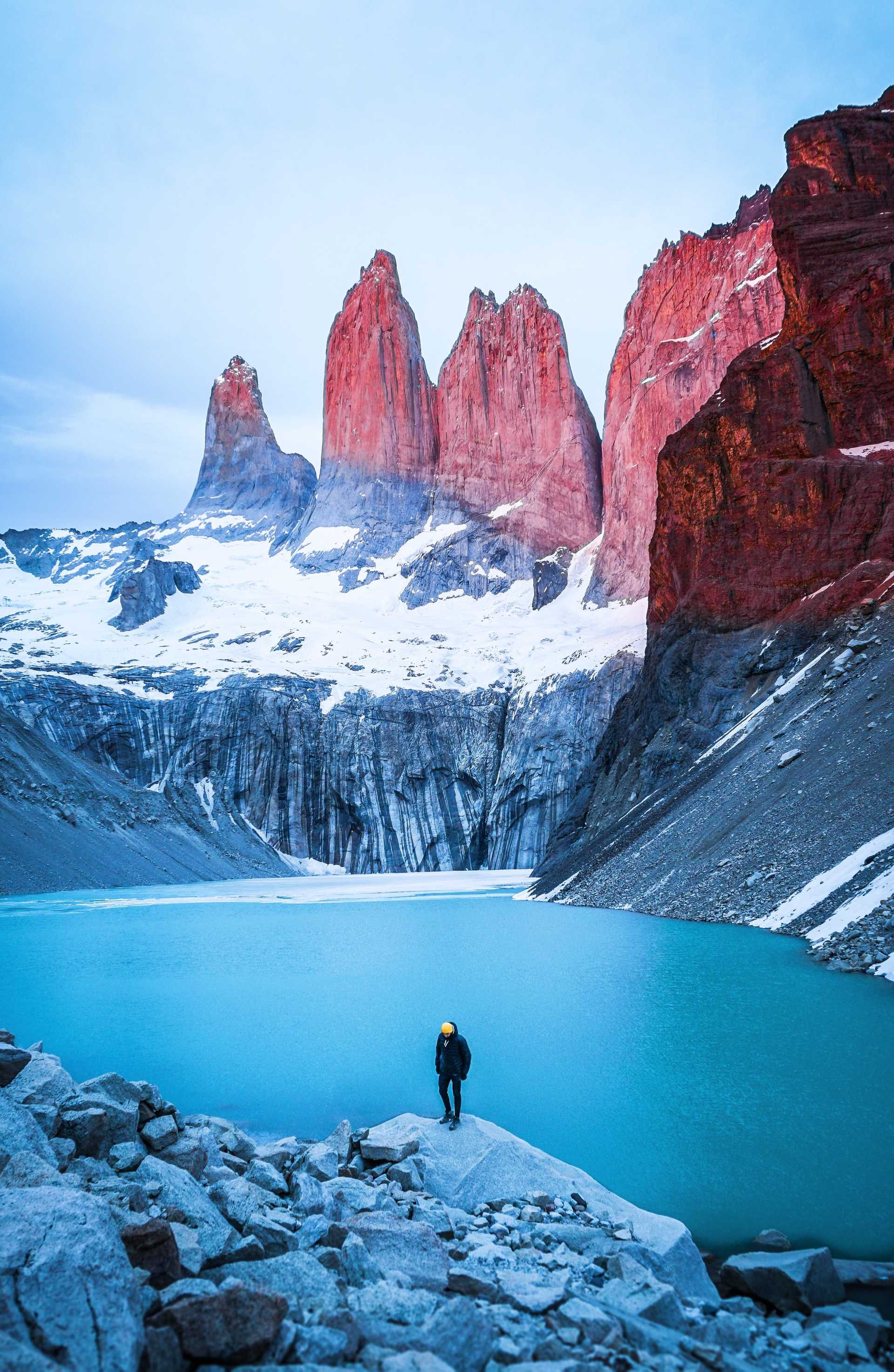 Chile travel guide
Chile FAQs
Is Chile safe to visit right now?

Absolutely yes. Like anywhere in the world there is always the chance of petty theft, but

trekking in Patagonia

is very safe in both Argentina and Chile.

Do British citizens need a visa for Chile?

UK passport holders do not require a visa to enter Chile. On arrival you will be granted a maximum 90 day stay in the country. On arrival in Chile the immigration authorities will issue you with a 'Tarjeta de Turismo - Tourist Card'.


Is Chile open for travel now?

As of 9 May 2023, no Covid-19 related restrictions or requirements apply to travellers entering Chile. Proof of Health Insurance is no longer required.


Which airport do you fly into for Patagonia?

With Kandoo Adventures your tour starts in Buenos Aires. A night in Argentina's vibrant capital city before and after your trek is included in the cost. We also include a guided city tour, your domestic flights down to Patagonia and much more. From Buenos Aires we fly to either El Calafate or Ushuaia depending on which tour you have booked.


When is the best time of year to go to Chile?

The

best time to visit Patagonia

is during the

summer months

of December to February. At this time, you can expect daytime temperatures between 6 °C and 20 °C. Night time temperatures could go as low as 0°C.

The more northern parts of Chile stay warm throughout the year so they are a good option when Patagonia is under snow.

Is Chile expensive?

In comparison to other South American countries Chile is quite expensive. However, if you are happy avoiding the posh restaurants and eating in the same places as the locals using set lunch menus you will find prices aren't too bad. Transport is also relatively inexpensive.


How much does a trip to Patagonia cost?

This really depends on what you want to do while you are in the region. The refuges and campsites can be expensive so it is a good idea to join a group and share the costs. Take a good look at what is included in the price of your trip. At Kandoo Adventures we include accommodation in Buenos Aires before and after your

Patagonia trekking tour

, domestic flights down to Patagonia and loads of other stuff such as boat trips, city tours, airport transfers and meals. These are things you would otherwise have to pay extra for yourself. The important thing is to look for value for money, not just the lowest price.

How long does it take to hike Patagonia?

Patagonia is a huge region that covers parts of Argentina and Chile, how much time you need really depends on what you want to see and do. Our Peaks of Patagonia trip is 17 days and includes all the big, iconic trekking routes as well as two nights in Buenos Aires and a guided tour of the city.


What do I need to know before travelling to Chile?

Chilean Spanish and taught Spanish are two very different languages.

You don't need a visa to travel to Chile from the UK or the US.

Chile is an extremely long, narrow country so it can take a while to get between locations.

It lies over a tectonic hot zone and therefore earthquakes are common in Chile.

Mealtimes are later, particularly evening meals, as Chileans enjoy embracing a late night.


How many days should you spend in Chile?

A minimum of a week is really necessary to be able to experience some of the wonders Chile has to offer. If time isn't a constraint then indulge in two weeks or a month for a full Chilean cultural tour.
Our blog