Inspiring Nepali Climbers Who Changed Mountaineering in Nepal
Nepal is home to 8 of the world's 14 peaks over 8,000m and 1,310 peaks over 6,000m tall, attracting avid trekkers, mountaineers and climbers from far and wide. Of these captivating peaks, Mount Everest is the tallest mountain in the world at 8,849m and belongs to the spectacular Himalayan Mountain Range.

Sherpas are an ethnic group hailing from parts of Tibet and eastern Nepal, well known for their climbing expertise, resilience and record-breaking achievements. Sherpa make excellent mountain guides as they have spent most of their lives at high altitude, giving them unique physiological traits that give them incredible mountain endurance. Having guided thousands of foreign visitors to the summits of the Himalayan mountains, Nepali sherpas have been the backbone of mountaineering triumphs throughout history and have set numerous world records.

Over the past century, Nepali sherpas and climbers have conquered the impressive heights and challenging terrains of the Himalayas and other mountains ranges beyond, earning themselves a place in the global mountaineering hall of fame. They have not only pushed the boundaries of mountaineering but have positioned Nepal at the heart of the mountaineering map, inspiring climbers and mountaineers around the world.

This blog celebrates to some of the most influential Nepali climbers of the past century and their ground breaking achievements.

1. Kami Rita
Growing up in the Solu-Khumbu region of Nepal, Kami Rita comes from a family of sherpas in Nepal. Throughout his lifetime, Kami Rita Sherpa has progressed to become one of the most accomplished mountaineers in history.

Having worked as a porter on the Mount Everest Base Camp trail as a teenager, Kami Rita summited Everest for the first time himself aged 24. Since then, Rita has made the ascent to Everest summit a record breaking 25 times.

As well as holding the record for the most ascents to the summit of Everest since 2018, Kami Rita also holds the record for conquering the most 8,000m+ summits with an impressive total of 38 peaks in the bag. Among his successes are K2, Lhotse, Manaslu and Cho You.

2. Tenzing Norgay
Perhaps one of the most well-known on our list of ground breaking mountaineers, Tenzing Norgay, a Nepali-India mountaineer, is famous for being the sherpa on the first successful ascent of Mount Everest alongside New Zealand mountaineer Sir Edmund Hillary back in 1953.

Tenzing Norgay and Edmund Hillary were the very first Everest climbers to successfully reach Everest summit, although this was Tenzing Norgay's seventh Everest expedition. Tenzing embarked on his first Everest expedition as a porter accompanying Eric Shipton at age 19.

Tenzing Norgay went on to be named as one of the most influential people of the 20th century for his extraordinary achievements by Time Magazine and India's most prestigious adventure award was renamed in his honour.

3. Pasang Lhamu Sherpa
Showing the world that anything is possible, Pasang Lhamu Sherpa was the first Nepalese woman to reach the summit of Everest in 1993. Pasang Lhamu pursued her passion for mountaineering since adolescence, conquering mountains such as Mount Blanc, Cho Oyu and Yalapic.

Before successfully conquering Nepal's most notorious peak, Pasang Lhamu Sherpa attempted to reach Everest summit three times, proving her strength and determination.

Her triumph had a tragic end, however, as she did not survive the descent on her successful summit of Everest. On her descent of the mountain the weather changed drastically and her group split into two. The first group began making the descent and the second stayed overnight at the South Summit as expedition member Sonam Tsering was sick. Pasang then fell ill and eventually they ran out of oxygen. The leader of the expedition sent for more oxygen, but worsening weather conditions prevented their return and Pasang's body was recovered after 18 days.

Pasang Lhamu Sherpa's achievements continue to inspire women from around the world and a life-size statue of Pasang Lhamu was built at Bouddha Chuchepati in Kathmandu was erect to commemorate her astounding feat.

4. Nirmal Purja
Nirmal Purja or 'Nims' Purja is one of the most famous modern-day Nepalese mountaineers, inspiring a new generation of adventurers. As well as being a multi world record holding mountaineer, Nims Purja received an MBE in 2018 for his incredible achievements.

Nims Purja's quest to summit all 14 of the world's 8,000m+ peaks was documented in the 2021 Netflix documentary series '14 Peaks – Nothing is Impossible'. Nims set the record for completing all 14 peaks in the quickest time at 6 months and 6 days, overriding the previous record by over 7 years. However, this record has since been beaten by the Norwegian mountaineer Kristin Harila who climbed all 8,000m+ peaks in 3 months and 1 day.

A former Special Forces soldier in the British Army, Nims Purja lead the team of 10 sherpas that set out to recover the body of Michael Matthews, the older brother of reality TV personality Spencer Matthews, who disappeared on Mount Everest after becoming the youngest Briton to summit it in 1999 in Disney+ documentary 'Finding Michael' that came out in March 2023.

Nims is continuing to make an impact in the mountaineering world, having most recently set two new world records conquering Everest, Lhotse and Kanchenjunga in under 9 days and completing the Everest to Lhotse traverse in 26 hours without supplemental oxygen in May 2022.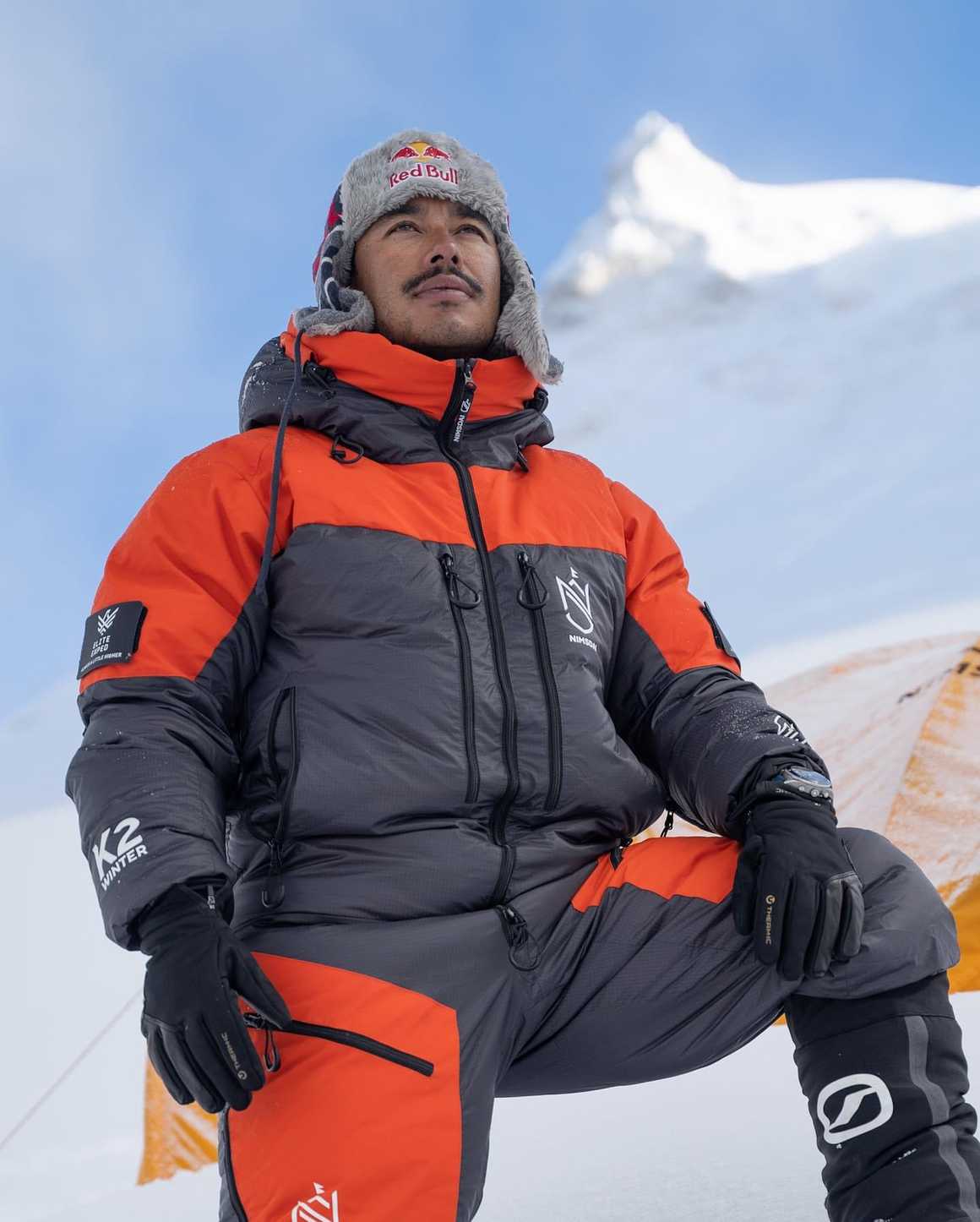 5. Sanu Sherpa
Sanu Sherpa is famous for climbing all the world's 14 peaks over 8,000m, not once, but twice. The Nepalese sherpa set a world record for his great achievement however he has said that he does not climb for any record, but joins climbing expeditions to help climbers from other countries.

Before creating mountaineering history, Sanu Sherpa started out as a porter for climbing expeditions before he was promoted to climbing guide a year later. In his first attempt, Sanu guided 19 Korean mountaineers to the top of the Cho Oyu and made a successful ascent of Shishapangma in 2006.

17 years later, in July 2022, Sanu Sherpa climbed to the summit of Pakistan's Gasherbrum II, the 13th highest mountains of the world's 14 peaks over 8000m and became the only person to climb all 14 highest peaks twice. Sanu Sherpa continues to work as an expedition leader and is a celebrated individual in the mountaineering community.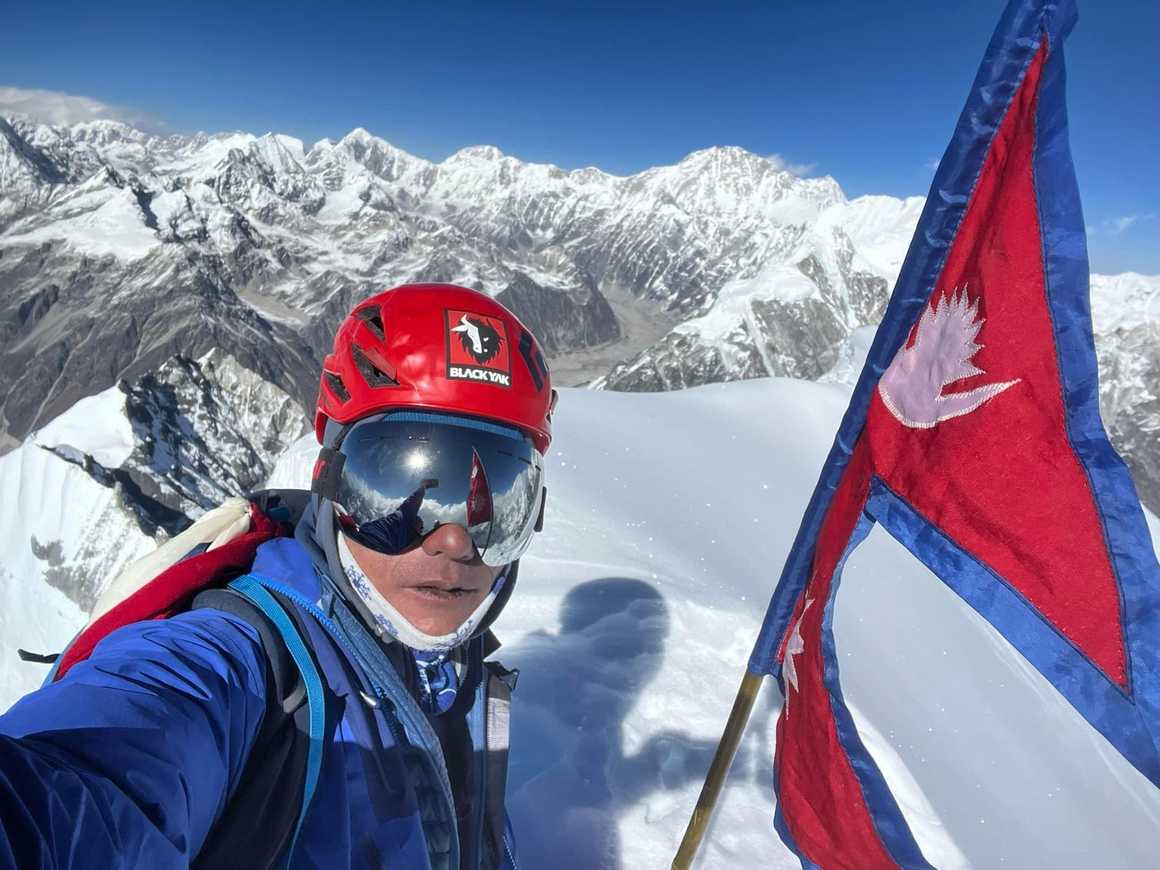 6. Ang Tharkay
In the past, sherpas received little international recognition for their achievements. An active mountaineer for almost 30 years since his first expedition in 1931, Ang Tharkay was one of the earliest Nepalese sherpas to gain recognition for his triumphs.

Ang Tharkay is most famous for his role in the first successful attempt of an 8000m+ peak during the French Annapurna expedition led by Maurice Herzog in 1950. It was this expedition and the subsequent book 'Annapurna' written by Maurice Herzog that made Ang Tharkay famous.

Tharkay was the very first sherpa to be awarded the Legion d'Honneur, a European honour when he turned down the opportunity to be one of the first to summit Annapurna, allowing the rest of his team to receive the glory.

7. Ang Rita
A celebrated mountaineer and guide, Ang Rita, received a Guiness World Record in 2017 as the only person in the world to have climbed to the summit of Everest 10 times without supplementary oxygen between 1983 and 1996. He received a second Guiness World Record for the first winter climb of Mount Everest without oxygen in 1987.

Having entered into mountaineering as a porter at the age of 15, Ang Rita became popularly known as the Snow Leopard for his climbing skill and was said to have been as active as snow leopards on the mountains. He has been an inspiration for climbers and mountaineers around the world with many of Nepal's climbing training courses having drawn from his climbing experience and skills.

8. Lakpha Sherpa
Lakpha Sherpa is the first Nepali woman to successfully summit Everest, the world's highest peak, ten times. Lakpha Sherpa went on to beat her own world record again in 2022 for the most summits of Everest by any woman and was listed as one of the most inspirational and influential women in the world by the BBC in 2016.

Lakpha Sherpa's passion for climbing began at a young age, where she would often join her father on his expeditions as a porter in the Makalu region in the Nepalese Himalayas. She first summitted Mount Everest on 18 May 2000 but this was seemingly not enough as Lakpha summitted the mountain a further 9 times and has completed numerous other peaks throughout the Himalayas.

9. Purnima Shrestha
In a profession largely dominated by men, Purnima Shrestha is sparking change in the world of Nepalese mountaineering. Purnima Shrestha climbed 7 of Nepal's 8,000m+ summits in four years and eight months, becoming the fastest Nepali woman to do so.

As a student in Kathmandu studying photojournalism, Purnima Shrestha's love of mountaineering came about almost accidentally when she was tasked with a photography assignment covering the 2017 annual Everest Marathon.

Since climbing her first big peak in 2017, Manaslu (8,163m), Purnima Shrestha has showed no signs of slowing down and has her sights set on completing the 14 peaks summit challenge.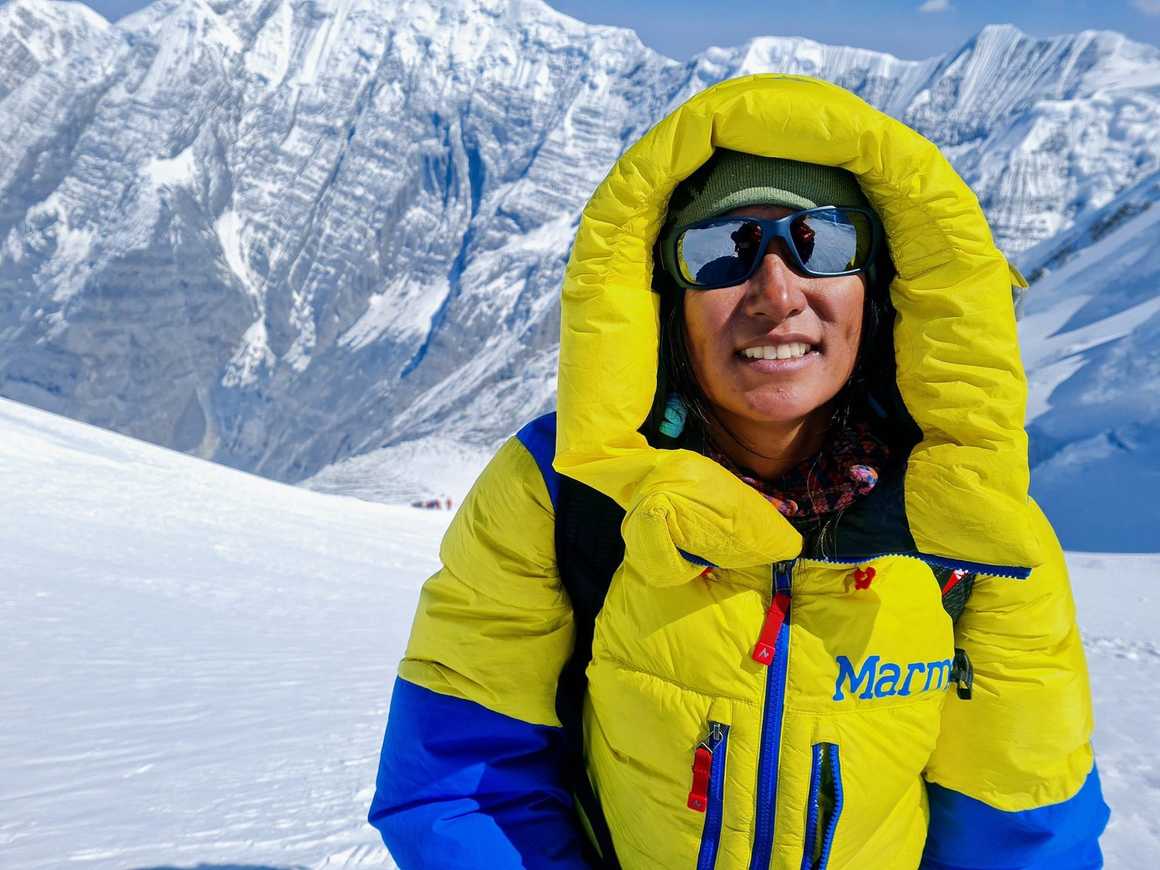 10. Dawa Yangzum
Dawa Yangzum Sherpa is one of the most famous modern-day female Nepali climbers. Among her many astounding achievements, Dawa Yangzum scaled Everest summit in 2012 and climbed to the summit of K2 with Maya Sherpa and Pasang Lhamu Sherpa Akita in 2014.

Dawa Yangzum is the only female climber from the Rolwaling Valley, having started working as a trekking guide in 2008 and beginning climbing in 2009. She is a frequent competitor in ultra-marathons such as the 350km Everest Sky Race and Annapurna Mandala Trail.

As one of the most inspiring and accomplished climbers Nepalese mountaineering community, Dawa Yangzum was the first Nepalese woman to become an International Federation Mountain Guides (IFMGA) mountain guide with the Nepal National Mountain Guide Association (NNMGA).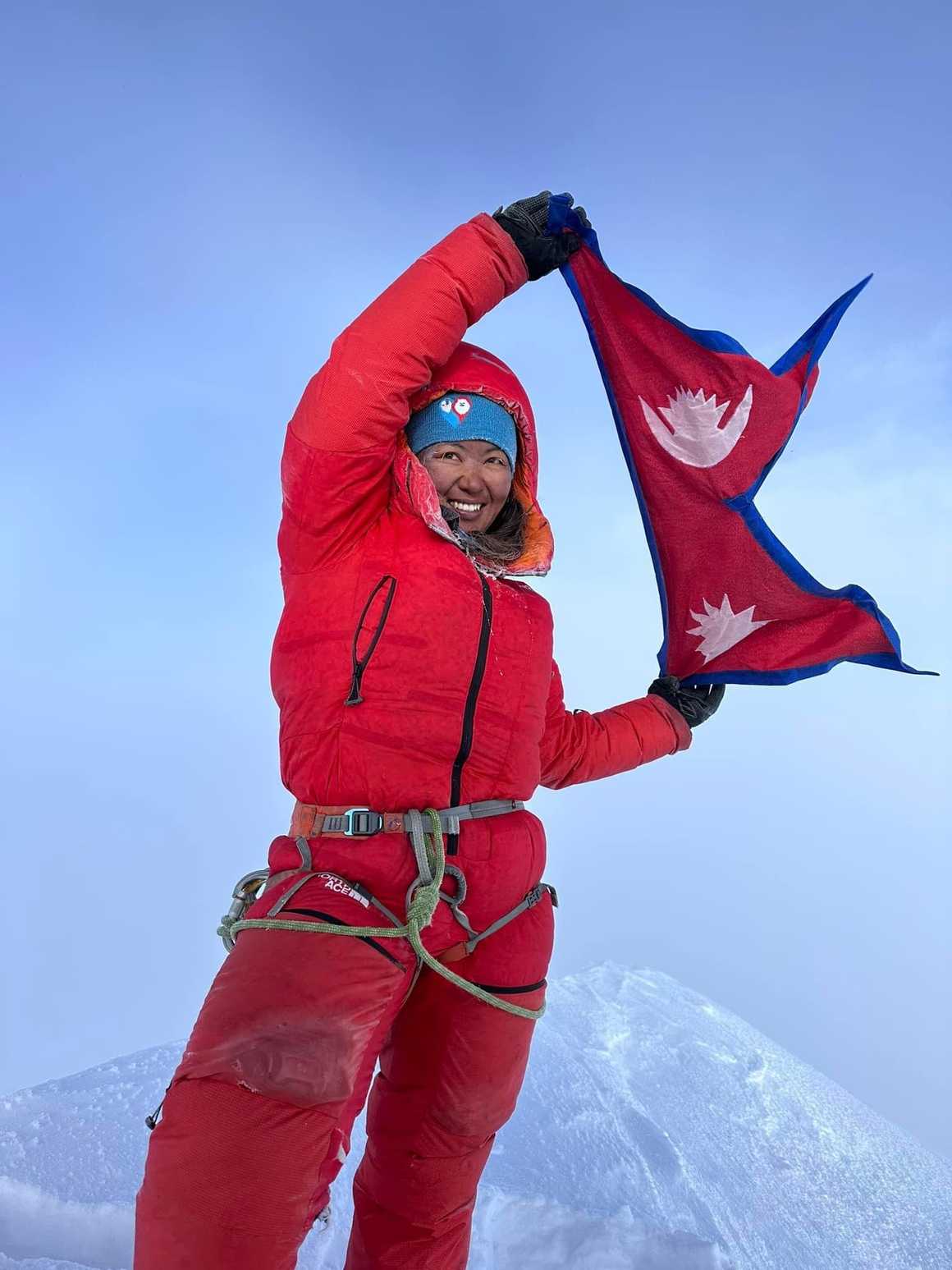 While this blog highlights 10 of the most inspiring Nepali climbers, there are so many incredibly talented climbers and sherpas in Nepal that have significantly changed, influenced and inspired the global mountaineering community. Above all, Nepali climbers and sherpas have positioned Nepal at the heart of the mountaineering map.

Following the footsteps of many of these inspirational mountaineering figures, Kandoo Adventure's offer unforgettable trekking expeditions in Nepal, exposing you to the region's fascinating culture and fantastic views of the surrounding Himalayan Mountains.