Preparing for Your Trip to Everest Base Camp
On average about 40,000 people a year make the journey to Mount Everest Base Camp on the classic trail. At 5,364m, Mount Everest Base Camp is one of the most popular Nepal trekking destinations with adventurers from around the world flocking to take on the challenge. But don't be put off by the height of Everest Base Camp or the duration of the journey, as the hike itself requires no real mountaineering skills. For many, reaching the basecamp of Mount Everest is a rite of passage and bucket list experience. Following in the footsteps of Edmund Hillary, the first man recorded to have reached the summit of Mount Everest, this once-in-a-lifetime trek is truly one of the most iconic mountaineering destinations.

Conquering Everest Base Camp requires a good level of fitness and a determined mindset. Lasting around 12 days with travel days on either side, the trip to Everest Base Camp will test both your physical and mental strength so it is important to know what to expect when you get there and how you can prepare for it ahead of time.

If you are booked or looking to book onto a trip to Everest Base Camp, you will need a training programme to ensure you are fit enough to reach the end destination. You may be wondering how fit you need to be to climb Everest Base Camp or what training you should be doing. Look no further than our guide to training for climbing Mount Everest Base Camp for the ultimate tour preparation.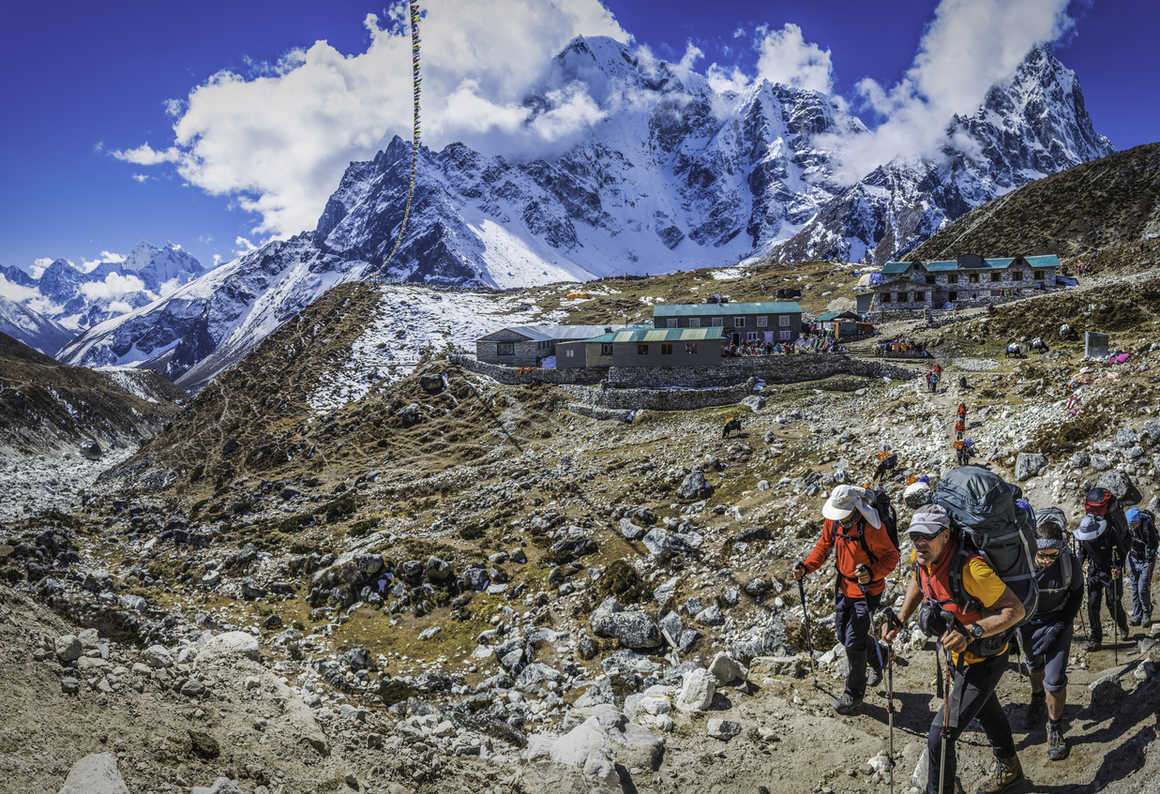 How difficult is it to climb Everest Base Camp?
The iconic Everest Base Camp expedition has been trekked by all walks of life, the youngest at a record breaking 7 years old and the oldest being 80 years old. Compared to other well-known expeditions, the trek to Everest Base Camp is of moderate difficulty. The route requires a demanding up to 8 hours of walking and up to 1500m of ascent each day which you will need to train your body to cope with, so mental and physical endurance are an absolute must if you are thinking about tackling Everest Base Camp.

While the route is both physically and mentally demanding, it has become one of the most popular hiking trails of all time, attracting tens of thousands every year, because it is not a technical climb and requires no real mountaineering skills. It's worth bearing in mind that treks to Everest Base Camp are made even more challenging by the trail's steep, rocky terrain and depending on the time of year you may also be trekking on snow towards the end. Your guide will help navigate the terrain, but it's important to stay alert and aware of your surroundings.

One of the main concerns travellers have before booking a Mount Everest Base Camp Expedition is altitude sickness. Symptoms of altitude sickness include headaches and nausea, making it the climb more difficult as you get closer to Base Camp. It is very difficult to predict who is or is not vulnerable to altitude sickness and even the most experienced hikers may get it, but precautions may be taken to limit its effects. The golden rule when hiking at high altitude is to trek high and then descend to sleep low, allowing your body to gradually become accustomed to lower pressure. You should also take the trek slow and steady to keep your respiration rate low and drink much more water than you think you need. Hikers may also choose to use Diamox, a prescription drug, that helps prevent the symptoms of altitude sickness but you should consult a doctor before using this method.

Kandoo Adventure's Everest Base Camp expedition itineraries account for resting breaks to allow you time to acclimatise to the high altitude. By the time you reach Everest Base Camp, you will have lost almost 50% of the oxygen in the air. The lower levels of oxygen make breathing and any exertion more taxing, making the altitude one of the most challenging aspects of the trek.

How fit do I need to be to climb Everest Base Camp?
It is advised that you have a good level of fitness and are accustomed to long days of hiking before you embark on climbing Mount Everest Base Camp. This is because the duration of the journey and moderate ascent climbed each day will require good physical health and endurance. It is also necessary to have good mental resilience as it is important to stay positive, focused and motivated throughout the trek to Everest Base Camp.

It is worth noting that you need to be fit enough to carry your gear such as daypacks. You will also be given 2-3 litres of water to fill your platypus or water bottle. Your daypacks should be no more than 5kg and will be weighed before you begin your trek to Base Camp. The porters will carry your main equipment from 10-15kg which will make the journey easier for you. The services of an expert guide are included in the total Everest Base Camp Trek cost.

For those preparing to take part on a once-in-a-lifetime trip to Everest Base Camp, you will greatly benefit from a programme that includes aerobic, cardiovascular and strength training to improve your overall fitness and to ensure you are fit enough to reach Everest Base Camp successfully.

What training should I do to climb Everest Base Camp?
The most effective way to train for climbing Mount Everest Base Camp is to include a variety of different exercise types into your routine. Aerobic, cardiovascular and strength training are a necessity when preparing to climb Mount Everest Base Camp to ensure you are a sufficient level of fitness to successfully complete the challenging expedition.

Aerobic workouts

Aerobic training provides cardiovascular conditioning. Aerobic training exercises are constant, continuous and increase the heart rate. It increases the rate at which oxygen is passed from the lungs to the heart and bloodstream. Having a good level of aerobic fitness means you can exercise longer and harder without becoming tired. Aerobic activities you should consider including in your Everest Base Camp training programmes are:

Walking or running

Swimming

Biking

Rowing

Strength training

Strength training helps you build muscle and develop better body mechanics. You will need strong, conditioned legs to successfully tackle the trek to Everest Base Camp so leg-conditioning exercises are a must. For optimal fitness, full-body training is ideal as you want a strong core to prevent injuries. Some of the most effective strength and conditioning full body exercises include:

Lunges

Squats

Push ups

Planks

Hiking training

Practicing hiking is the best way to prepare your body for Everest Base Camp trekking. Start your practice with a comfortable distance and slowly build up your endurance, working your way up to hiking continuously for 8 hours a day. Challenge yourself by carrying similar equipment you will be carrying on your Everest expedition and make sure to break in your boots! Alternatively, if you are unable to train outdoors, treadmills and stair machines offer great hiking practice.

Looking for training advice or a training plan in preparation for one of our Everest Base Camp Treks? We recommend checking out Kate Sielmann for her excellent mountaineering and trekking training programmes.

Mountain training in different parts of the world
Mountain training will look very different depending on where you are in the world in terms of the climate, elevation and terrain. For those from the UK, the 15 National Parks located across the country are home to an abundance of popular hiking fells that are great for gaining mountain experience and conditioning the body to long days of walking. Some famous mountaineering destinations in the UK include the Lake District and the Scottish Highlands. Our
training ideas for Everest Base Camp in the UK
blog offers a detailed guide to some of the best mountains and walks across the UK for preparing your body for the climb to Everest Base Camp if based in the UK.
For those embarking on a trip to Everest Base Camp from the USA, mountain training destinations are much more diverse. There are plenty of hiking trails located across the country's enormous National Parks. Our training ideas for Everest Base Camp in the USA blog details some of the best walking destinations across the country to boost your mountain experience if based in the USA.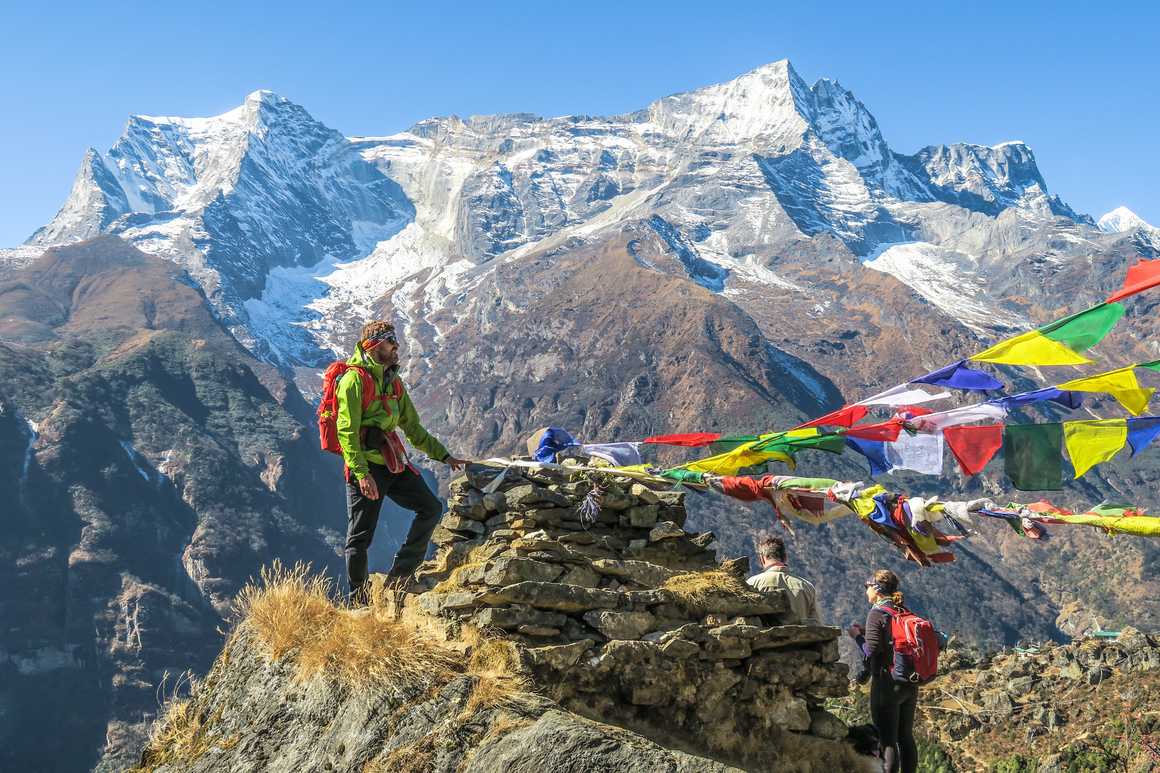 How much training should I do to climb Everest Base Camp?
We recommend beginning training at least 6 months before your Everest expedition to ensure you have enough time to gradually build up strength and endurance. You should consult your doctor and seek advice before beginning a training programme of any intensity. It is important not to do too much too soon as this may lead to fatigue or injury. Equally, don't push yourself too hard right before your trek as you will need to rest up before your big adventure.

You should aim to hike 2-3 long walks per week to prepare your body for hiking long distances. Start small and build up the difficulty each time. Get to a level of fitness where you can walk for up to 8 hours with minimal rests and choose hilly terrain whenever possible. Alternatively, you can train for 45 minutes on a treadmill at a slow pace and incline as well as 10 minutes on a stair machine 2 times per week. Take a look at Kandoo Adventure's Nepal treks to explore our Mount Everest Base Camp daily itineraries for training inspiration.

Unfortunately, one thing you can't easily train for is altitude. Ensuring you have a good level of physical health will give you the best chance of being able to cope with the high altitude when trekking to Everest Base Camp. Take it slow and steady and your training will pay off!

Should I climb Everest Base Camp before attempting Everest Peak?
Comparing the trek to Everest Base Camp with the climb to the summit of Mount Everest is like comparing apples and oranges. They are completely different experiences, and the latter requires an epic amount of training, skill, willpower and budget. Not only this, but the hike to Everest Base Camp and climbing Everest summit are wildly different in terms of terrain and equipment needed.

Trekking Mount Everest Base Camp will act as part of your training for summitting Everest and help you adjust to high altitude trekking, however much more high level treks are needed to fully prepare to tackle the tallest mountain in the world. Your route to Everest summit will require walking to Everest Camp anyway unless you arrange a helicopter to take you to base camp, however the trek will help with acclimatisation.

Recent Nepal climbing permit rules state that if you want to attempt the hike to the summit of Everest you must be an experienced mountaineer, have a certificate of physical fitness and have already climbed a Nepali peak of at least 6,500m. As Everest Base Camp does not meet this criterion, you will have to complete further mountain training in Nepal to be able to climb Everest Peak.

Basically, if you're attempting to climb Everest, you'll need to train hard and climb to much higher altitudes than Everest Base Camp.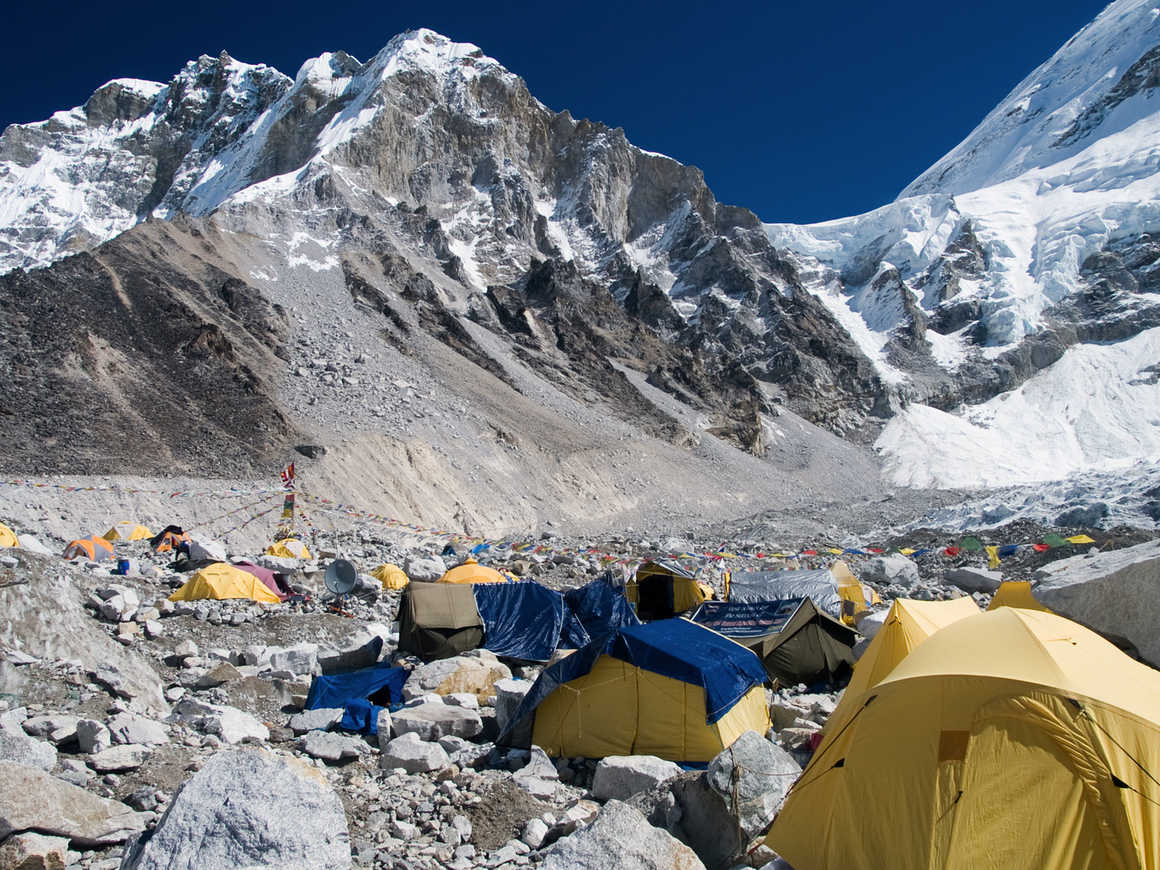 Kandoo Adventure's trips to Everest Base Camp
Everest base camp – a classic 15-day trek to Everest Base Camp

Everest base camp (trek only) – a 13-day trek with the same service and guides as the classic Everest Base Camp trek but without private airport transfers and hotels in Kathmandu

Everest base camp (overnight at EBC) – a 15-day trek to Everest Base Camp with overnight stay and walk to the foot of the Khumbu Icefall

Everest base camp and island peak – a challenging 21-day trek to Everest Base Camp and climb to Island Peak

Gokyo Lakes – a tough 18-day trek to Everest Base Camp, climb to Gokyo Ri and crossing of the Cho La pass

Three Passes – a challenging 21-day trek to Everest Base Camp visiting the Renjo La pass, Cho La pass and Kongma La pass

Climbing Mount Everest Base Camp is a challenging but rewarding journey and with the right training, mindset and gear you will be able to complete this incredible adventure.