Start planning your personal adventure by scheduling a start date that fits in exactly with your plans, choosing the route you want and adding in extensions to make an itinerary that runs exactly as you want. Then maybe think about the little things we can add on to your trek to make it a little easier or more fun and when you have visited Machu Picchu why not relax and enjoy Cuzco in a beautiful, boutique hotel for a day or two.

While you are in Peru why not visit some of its spectacular highlights: the Amazon Jungle, Lake Titicaca, Colca Canyon and of course the famous Nazca lines.

Have a look at the great options we offer as standard and whatever else you want to add into your private Machu Picchu expedition, just ask.

Hotel upgrades before and after your trek

If you are treating yourself to a private trek along the Inca trail or one of our other Andes trekking routes and then looking for a little luxury before and after your adventure we recommend the hotels below as upgrades in Cuzco, Sacred Valley and Aguas Calientes.

Belmond Hotel Monasterio, Cuzco: An old monastery converted to a luxurious heritage hotel. A unique feature is that they pipe oxygen into rooms to help prevent altitude sickness...

Palacio del Inka, Cuzco: 5th century sympathetically converted mansion located in the heart of Cuzco with its' own spa...

Casa Cartagena Boutique Hotel & Spa, Cuzco: A gorgeous intimate boutique hotel equipped with an Enriched Oxygen System to help you acclimatise...

Hotel Costa Del Sol Ramada, Cuzco: A 17th-century colonial mansion that combines historical architecture with all the comforts of a modern, contemporary hotel...

Inkaterra Machu Picchu Pueblo Hotel, Aguas Calientes: A luxurious boutique hotel set in 12 acres of natural gardens. Relax and pamper yourself in their glorious spa...

Casa Andina Classic, Aguas Calientes: A comfortable, contempary hotel with spectacular views of the Vilcanota river...

Inti Punku El Tambo, Aguas Calientes: A small, friendly hotel located in the heart of the old town of Aguas Calientes...

Sol y Luna, Sacred Valley: Ultimate luxury! Accommodation in cozy 'casita' houses made of local stone, each individually decorated. Pamper yourself in their spa and swimming pool...

Tambo del Inka Luxury Collection, Sacred Valley: A beautiful hotel situated in a stunning landscape, Hotel facilities include a fitness centre, 2 swimming pools and a luxury spa...

Hotel Pakaritampu, Sacred Valley: Comfortable accommodation in the heart of the Sacred Valley...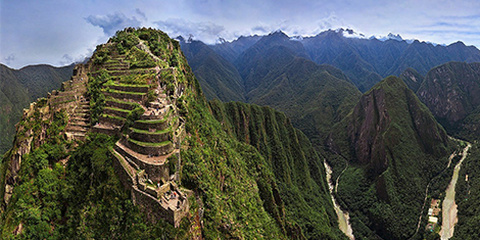 Climb Huayna Picchu

Directly behind the Inca site of Machu Picchu stands the towering mountain of Huayna Picchu, the views from the top of here back over Machu Picchu are awesome. Although everyone's first reaction when they see a picture of Huayna Picchu is that it would be a difficult technical climb, the genius of the Inca path builders has turned this into a series of steep staircases. You will almost certainly want to use your hands for balance but it requires no technical climbing skills.

Permits in high demand

Back in the day climbing Huayna Picchu was easy, no permits were needed and any amount of trekkers could climb it. This is not the case today. Unregulated climbing led to the inevitable degradation of the site and often disrupted ongoing archaeological work that is still carried out today. This, along with the safety risk of steep crowded paths led to the current situation implemented by the National Institute of Culture of Peru (INC) to regulate climbing on Huayna Picchu. A permit system now operates that allows only 400 climbers per day onto Huayna Picchu. These are in high demand as Machu Picchu also gets a huge number of day-visitors who wish to climb Huayna Picchu.

If you would like to book one it is essential that you book this as an add-on when you book your Machu Picchu trek. Children under the age of 12 are not permitted to climb Huayna Picchu.

Permits cost £60/$72 if you have completed the Inca trail and £14/$17 if you have arrived from other routes. If this pricing seems strange that is because it is! Huayna Picchu permits can only be bought as an add on to a day permit for Machu Picchu. You cannot buy an Inca trail+Huayna Picchu permit. So to climb Huayna Picchu you have to buy a new day permit for Machu Picchu (which you won't use). If you are arriving at Machu Picchu on any other route, the price already includes the day permit so you just have to pay for the upgrade. Crazy we know but that's how it works.

Please Note: the guide will not accompany you on Huayna Picchu as not all clients will choose to climb. You will meet up in Aguas Calientes.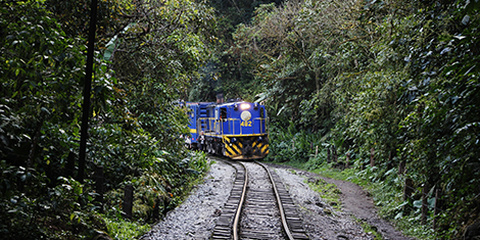 Ride the Vistadome

Enjoy the views of the mountains on your journey back to Cuzco in the fantastic glass roofed Vistadome.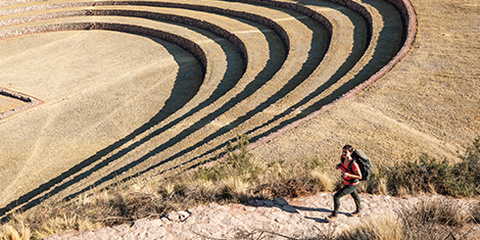 Cultural tours around Cuzco and the surrounding area

We offer a full day tour to visit the main towns and markets in the Sacred Valley or a half day tour around the town of Cuzco which can be added on to any of our treks. Please enquire for prices.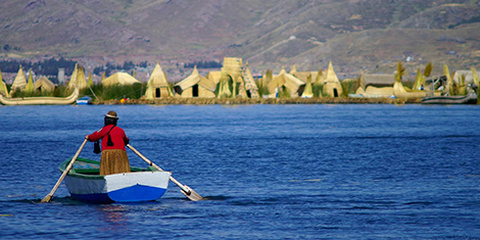 Lake Titicaca

Experience Lake Titicaca's floating villages

Squeezed between the mountains of Bolivia and Peru, Lake Titicaca is one of the most fascinating lakes in the world. It is the world's highest navigable lake at over 3800 meters and is a sacred place for the Inca civilization, as their mythology says that the first Inca king, Manco Capac, was born here.

The highlight of this fascinating area is the amazing floating islands of Uros located a 2 hour boat ride from Puno. Built entirely from the special type of giant bulrush, called totora, that grows in the shallows of the lake the inhabitants still follow the traditions going back centuries.

We can arrange an extension to your Machu Picchu trek to visit this region or incorporate this into a longer circuit visiting all of the best of Peru. Our most popular itinerary is set out below but this is just a suggestion. If you are interested give us a call to discuss the fantastic range of options.



Amazon Rainforest

Just the name Amazon conjures up images of ancient tribes, dense untouched forest and incredible wildlife, and whether you visit the Amazon for just two days or much longer you will not leave disappointed. The sheer scale of the Amazon Basin is quite amazing: overall it is twice the size of India and at its widest it is 40km across.

But you must come here looking to enjoy the overall experience of the rainforest, not expecting a David Attenborough like animal sightseeing tour. The incredible images we see with David Attenborough often involve a cameraman spending weeks on end in a small hide and this isn't quite what most of our travellers have in mind.

What you will enjoy is canoeing through the flood plains of the forest, being woken in the jungle by the noise of a thousand birds or the cry of howler monkeys. Wildlife is hard to spot but incredible when you do find it. The tribes that live along the riverbanks are fascinating and once you relax into its beauty you will leave with an indelible memory of one of the world's unique places. We can arrange trips to the Amazon from as little as three days. Our most popular itinerary is below but this is just a suggestion. If you are interested please contact us for more information.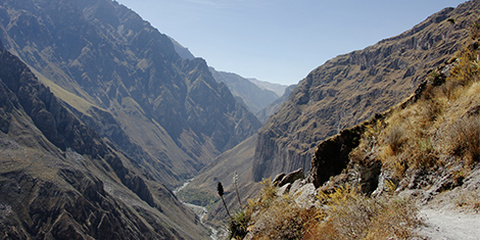 Colca Canyon

Colca Canyon is truly immense: twice as deep as the USA's Grand Canyon and the river at its bottom is a staggering 4160 metres beneath the rim. Unlike the Grand Canyon though the area is remarkably fertile and you can see the local people farming here on the pre-Inca stepped terraces.

And of course Colca is really famous for the rare Andean Condors which can be seen at close range as they fly past the canyon walls at 'Cruz del Condor'. Condors have been known to live to 50 years old and can weigh up to 12kg with a wingspan often in excess of 3 metres. Soaring above and below you in the canyon they really are stunning.

All trips to Colca Canyon start from the beautiful colonial city of Arequipa located at an elevation of 2380m at the foot of the now dormant Misti Volcano. While it is possible to drive to Arequipa the journey from Lima is over 17 hours so we would recommend that you fly in from Lima and then after visiting the Canyon catch a second flight to Cuzco.

Arequipa town is largely built of white volcanic stone, so it is nicknamed the White City. Adding in a walking tour of Arequipa, a visit to Colca Canyon or a trek into the canyon is a great way to acclimatise before you begin your trek to Machu Picchu.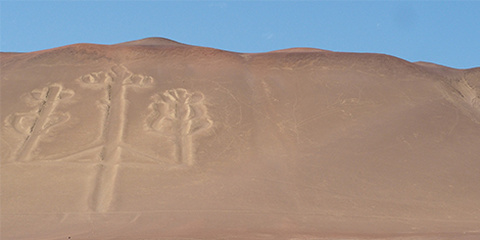 Nazca Lines

The Nazca Lines are what archaeologists call geoglyphs: patterns carved into the ground creating immense images. And the geoglyphs at Nazca are vast. Located in the arid Peruvian coastal plain, some 400 km south of Lima, they cover an area of about 450 sq. km. The Lines, which were scratched on the surface of the ground between 500 B.C. and A.D. 500, are among archaeology's greatest enigmas because of their quantity, nature, size and continuity.

Best ways to view the Nazca Lines

The Nazca Lines are what archaeologists call geoglyphs: patterns carved into the ground creating immense images. And the geoglyphs at Nazca are vast. Located in the arid Peruvian coastal plain, some 400 km south of Lima, they cover an area of about 450 sq. km. The Lines, which were scratched on the surface of the ground between 500 B.C. and A.D. 500, are among archaeology's greatest enigmas because of their quantity, nature, size and continuity.

The geoglyphs depict living creatures, stylized plants and imaginary beings, as well as geometric figures several kilometers long. They are believed to have had ritual astronomical functions although their exact purpose is still widely debated. The best way to view them is to take a flight to see them from the air and see if you can work out the mystery for yourself.

To view the Nazca Lines you usually need 2-3 days, with an 8-hour bus ride each way from Lima. if you are planning to visit Arequipa to see the Colca Canyon, Nazca is also a good stopping point.

Alternatively, you could transfer from Lima to Ica, a much shorter bus ride away than Lima-Nazca. Then in Ica, you can fly over the Nazca Lines. This is a great alternative for those who are short on time. Also, the advantage of transferring to Ica is that you can visit the Ballestas Islands, the Paracas National Reserve, and the Huacachina desert oasis nearby. Plus, Ica has some pisco distilleries and bodegas where you can go wine tasting.