Best know for its history, culture and white sand beaches there is so much more to discover here than you might expect. The Maestra and Escambray mountain ranges are home to beautiful rainforest, numerous endemic species and lofty mountain tops reaching 2000m above sea level. Ride horseback through the sandy floored valleys, fly through the jungle canopy on a high speed zipwire and discover an underwater paradise snorkelling off the Cayo Levisa coast. Hidden amidst the jungle you can find idyllic waterfalls and natural pools and even Fidel Castro's old command center from his guerilla war in the 1950s.

You will need to arrive at Jose Marti International Airport in Havana. The airport code is HAV.

From the UK, the best way to reach Havana is with either British Airways via Madrid or Air France via Paris. Both airlines depart the UK early in the morning and arrive in Havana in the evening of the same day. The connection times in Madrid or Paris are under 3 hours.

Travellers from the United States are required to obtain a general license for travel to Cuba. Your reason for travel must fall under one of the 12 categories authorised by the OFAC (Office of Foreign Assets Control).

American Airlines have flights from Dallas, Tampa and New York with stops in Miami. Delta also has this same route from New York. American Airlines have direct flights from Miami. Those people travelling from the west coast will need to connect with one of these services. Connection times in Miami are just over an hour.

If you are changing airlines or re-checking your luggage at an airport on route, please ensure you leave a minimum of 3 hours between flights. This will account for any delays on arrival, travel time across airports (this can take longer than you think) and time taken to re-check baggage.

Our Cuban adventures

CUBA DISCOVERY | This is currently our only Cuban tour with open group dates available. A 14 day multi activity adventure in the west of Cuba that is perfect for anybody who wants to experience this unique Caribbean island in an active and adventurous way. We will be exploring the old city of Havana and enjoying cocktails on idyllic beaches but you can also expect high speed zip wires, kayaking trips, horse riding and salsa dancing.

PEAKS OF CUBA
|
This is currently offered on a private only basis. The Caribbean island of Cuba may not be the first place that springs to mind when you think of trekking destinations but take a few steps away from the normal tourist sights and you will find there is a whole lot of adventure on offer. On this trip we will cross the island from east to west, exploring the beautiful Sierra Maestra and climbing to the summit of Turquino, Cuba's highest peak. We continue to the Escambray Mountains to discover waterfalls and natural swimming pools amidst the jungle.
When to visit

You can find detailed advice on when to trek in our Cuba Travel Guide.

This a brief summary. Cuba has a dry and a wet season. During the wet season, from May to October, expect torrential, tropical rain and hurricanes in September and October. Temperatures will be between 24°C and 38°C with high humidity. The dry season, from November to April, is generally a much more pleasant time to visit. The temperature and humidity are not as high as the rest of the year making it a much more comfortable time to travel around the island. You can expect the odd cloudy or rainy day but on the whole it is sunny with an average temperature around 27°C.

Preparing for your trip

Our only trekking trip in Cuba is
Peaks of Cuba
. The treks on this trip are of moderate difficulty. The mountain trails we follow can be steep and arduous, the trails are often uneven and great care will be needed to keep your footing and avoid slips and trips. In tropical forests, the humidity can be very high which makes the trekking feel more difficult. The maximum ascent in a single day is over 1400m, you will need to be confident in your fitness and have recent experience of walking for up to 8 hours on steep and difficult terrain. We recommend that you prepare for this trip by doing training hikes with over 1000m of ascent on a regular basis before departure.
Equipment

Good equipment starts with your feet. Do not turn up for your trek in a shiny new pair of boots. Make sure your boots are well worn in and are comfortable. After your feet, make sure you are looking after your head. You will need something that provides good sun protection and walking poles will definitely come in handy when it's slippery underfoot. Finally, think about clothing layers, Cuba can be hot and humid in the jungle areas. Quick drying, lightweight, baggy clothing will allow you to stay a bearable temperature in the heat. Other critical items are a light sleeping bag with a comfort rating of 10 degrees, a head torch (always worth having for middle of the night toilet needs), a comfortable day pack and lots and lots of high factor sunscreen.

Accommodation in Cuba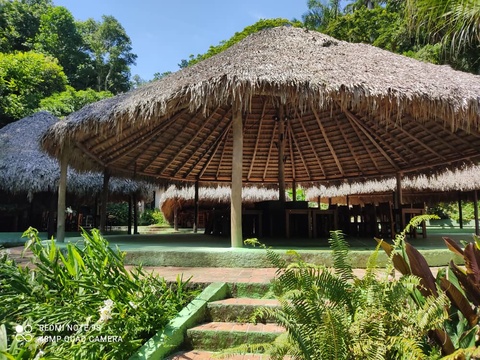 Hotels and homestays

This trip includes a mix of different accommodation types with 4 star hotels in Havana, homestays with local families and basic mountain refuges in the mountains. In most cases (including homestays) you will have a double or twin room with a private bathroom. At some homestays, there is a small possibility that a bathroom may be shared between 2 rooms.

Please note that hotels in Cuba are owned by the state and the quality of the accommodation can vary significantly. Rooms will always be clean and spacious with private bathrooms but in some cases are not up to international standards.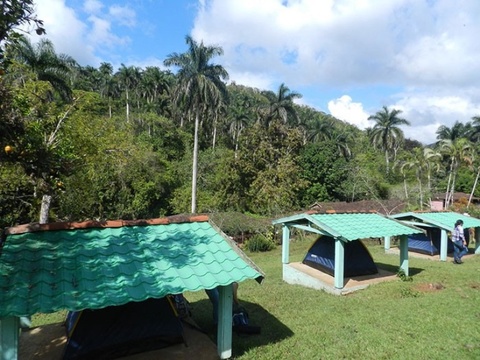 Refuges

When staying in mountain refuges, accommodation will be more of an 'open-air' affair. Some refuges are large, wooden structures with palm roofs under which mattresses are laid out. The balmy, Cuban evenings need little protection so a night under the stars is the perfect way to immerse yourself in the mountains. Other refuges offer tents, shared on a twin or single basis. Both types of refuge have shared bathroom facilities onsite.

Food and drinks

When lunch or dinner is not included on a certain day, there is a wide range of cafes or restaurants where you can find food for all tastes and budgets.

Cuban cuisine has remained fairly simple as a result of all businesses being state owned and the American embargo. There is not always a wide variety of foods to choose from. In state restaurants, meals mainly consist of chicken, fish or pork with congri (rice and kidney beans) and plantains (cooking bananas). On the nights we stay with local families you will find the food is significantly more varied and plentiful, highlighting all the incredible local produce. Cassava, plantain, mango, guava, pineapple, coconut, pork, chicken fish and even lobster are all common ingredients. Private restaurants are now starting to emerge and offer a much more rich and refined cuisine than the state owned restaurants and hotels.

In Cuba you can always find an excellent selection of fruit juices, local beers and of course, rum. Drinking water is not included in your trip and it is your own responsibility to make sure you stay well hydrated, especially when trekking. You can fill your drinks bottles in hotels, villages and at natural springs throughout the trip. We recommend you use a water treatment system of some kind, either a filter attached to your hydration pack or purifying tablets. We do not recommend buying plastic bottles which must be carried with you and recycled after use.

Toilets

You will be pleased to know that in Cuba they have western-style, flushing toilets. There may be some differences, as with many developing countries, and you may occasionally find toilets are missing seats or have low-water pressure. It is also common practice to put used toilet paper in a rubbish bin next to the toilet so as not to clog up the low pressure water systems. We would recommend bringing some of your own loo roll in case the bathroom stall is out of paper. In all our accommodation, rest assured there will be nice, clean toilets. However, we can't guarantee that when you're out and about, the same standards of hygiene will be available in public toilets.

Budget

Cuba's currency is Cuban Pesos (CUP). To see an up to date conversion rate, please visit
xe.com.
The Cuban Peso is a closed currency so you can only exchange money within the country. Banks, Exchange Houses called CADECA and larger hotels will commonly provide an exchange service. When you use an ATM to extract Cuban money (CUP) at the official exchange rate, it will be approximately 150 CUP to £1 GBP. The ATMs will take Visa, Mastercard, and American International Service (AIS). However, cards issued by a US institution will NOT work in Cuba. Please ensure if your card is issued by a US institution that you have alternative methods for acquiring local currency. Given the great inflation that the country suffers, there is also a non-official exchange rate that is generally has higher rates than the official exchange rate, however this can be somewhat unstable and we wouldn't recommend using it.

A meal for two in a mid-range restaurant will cost around $80 (1920 CUP). Taxi starting prices in Havana are about:$1 USD (24 CUP). You will then pay about $0.5 USD(12 CUP) for every km of the journey. Cuba is generally a cash economy and cards aren't accepted in all establishments. Bring plenty of cash to exchange, we recommend budgeting $300 USD (7205 CUP) on top of your tips, this should give you plenty of money for meals out and souvenirs.

Please also be aware that regulations change quickly and often in Cuba, so check on the currency situation before your trip departure.

Tips

Tipping customs vary all over the world and can be very confusing when travelling to a new country. Tipping is always appreciated - it is not obligatory and should be left to the discretion of each individual in Cuba. Tips are not a substitute for good wages: our guides are all well paid and well looked after. If you are satisfied with your guide's services, we recommend the following for the entire trip:

1200 CUP ($50) - Guide

800 CUP ($33) - Driver

On the other hand, if you receive bad service or have not been treated well, you would not be expected to tip at all. Please ensure to tip in Pesos rather than your local currency.