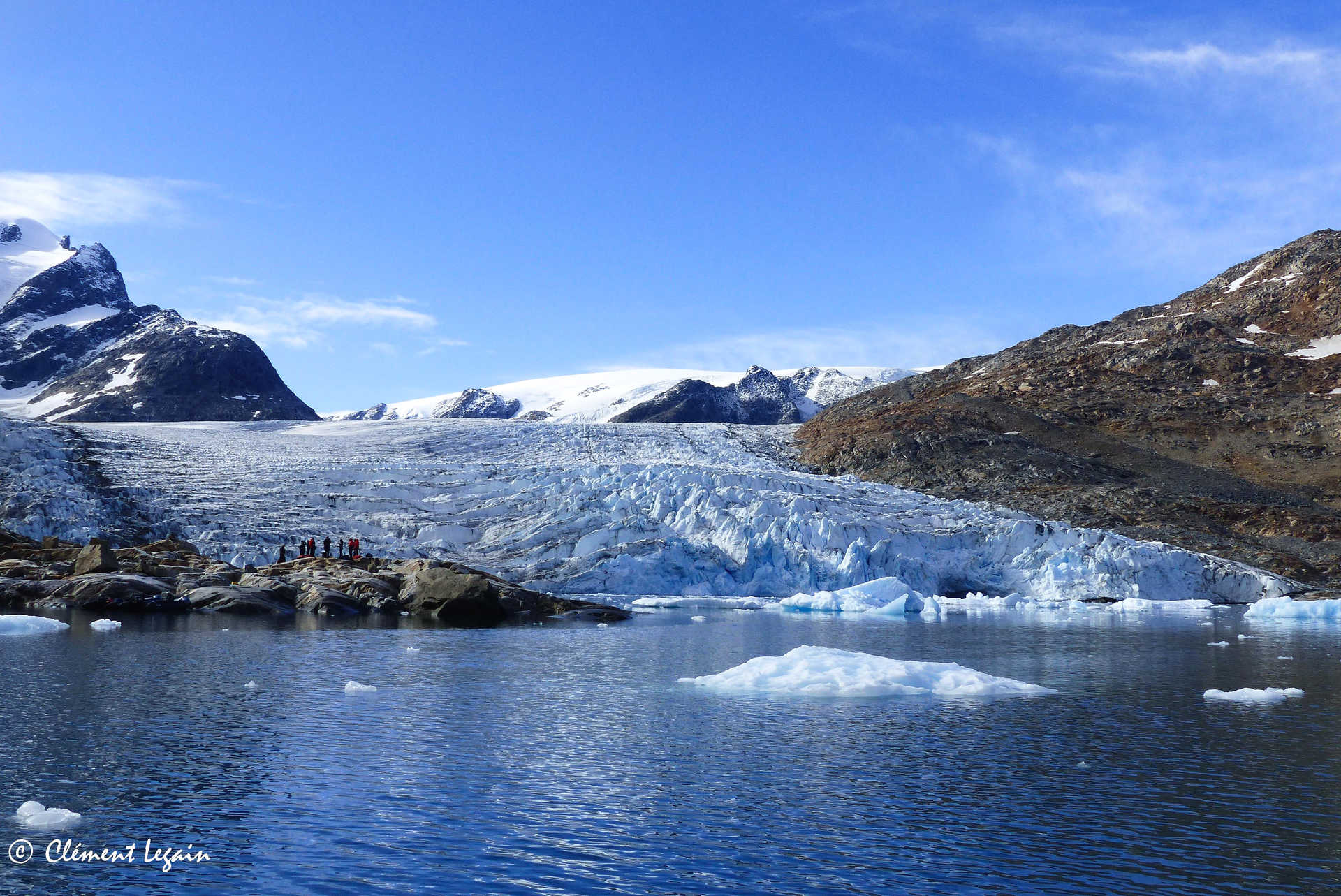 8-day adventure
Hiking East Greenland
Greenland
Our local team
Our office in Greenland is based in the town of Ilulissat on the west coast but we have another base on the east coast in Ammasaalik. Our local team provide sea kayaking and trekking adventures in Greenland's unspoilt and utterly remote wilderness. We provide open group adventures but can also create private tailor made tours on request. Quality kayaking and camping equipment coupled with highly trained and knowledgeable guides allow us to offer...
Learn more
Kandoo's view
East Greenland is one of the most isolated and unspoilt regions in the world. This trip is a an opportunity to gain unique insights into Inuit culture and local traditions as we explore the hidden gems of this coastal wilderness. This adventure includes daily guided hikes, we will depart each morning from our comfortable hotel accommodation to explore dramatic mountains, icebergs and glaciers; local wildlife, valleys and rivers. Join us on the walking holiday of a lifetime and experience true quietness in this truly remote wilderness destination.
Trip highlights
Experience the unspoilt wilderness of East Greenland
Climb to the summit of Isikajjia
Discover Greenland's Valley of Flowers
Experiences
Trekking & Hiking

Our core collection of treks and hikes, through some of the world's most outstanding landscapes
Itinerary
Day 1

WELCOME TO GREENLAND!

Welcome to Greenland! We will greet you at Kulusuk airport and escort you to your accommodation in the centre of this eastern Greenlandic town. Kulusuk is a small settlement found on a rocky island with the same name, the waters surrounding it are almost always speckled with floating icebergs. Tonight we offer a free walking tour to uncover more about the local culture, history and traditions of this traditional Greenlandic hunting and fishing village.

Hiking time: 2 - 3 hours
Accomodation: Hotel
Meals included: Dinner

Day 2

THE VALLEY OF FLOWERS

This morning, after breakfast, a scenic cruise will take us to Tasiilaq and the valley of flowers. Keep your eyes open for whales during the boat trip - it is not uncommon to meet humpback and fin whales on this route! In the summer it really is as magical as it sounds here! Enjoy an afternoon guided hike to uncover the hidden gems in this enchanting area with it's a vast array of colorful plants, arctic birds and fascinating geology.

Hiking time: 3 - 4 hours
Accomodation: Hotel
Meals included: Breakfast / Lunch / Dinner

Day 3

TASIILAQ AND SERMILIK FJORD

This morning we have the chance to explore the Inuit village of Tasiilaq, discover the local traditions and meet local people and animals. Todays walk should give a true sense of the scale and vastness of the wilderness around you. Get ready for views of towering granite mountain ranges and the famous Icebergs of Sermilik Fjord (the ice fjord) as you climb up to a panoramic viewpoint.

Hiking time: 3 - 4 hours
Accomodation: Hotel
Meals included: Breakfast / Lunch / Dinner

Day 4

TASIILAQ FJORD

Today, an off-trail hike to discover the wonders of Tasiilaq Fjord awaits us with views of classic Greenlandic scenery: dark rock and blue waters speckled with bright white ice. Today is a chance to fully explore the wilderness here and uncover a surprisingly fertile Greenland as we forage for wild berries and discover the lush vegetation that thrives here. Dwarf Fireweed (Chamaenerion Latifolium) Greenlands national flower, is a rich pink colour and sometimes (particularly during June) it floods the shorelines of the Fjord with colour. In this land of harsh contrasts it is a truly spectacular sight in the otherwise grey, white and blue landscape. Today you can also opt to take a boat trip through the icebergs to Hann glacier.

Hiking time: 4 - 5 hours
Accomodation: Hotel
Meals included: Breakfast / Lunch / Dinner

Day 5

SERMILIQ TRAIL AND MOUNT PREIST

Todays' hike is perhaps the most magical of the whole trip; it is a bit more challenging than the previous walks and includes some stream crossings so get ready for an adventure! The hike begins following a scenic coastal path up to the Fjord where we will pick up the husky trail 'Sermilikvejen'. We will continue through a beautiful valley and up into the mountains where a truly unique scene awaits. Nestled among dramatic granite peaks, with small glaciers perched on top, are a hidden cluster of bright blue lakes. Here you are in true Greenlandic wilderness and can observe all of its breathtaking contrasts. The hike ends by circling the distinctive Aammangaaq Mountain and following a track back to your accommodation.

Hiking time: 7 - 8 hours
Accomodation: Hotel
Meals included: Breakfast / Lunch / Dinner

Day 6

THE ICEBERG WALK

Enjoy a walk along the Fjord south of Tasiilaq today before our boat trip back to Kulusuk. This walk perfectly showcases Greenlands variety of Icebergs in all their glory plus if you are lucky you might well spot some of the animals who live in this untouched area like arctic foxes and bowhead whales. Keep your eyes open for whales during the boat trip back. It is not uncommon to meet humpback and fin whales on this route!

Hiking time: 5 - 6 hours
Accomodation: Hotel
Meals included: Breakfast / Lunch / Dinner

Day 7

ISIKAJJIA

Today we will climb Isikajjia, famous for the US built radar station on its summit this peak offers spectacular panoramic views and a lovely walk with a huge variety of wildflowers. As always we are keen to share our wealth of knowledge about the environment around us. Decode the history of the area from colorful lichen on the rocks, discover which wildlife thrives in this remote destination and enjoy views of some of the most impressive geological features in the world.

Hiking time: 5 - 6 hours
Accomodation: Hotel
Meals included: Breakfast / Lunch / Dinner

Day 8

DEPARTURE

After breakfast at the hotel we say our goodbyes to Greenland and transfer to the airport for our journey home.

Meals included: Breakfast

See the map
Trip information
Difficulty
This trip is accessible to everyone with a sense of adventure and a positive attitude. Physically, you should be able to walk for 6-7 hours per day for several days in a row. Our hikes are not technically difficult but may venture off-trail on loose and uneven ground so care will be needed to avoid slips and trips. Adverse weather conditions can make hikes feel much more challenging.

To ask about your suitability for this trip and what you can do to prepare please feel free to give us a call.

Food & drink
We are proud of the varied, fresh and frankly delicious food we provide. Meals are based on a selection of local products and you will have the opportunity to try Greenlandic delicacies such as cod, arctic char and mussels.

Each day will start with a hearty breakfast accompanied by plenty of tea and coffee. You will help prepare and carry a picnic lunch for the day from a buffet style array of options - everyday there will definitely be sandwiches, hot drinks and cakes among other things. Evening meals will be provided by our hotel and there will be a selection of main courses for you to choose from. Vegetarian meals are available. Please let us know about any special dietary requirements when you book your trip, we will work with you to cater for your needs.

Accommodation
During this trip we will stay in 3 star hotels in twin or double rooms with en-suite facilities. In Kulusuk we will stay at Hotel Kulusuk which is located near the sea and provides simple but comfortable accommodation. We will also stay at Hotel Ammassalik in Tasiilaq which provides outstanding views of the surrounding landscape.

Each hotel provides hot buffet meals and offers WiFi for a small charge.

Luggage
Your luggage will need to be divided into two bags, a daypack of 30 - 40 litres and a larger 60 - 80 litre bag for the bulk of your luggage (see equipment).

Whilst trekking you should carry everything you need in your daypack. This will include lunch, water, spare clothing and any personal medication. Your larger bag can be left in your hotel room each day.

How do I get there?
For this adventure you will need to arrive at Greenland's Kulusuk airport (KUS) on day 1 of your itinerary. Greenland is serviced by just two international airlines, Air Greenland and Air Iceland. Direct flights to the territory are only available from Denmark and Iceland.

Air Iceland Connect flies from Reykjavic Domestic Airport (RKV) to Kulusuk twice a week on Wednesdays and Fridays.

There are a number of direct flights to Reykjavik from the UK with British Airways, Icelandair and Easy Jet.

To reach Reykjavik from the US, Icelandair have direct flights from New York, Boston, Washington and Seattle. Delta offer convenient flights, via new York, from San Francisco, Phoenix and Atlanta.

Please be aware that you will need to transfer between airports in Reykjavik in order to reach Kulusuk.

Another option is to fly to Greenland's largest transport hub, Kangerlussuaq (SFJ), and take a domestic flight to Kulusuk from there. Air Greenland provide flights to Kangerlussuaq from Copenhagen (CPH) in Denmark and Air Iceland provide flights from Keflavik Airport (KEF). Domestic flights from Kangerlussuaq to Kulusuk are provided by Air Greenland on Tuesdays and Fridays with return flights on Wednesdays and Saturdays.

Please be aware that if you choose to travel via Kangerlussuaq, you may require an additional nights accommodation in Kulusuk at the end of your trip.
Budget & change
The currency is the Danish Krone (DKK).

In the larger towns, you can withdraw money and pay using most common credit or debit cards. We recommend carrying some cash to avoid disappointment when card facilities are not available.

Please budget for drinks, tips, personal expenses and any meals not included in your trip. Expect to pay at least 200DKK / 25 Euro for a meal.

Tips
Although the custom is practised here, it is not expected. If you are satisfied with the services of your guide and local team, tipping is always appreciated. It is not obligatory and should be left to the discretion of each individual.

Formalities & health
Passport
Most travellers will require a passport valid for at least 6 months after your return date. It is your responsibility to confirm your specific requirements and please be aware that proof of onward travel may be required.
Visa
Travelling to Greenland is visa free for up to 90 days, for UK and US citizens
Vaccinations
No vaccinations are required.
Insurance
It is your responsibility to ensure that you are fully and adequately insured for the duration of your trip. Please ensure that all activities, excursions and destinations in your itinerary are included in your travel insurance policy, in addition to your regular cover for cancellation and medical expenses. We ask that you keep a copy of your policy summary (containing policy number and the emergency contact number for your insurer) in your day sack at all times, so that we can access this information should we need to contact the insurer on your behalf.
Medication
Your guide carries a first aid kit at all times but we recommend you carry the following items: - Painkillers - Anti-diarrhoea tablets - Sunscreen (high factor) for lips and skin - Moisturising cream (for sunburn) - Elastic bandage, regular bandages and Blister bandages - Sanitary products - Mosquito spray
Equipment & clothing
Clothing to bring
Hat for sun protection

Hat for warmth

Scarf or head scarf that can be wet

Sunglasses

Long sleeve shirts or cotton t-shirts

Jumpers, 1 light weight and 1 warm

Windproof and waterproof jacket with hood

Breathable fast drying underwear

Warm gloves

Comfortable long trousers (fast drying)

Waterproof trousers

Thermal long sleeved vest and leggings

Trainers or sandals for evenings

Walking socks

Hiking boots (high rise, sturdy soles)

Equipment to bring
2 water bottles or flasks minimum (1 litre)

Walking poles (highly recommended)

Head torch with spare batteries and bulb

Toiletries (including wet wipes)

Dry bags for keep clothes dry in your luggage

Container for any toxic rubbish (batteries, sanitary items etc)

Duffel bag (80 to 90 litres), flexible and water resistant

Daypack (30 to 40 litres) to carry with you each day

OTHER USEFUL KIT

Camera

Binoculars

Insect repellant

Thermos flask

Dates & prices
Want to add flights or create a private trip? Don't hesitate to contact us!
Contact us
Price includes
Airport transfers

An expert Kandoo Adventures guide

All transportation

All accommodation

Walking tour of Kulusuk

2 boat trips

7 breakfasts, 6 lunches and 7 dinners

Price does not include
Flights, visas and travel insurance

Drinks, tips and personal expenses

Lunch on day 1 and 8

Options
Additional hotel nights before or after your tour