Experience

Due to the remote nature of our ski adventures and the limited amount of supplies that we can carry, it is essential that we cover distances in good time. You must therefore know how to ski to be able to participate in either of our trips. Proper control, good stamina and ease getting on and off your skis are required. This type of experience can only be gained through getting out on skis prior to booking. Whether you do a ski adventure in your local hills or spend a week or more at a resort, it is important for you to be able to travel with confidence on skis so that when you are doing so in poor weather conditions the basics come naturally.

Aerobic Training

Aerobic (or cardio) training will be a key factor in your enjoyment of skiing as it is a surprisingly aerobic activity. Aerobic literally means 'requiring free oxygen' and refers to the use of oxygen to adequately meet energy demands during exercise via aerobic metabolism.

Aerobic exercise builds up your cardiovascular system allowing you to process limited oxygen in a more effective way. Aerobic exercise, unlike anaerobic exercise, requires oxygen for elongated periods of time. Examples of aerobic exercise would be lane swimming, long distance jogging, walking and cycling.

Depending on fitness, we recommend a 2-4 month training plan. Any skiing practice will help, but we also suggest doing some sort of aerobic exercise three times a week. If you're using a gym then the ski machine will help build the right muscles for skiing in Svalbard.



Strength Training

Any training plan should also include strength training. For skiing, strength training is just as important as your aerobic training, strengthening your lower body, core and, in particular, your thighs, will greatly increase your chances of success. You'll be using your leg muscles, pretty much repetitively lunging, for around 5 hours a day and you therefore need them to be strong enough to take the punishment.

To strengthen your legs we recommend doing the following exercises:

Ski machine

Wall squats

Walking lunges

Piston squats

Dead lifts

Remember when doing these exercises to keep watch of your technique. Exercises done with poor technique will more often than not harm you instead of help you.

Building upper body and core strength is also crucial as you'll be using your core to keep your balance.

Remember to stretch after all exercise sessions! Increasing flexibility will allow your body to recover more quickly overnight after kayaking all day. No one wants to kayak for 6 hours after waking up with stiff joints aching all over!



Stretching

Most sports injuries occur due to poor stretching. This is particularly true whilst kayaking where repetitive movements over long distances put a lot of stress on elbow joints in particular. To loosen your muscles and increase suppleness we recommend adopting a regular stretching regime. Spend 10 minutes every morning stretching your main muscle groups.

Mental Stamina

Just as important as physical stamina is mental stamina and attitude. There always comes a point that you will want to quit and just head back. Keeping a positive attitude and digging deep to push through is incredibly important and a valuable skill. Training your mental stamina is no easy thing, but there are ways to accomplish it. You essentially need to construct an activity that pushes your body to what it thinks is its limit, then you need to push past that to reach your goal.

A great way to achieve this is long distance running such as half marathons and full marathons. A marathon will push you to your limit whilst having an achievable goal in sight - the finish line. If you can do this with a friend or training partner then all the better as you will both push each other to achieve more.

Recommended clothing and equipment

Our advice for keeping warm

The sea in Norway can be very cold, even in summer so please think carefully about what clothes you bring. Although we will provide warm outer layers for kayaking, the layers you wear next to your skin make the biggest difference. Breathable, warm materials such as Merino wool is perfect for base layers.

We recommend:

Long waterproof jacket (with a hood, Gore-Tex/Nikwax or equivalent)

Waterproof trousers/salopettes (Gore-Tex/Nikwax or equivalent)

At least two pairs of good under gloves and over gloves

Sunglasses (UV 400)

Ski mask (mandatory)

Thick balaclava (fleece)

Appropriate warm neck wear

Warm hat (wool)

Warm jacket (synthetic or down)

Several sets of warm thermal underwear (long johns & long sleeved tops)

Thin socks and 3 or 4 pairs of thick socks

Here's a neat trick. If you're a bit chilly at night, ask if you can fill up your water bottle with hot water then stick it in a sock or t-shirt and pop it in your sleeping bag and you have your very own hot water bottle (literally!) - Note: make sure the lid is fully screwed on.

Pulks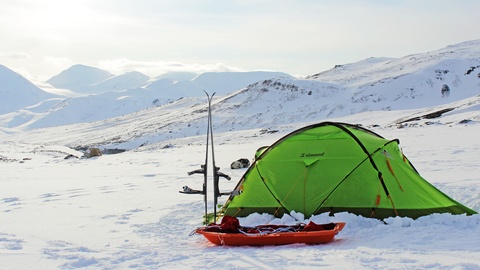 On our skiing trips, we provide pulks which will carry your equipment whilst you are skiing. Pulks are essentially a giant sledge that will be attached to you by a waist harness. They have plenty of space for storing your bags and will be protected by a waterproof cover that stops the equipment from falling out.

Other equipment we provide includes:

Large warm down jacket for when you are not participating in activities

Polar overalls

Suitable tent per 2 people (3 man dome tent for maximum space & comfort)

Self-inflating sleeping mat

Suitable synthetic sleeping bag ( -25°C)

Nordic cross country skis and/or snowshoes

Ski poles

Warm snow boots for walking around camp (Sorel)

Aluminium thermos flask per 2 people