Spending a few days in the wildlife-rich, beachfront location of Paracas, is the perfect way to relax and recharge your batteries after completing your trek to Machu Picchu. A stop off on your way home via Lima, could see you celebrating your triumph with a Pisco Sour looking out over Paracas' world famous natural marine reserve where the desert drops steeply into the delightful turquoise waters. Here, we offer a complete range of accommodation from hyper luxurious to budget boutique resorts. Below are details of our most popular hotels starting from as little as £67 per person per night plus transfers. Just let us know how many days you would like to stay in Paracas and we'll do the rest!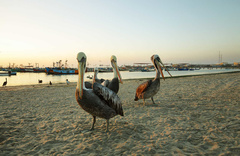 Hotels
An idyllic location on the seafront in the town of El Chaco, a short walk from the bustling town centre. Delicious fresh food and friendly staff make this one of our favourite hotels.

A boutique hotel with a down to earth feel. Slightly cheaper than our other hotels, but still offering delicious, freshly cooked food, a pool and a great location.

We love this hotel and so do our customers! Located in the quieter, Northern end of El Chaco boasts clean, spacious rooms looking out onto a huge pool!

Great for a luxury getaway. Enjoy the stunning beachfront location, friendly and personalised service on Paracas' quieter Northern coast.

Activities

Visit the Ballesta Islands

This small cluster of islands are home to an abundance of marine life including South American sealions, fur seals, Humboldt penguins, pelicans and Peruvian boobies! From El Chaco's Harbour, hop onboard a boat trip and see these incredible animals from your floating viewpoint. Boat trips usually last around 2 hours with plenty of opportunity to see a whole host of wildlife. Entry to the Ballesta Islands National Park is often included in your boat tour.

Learn how to make a Pisco Sour at La Hacienda Caravedo

The largest Pisco distillery in Peru is housed in a gloriously, vibrant hacienda in the Andes foothills. Experience the distillation process of Peruvians native spirit, named "little bird" in the traditional Quechua tongue.

Visit the National Reserve of Paracas
Established in 1975 this vast expanse of coastal desert and islands is inhabited by the highest concentration of seabirds anywhere in the world! Here the golden yellow of the desert holds sharp contrast to the electric blue of the ocean and birds flock in their thousands to these nutrient rich waters. Take a tour of the National Reserve in the late afternoon to capture it at it's most magical, as the sun melts down below the horizon.

Sun board down the biggest sand dunes in Peru
Paracas also offers plenty of excitement for thrill seekers, with optional buggy rides in the National Reserve and Sun Boarding down the dunes set back behind the town of El Chaco. Imagine snow boarding, but without the biting windchill and thermal underwear.

Take to the skies to see the Nazca Lines

The mystery of the Nazca Lines is probably best appreciated from the air. The sheer size of these historical artworks is awe inspiring to experience, particularly when you are able to view them from a birds eye point of view. Step back in time as you admire these mystical phenomenon. Flights leave from the small airport at Paracas and last anywhere between 30-90 minutes.

How to get to Paracas

From Cuzco it is very easy to catch a flight to Lima, you will have to do so to depart from Peru. From Lima airport. we will pick you up and transfer you to Paracas, this takes around 4 hours on the Panamericana coastal road. At the end of your stay we will then pick you up from your hotel and transfer you back to Lima in time to catch your onwards flight.