Training for kayaking

Experience

Although we plan routes that are accessible for all levels of kayaker, we would still highly recommend gaining some experience in a boat prior to joining us on a trip. Taking a beginners course or doing some self rescue training will build your confidence and allow you to have a much more enjoyable experience on the water. Most outdoor centres will offer introduction to kayaking courses and kayaking clubs often have beginner sessions in which you can learn basic paddling technique. Skills that are worth gaining prior to your trip would be: basic paddling techniques, simple self rescue (ie, getting out of the kayak should it capsize), bracing technique.

Aerobic Training

Aerobic (or cardio) training will be a key factor in your enjoyment of kayaking as it is a surprisingly aerobic activity. Aerobic literally means 'requiring free oxygen' and refers to the use of oxygen to adequately meet energy demands during exercise via aerobic metabolism.

Aerobic exercise builds up your cardiovascular system allowing you to process limited oxygen in a more effective way. Aerobic exercise, unlike anaerobic exercise, requires oxygen for elongated periods of time. Examples of aerobic exercise would be lane swimming, long distance jogging, walking and cycling.

Depending on fitness, we recommend a 2-4 month training plan. Any kayaking practice will help, but we also suggest doing some sort of aerobic exercise three times a week. If you're using a gym then the rowing machine will help build the right muscles for kayaking in Indonesia.

Strength Training

Any training plan should also include strength training. For kayaking, strength training is just as important as your aerobic training, strengthening your upper body, core and, in particular, your arms, will greatly increase your chances of success. You'll be using your arm muscles for around 5 hours a day, you therefore need them to be strong enough to take the punishment.

To strengthen your arms we recommend doing the following exercises:

Rowing machine

Shoulder presses

Back and shoulder flyes

Sit-ups

Kettle-bell rows / swings

Remember when doing these exercises to keep watch of your technique. Exercises done with poor technique will more often than not harm you instead of help you.

Building upper body and core strength is crucial as you'll be using your core to keep your boat stable.

Remember to stretch after all exercise sessions! Increasing flexibility will allow your body to recover more quickly overnight after kayaking all day. No one wants to kayak for 6 hours after waking up with stiff joints aching all over!

Stretching

Most sports injuries occur due to poor stretching. This is particularly true whilst kayaking where repetitive movements over long distances put a lot of stress on elbow joints in particular. To loosen your muscles and increase suppleness we recommend adopting a regular stretching regime. Spend 10 minutes every morning stretching your main muscle groups.

Mental Stamina

Just as important as physical stamina is mental stamina and attitude. There always comes a point that you will want to quit and just head back to shore. Keeping a positive attitude and digging deep to push through is incredibly important and a valuable skill. Training your mental stamina is no easy thing, but there are ways to accomplish it. You essentially need to construct an activity that pushes your body to what it thinks is its limit, then you need to push past that to reach your goal.

A great way to achieve this is long distance running such as half marathons and full marathons. A marathon will push you to your limit whilst having an achievable goal in sight - the finish line. If you can do this with a friend or training partner then all the better as you will both push each other to achieve more.

Recommended clothing and equipment

Our advice for keeping cool

The sea in Indonesia is generally a pleasant temperature, and in summer temperatures will sit between 20-27 degrees so please think carefully about what clothes you bring. Beneath your buoyancy aid it is worth wearing a top that covers your shoulders to reduce burn, as the water will reflect the sun's light and intensify your exposure whilst kayaking. A cap or wide brimmed hat is also highly recommended to protect your skin. A pair of shorts will suffice for your lower half. For time spent out of the kayaks we recommend light, breathable clothing to combat the humid Indonesian air.

We recommend:

Breathable, lightweight shirt/tshirt for underneath your buoyancy aid

Shorts

Swimming stuff (for snorkelling opportunities)

Sun hat

Water bottle

Equipment we provide

On our kayaking trips, we provide good standard technical equipment to ensure you have a comfortable trip.


Our kayaks:

Our kayaks are good quality, really stable double sea kayaks. They have plenty of storage in the front and back bulkheads and you will be amazed at how much fits in them! All the compartments are sealed and watertight, however you will also be provided with drybags to decant your kit into to give it additional waterproofing.

Other equipment we provide includes:

Waterproof bags - we recommend packing your clothes into drybags as well so they have two layers of waterproofing, just to be on the safe side.

Life jacket with two pockets

Fishing equipment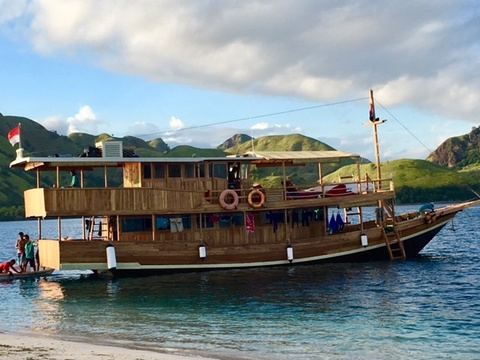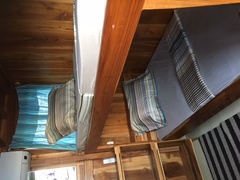 Escorting us in the park will be a 19m x 4m traditional wooden support boat and small tender. The boat is crewed by a captain, cook and a deck hand and facilities include two bathrooms, with a hand shower, a flushing toilet, and hand basins. The boat has multiple socket outlets however, we suggest charging your phones and any other devices during the day while the engine is running. The boat has 3 air-conditioned sleeping cabins; 1 x 4 bed, 1 x 3 bed, 1 x double. The AC is powered by a generator which will be switched off during the night to avoid noise pollution, however, you are free to make use of the battery-powered marine fans in the cabins. Bedding and towels are also provided on the boat. Once you have boarded the support boat on the first day of kayaking, you will be shown to your cabin, where you can store your belongings. These will be allocated to group members of the same gender; please be aware that couples may not be in the same room whilst on the boat.

Below deck, at the front, there is plenty of space for relaxing and there is a large covered dining room at the rear of the boat. The upper deck has a sun lounge deck with bean bags and deck chairs. We can even set up a hammock for you!

Sea kayaking

Sea kayaking is completely different to paddling rivers or across lakes. In the sea, there are so many more factors that you will be contending with. It is important to have some knowledge of how these may affect your boat, however your guide will be responsible for ensuring that the conditions you go out in are safe and will give guidance on how to prevent any issues from occurring. Please be reassured that the boats we use are incredibly stable, particularly once they are weighed down with all your kit, so even the less experienced paddler should feel secure. Below we have outlined some of the factors that may alter the route you take or the distance you paddle in a day:

Tides

Tides will have a huge effect on the route the guide decides to take. The tide is basically just a big wave which takes a little over 12 hours to come in then recede.

Every day the tides follow a rule of twelfths - for each amount of time between high tides (for example, if high tide is at 1pm and 1am - roughly) this is split into 12 segments. The rule then goes as follows, in the 1st and 6th segments the tide will go out by 1/12th, in the 2nd and 5th segments it will go out by 2/12ths and in the 3rd and 4th segments it will go out by 3/12ths. This is then repeated with the 7th and 12th, 8th and 11th and 9th and 10th however this time coming back in. So when it's near it's high and low points, the tide is moving relatively slowly in or out, whereas in the middle of these times it is moving quite quickly.

Tides also follow a spring and neaps pattern. Spring tides happen just after every full and new moon. During a spring tide there is a bigger distance between the high and low tides. Neap tides occur when the moon is in the first or third quarter - and there is much less distance between high and low tide. In the open sea, the rise and fall of the tide is relatively insignificant however when it moves over a shallower channel the tidal range increases. This means it can create fiercer tide races and in some cases whirlpools.

Tides can cause a problem when sea kayaking because channels may become impassable due to strong currents or low water, places to launch may involve long walks over sand or mud at low tide, whilst rocks posing a threat may be submerged at high tide. Nautical charts display where tidal races may occur and note dangerous objects below the waterline. Our guide will have a good knowledge of the area and safe routes for us to paddle, meaning all we have to do is keep the boat upright.

Waves

Unlike on rivers or lakes, where immediate weather isn't usually too much of a problem in a kayak, on the sea it can create difficulty. A change in wind speed or direction can cause the swell (waves) to increase in size which can make the boat less stable and it more difficult to stick together. The swell is the difference in height between the bottom and top of the wave. A swell of up to 1m is usually considered ok for the average paddler, however if it gets higher than this is begins to become dangerous.

While swell plays an important role in ocean conditions the period, or time between one wave and the next, is just as important. The longer the period the flatter a wave will feel. A good rule is that the period should be at least twice as long as the swell. This ensures the waves don't become too steep and feel like you're riding a rollercoaster.

The guide will monitor the height of the swell and if they feel it is too dangerous they may alter the route to a more sheltered location. Key points when moving through a high swell is to keep paddling (this keeps the boat more stable), look straight ahead over the crest of the wave at a point on the horizon (this will reduce motion sickness) and although staying fairly close to the shore provides more shelter, don't paddle so close that you get pushed onto the rocks.

Currents

Similarly to river paddlers, who have to deal with currents in the flow of the river, sea kayakers must be able to navigate currents that occur under the sea such as tidal surges and riptides. Currents are often the result of the tides or of water trying to pass through a narrow channel. The best way to navigate them is to go with the flow of the current, therefore making it easier to cover distance. Often in the sea it is hard to know when you are travelling against a current, usually indicators are difficulty in paddling and finding you are stationery or moving backwards whilst also paddling. If you find yourself paddling against a current, travel perpendicular to it until it recedes then continue in the direction you were originally following.