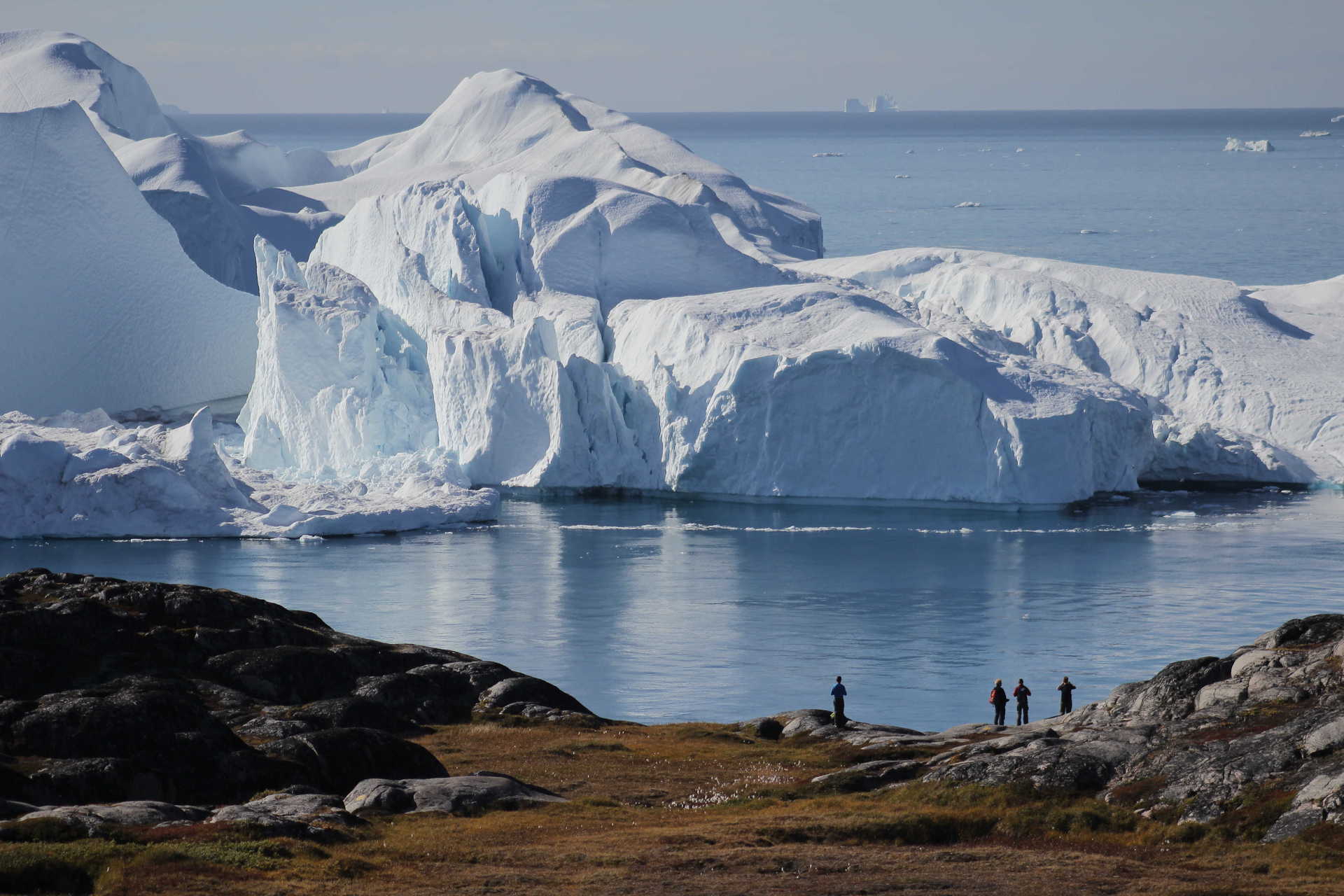 10-day adventure
The Kingdom of Ice
Greenland
Kandoo's view
This adventure is ideal for those who want to alternate between the freedom of camping in the wilderness and the comforts of local accommodation. Explore Greenland's enormously varied landscapes from volcanic islands to flowery valleys, from beaches to glaciers, from vibrant settlements to remote snowy peaks. Let our adventure transport you back to a simpler time, discover how locals thrive in this remote environment and experience true quietness, just you and your thoughts, alone on the ice cap surrounded by Greenland's vast and breathtaking wilderness.
Trip highlights
Experience the unspoilt wilderness of west Greenland
Climb to the Greenland Ice Sheet
Discover Disko Island
Experiences
Trekking & Hiking

Our core collection of treks and hikes, through some of the world's most outstanding landscapes
Itinerary
Day 1

WELCOME TO GREENLAND!

Welcome to Greenland! We will greet you at the airport and escort you to your accommodation in the centre of Ilulissat. Located approximately 220 miles north of the Arctic Circle Ilulissat is an interesting place, it has as many sled dogs as people! Discover more about the local culture, history and traditions on a walking tour of this iconic Greenlandic city.

Day 2

TO DISKO ISLAND

We will board a local ferry and sail across Disko Bay to the island of Disko (also called Qeqertarsuaq). Disko Bay is known as the sea of ice but it is said that during the summer months there are more whales than icebergs here! Keep your eyes open, particularly for humpback whales, as the ferry weaves between icebergs and heads towards the impressive 1000m cliffs of Qeqertarsuaq. We will spend two nights camping on this island exploring its range of landscapes and rich varieties of fauna and flora. We will set up a basecamp near to a picturesque fishing village in a sheltered spot surrounded by mountains, with views of the Bay, its icebergs and whales. We can enjoy guided hikes featuring some of this island's most impressive features like Blaesedalen 'the valley of the winds', a superb U-shaped glacial valley with numerous waterfalls. We will cross beaches with icebergs which have run aground and discover Kuannit with its fields, hot springs and volcanic cliffs. We can even climb to Lyngmark Glacier to enjoy a breathtaking panoramic view of the island!

Hiking time: 3 - 4 hours
Accomodation: Camping
Meals included: Breakfast / Lunch / Dinner

Day 3

THE LYNGMARK GLACIER

From our base camp, we explore Disko Island, a paradise for geologists, biologists and other scientists for the diversity of its landscapes and the richness of its fauna and flora. It is also a vast playground for hikers. We climb to the foot of the impressive Lyngmark glacier which will offer us a superb panoramic view of the whole island. In the evening we all gather around the stove in the dinning tent to chat about the days adventures.

Hiking time: 6 - 7 hours
Accomodation: Camping
Meals included: Breakfast / Lunch / Dinner

Day 4

BACK TO ILULISSAT

On our last day exploring Disko Island we will hike along iceberg covered beaches and discover cliff faces harboring vast numbers of sea birds. Every day allows us to discover a new facet of this Arctic landscape. We leave the camp and sail to Ilulissat in the evening, settling in at our accommodation.

Hiking time: 3 - 4 hours
Accomodation: Hostel
Meals included: Breakfast / Lunch / Dinner

Days 5 to 6

EQIP SERMIA

Today we leave for three days of exploration at Eqip Sermia, 50km north of Ilulissat. The vast glacier here is particularly impressive and it is common to see gigantic seracs collapse into the sea, a dramatic spectacle. We set up our camp for three nights and hike in the region, near the glacier and the ice cap. Each hike leads us to discover new and varied areas of this immense wilderness. We hike on the delta of the river to observe the icebergs stranded on the sand and to the foot of the glacier, populated by seals. Finally, we hike up the trail traced by Paul Emile Victor To the ice sheet.

Hiking time: 7 - 8 hours
Accomodation: Camping
Meals included: Breakfast / Lunch / Dinner

Day 7

THE ASCENT OF THE ICE SHEET

This great hike will undoubtably be a highlight of your trip! We will now go back in time to follow in the footsteps of polar expeditions. From the Victor cabin on the bay to the ice sheet where a former advanced research camp was located. We use the path that Paul Emile Victor's teams dug into the rock in 1947 to approach the ice cap. Every step brings us closer to this frozen vastness that we will explore, just like the great explorers of the past.The hike to the ice sheet lasts between 9 and 11 hours. Climbing on the ice sheet is therefore optional and dependent on weather conditions.

Hiking time: 9 - 10 hours
Accomodation: Camping
Meals included: Breakfast / Lunch / Dinner

Day 8

BACK TO ILULISSAT

Today we say farewell to the wilderness that has been our home for the last three nights. We take a final walk before packing up our camp and returning to Ilulissat by boat, weaving our way through the floating ice. In Ilulissat we settle in at our guesthouse where we will spend the next two nights.

Hiking time: 1 - 2 hours
Accomodation: Hostel
Meals included: Breakfast / Lunch / Dinner

Day 9

THE VALLEY OF SERMERMIUT

We finish our stay in Greenland with a hike to the flowery valley of Sermermiut not far south of llulissat. Little by little, the frozen fjord of Ilulissat is revealed to us, a striking spectacle as thousands of icebergs gather in the fjord before beginning their slow drift towards the open ocean. We spend most of the day exploring the valley before returning to our hostel.

Hiking time: 5 - 6 hours
Accomodation: Hostel
Meals included: Breakfast / Lunch / Dinner

Day 10

DEPARTURE

Free morning in Ilulissat. Visit the Knud Rasmussen Museum (optional) which traces the history of the great polar expeditions and in particular the life of Knud Rasmussen. Transfer to the airport to start your journey home.

Meals included: Breakfast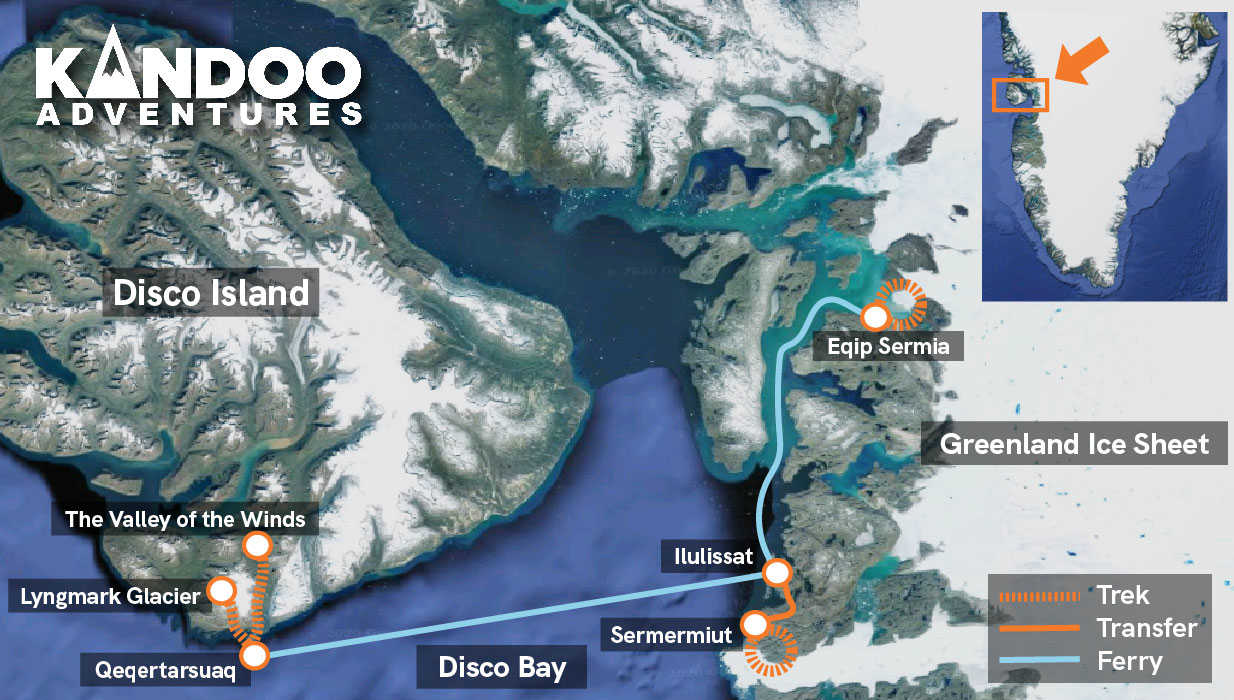 See the map
Trip information
Difficulty
This adventure is rated as challenging. You will be hiking in some of the most remote wilderness in the world, possibly in very cold and windy conditions. We will walk for up to 10 hours a day, sometimes off track on uneven and difficult terrain. There may be height gains up to 1000m.

To ask about your suitability for this trip and what you can do to prepare please feel free to give us a call.

Food & drink
This trip includes full board apart from one evening meal - we are proud of the varied, fresh and frankly delicious food we provide even when camping. Meals are based on a selection of local products and you will have the opportunity to try Greenlandic delicacies such as cod, arctic char and mussels.

Each day will start with a hearty breakfast accompanied by plenty of tea and coffee. You will prepare your own picnic lunch for the day from a buffet style array of options - everyday there will definitely be sandwiches, hot drinks and cakes among other ingredients. Each evening meal will be three courses- we try to offer fresh fruit and vegetables everyday but this is not always possible in Greenland!

Your help in the kitchen is expected and much appreciated, particularly in the evenings. Cooking is most enjoyable when the whole group work as a team to prepare dinner, it creates a pleasant atmosphere as we reflect on the days adventures together.

Please let us know about any dietary requirements when you book the trip and we will work with you to cater for your needs.

Accommodation
This adventure includes a mix of hostel accommodation and camping.

In hostels, we will stay in dormitories of between 4 and 12 people with shared bathroom facilities and a communal dinning area. Each hostel will have heating and hot showers available.

Whilst camping, we will provide a 3 man tent for 2 people and an inflatable mattresses. There will be a dinning tent with tables and stools for taking meals and for use as a communal space. Toilets will be basic holes in the ground and their will be no showers.

Luggage
Your luggage will need to be divided into two bags, a daypack of 30 - 40 litres and a larger 80 - 100 litre bag for the bulk of your luggage (see equipment).

Whilst trekking you should carry everything you need in your daypack. This will include lunch, water, spare clothing and any personal medication. Your larger bag can be left at our campsite or guesthouse while you are out hiking.

How do I get there?
You will need to arrive at Ilulissat Airport on day 1 of this adventure. The airport code is JAV.

You can fly to Ilulissat from either Iceland or Denmark. The easiest way to get there is to fly to Keflavik Airport (KEF) in Iceland and then catch your flight to Ilulissat from there. Iceland Air provide direct flights to Ilulissat from Keflavik International Airport. We recommend going directly to the Iceland Air website to check schedules and availability.

From the UK, there are direct flights to Keflavik from London Heathrow (LHR) with British Airways and Icelandair. Easy Jet also offer direct flights from London Luton (LTN), Manchester (MAN) and Edinburgh (EDI).

For those traveling from the USA, Icelandair have direct flights to Keflavik from New York (JFK), Boston (BOS), Washington (IAD) and Seattle (SEA). Delta offer convenient flights via New York from San Francisco (SFO), Los Angeles (LAX), Phoenix (PHX) and Atlanta (ATL).

Flights from Denmark depart from Copenhagen and are operated by Air Greenland. You will stop in Kangerlussuaq before continuing to Ilulissat.

On arrival, after clearing immigration and collecting your luggage, please look out for a member of our team in the arrivals area. They will be holding a large "KANDOO" sign.

Budget & change
The currency is the Danish Krone (DKK).

In the larger towns, you can withdraw money and pay using most common credit or debit cards. We recommend carrying some cash to avoid disappointment when card facilities are not available.

Please budget for drinks, tips, personal expenses and any meals not included in your trip. Expect to pay at least 200DKK / 25 Euro for a meal.

Tips
Although the custom is practised here, it is not expected. If you are satisfied with the services of your guide and local team, tipping is always appreciated. It is not obligatory and should be left to the discretion of each individual.

Formalities & health
Passport
Most travellers will require a passport valid for at least 6 months after your return date. It is your responsibility to confirm your specific requirements and please be aware that proof of onward travel may be required.
Visa
Travelling to Greenland is visa free for up to 90 days, for UK and US citizens
Vaccinations
No vaccinations are required.
Insurance
It is your responsibility to ensure that you are fully and adequately insured for the duration of your trip. Please ensure that all activities, excursions and destinations in your itinerary are included in your travel insurance policy, in addition to your regular cover for cancellation and medical expenses. We ask that you keep a copy of your policy summary (containing policy number and the emergency contact number for your insurer) in your day sack at all times, so that we can access this information should we need to contact the insurer on your behalf.
Medication
Your guide carries a first aid kit at all times but we recommend you carry the following items: - Painkillers - Sunscreen for lips and skin - Moisturising cream (for sunburn) - Elastic bandage, regular bandages and Blister bandages - Sanitary products

Equipment & clothing
Equipment supplied by Kandoo Adventures
3 man dome tent per 2 people

Inflatable sleeping matt

A dining tent with tables, stools and eating utensils

Clothing to bring
Walking boots (high-rise, sturdy soles)

Waterproof windproof jacket (breathable)

Waterproof trousers

Warm hat and gloves

Warm jumper

Thermal base layers (top and leggings)

Fleece or soft shell jacket

Suitable underwear, t-shirts and walking trousers

Warm socks

Warm pyjamas, towel, toiletries

Sunglasses

Comfortable shoes for the evenings

Equipment to bring
Sleeping Bag (min comfort rating -10 degrees)

Water bottle / thermos

Head torch with spare batteries

Daypack 30L to 40L

Duffel bag 80L to 100L or similar flexible bag for your main luggage. Not a suitcase

OTHER USEFUL KIT

Camera

Binoculars

Walking poles

Wet wipes

Plastic bags for wet/dirty clothing

Dates & prices
No date is available at the moment
Want to ask us a question or book a private trip? Don't hesitate to contact us!
Contact us
Price includes
Airport transfers

An expert Kandoo Adventures guide

All transportation

All accommodation

Walking tour of Ilulissat

9 Breakfasts, 8 lunches and 8 dinners

Price does not include
Flights and visas

Drinks, tips and personal expenses

Dinner on day 9

Travel Insurance
Options
Additional hotel nights before or after your tour