Everest Base Camp Routes
Everest Base Camp sits at the base of Mount Everest at 5,364m high. Whilst not a peak itself it is a popular, challenging and scenic walking route that takes you to the base of the highest mountain in the world. The name Everest Base Camp generally refers to the base camp on the Nepal side of Everest, but did you know there was another base camp on the Tibetan side? The Everest Base Camp trek is generally believed to be slightly easier and has less altitude than climbing to Everest Base Camp inTibet. There is also much less bureaucracy involved in planning your trek to Everest Base Camp from Nepal than from China which is why it is a much more common route.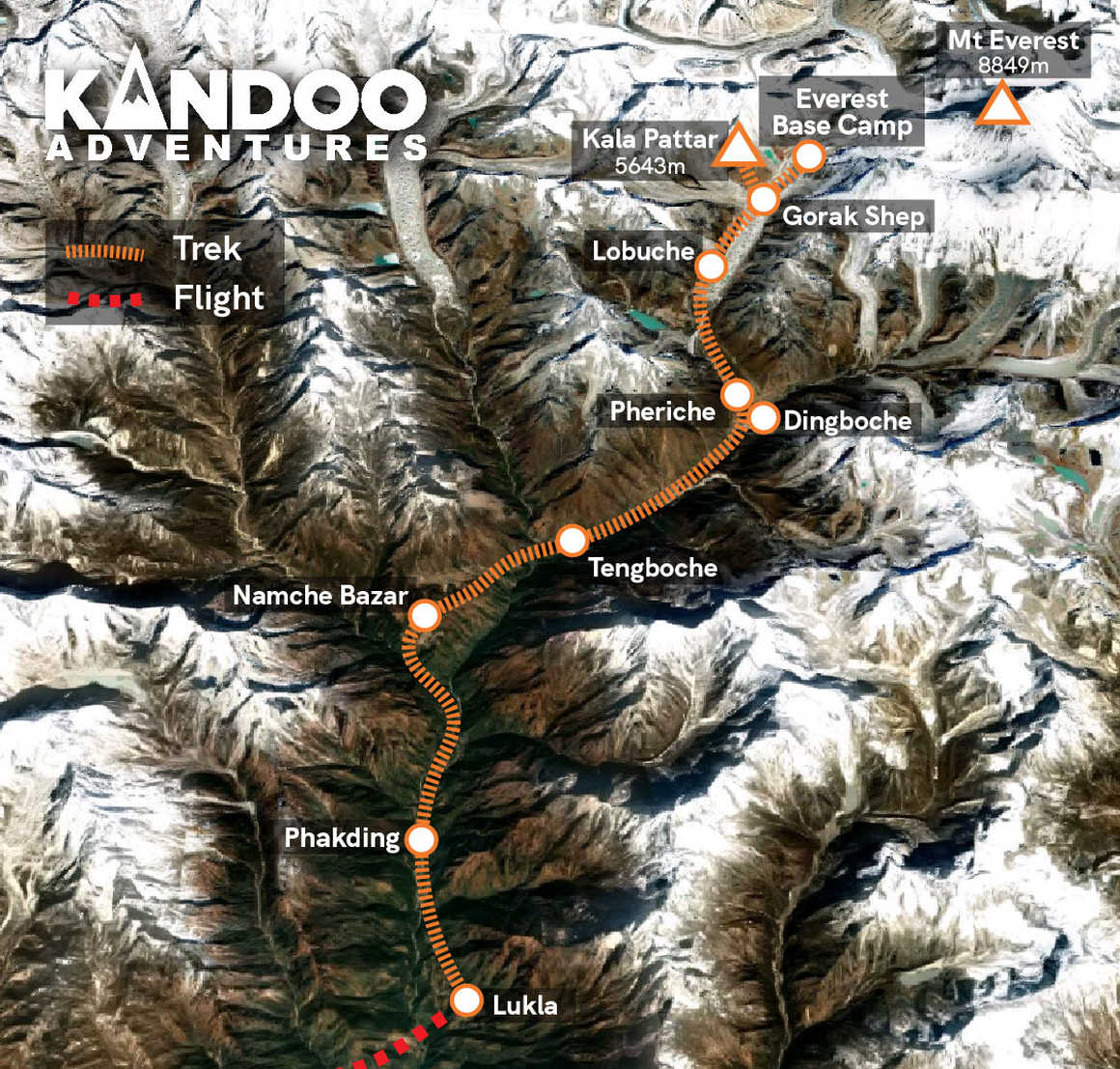 The classic everest base camp route
There are a number of different routes you can take to reach Everest Base Camp but the classic route, and the one most travelled, takes you from Lukla then trekking to Everest Base Camp and back, which is around 15 days in total. You'll travel along the same route as Edmund Hillary, following in the footsteps of the first person to summit Everest, through the Khumbu Valley named after the Khumbu Glacier which sits above base camp and is a breathtaking trek through the villages of Phakding, Namche Bazar, Tengboche, Dingboche, Pheriche, Lobuche and Gorak Shep.

You don't actually usually sleep at Everest Base Camp as this is a just a temporary collection of tents set up at the beginning of the season and taken down later in the year that house those attempting to climb Everest covering the distance between Everest Base Camp to summit height of 8,848m. Permission is required to enter Everest Base Camp however, Kandoo offer the exclusive option of spending the night at base camp and enjoying breakfast at Everest Base Camp under the shadow of the Khumbu Icefall and the start of the serious climbing route to the top.

Our favourite alternative everest base camp routes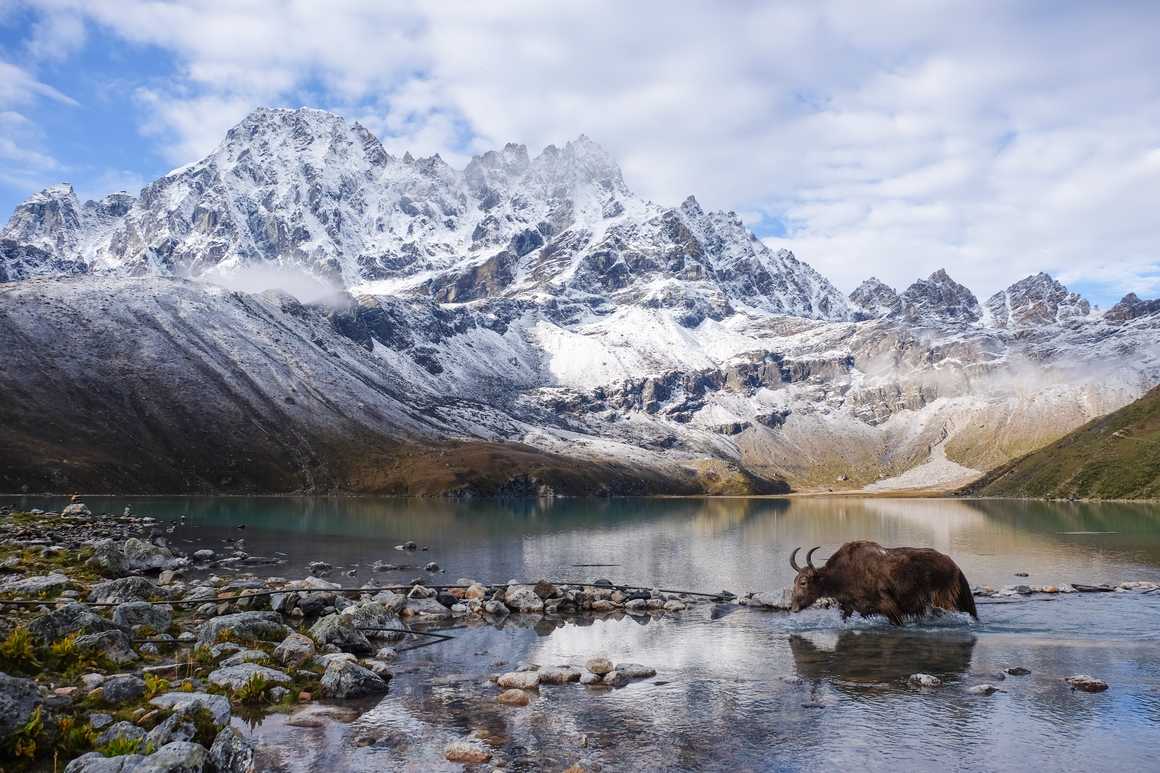 Gokyo Lakes and Everest Base Camp trek
The Gokyo Lakes Trek is a firm favourite of the Kandoo team for several reasons. It is a circular route as opposed to the classic out-and-back base camp route. It is also much quieter than the standard Everest Base Camp trip. The glacial Gokyo Lakes are also absolutely stunning, and you see unrivalled views of Cho Oyo, one of the highest 14 peaks in the world as well as the opportunity to trek through the remote Cho La Pass. This route to Everest Base Camp takes around 3 days longer than the classic route and is much more challenging so a good level of fitness and plenty of training is required. In return you'll experience the magic of the Himalaya that not many others will get to see.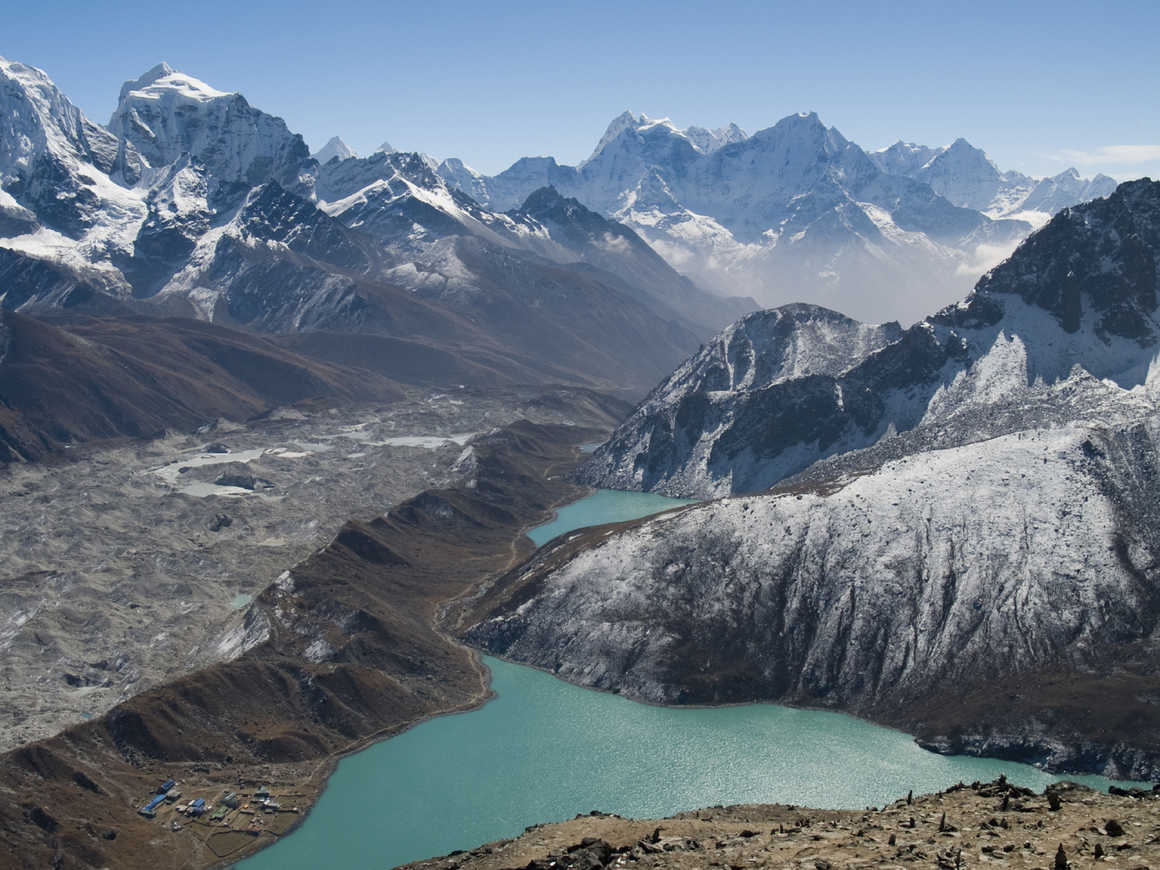 The Three Passes Everest base camp trek
So, if the Everest Base Camp trek is a challenge and the Gokyo Lakes trek requires more of you yet, the Three Passes trek is the mother of Everest Base Camp trips. This 21 day expedition is another circular route, covers the most ground, summits 3 peaks in addition to reaching Everest Base Camp and will offer a truly once-in-a-lifetime Nepal hiking adventure. Explore Gokyo Ri, 5,357m, Chukhung Ri, 5,550m, and Kala Pattar, 5,643m, which offers spectacular views from above Everest Base Camp, as well as trekking through the Renjo La pass, the Cho La pass and the Kongma La pass.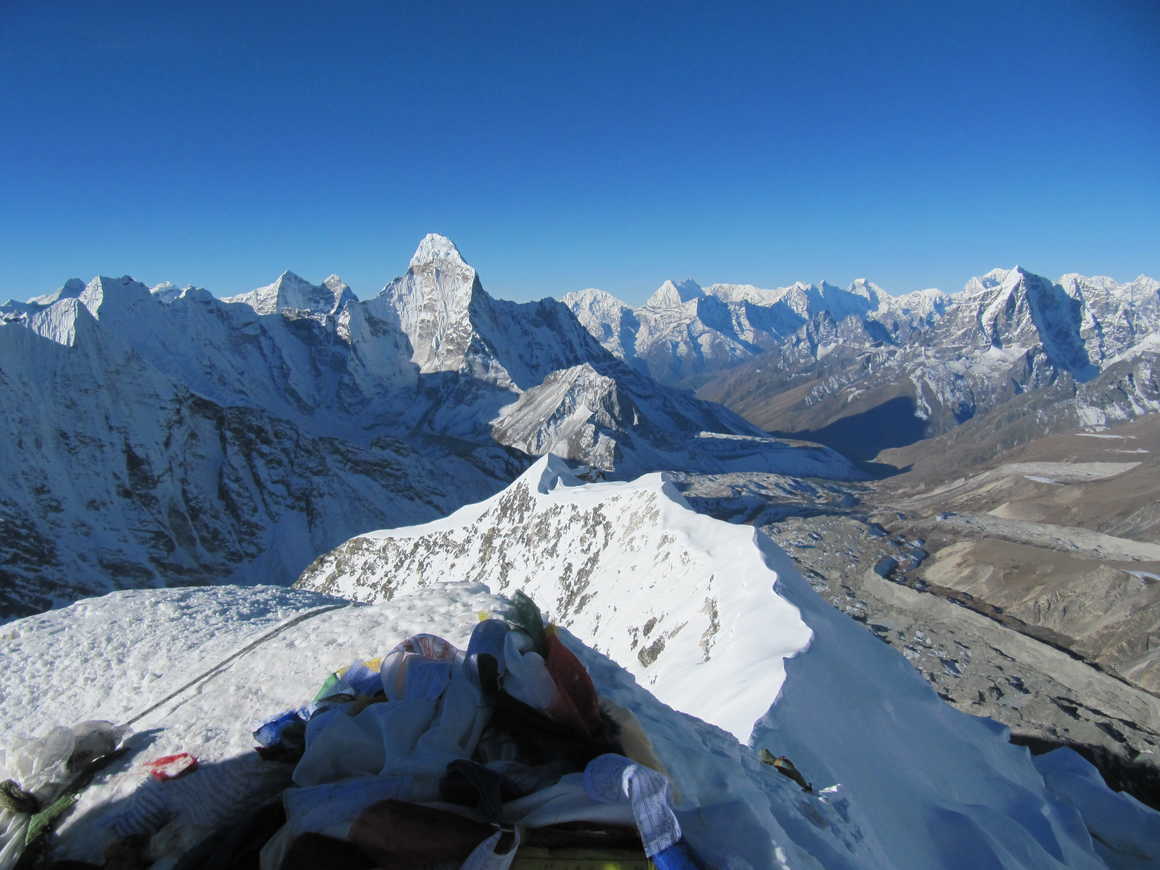 Everest Base camp and island peak
Island Peak is a 6,000m peak close to Everest Base Camp with its own base camp and offers unrivalled views across Khumbu from the summit. If you feel like you want to trek to Everest Base Camp and keep on going, then this is the trek for you. At 21 days this is another epic adventure but one that is perfect for trekking enthusiasts who want to explore more of Nepal. We grade this as our most challenging Nepal trip and a high level of fitness is required to join this expedition.

Alternative treks in Nepal
Whilst climbing to Everest Base Camp is an iconic trip, not everyone has the time, budget or inclination to take the 2 weeks required to hike to Everest Base Camp. For that reason we offer a handful of shorter Nepal trekking trips.

Poon Hill Trek
Poon Hill is close to the base of Annapurna and can be reached from Pokhara which is a 30 minute flight from Kathmandu. This trek is a moderate 8 day trip which offers views of the Annapurna range and the chance to experience the beautiful Himalayas for those who might be new to trekking or want to do a shorter Nepal hike.

Langtang Valley
The Langtang Valley Nepal trek is shorter and doesn't reach as high an altitude as EBC trips but still offers an immersive experience of trekking through Nepalese countryside, views of Himalayan peaks and is much closer to Kathmandu. This trip is 10 days long and takes only a day to reach from Kathmandu making it more convenient for trekkers with less time available.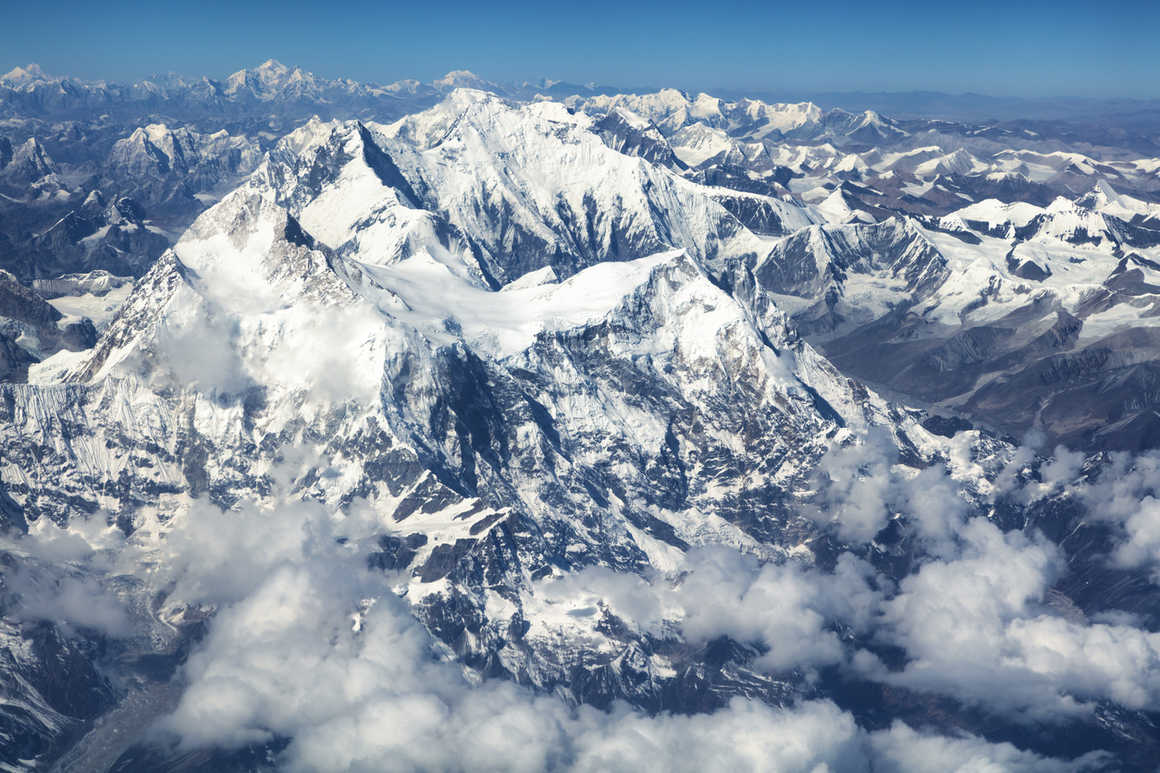 why trek in nepal
Nepal is the home of the Himalayas, which itself is home to the highest mountains in the world. You don't have to hike to Everest Base Camp to enjoy the beauty and splendour of these incredible mountains altough it is a great way to immerse yourself in Himalayan culture, learn more about the Sherpa people and explore a part of the most iconic mountain on earth.

Kandoo offer a whole range of Nepal trekking trip and Nepal holidays, including safaris in Nepal which are not to be missed! Check out the full range of our Nepal holidays below and start planning your next adventure with us.