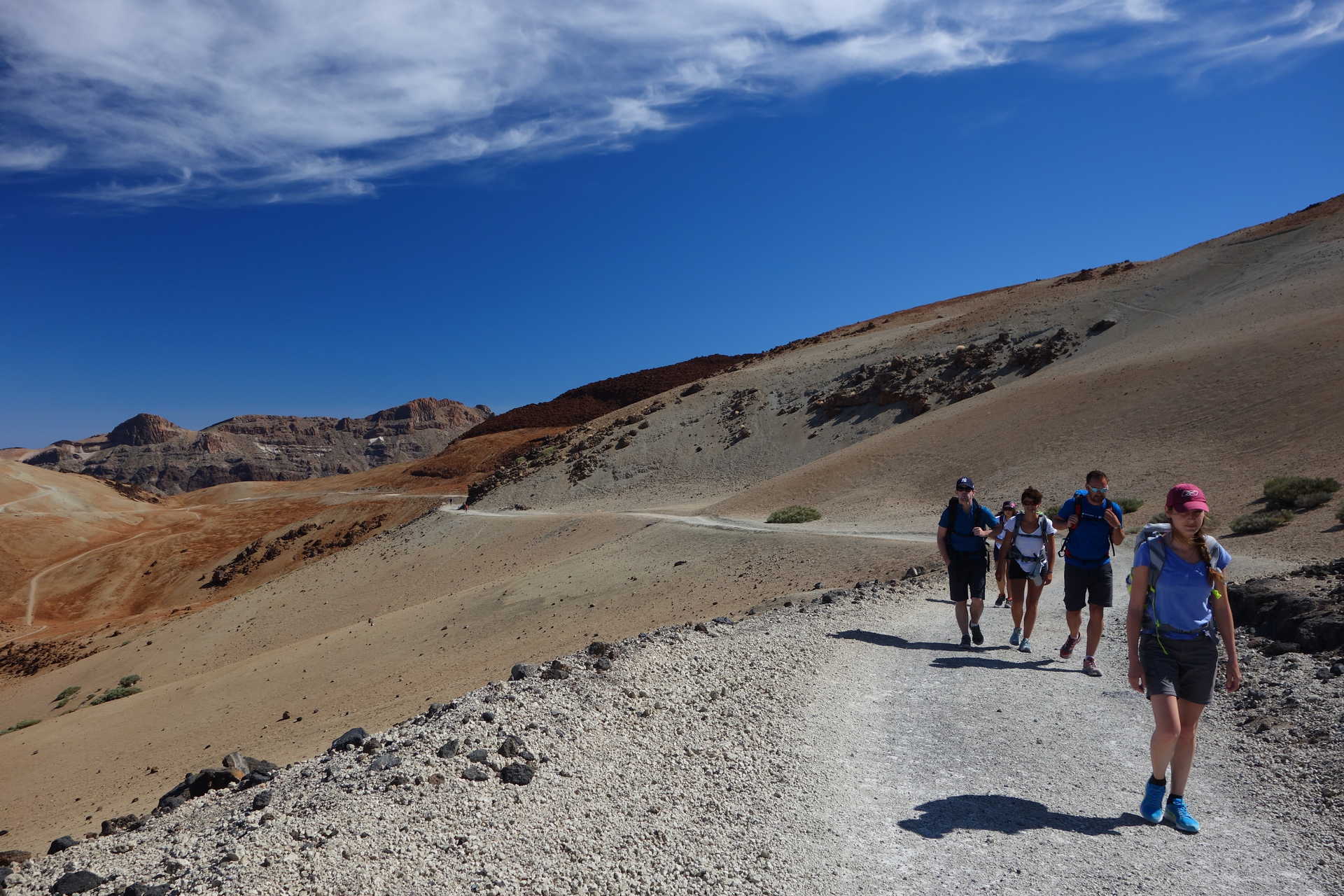 8-day adventure
Tenerife and La Gomera
Spain
Our local team
Our Canary Islands office is based in El Médano on the island of Tenerife. Our local team provide group adventures and create tailor made private trips. Whether you want to scale the 3715m peak of Mt Teide (Spain's highest mountain) or discover the laurisilva forests of La Palma, our experienced team of guides have all the skills and local knowledge to ensure you have an exceptional experience. The team have a contagious passion for the Canary...
Learn more
Kandoo's view
This adventure will take you to the most unspoilt and remote parts of these two incredible islands. From the savage beauty of Anaga to the lofty summit of Spain's highest peak, the ancient forests of Garajonay and the forgotten hamlet of Imada. This is a challenging route, you need to be ready for 6 days of solid hiking, reaching an altitude well over 3500m. You will experience another side of the Canary Islands far from the beach resorts and sun loungers. A land with vast open spaces, ancient lava flows, dense evergreen forests and peaks that look down on the clouds.
Trip highlights
Watch the sunrise from the summit of Mt Teide
Discover the rugged Anaga Peninsula
Explore the beautiful Garajonay National Park
Experiences
Trekking & Hiking

Our core collection of treks and hikes, through some of the world's most outstanding landscapes
Itinerary
Day 1

Welcome to Tenerife

Arrival at Tenerife South Airport. A member of the Kandoo Adventures team will be at the airport to meet you and we transfer to our hotel in the town of Guimar. You will meet your guide and the rest of the group at the hotel. Depending on your arrival time there may be a chance to get out and explore the town. Our pre-trek briefing will be held this evening.

Transport: Private transfer (0.5 hour, 40 km)
Accomodation: Hotel

Day 2

The Anaga Peninsula

We start our exploration of Tenerife in the World Biosphere Reserve of Anaga Rural Park. The rugged and remote Anaga Peninsula forms the northern most tip of the island and offers magnificent hiking with sublime scenery. We follow stone paths through tiny terraced villages and pause for lunch on Bermejo Beach. In the afternoon we begin climbing up to the village of Charmorga, the most isolated village in the area, where we will be spending the night.

Hiking time: 5 - 6 hours
Ascent: 800 m
Descent: 800 m
Accomodation: Rural Hotel
Meals included: Breakfast / Lunch / Dinner

Day 3

Mt Guajara

This morning we take a private transfer to Teide National Park in the center of the island. Our goal for today is the peak of Guajara, the third highest peak on the island at 2718m and a great acclimatization hike. We cross barren, lunar landscapes where endemic plant life such as white broom, tajinaste and wallflower are surviving despite the harsh conditions. Ascending gradually to the summit plateau of Guajara, we are suddenly treated to incredible 360 degree views of Tenerife, Teide and the surrounding islands. After some time to soak up our surroundings we descend by the same route.

Hiking time: 5 - 6 hours
Ascent: 650 m
Descent: 650 m
Max. altitude: 2718 m
Accomodation: Rural Hotel
Meals included: Breakfast / Lunch / Dinner

Day 4

Roques de Garcia

Today we are taking it easy because we need to save our strength for the ascent of Mt Teide early tomorrow. We take a short hike through stunning scenery to reach the Roques de Garcia. These beautiful rock formations rise up out of the landscape and create a picturesque foreground to the views of Pico Viejo and Mt Teide beyond. We return to our hotel in the afternoon and get an early night, our ascent will start before sunrise.

Hiking time: 3 - 4 hours
Ascent: 250 m
Descent: 250 m
Max. altitude: 2244 m
Accomodation: Rural Hotel
Meals included: Breakfast / Lunch / Dinner

Day 5

Mt Teide to La Gomera

We depart from our hotel at around 1.30am to begin our climb of the highest peak in Spain and the third highest volcano in the world. Using our head torches to illuminate the trail, we will ascend 1190m, hopefully reaching the summit in time to witness the sunrise over the Atlantic.

From the Montana Blanca car park at the base of the peak, we begin climbing the El Culaton lava flow. As we gain height the views of Caldera las Canadas become increasingly spectacular. The caldera is named after the ancient volcano, Canadas, whose collapse formed the enormous basin we see before us. A steep but steady climb takes us up to the Altavista refuge at 3270m (closed since the pandemic). Our next point of call is the cable car station at 3550m known as La Rambleta. From here we joint the Telesforo Bravo path which will guide us to the top. Once at the summit, an exceptional spectacle awaits us as we watch the sunrise over Tenerife, the archipelago and the Atlantic Ocean. An unforgettable experience.

We descend 160m back to La Rambleta and take the cable car back to the base of the volcano. After pausing for lunch in Vilaflor, we transfer to the port of Los Cristianos where we board our ferry to La Gomera. As we approach the port of San Sebastien, the views of La Gomera's vertical cliffs rising out of the waters are stunning and a sense of excitement builds at the prospect of exploring our second island. We transfer to the town of Hermigua and settle down for a well earned rest.

Transport: Ferry (2 hours, 46 km)
Hiking time: 7 - 8 hours
Ascent: 1190 m
Descent: 160 m
Max. altitude: 3718 m
Accomodation: Hotel
Meals included: Breakfast / Lunch / Dinner

Day 6

Garajonay National park

Garajonay National Park covers approximately 4000 hectares and is home to more than 400 plant species. Today we depart on the most beautiful circular hike on La Gomera. We begin by following a stream which irrigates the fertile and cultivated Hermigua valley all year round. The trail leads to the foot of the El Cedro waterfall and past the tiny chapel of Lourdes before descending into laurel forests. In the afternoon we arrive back at our accommodation on foot with some time to relax and take in the panoramic views of the Hermigua valley.

NOTE - Early in the morning today transport will be provided for you to travel to San Sebastien to get a PCR test for Covid19. Your results will then be ready before your return flight. The cost for a test is €90 which must be paid locally.

Hiking time: 5 - 6 hours
Ascent: 880 m
Descent: 880 m
Accomodation: Hotel
Meals included: Breakfast / Lunch / Dinner

Day 7

A little paradise

The first time he saw Imada, the French traveller and scientist, Rene Verneau called it "little paradise". Time seems to have stood still in the tiny hamlet, a cluster of stone houses surrounded by neat cultivated terraces. The crops of wheat and barley are ringed by endemic vegetation and a healthy population of goats roam through the greenery. We take a circular walk through this enchanting valley before transferring back to Tenerife in the afternoon.

Transport: Ferry (2 hours, 46 km)
Hiking time: 5 - 6 hours
Ascent: 965 m
Descent: 965 m
Accomodation: Apartment
Meals included: Breakfast / Lunch

Day 8

Departure

Depending on your flight time there may be an opportunity to wonder the streets of Los Cristianos and pick up some souvenirs before transferring to the airport for your flight home.

Transport: Private transfer (0.3 hour, 13 km)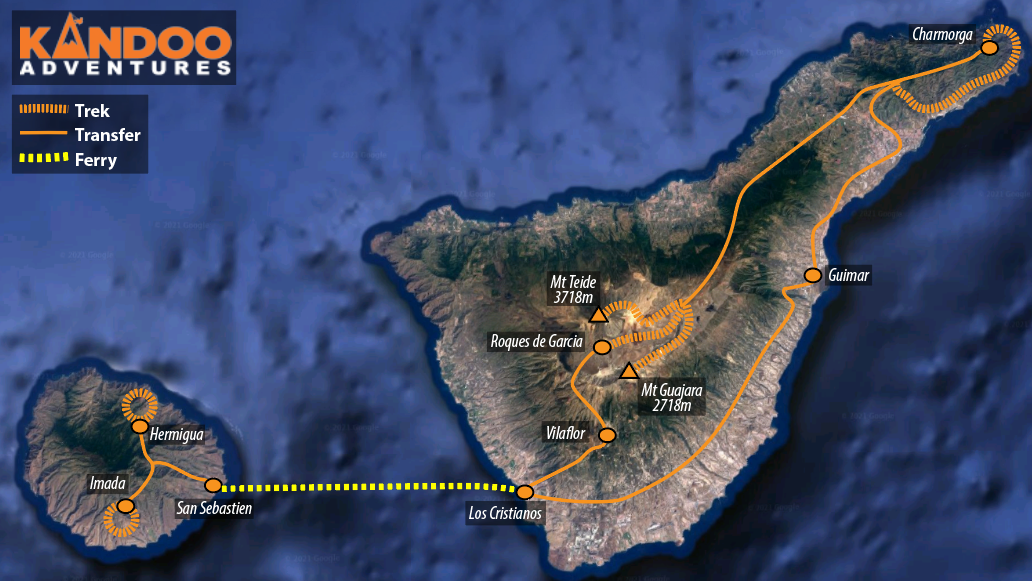 See the map
Trip information
Difficulty
This adventure is of moderate difficulty. The walking is continuous for 6 days and we will be reaching altitudes well over 3500m. Volcanic terrain can be loose, rocky and difficult to walk on so care should be taken to avoid slips and trips. The weather on the Canary Islands can be hot with intense sunshine which makes trekking more demanding. The maximum ascent in a single day is 1000m and descent 1550m, trekking poles are recommended to reduce the impact on your joints. You should be in good physical condition with recent experience of hiking for several days in row, in a mountainous environment, with over 1000m of ascent and descent in a day. To ask about your suitability for this trip and what you can do to prepare please feel free to give us a call.

Food & drink
Breakfasts are taken either at our hotel or in small adjoining restaurants. The breakfasts will be continental in style with a selection of bread, jam, pastries, cold meats, cheese, yoghurts and fruit. Lunches are picnic style, the Canarian cuisine lending itself perfectly to fresh fruits and vegetables (banana, mango, avocado and tomatoes), cold meats and local cheeses etc.

In the evening, meals are taken in small local restaurants. We attach great importance to gastronomy and all the places we eat have been chosen with care. You will have the opportunity to sample all the local specialties such as papas arrugadas, ropa vieja or miel de palma.

Please note that the water on Tenerife is not drinkable everywhere. During the trip, drinks including water, are your own responsibility. Although drinkable water is widely available, it is a good idea to bring a water filter along for peace of mind and flexibility.

If you have special dietary requirements please call and let us know as soon as possible before departure. We will do everything possible to accommodate your needs.

Accommodation
The main form of accommodation we use on the Canary Islands is hotels. We use 3 star hotels and select properties carefully to ensure you are staying in the best locations. Rooms will be double or twin with en-suite facilities. Triple rooms and single supplements are available subject to availability.

While climbing Mt Teide, we will spend one night in the Altavista refuge. Accommodation in the refuge is in dormitories of between 4 and 12 people with shared bathroom facilities and a communal dinning area.

At the end of your tour, the evening before departure, we may use apartment accommodation. Apartments will consist of one or two bedrooms, kitchen area, bathroom and living room.

Transport
All transportation, including airport transfers, is included.

We will use comfortable minibus vehicles to move around the islands.

Luggage
During your trip your luggage will be transported by vehicle. Your main bag must be flexible (a duffle bag and not a rigid suitcase) and weigh a maximum of 15kg. Your luggage will be transported to your accommodation each afternoon and you will not be able to access it during the day. You should also bring a small day pack to carry water, snacks and anything else you may need whilst walking.

How do I get there?
Tenerife has two airports, one in the north (TFN) and one in the south (TFS). Your international flight will need to arrive at Tenerife South – Reina Sofia Airport (TFS).

Tenerife is a popular holiday destination for many people from the UK so the flight options are numerous. Jet2 offer direct flights from Manchester, Newcastle, Glasgow, Edinburgh, Birmingham and Stansted. Easy Jet offer direct flights from Luton, Gatwick and Bristol and British Airways have direct flights from Heathrow. With so many options available you should find it easy to find a departure / arrival time that works well for you. The flight time from the UK is roughly 4hrs 30mins.

For those traveling from the USA, American Airlines offer flights from New York via Madrid and Aer Lingus have convenient flights from San Francisco via Dublin. British Airways have flights via London from Boston, New York, Phoenix, Houston, Seattle and Dallas. However, the return flight times are not always convenient. To save money and have greater flexibility you may like to consider booking a low cost airline from the UK to Tenerife separately to your transatlantic flight. If you choose this option please carefully check your arrival and departure airports and terminals and allow extra time for transfers and luggage collection.

On arrival in Tenerife, a member of the Kandoo Adventures team will be waiting for you in the arrivals area. Look out for a large "KANDOO" sign.
Budget & change
The currency on the Canary Islands is the Euro (EUR). For the latest exchange rates please see www.xe.com

It is possible to withdraw cash from ATMs on the island but please be mindful of any charges from your bank. Credit cards are widely accepted in the towns but not in remote areas. Please budget for drinks, souvenirs and any meals not included in your tour.

Tips
Although the custom is practiced here, it is not expected. If you are satisfied with the services of your guide and local team, tipping is always appreciated. It is not obligatory and should be left to the discretion of each individual.

Formalities & health
Passport
Most travellers will require a passport valid for at least 6 months after your return date. It is your responsibility to confirm your specific requirements and please be aware that proof of onward travel may be required.
Visa
Travelling to the Canary Islands is visa free for up to 90 days, for UK and US citizens
Vaccinations
No vaccinations are required.
Insurance
It is your responsibility to ensure that you are fully and adequately insured for the duration of your trip. Please ensure that all activities, excursions and destinations in your itinerary are included in your travel insurance policy, in addition to your regular cover for cancellation and medical expenses. We ask that you keep a copy of your policy summary (containing policy number and the emergency contact number for your insurer) in your day sack at all times, so that we can access this information should we need to contact the insurer on your behalf.
Medication
Your guide carries a first aid kit at all times but we recommend you carry the following items: - Painkillers - Sunscreen for lips and skin - Moisturising cream (for sunburn) - Elastic bandage, regular bandages and Blister bandages - Sanitary products
Equipment & clothing
Clothing to bring
Warm hat (beanie)

Sun hat with wide brim for protection

Sunglasses

Neck gaiter or scarf

Suitable quick drying underwear

Light gloves

Walking boots (with ankle support and sturdy soles)

Socks (quick drying and not too warm)

T-shirts and warm jumper

Fleece or soft shell jacket

Waterproof and windproof hard shell jacket

Walking trousers and/or shorts

Pajamas, travel towel and toiletries

Comfortable shoes for the evenings

Waterproof trousers

Equipment to bring
Head torch and spare batteries

Eating utensils

30-40 litre day pack

80 – 100 litre duffel bag, max weight 15kg

Camera

Water filter

Water bottles or hydration pack

Walking poles

Wet wipes and hand sanitiser

Plastic bags for wet/dirty clothing

Dates & prices
Want to add flights or create a private trip? Don't hesitate to contact us!
Contact us
Price includes
Airport transfers
An expert Kandoo Adventures guide

All transportation

All accommodation

6 breakfasts, 6 lunches, 5 dinners

Price does not include
Flights, visas and insurance

Drinks, tips and personal expenses

Dinner day 1 and 7, breakfast day 8

Your personal trekking gear
Options
Additional hotel nights before or after your trip