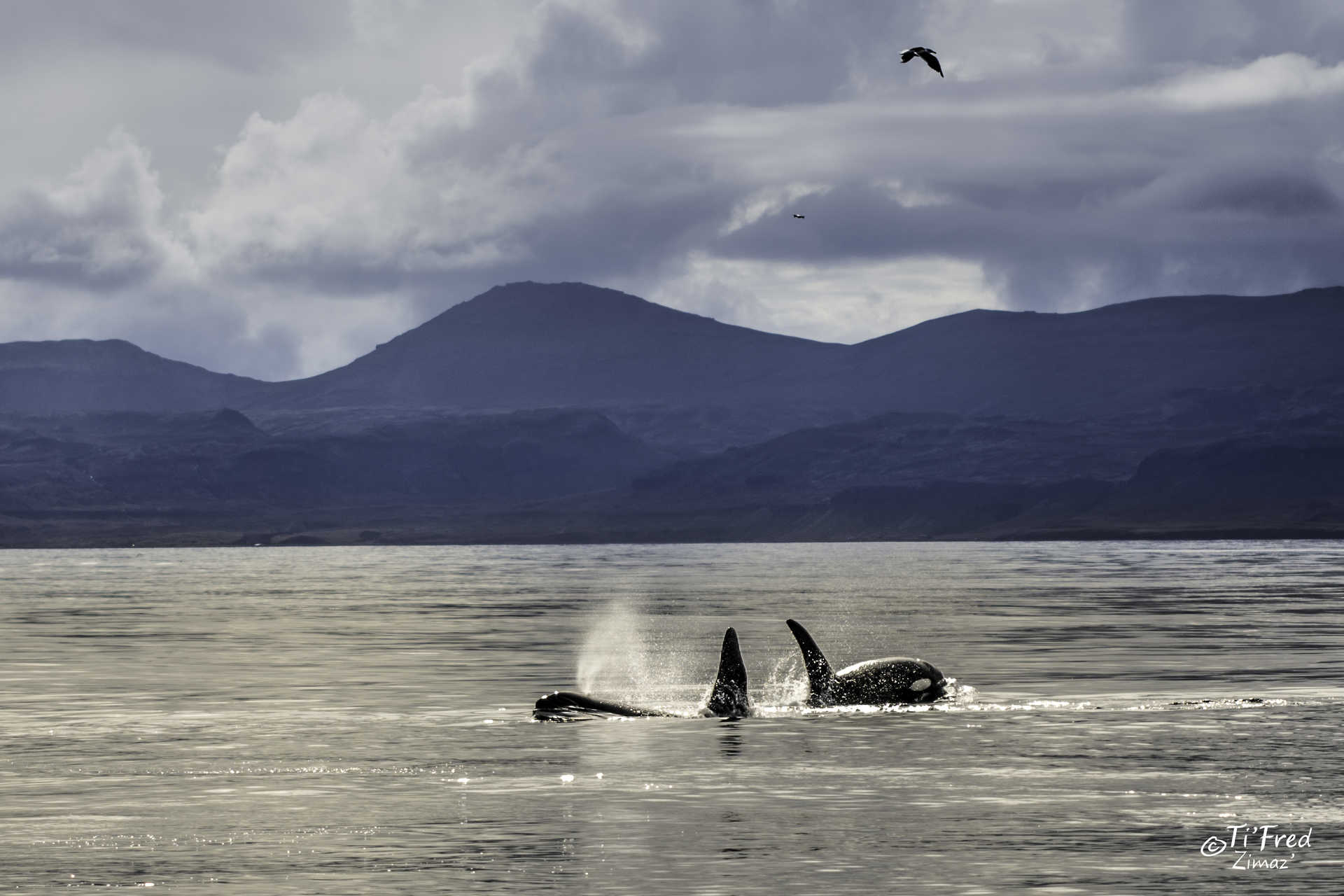 8-day adventure
Fire and Fjords
Iceland
Our local team
Our office in Iceland is located in the capital city of Reykjavik and has been established for more than 20 years. Our local team in country handle all the logistics of our trips as well as maintaining our equipment and our fleet of all terrain vehicles. Our experienced and passionate guides love nothing more than introducing people to the glaciers, geysers and volcanoes of this world class adventure destination. We offer treks on the world...
Learn more
Kandoo's view
Amidst Iceland's stunning north eastern fjords you will find the beautiful and isolated villages of Husavic, Seyðisfjörður and Bakkagerði. We will pass by the summits of Neshals and Dyrfjöll and walk across the Mosdalur plateau, gazing out over the Arctic Ocean towards Norway and Svalbard. This adventure is for those who want get well off the beaten track. Passing through multicoloured rhyolite mountains, snow capped passes and green meadows, you will be amazed by the ever changing landscapes of this remarkable corner of Iceland.
Trip highlights
Discover the remote north eastern fjords of Iceland
Explore the little visited Dyrfjöll Peaks
View puffins and seals in the fjord of Borgarfjörður Eystri
Experiences
Trekking & Hiking

Our core collection of treks and hikes, through some of the world's most outstanding landscapes
Itinerary
Day 1

Welcome to Iceland!

Welcome to Iceland! Today you will land in Keflavik and transfer in to the city to catch your domestic flight up to Egilsstaðir. In the afternoon you will meet your guide and the rest of your group and have some time to explore the town.

Day 2

TO LOĐMUNDARFJӦRĐUR

This morning we transfer to the small port of Seyðisfjörður, nestled at the head of the fjord with the same name. This is the end of the road and the start of our trek. We pass through grazing meadows and scenery typical of the arctic regions. Climbing our first pass and crossing several fords, we make our way towards the isolated Loðmundarfjörður fjord where our first refuge is waiting for us. This peaceful area is home to many eiders who come to nest here, close to the peat bogs, in the summer months.

Hiking time: 5 - 6 hours
Ascent: 600 m
Descent: 600 m
Accomodation: Refuge
Meals included: Breakfast / Lunch / Dinner

Day 3

TO HÚSAVÍK

Today we continue heading North, following the fjord to begin with until we reach a number of old farms, abandoned in the 1950s. We begin climbing up into multi coloured rhyolite mountains as we head forthe summit of Neshals. From the top the views of
the fjords and surrounding mountains are spectacular. We descend over moorland to the Bay of Husavik where we find our refuge for the night.

Hiking time: 5 - 6 hours
Ascent: 480 m
Descent: 480 m
Accomodation: Refuge
Meals included: Breakfast / Lunch / Dinner

Day 4

THE MOSDALUR PLATEAU

Our journey continues through incredible rhyolite mountains up to the Mosdalur Plateau and the imposing peak of Hvítserkur. The landscape here is unlike any other, a striking mix of pastel colours and a definite highlight of the trek. We descend again to the Bay of Breiðavik, an amazing black sand beach surrounded by towering cliffs. Here on the coast we find our refuge for the night.

Hiking time: 6 - 7 hours
Ascent: 500 m
Descent: 550 m
Accomodation: Refuge
Meals included: Breakfast / Lunch / Dinner

Day 5

BREIÐAVÍK TO BAKKAGERÐI

This is our final day of exploring this incredible coastal region before we find ourselves back in civilization, or at least within reach of a main road again. We climb out of the Bay of Breiðavik and find ourselves in a multi coloured, lunar landscape over looking the ocean. We descend into the fjord of Borgarfjörður Eystri to reach a small fishing port where seals and puffins await you on the rocks. A perfect end to our crossing from Husavik. We stay in a hostel in the small village of Bakkagerði.

Hiking time: 6 - 7 hours
Ascent: 400 m
Descent: 400 m
Accomodation: Hostel
Meals included: Breakfast / Lunch / Dinner

Day 6

THE DYRFJӦLL PEAKS

The Dyrfjöll peaks are clearly visible from Bakkagerði, and a short transfer this morning takes us to the foot of the mountains. Rising 1136m above the ocean, Dyrfjöll is an impressive sight and a tough climb. It takes its name from its most obvious feature, a huge gap in the mountain wall that looks like some kind of enormous entrance. Dyr translates as "door". In the afternoon we return to our hostel in Bakkagerði.

Hiking time: 5 - 6 hours
Ascent: 800 m
Descent: 600 m
Accomodation: Hostel
Meals included: Breakfast / Lunch / Dinner

Day 7

BACK TO REYKJAVIK

In the morning we transfer to the airport for our return flight to Reykjavik. On arrival back in the capital city we drop our luggage at our accommodation and have the rest of the day to explore the city at leisure. You may like to visit one of the many Museums and try out a local Restaurant.

Accomodation: Hostel
Meals included: Breakfast

Day 8

DEPARTURE

Transfer to the airport and flight home.

Meals included: Breakfast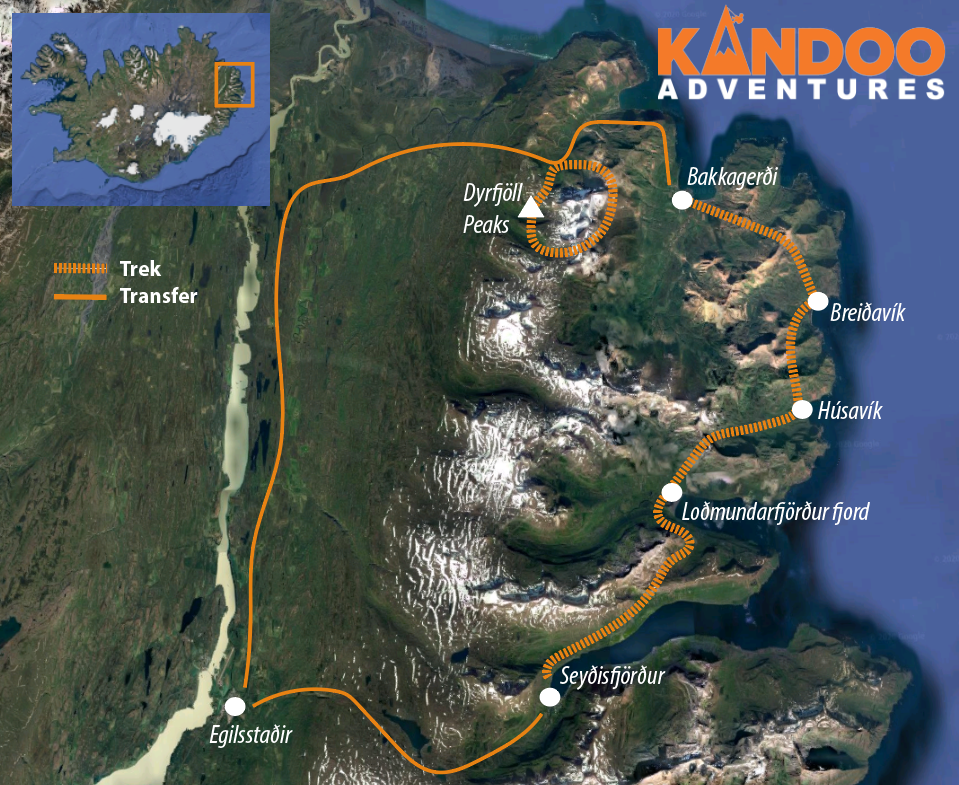 See the map
Trip information
Difficulty
This trek is of moderate difficulty. You will be required to walk continuously for 6 days, possibly in very cold and wet weather. The maximum ascent and descent in a single day is 800m. Your large luggage will be transported by 4x4 vehicle and you will be required to help with the loading and unloading of gear. You will need to be in good physical condition with recent experience of walking in mountainous terrain for several days in a row.

If you have any questions about your suitability or how to prepare for this trip please do not hesitate to contact us.

Food & drink
This trip is full board while trekking. We are proud of the varied, fresh and frankly delicious food we provide on our camping trips. Meals are produced with a selection of local products and you will have the opportunity to try Icelandic delicacies such as skyr, smoked salmon and leg of lamb.

Each day will start with a hearty breakfast accompanied by plenty of tea and coffee. Between us, we will prepare and carry a picnic lunch for the day including salad, sandwiches, fruit and cakes among other options. Each three course evening meal includes meat, fish and vegetables. We offer fresh fruit and vegetables everyday. Your help in the kitchen is much appreciated, particularly in the evenings. We like the whole group to work as a team to cook dinner, it creates a pleasant atmosphere as we reflect on the days adventures together.

Alcohol is very expensive in Iceland and you can only buy beer which is stronger than 2.25% in state run liquor stores. If you want to enjoy an evening drink after your days adventures, we recommend buying Duty Free alcohol in the airport. The tap water in Iceland is of a very high quality.

Please let us know about any dietary requirements when you book your trip, we will work with you to cater for your needs.

Accommodation
In Reykjavik we stay in guesthouse or hostel accommodation in dormitories of between 4 and 10 people with shared bathroom facilities.

Whilst trekking we will stay in either refuges or hostels in dormitories of between 4 and 12 people with shared bathroom facilities. The accommodation is simple and rustic but the locations are exceptional!

You will need your own sleeping bag every night as bedding is not provided at any location. All accommodation will have heating, hot showers, toilets and an equipped kitchen. Please be aware that hot showers may not always be free of charge.

Luggage
During the trek you will be required to carry a daypack with your lunch, spare clothing, water and any medical supplies or personal items. You should also bring a larger 80-90 litre duffel bag for the bulk of your luggage which will be transported by vehicle. Please make sure your large bag is flexible and not a rigid suitcase.

How do I get there?
You will need to arrive in Reykjavik on day 1 of your itinerary. Reykjavik's international airport is called Keflavic (KEF) and is located 48km outside the city. The journey from the airport into the city will take around 45mins. Reykjavik's city airport is used for domestic flights only.

From the UK, there are direct flights to Keflavic from London Heathrow (LHR) with British Airways and Icelandair. Easy Jet also offer direct flights from London Luton (LTN), Manchester (MAN) and Edinburgh (EDI). The flight time is roughly 3 hours depending on which airport you depart from.

For those traveling from the USA, Icelandair have direct flights from New York (JFK), Boston (BOS), Washington (IAD) and Seattle (SEA). Delta offer convenient flights via New York from San Francisco (SFO), Los Angeles (LAX), Phoenix (PHX) and Atlanta (ATL).

On arrival in Iceland, after clearing immigration and collecting your luggage, please look out for a member of our team in the arrivals area. They will be holding a large "KANDOO" sign.
Budget & change
The local currency in Iceland is the Icelandic Krona (ISK). For the most up to date exchange rate please visit www.xe.com.

For meals in Reykjavik you should budget 2500 – 5600 Krona.

Tips
Although the custom is not widespread in Iceland, if you are satisfied with the services of your guide, tipping is always appreciated. It is not obligatory and should be left to the discretion of each individual.

Formalities & health
Passport
Most travellers will require a passport valid for at least 6 months after your return date. It is your responsibility to confirm your specific requirements and please be aware that proof of onward travel may be required.
Visa
Travelling to the Iceland is visa free for up to 90 days, for UK and US citizens
Vaccinations
No vaccinations are required.
Insurance
It is your responsibility to ensure that you are fully and adequately insured for the duration of your trip. Please ensure that all activities, excursions and destinations in your itinerary are included in your travel insurance policy, in addition to your regular cover for cancellation and medical expenses. We ask that you keep a copy of your policy summary (containing policy number and the emergency contact number for your insurer) in your day sack at all times, so that we can access this information should we need to contact the insurer on your behalf.
Medication
Your guide carries a first aid kit at all times but we recommend you carry the following items : - Painkillers - Anti-diarrhoea tablets - Sunscreen (high factor) for lips and skin - Moisturising cream (for sunburn) - Elastic bandage and regular bandages - Sanitary products - Water purifying tablets or filters - Mosquito spray - Blister bandage
Equipment & clothing
Clothing to bring
Hat for sun protection

Hat for warmth

Sunglasses

Long sleeve shirts or cotton t-shirts

Jumpers, 1 light weight and 1 warm

Windproof and waterproof jacket with hood

Breathable fast drying underwear

Warm gloves

Comfortable long trousers (fast drying)

Waterproof over trousers

Thermal long sleeved vest and leggings

Trainers or sandals for evenings

Walking socks

Hiking boots (high rise, sturdy soles)

Swimming costume may be useful

Equipment to bring
Sleeping bag with minimum comfort rating of 0˚C

2 water bottles or flasks minimum (1 litre)

Walking poles (highly recommended)

Head torch with spare batteries and bulb

Toiletries (including wet wipes)

Dry bags for keep clothes dry in your luggage

Container for any toxic rubbish (batteries, sanitary items etc)

Duffel bag (80 to 100 litres), flexible and water resistant

Daypack (30 to 40 litres) to carry with you each day

OTHER USEFUL KIT

Camera

Binoculars

Insect repellant

Thermos flask
Price
Ideal travel time:
May
June
July
August
September
Prices start from £1999 / $2595 per person
Want to add flights or create a private trip? Don't hesitate to contact us!
Contact us
Price includes
Domestic flights

Airport transfers

An expert Kandoo Adventures guide

All Transportation

All accommodation

6 breakfasts, 5 lunches, 5 dinners

Price does not include
Flights and Visas

Travel insurance

Drinks, tips and personal expenses

Meals in Reykjavik

Options
Additional hotel nights before or after your trek